I hope you enjoyed reading my review of Asma Khan's first cookery book, Asma's Indian Kitchen. The book reflects Asma's personal cooking heritage, and the food she has been sharing with thankful Londoners.
Publishers, Pavilion have given permission for us to share three recipes from Asma's book with you. Hyderabadi Tamatar Ka Cutt is already up. Here's Tamatar Ki Chutney.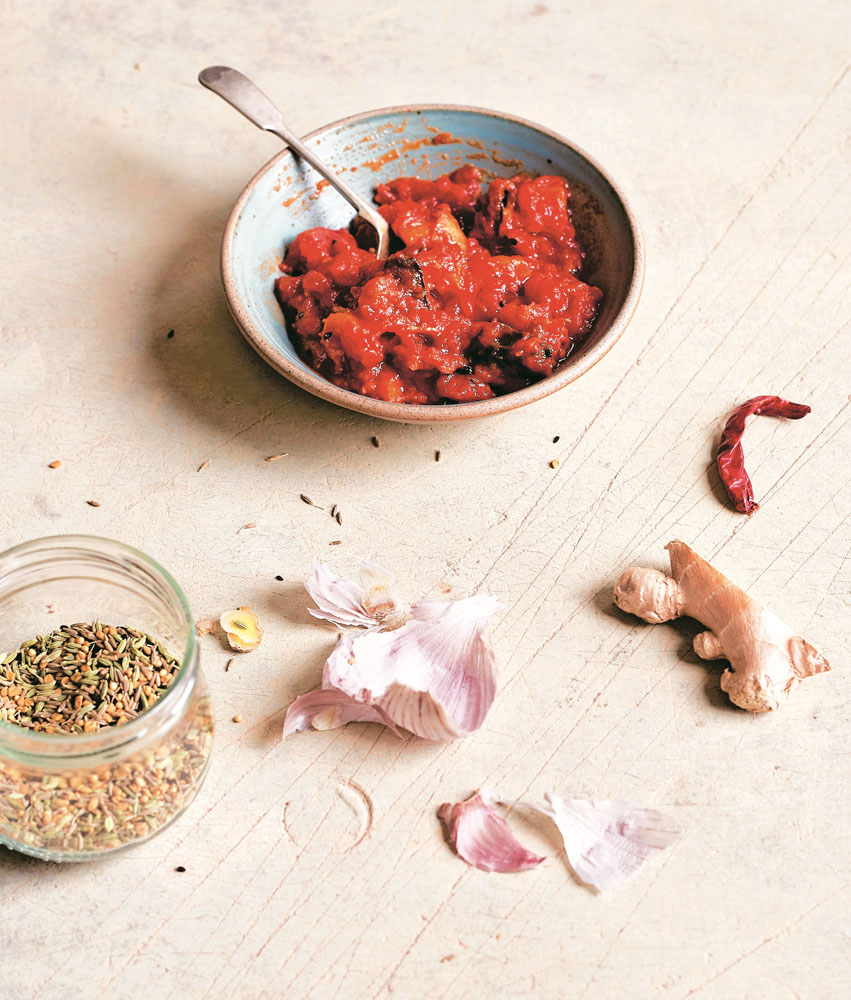 Another of my favourites from Asma's supper club days and on through her guest chef residency and into her wonderful restaurant, this tomato chutney has such a rich and complex flavour, I absolutely adore it!
Tamatar Ki Chutney | Tomato Chutney with Prunes and Apricots
The spice infusion used in this chutney is panchporan, a five-seed spice used extensively in eastern India, especially Bengal. The combination of fennel, fenugreek, cumin, nigella and mustard seeds gives this dish a unique spice flavour which combined with dried red chillis, and sugar, results in a tangy, sweet and spicy chutney that goes with everything – even cheese on toast. Tamatar chutney is usually the final savoury course at a Bengali wedding, a palate cleanser of sorts, before the all-important arrival of desserts to the table. In Bengal you often find dried mangoes or mango leather in a chutney. The texture of the dried apricots in this recipe is similar to those mangoes.
Ingredients
2

tbsp

vegetable oil

4

dried red chillis

½

tsp

panchporan

6

garlic cloves, crushes

1

piece

2.5 cm/1 inch long fresh ginger, peeled and cut into thin slivers

2 x

400 g

(14-oz) tins chopped tomatoes

2

tbsp

sugar

1

tsp

salt

4

dried prunes, quartered

6

dried apricots, quartered

2

green chillis, to garnish
Recipe Notes
This chutney keeps for a week in the refrigerator.
Instructions
Warm the oil in a shallow pan over a medium– high heat. Add the dried red chillis, followed by the panchporan. When the mustard seeds in the panchporan mix start to pop, add the garlic and ginger. Fry gently for 1 minute, but do not allow the garlic and ginger to colour.

Add the chopped tomatoes, followed by the sugar and salt. Bring the tomatoes to a boil, then lower the heat to medium; the mixture should no longer be spitting but the tomatoes should still be boiling.


After 10 minutes, add the prunes and apricots.


Continue to cook the chutney until there is a glaze on the surface and the tomato juice has reduced.


Taste the chutney and adjust the seasoning with salt or sugar, if necessary.


To serve, garnish with whole green chillis.

If you decide to buy this book after reading our content, please consider clicking through our affiliate link, located within the post and in the footnote at the end.
Kavey Eats received a review copy of Asma's Indian Kitchen. Recipe extract credited to Asma's Indian Kitchen: Home-cooked food brought to you by Darjeeling Express by Asma Khan, published by Pavilion Books. Image credit to Kim Lightbody. RRP £20, this title is currently available on Amazon UK for £13.20 (at time of review).