Like many of you, I pick up ideas from other blogs, TV and Pinterest all the time. It's wonderful to have so many sources of inspiration!
The idea of forming bacon into little cups in which to bake eggs is one I've encountered so often I can no longer recall where I saw it first but it's a very simple thing to do and a way to present the same old ingredients a little differently.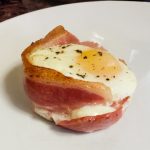 Bacon Baked Eggs
Ingredients
1

slice

back bacon

, or

1.5

slices

streaky bacon

per egg

eggs

salt

pepper
Instructions
Arrange your bacon slices into a muffin tray to make cups, pushing firmly where the pieces overlap, to make a better seal. Using back bacon, we found it easiest to cut each slice into two pieces first, and use the large end at the bottom of the compartment.

The bacon baked eggs should pop out of the tin easily, as the bacon fat will have naturally greased the compartments as they cooked.
Next time, I may add some baby spinach leaves under the eggs, or grate some aged Comte over the top before baking.