When Gloucestershire company Selsley sent me some of their syrups to try, I was keen to think of some different ways to use them.
I played it safe with the mulling syrup, using it to create warming winter drinks. It combines beautifully not only with red wine but with apple juice, cider and even beer. And because the flavours are already infused into the syrup you can either mix and serve cold or heat gently and quickly. The vanilla syrup is lovely in coffee. I want to try it in a fruit smoothie too and in a rich ice-cream based milkshake.
Although the ginger syrup with lemongrass works wonders in a whisky toddy, I wanted to use its delicious flavour in a dessert. As I've never made panna cotta before, this seemed a great opportunity to give it a go.
This very simple ginger and lemongrass panna cotta came out beautifully, the syrup giving a distinct but not overpowering flavour to the panna cotta. I love a properly wibbly wobbly panna cotta in which the flavouring doesn't overwhelm the subtle taste of the cream. The balance here was good!
Of course, you can use this recipe with other flavoured syrups, keeping the ratio of liquid to gelatine the same and varying the flavours.
I served some of these with candied baby tangerines (made in the same way as these confit clementines). I think fresh tart berries, such as blueberries or raspberries, would also work nicely.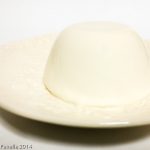 Ginger & Lemongrass Panna Cotta
Ingredients
3

gelatine leaves

small dish

cold water

240

ml

milk

(1 cup)

240

ml

double cream

(1 cup)

30

ml

Selsley ginger syrup with lemongrass

(2 tablespoons)
Recipe Notes
If you don't have Selsley syrup, substitute with 30 ml of syrup from a jar of stem ginger and infuse panna cotta with a little fresh lemongrass or lemon zest while heating, straining as you pour the cooked cream into the dishes.
Instructions
Place gelatine leaves in cold water to rehydrate.

Gently heat milk, double cream and syrup in a pan, stirring occasionally, until it reaches a simmer (with small bubbles appearing on the surface).


Lift gelatine leaves out of water and squeeze to remove excess liquid.


Remove pan from the heat and stir in the gelatin leaves until completely dissolved.


Pour mixture into ramekins, small bowls or small cups and leave to cool.


Once cool, refrigerate until set (about 1-2 hours).


Either serve in the cups or turn out onto plates. Warm the cups in a shallow dish of hot water for a few moments to help them slip out more easily.

As you can see, a wrinkly skin formed on the panna cotta as it set. This wasn't a problem when we served these turned out onto a plate, and the skin wasn't unpleasant in the mouth. But if you want to serve your panna cotta in the cup, you may like a more attractive flat surface. Once you've poured the cream into the cups, carefully lay a piece of cling film over each one so that it's touching the surface, and leave to set. This should stop a skin from forming.
Kavey Eats received sample products for review from Selsley Foods.