Do you know where your cacao comes from? Cacao is the botanical name of the tree— Theobroma cacao— on which the chocolate fruit is grown. Before it can be turned into chocolate, the fruits must be harvested at peak ripeness. Their seeds are removed for fermenting, drying, roasting, peeling, and grinding into chocolate, a complicated process which requires weeks of work. I'm sweating just thinking about it.
While most of the world's cacao is grown in Africa, nearly a fifth of it is grown in Asia. That proportion is only expected to continue growing as Africa faces weather crises and further deforestation. Although Asia isn't missing out on those disasters, the continent as a whole is experiencing a related renaissance in the artisanal chocolate arena. In 2017, China was the chosen stage for the reveal of ruby chocolate, one of the most contentious chocolates currently on the market. The next year, Japan was the test market for those first ruby chocolate products.
Cacao has a surprisingly long history on the Asian content, and the historical baggage to match. The first cacao in Asia was cultivated in the 17th century, well before it was planted anywhere in Africa. Looking at the chocolate scene in Asia today not only reveals a lot about the region's many cultures, but also about how colonialism has shaped each country, and the people in turn have reshaped or all-out rejected those colonial ideals. 
In fact, the English word "cocoa" is believed to be a colonial-era spelling error, taking some of the wind out of the popular cacao vs. cocoa debate. These days, much of the cacao grown in Asia is being replaced with other cash crops, especially rubber and palm trees, which are themselves forces for large-scale deforestation. But there's another force working to bring Asian cacao to a more self-determinate position: value-added chocolate. Below are seven countries whose relationship with chocolate is evolving to include locally-made products, one bar at a time.
Chocolate in The Philippines
The Philippines was the landing point for cacao in Asia, first planted in the late 1600's. Spanish colonialists brought high quality cacao plants from their established colony in Mexico, where cacao has a long & ceremonious history. The Spaniards put Catholic friars and priests in charge of their cacao plantations in the Philippines, where it remains an important crop more than three centuries later. 
Most local cacao production goes to the manufacture of tableya, a drink base made from ground and pressed cacao, formed into small tablets. This local treat is prepared in boiling water or milk and served as a sort of Philippine hot chocolate, most commonly enjoyed at breakfast. In the Philippines, cacao is more connected to tableya than to chocolate. But in recent years the country has had to import cacao to meet domestic demand, as a combination of factors put Philippine cacao on the path towards decline back in the 1990's. 
As of 2019, the government is halfway through a large administration-backed revitalization of the local cacao industry, focused on adding cacao to existing coconut and durian plantations. Several regional groups are now focused on helping farmers start or join cooperatives which will aid them in proper processing of cacao and give them a better chance to reach a well-paying market. The last several years has also seen the emergence of small-scale chocolate making, particularly in cacao-growing regions. Tree to bar chocolate, in which the maker has control over every step of the chocolate making process, is increasingly common— and delicious.
Look for Local Chocolate Makers: Auro Chocolate, Malagos Chocolate, and Theo & Philo.
Chocolate in Vietnam
Back in the 1800's, French colonists took over a huge swath of land which they dubbed "French Indochina." That territory comprised modern-day Laos, Cambodia, and Vietnam, as well as part of southern China. At that time, similar to their Spanish counterparts in the Philippines, they tried to make Vietnam into a cacao-producing hub. This quest failed. Miserably. In the century-plus which followed, several attempts were made to duplicate those efforts, every one of them failing, even the current one. But despite Vietnamese cacao's peak nearly a decade ago, a parallel industry has emerged in the country: chocolate.
The movement was really started by the founding of Marou Chocolate in 2011. At the time they were one of very few chocolate brands making their products in the same country as their cacao is grown. Since then the number of Vietnamese chocolate makers has exploded, with almost all of the makers using local cacao. Ironically, the cacao revival in Vietnam was originally led by multinational chocolate manufacturers Mars and Cargill, looking for a reliable source for cacao on mainland Southeast Asia. 
In the end, commodity prices weren't enough to compete with the earnings from other commercial crops, especially considering the work that goes into properly preparing cacao for the market. Now that there are small-scale chocolate makers willing to pay a fair price for local cacao, it's too late for many farmers. They've already chopped down their trees and moved on. But the hunt continues, with some chocolate makers putting months into cultivating the necessary relationships with local producers, and still getting shorted in the end.
Look for Local Chocolate Makers: Marou Chocolate Makers, Belvie Chocolate, and Stone Hill Chocolate.
Chocolate in Japan
While Japan is too far north to grow cacao of their own, they sure have taken a liking to the stuff. When I think of Japanese chocolate, I think of innovations like cacao sugar, chocolate-soaked berries, and heritage varietals of cane sugar. On the surface these products may not sound very creative, but each of them has sent shockwaves of their own through the chocolate industry, while also delighting consumers around the world. 
Japan is a huge consumer and maker of chocolate both craft and industrial. Local giant Meiji Confections has majority market share, as well as a spot as one of the world's 10 largest chocolate manufacturers. Just a few years ago they took advantage of how popular small-batch chocolate has become in Japan and launched their own bean to bar chocolate line. Yet the thing that's really solidifying Japan's place in the world of chocolate is their large investment in cacao industries of Southeast Asian countries, in particular Vietnam and Indonesia. 
Ironically it was just 70 years ago that Japan was equally interested in this region, having invaded most of East and Southeast Asia in the first half of the 20th century. Japanese records have shown that during the 50 years they colonized Taiwan, there was at least one company cultivating cacao on the island. While that cacao was destroyed, the Taiwanese cacao industry has recently come back to life, thanks in some small way to the Japanese public's renewed interest.
Look for Local Chocolate Makers: Cacaoken, Green Bean to Bar, and Dandelion Chocolate Japan.
Chocolate in Taiwan
Around 100 years ago, Japanese colonists planted cacao on Taiwan, hoping to turn the island into the model agricultural colony. Even though that particular cacao was destroyed after the Japanese were defeated in WWII, there were several attempts to cultivate cacao on Taiwan afterwards. Over the past several years, one of those attempts has finally stuck. These days Taiwan is the northernmost cacao growing region in the world, with some cacao plantations less than an hour outside of the island's many cities. While it's very expensive to farm on Taiwan, locals have been drawn to cacao thanks to the appeal of making their own chocolate from the cacao tree to the final bar. 
The Taiwanese government is even advocating the planting of cacao on existing farms, especially as a replacement for the harmful but immensely popular betel nut tree. Governmental organizations are hopeful that once farmers see the additional income from cacao, they'll be inclined to plant more cacao rather than more betel, also known as the areca palm. The interest in healthful eating above all has swept East Asia over the last decade or so, and extends to the region's young chocolate industry. 
Like most of Asia, Taiwan's chocolate options were limited until the local craft chocolate scene began making noise. For those lucky enough to get their hands on some, chocolate made with cacao from Taiwanese farms has become a healthy indulgence, while roasted cacao beans are treated like a daily supplement. With so many small-batch chocolate makers popping up, competition has gotten a bit fierce, but for us consumers this just means more ways to indulge.
Look for Local Chocolate Makers: Chomeet Chocolate, FuWan Chocolate, and Choose Chiu's.
Chocolate in India
India is a large country with huge potential for growing and consuming cacao, especially as the population continues to increase in overall wealth. Yet there's still very little cacao coming out of the country as either beans or finished products, though both are on the rise. The problem, as in most of Asia, is low prices and lack of farmer education. Cacao was introduced to southern India during the British colonial period, and largely continues to be grown as merely additional income. 
But the amount of cacao produced in India is still not enough to meet domestic demand for chocolate and other cocoa products. Indian entrepreneurs, therefore, are starting to take it upon themselves to increase their country's cacao production, and with it, farmers' incomes. Dozens of small-batch chocolate makers have already appeared in India over the last several years, despite their limited options for local cacao. Yet to me what's been the most striking about the Indian chocolate revolution is the blending of flavors. 
Unlike in North America or Europe, the concept of terrior and the taste of place isn't nearly as interesting to Indian consumers. They want to see their childhood favorites brought to life, in the new and unusual medium of chocolate. From Mango Lassi or Candied Gondhoraj to Jackfruit & Black Pepper, Indian chocolate makers have brought some striking flavors to life across the country. With Indian cacao cultivation on the rise, hopefully soon there will be more local cacao farmers taking chocolate making into their own hands.
Look for Local Chocolate Makers: Mason & Co.Chocolate, Naviluna Artisan Chocolate, and Chitra'm Craft Chocolate.
Chocolate in Malaysia
Since its meteoric rise in the 1980's, Malaysia's cacao growing industry has tapered off quite a bit. In place of growing cacao, Malaysia has become a center for processing cacao and researching its many facets. Much of the cacao currently grown in Southeast Asia was studied and approved in a Malaysian agricultural center before being sent to its new home. In parallel, you've surely eaten something in your lifetime which contains cocoa powder or cocoa butter pressed in Malaysia. As cacao has become a more popular crop across Asia, the continent's many farms have each run into different pests and diseases, and often turn to the Malay peninsula for answers. 
The local government is very supportive of the cacao industry, even though the country's involvement has largely turned towards processing & selling cacao derivatives to international markets. Cacao farms on mainland Malaysia have largely disappeared. The main growing areas are on Borneo, an island shared with Indonesia and Brunei, where some farmers and farmer cooperatives are beginning to turn towards not just processing into materials for chocolate, but making the finished chocolate themselves. With so many different growing regions and unique culinary traditions, it will be exciting to see what chocolatey innovations will come out of Malaysia next.
Look for Local Chocolate Makers: Bonaterra Chocolate, Chocolate Concierge, and Benn's Ethicoa.
Chocolate in Indonesia
If you've learned a bit about cacao, you've probably heard that most of the world's cacao supply comes from just two African countries: Cote d'Ivoire and Ghana. But what you may not realize is that Indonesia is the world's third-largest cacao exporter, much of it heading to neighboring Malaysia for immediate processing. The cacao industry in Indonesia is quite young, as well, only beginning in earnest in the 1980's. But over the last three decades, the country has catapulted to the top of Asian cocoa production, most of that grown on smallholder farms. That means that the cacao is largely grown on farms smaller than 1 hectare, as opposed to large monoculture farms, which is common with commercial crops like rubber or palm. 
But while there are some farmers cooperatives and direct partnerships with chocolate makers, most Indonesian cacao is still bought at very low prices. There's little local processing infrastructure, so cacao farmers have no choice but to sell to whomever is willing to buy. Some local chocolate makers have appeared on the scene, but not nearly as many as in Vietnam or India. If this doesn't change soon, then Indonesian farmers might just switch to higher-earning crops over the next couple of decades. Only time will tell.
Look for Local Chocolate Makers: Pipiltin Chocolate, Krakakoa Chocolate, and Pod Chocolate.
Save for later: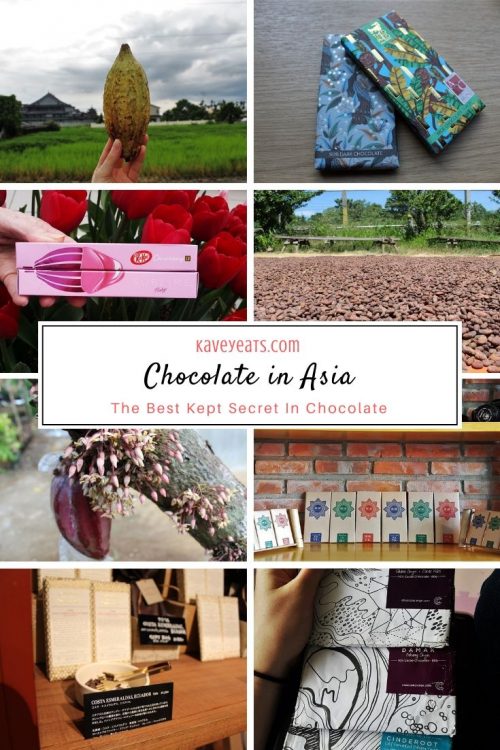 Thank you to Max Gandy aka Dame Cacao for this superbly informative post about Chocolate in Asia. Images copyright to Max Gandy, published with permission.