Recent restaurant opening Nook has been eagerly anticipated by the food-loving denizens of Cardiff, and no wonder.
This small, unassuming restaurant opposite Victoria Park is the project of John and Ceri Cook, and Phil and Deb Lewis. Thanks to our Cardiff-based friends Team Not Leafy, I can give you the lowdown!
John and Ceri owned and ran Arbennig restaurant (now closed), own and run the Lamb & Flag pub, and are the creators of DIRT and Ember, two hugely popular pop-ups, the latter of which runs about once a month. Phill and Deb are the duo behind Dusty Knuckle, (which sells Naples-style pizzas baked in wood fired ovens, first as a street food venture, and soon from a permanent location too). Phill created BITE Festival (in conjunction with Simon Thomas), and he and John partnered for Hoof Horn to Hind, one of the traders that sold via Sticky Fingers street food, a permanent space with 5 kitchens for a revolving array of vendors.
Nook is a permanent joint project, and we visited  two days after it opened. The menu, developed by John and Phill, was nicely balanced and very appealing. Already, the cooking was deft and assured, and front of house (Ceri and Deb) was friendly and smooth-running.
The restaurant is inviting, with an architecturally pleasing line of sharp succulents along the front window ledge and a slim living wall up one wall corner, which we are told will expand to run greenery around the room. Furniture is wooden, as is the open-hatched divider to the kitchen, and the floor, all of which make the space feel warm and cosy. Along another wall is an expanse of shelves where wines and beers are displayed. And don't miss the wall of wine taps next to the kitchen, allowing Nook to serve a range of wines by the glass. They focus on natural wines, by the way.
Soft drinks are also worth checking out, with some delicious indie offerings rather than the usual big commercial brands.
The menu is a small plates offering rather than starters and mains. Dishes showcase high quality local, seasonal ingredients, with several nods to international cuisine with ingredients like dukkah, enoki mushrooms, miso, mostarda and truffle.
We were advised to order 2-3 dishes per person and greedily chose 6 for the two of us. We could easily have ordered double that, based on everything that appealed!
First, Burrata, fermented chilli, lemon, olive oil, dukkah (v, £6.5). A full globe of burrata, generously topped with oil, chilli and dukkah spicing, this was a punchy dish. For me, the dukkah was a touch overwhelming against the subtle flavour of the burrata, but it certainly worked well with its creaminess, and there was lots of delicious flavoured oil and juice to mop up.
We asked for bread to do just that, and it came with the most fabulous Bungay raw butter, a star of the meal in its own right (£3.5).
Probably my favourite savoury dish of the evening was the Sheeps ricotta, pear mostarda, sour honey chicory (v, £6). The pillowy delight of silky ricotta served as perfect foil to the sweet and mustardy candied pears, the bitter crispness of the chicory and the sour honey dressing. This dish looks deceptively simple but – if you'll forgive me a moment of office-bingo lingo – achieves a real synergy, where the whole is somehow greater than the sum of its parts!
Pressed potato, truffle (v, £3.5) was also a firm favourite. Thin slices of potato pressed together and fried, were served with a dollop of tart creme fraiche. The truffle scent and taste was rich and heady, and the potato both crisp an soft. We ate these with our hands, like giant chips.
Crab, toasted treacle loaf (£10.50) was one of the more expensive dishes on the menu but the generous serving of super fresh crab made it worth it. Not much of the treacle came through in the toast for me, but it was a fresh, enjoyable dish.
Another choice that everyone adored was the Crispy enoki, runner beans, miso, sesame (vg, £6). Each bunch of gangly enoki mushrooms had been lightly battered and fried, creating a delicate and delicious tempura, and it paired wonderfully with the sweet green crunch of the runner beans. The miso dressing and black sesame seeds added a welcome umami hit.
The Grilled fish, beurre noisette, savoy, sesame (£13) was the most expensive dish on the menu, but for that price tag we were served a generously sized portion. The plaice lifted from the bones with the lightest touch, the flesh soft and moist and decadent. We really appreciated the simple savoy and browned butter dressing.
Somehow, we found space for dessert, and ordered both choices on the menu.
Phill's pavlova (£5) turned out to be a perfect meringue (which to us means crisp exterior and chewy inside) topped with syrupy seasonal plums and a dollop of whipped cream. Another dish where simplicity created something beyond expectations.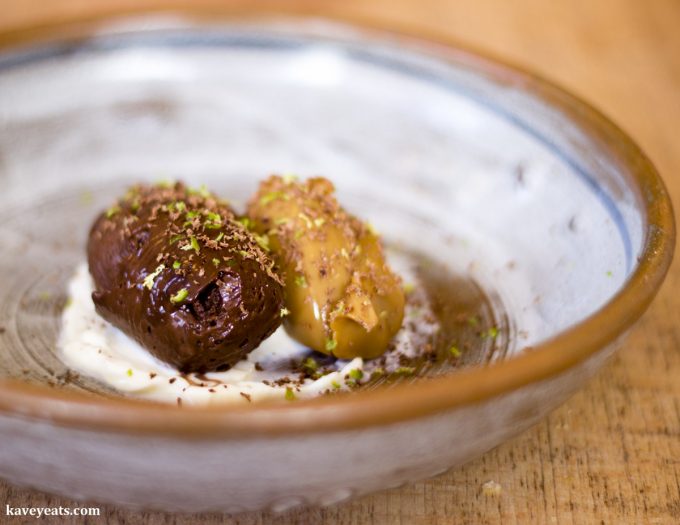 Milk Chocolate (£6), a somewhat ambiguous menu description, turned out to be a rich, intense chocolate mousse and a similarly sized dollop of thick, sticky, salted caramel. The lime zest was perfect with both, and we virtually licked the bowl clean!
Eminently affordable, and certainly delicious, Nook is very much our kind of place. Seasonality, and quality of produce shine, and we love how the small plates menu allows for a quick, light meal or a more lingering feast.
Save for later:
(v = vegetarian, vg = vegan)