As gluten-free digestive biscuits are now readily available, this no-bake salted caramel cheesecake is quick and easy to make and impressive to serve. The recipe is from Becky Excell's How to Make Anything Gluten Free , a cookbook full of proven recipes and methods for making gluten-free versions of recipes that usually feature gluten.
Read Nick'y full review of How To Make Anything Gluten Free by Becky Excell.
Salted Caramel No-Bake Cheesecake
It couldn't be easier to whipup this no-bake show-stopper – no oven or gluten-free flour required! With a buttery biscuit base, indulgent caramel filling, topped with caramel sauce, this is the dessert that we all deserve after years of fruit salad.
Time: 45 minutes + 12 hours chilling
Ingredients
For the biscuit base
320

g

(11¼ oz) gluten-free digestive biscuits (graham crackers)

2

tbsp

light brown sugar

150

g

(⅔ cup) butter, melted
For the cheesecake filling
700

g

(generous 3 cups) full-fat cream cheese or mascarpone

100

g

(scant ¾ cup) icing (confectioners') sugar

Pinch

salt

3–4

tsp

caramel extract

300

ml

(1¼ cups) double (heavy) cream

150

g

(5¼ oz) gluten-free chocolate-covered caramels (optional)
To serve
200

g

(7 oz) caramel sauce (ensure gluten-free), with a pinch of salt added

Toffee popcorn, optional
Recipe Notes
This is freezer-friendly! Once the cheesecake has set, place it in the freezer whole or sliced. Defrost thoroughly before topping with the caramel sauce and toffee popcorn.
If you want to make your own salted caramel sauce, try the sauce recipe in this Date Cake with Caramel Sauce.
Instructions
Firstly, make your base. In a food processor, blitz your biscuits into a crumb-like texture – not into a fine dust! If you don't have a food processor, pop the biscuits into a zip-lock bag and bash them with a rolling pin. Add to a large mixing bowl with the sugar and pour in your melted butter. Mix until well combined.

Spoon into a round 20cm / 8in loose-bottomed or springform tin (pan). Compact the mixture into the base to create a nice, even layer.

Chill in the fridge for 30 minutes while you make your filling.

For the filling, place your cream cheese, icing sugar, salt and caramel extract in a stand mixer. Mix on a low–medium speed for 10–20 seconds. Add the cream and, at a medium speed, mix for 2 more minutes or until the mixture begins to firm up. Don't over-mix it as the mixture can split and then won't set in the fridge. It should end up as a nice, thick, spoonable mixture, not a pourable consistency. At this point, you can also fold in some chopped up chocolate-covered caramels by hand, if using.

(You can of course make the cheesecake filling using an electric hand whisk too. Also, while making the cheesecake filling by hand requires a little extra time and elbow grease, it's more than possible! I'd recommend sifting your icing sugar first if making it by hand.)


Next, evenly spread your cheesecake filling on top of the chilled biscuit base and place in the fridge to chill for a minimum of 12 hours, ideally overnight. When you're ready to serve, remove the cheesecake from the tin and decorate by carefully pouring your salted caramel sauce on top to form a thin layer. Finish decorating with some toffee popcorn, if you like.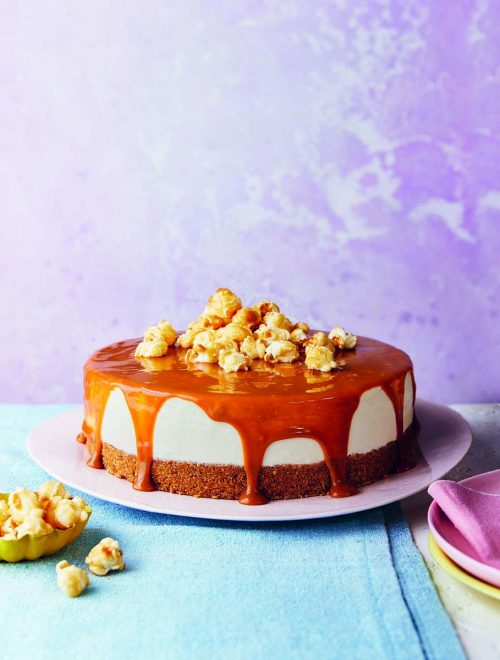 If you decide to buy this book after reading our content, please consider clicking through our affiliate link, located within the post and in the footnote at the end.
Kavey Eats received a review copy of How to Make Anything Gluten Free by Becky Excell from publishers Quadrille. Book photography by Hannah Hughes.