As a forward-thinking and youthful city, Vancouver is proud of its many progressive actions in response to climate change and global warming. In addition to extensive recycling programs, popular car-sharing initiatives, bike-friendliness and growing electric car ownership, Vancouver is home to a large variety of farmers' markets.
City farmers' markets became much more mainstream following the publication of the bestselling 'The 100-Mile Diet: A year of Local Eating'" by Vancouver authors Alisa Smith & J.B. MacKinnon. The book launched the "locavore" movement as Vancouverites really embraced the value of eating locally grown food. Many farmers' markets have since sprung up to provide the best local produce and hand-made items to an eager market.
Farmers' markets are a very popular way for Vancouverites to do their weekly shopping. Those who frequent the markets often become a member for a relatively low fee of $20. Membership comes with perks such as a 15% discount on market merchandise and additional discounts on member appreciation days.
The markets are also a great place for Vancouver tourists to enjoy a snack, see entertainment from local artists and browse among excellent artisan goods and services.
Vancouver is home to seasonal and year round markets. When the summer markets close, Vancouverites flock to the winter markets to secure their locally-sourced edibles. The winter markets typically operate from late October through the end of April. Summer markets start up at the end of April and run through September.
All Year Farmers' Markets
Granville Island Public Market
The Granville Island Public Market is the original and biggest farmer's market in Vancouver. Located under the Granville Street bridge near downtown Vancouver, this market is a gourmet's dream come true!
Located in the centre of Granville Island, the public market is an enclosed building, making it comfortable to shop at in the colder winter months. Exterior walls, doors and windows are opened or removed in the summer months leaving it feeling more like a traditional farmer's market.
The market has a wide variety of produce sellers who take great pride in showcasing only the best fruits and vegetables from local farmers. I've never seen more delectable looking berries anywhere! You'll often see hard-to-find produce like lingonberries, golden berries and white asparagus.
I always look forward to the vast cheese, meat and charcuterie selection at Granville Island public market. From great gourmet meats, poultry and specialty products like bison or game meat, to mouth-watering deli selections of sausages, olives, dips and marinades there is definitely something for everyone.
My favourite thing to shop for at the public market on Granville Island is baked goods and sweets. There are excellent artisan bread-makers at the market – to find them just follow your nose! The mouth-watering smell of freshly baked bread will be unmistakable. For dessert specialties you'll find several excellent patisseries as well as doughnut makers, pie makers, muffineers, candy specialists, chocolatiers and ice cream factories
The sheer variety of excellent things to eat at Granville Island Public Market makes everyone who loves to eat very happy. I guarantee you'll leave with heavy shopping bags and a smile on your face.
Granville Island Public Market is a great place to spend the day and get to know the area more, especially if you're in Vancouver for a short time. There are many things to see and do in addition to the farmer's market including many great restaurants and the view from Granville Island to the city is amazing.
Granville Island Public Market is open every day from 9am to 7pm.
Winter Farmers' Markets
Riley Park Market
The biggest winter market is located at Nat Bailey Stadium at Riley Park in east Vancouver. Open every Saturday from 10am to 2pm, this market is home to more than 30 vendors selling everything from produce to dairy to meat of all sorts.
On my last visit I saw stalls specializing in local kombucha, vegan 'cheeze', a delicious variety of baked goods – I particularly enjoyed a baked samosa of peas, potato, carrots and herbs – as well as winter vegetables and fruit, specialty poultry, fish and meat as well as local jewelry artists.
Locals were lined up 20-deep for some of the produce stands to secure their winter squash, potatoes and carrots. Plenty of people brought dogs to enjoy the many scents of the market.
Many Vancouverites favour bicycle transportation when frequenting farmers' markets, and Riley Park Market provides excellent bike stands to park your bike when you visit. As a commitment to the local environment, a prominent sign at the market warns that outside garbage is not welcome, vendors will take back their own food packaging and patrons must bring their own reusable shopping bags and coffee cups. Forewarned is forearmed!
Hastings Park Market
Located in Hastings Park on the north side of Vancouver at the corner of Hastings and Renfrew Streets, this market is open Sundays from 10am to 2pm from November to the end of April.
Hastings Park Market features a nice variety of market stalls including a great assortment of seasonal cut flowers, which are always nice to get on a dark winter day.
Many organic producers set up stalls at Hastings Park Market including garlic growers, kefir producers, a winery, a cheese monger, honey sellers, local produce, and a great lavender farm selling essential oils and other lavender products. Don't miss the excellent meat offered by Gelderman Farms, also the source of choice for many of Vancouver's fine restaurants.
Food trucks are often present at the Hastings Park Market. My favourite is the Disco Cheetah Korean Grill, which features rice bowls, tacos and burritos featuring Alberta beef bulgogi.
Cannery Farmer's Market
Slightly outside of Vancouver proper but nonetheless worth the jaunt is the Cannery Farmer's Market, located in the Gulf of Georgia Cannery National Historic Site in Steveston. If you're staying in the south end of Vancouver, this is an easy market to get to.
Open bi-weekly on Sundays from 10am to 3pm,and held both indoors and outdoors, this market features locally based, grown, caught and crafted products. Steveston is the home of a large fishing fleet, guaranteeing the freshness of the seafood at this market!
You'll find a good assortment of products including baked goods, wine, spirits and local produce. This market also features a wide variety of artisan goods including water colourists, jewelers, leather workers, clothing designers, essential oil makers, alpaca product producers and other creative artists.
The Cannery Farmer's Market is a bit different from the other winter markets in that it also features community organisations that hold special events at the market. For example, a local food security society presented a series of food skills workshops on topics like fish, what to do with leftovers and healthy snacking.
Admission to the Gulf of Georgia cannery museum is free for market visitors.
Vancouver also has many summer farmers' markets selling fresh local produce, much of it organic.
Whatever season you're visiting Vancouver, make sure to stop by a farmers market to get a real taste of Vancouver!
More farmers markets across Canada:
Save for later: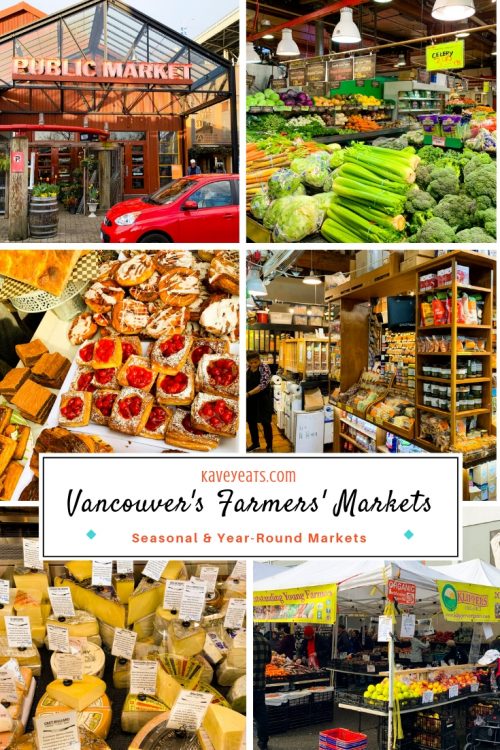 Guest post, submitted by Lesley at Freedom 56 Travel. Images copyright Lesley and used with permission.