Jesse Dunford Wood is a nutter genius.
Nutter, meant in the most affectionate way – charming, daft, surprising, friendly, eccentric, lovely…
Genius, as in an exceptionally fine cooking talent.

Jesse posing in front of a 1952 photo of his grandfather Tom Stacey, author, publisher, chef at The Savoy and Notting Hill local.
Currently the lead chef at The Mall Tavern in Notting Hill, Dunford Wood has an illustrious CV.
He started his training in Scotland's The Witchery and then the Atrium before learning high-end French cooking at Michael Caines' Gidleigh Park in Devon. From there he went to Australia, working in top Sydney restaurants; He cooked French-Japanese fusion with chef Nori Sugie at VII and French at Mark Best's Marque. Back in London, Dunford Wood worked at Le Gavroche with chef Michel Roux Jr, and then as sous chef at Rowley Leigh's Kensington Place. Itchy feet must have struck again because he was then off to America, working at Charlie Trotter's in Chicago and then a couple of successful NY restaurants. Back in London once again, he teamed up with Oliver Peyton, and was the executive chef at The National Dining Rooms in The National Gallery.
And now he is head chef at his own place – somewhere far more laid back and casual than most of the places where he's learned his trade. But don't let that fool you, The Mall Tavern is pretty special.
It's a lovely old pub that's been stylishly modernised without losing all its traditional character. This shouldn't be too surprising given that Dunford Wood's two partners are the Perritt Brothers, who also own The Regent in Kensal Green and The Stag in Hampstead. The Perritts have a reputation for taking on and refurbishing pubs that have seen better days and bringing in top quality food and drink menus.
The Mall Tavern is warm, welcoming and, when we arrive on a Thursday evening, it's absolutely packed and buzzing with conversation.
There are ten of us friends meeting for dinner tonight and the fact that we're about to have one of the best meals I've had in some time is all down to the lovely MiMi (of Meemalee's Kitchen) who cleverly booked us the Kitchen Table and a fixed price feast menu.
Dunford Wood disarms me immediately by telling me he recognises me – he saw me give my little rant on stage at Mixed Grill (though I don't dare ask what he thought of it).
He ushers us in with warm welcomes and we quickly take our places at the long, sturdy table at one end of the kitchen.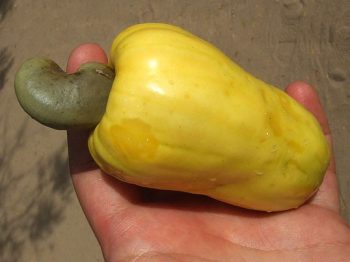 image by CCs adventures in space (flickr creative commons license)
Full of energy, Dunford Wood hops about ensuring we're all settled in, takes drinks orders and also places a strange fruit or vegetable in front of us, challenging us to identify it. We're quite flummoxed for ages but suddenly, the shape of that funny knob at the top makes me think again and I wonder if it's a cashew fruit? I've never seen these, though Dunford Wood later tells us his mum just brought it back for him from India, where they grow plentifully. I shall seek them out next time I visit. I do recall watching something on TV about them many, many years ago. I have a feeling the nut is poisonous until it's been processed.
MiMi cuts the cashew fruit into pieces for us to try. But it must be under ripe. Never before has something made my mouth feel so incredibly furry! The taste is actually quite pleasant, though I bet it's far nicer when fully ripe. But, that furry feeling is just horrid!
Onto the proper food…
Dunford Wood's menu focuses on British food with lots of comforting classics – many of which are sadly seldom seem on menus anymore.
Instead of us making individual choices, Dunford Wood brings out lots of different dishes for us to share. With ten of us, he brings two of each dish and more dishes just keep coming and coming and coming and coming. And as quickly as we finish them, they are refilled and come again!
Our starters include still warm soda bread and butter, gala pork pie with mushroom ketchup, fried brie and cranberry sauce, home smoked salmon, mushroom and chestnut pate with marinated shimeji mushrooms, whipped goats cheese with squash and pepitas (squash seeds), rabbit terrine with caper mayonnaise, pork crackling and bramley apple sauce, chicken liver pate with pickled red onion parsley and half pint glasses of sweet "fartichoke" crisps (Dunford Wood's pun, not mine!)
By the time the onslaught of starters dies down, we are pretty full. But of course, the mains are still to come.
Again, the serving style is perfect for a relaxed groups of good friends – Dunford Wood serves two each of 6 different mains, randomly placing one dish in front of each of us and a few more in the centre of the table, with instructions to pass them all around. (This is not the dining experience for germ-paranoia folks!)
Chicken Kiev is one of The Mall Tavern's signature dishes and certainly one Dunford Wood has become known for. Served on a potato rosti and with lashings of garlic butter inside, the chicken is moist with a crunchy coating. Glorious!
Cow Pie, filled with gloriously tender and richly flavoured beef and punctured with a marrow bone chimney, is a very fine pie indeed. This is one of the favourite dishes.
A fine looking pithivier is introduced as a posh pigeon pasty! Moist pigeon meat, light pastry, all very tasty.
I can't remember now what this fish dish is, though I'm fairly sure it's seabass. It 's light, fresh, delicious and deserves a stronger memory but the other dishes are so good, it's up against stiff competition!
I don't dislike vegetarian food but I'm seldom tempted away from the meat to order a vegetable main when dining out. This dish of red-wine poached eggs with chestnuts, cipollini onions and mushrooms on smoked mashed potatoes is truly mind-blowing for me – it is rich, savoury, unctuous and deeply satisfying. I could eat the whole plate on my own, though I reluctantly share.
Mat sulks that I'm keener on Dunford Wood's smoky mash than his, but I think he quickly forgives me!
It's not often that I'd travel across London for a veggie dish, but I would for this one!
The enormous pork chops have been brined and then breaded. Definitely meaty man food, according to our resident cave man!
We are also invited to try an experimental Uncle Sam's Hot dog, which is a meaty fine sossidge! It needs a pile of caramelised onions, some mustard and lots of ketchup!
Believe it or not, after all that food, there are desserts too!
As with the starters, Dunford Wood serves these family-style, for sharing.
Dunford Wood has a bit of a thing for arctic rolls. His versions are fabulous, especially the raspberry though the malted whisky and chocolate, chocolate orange and classic ones are excellent too. We also have Neapolitan ice cream, rhubarb jelly, clementine cheesecake, hot apple turnover with quince ice cream and a rich, moist rhubarb and almond bakewell cake.
I can hardly move. Not that this stops me trying absolutely everything!
Coffee comes with Dave the cook's salted caramel "rolos".
I have one of those Batchelors cup-a-soup mugs too, by the way!
Finally, our epic feast is over. We are sated.
And – I'm sure you'll find this as unbelievable as I did – this fantastic meal, this amazing experience, costs us just £35 a head for the meal plus drinks. Our final bill comes to £50 a head including a tip!
In terms of food, ambience, service, experience… this has been one of the most enjoyable meals I can remember.
Go! Soon!
The Mall Tavern
71-73 Palace Gardens Terrace
London W8 4RU