I rarely order a Chinese takeaway without including a chow mein; who can resist the signature smokey flavour that wok frying imparts to savoury fried noodles? This chicken chow mein from Kwoklyn Wan's Chinese Takeaway in 5 is straightforward and quick to make – the perfect Chinese fakeaway recipe.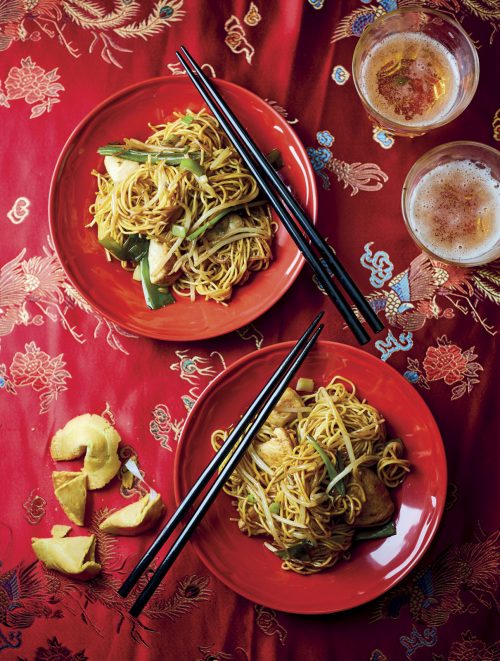 Indeed it's one of the recipes reviewer Jack made several times whilst cooking from the book and writing his full review of Chinese Takeaway in 5: 80 of Your Favourite Dishes Using Only Five Ingredients.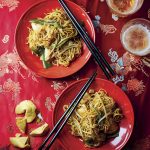 Chicken Chow Mein
Chow mein is a firm favourite in Chinese takeaways and restaurants around the world. A top tip when cooking this dish is to take your time. The word 'chow' literally means 'fried' so try not to overcrowd your wok as you want the noodles to really sizzle in the oil as they cook. This not only imparts flavour but also adds another layer of texture to the dish.
Ingredients
2

nests of dried egg noodles

5

spring onions (scallions)

1

chicken breast, cut into bite-sized slices

175

g

3½ cups beansprouts

4

tbsp

stir-fry sauce (recipe provided below)
Store cupboard
3

tbsp

vegetable oil

¼

tsp

white pepper

½

tsp

white sugar
Instructions
Bring 800ml (3½ cups) water to the boil in a medium saucepan, then add the noodle nests and cook for 5 minutes until soft. Drain and set to one side.

Prepare the spring onions by cutting the green parts into 5cm (2in) pieces and then halving these lengthways. Slice the white parts into rings.

Heat your wok over a medium heat until smoking, then add the oil along with the sliced chicken and cook for 3–4 minutes. Once the chicken is nearly cooked through, add the spring onion greens and beansprouts and cook for a further minute, then add the drained noodles. Stir-fry for a further 3–5 minutes, ensuring the noodles are well combined with the rest of the ingredients and you've also allowed them time to crisp up a little. Add the pepper, sugar and stir-fry sauce and continue to cook for a further 2 minutes.

Remove from the heat and transfer to 2 plates. Sprinkle with the remaining spring onion whites.
Here's Jack's chicken chow mein, definitely a great alternative to ordering from the takeaway!
Stir-Fry Sauce
You only need 4 tablespoons of this sauce for the chicken chow mein so either scale this recipe down as needed, or make the full amount to use in coming weeks.
Having a pre-made stir-fry sauce is a godsend to the home cook who is fighting time or is simply too tired to pull out half the cupboard to cook a meal. Made by combining classic Chinese flavours, it can be added to noodles, rice, meat and vegetables to quickly and easily vamp up your meal.
Ingredients
12

tbsp

oyster sauce

5

tbsp

light soy sauce

3

tbsp

dark soy sauce

3

tbsp

sesame oil

3

tbsp

Shaoxing wine
Instructions
Combine all of the ingredients in a large bowl and mix well.

Store in an airtight jar in the fridge for up to 1 month or pour into an ice-cube tray and freeze for up to 3 months.
If you decide to buy this book after reading our content, please consider clicking through our affiliate link, located within the post and in the footnote at the end.
Kavey Eats received a review copy of Chinese Takeaway in 5 by Kwoklyn Wan from publishers Quadrille. Recipe published with permission. Book photography by Sam Folan. Home cooking image by Jack Thomas.