There can't be many who aren't aware of the horrors of battery farming at it's worst. Thousands of birds crammed into vast sheds – often windowless with artificial lights on 24/7; their movements completely restricted; their bodies pumped full of growth hormones to speed up the production cycle. And goodness knows what they're fed on! Sometimes, the birds grow so fast their legs can't support their bodies; they spend their short lives sitting in their own filth. As you can imagine, these birds are highly stressed and regular doses of anti-biotic are needed just to keep them alive. Shudder!
So what are the alternatives?
Free range, in my mind, is predominantly about animal welfare. There are controls over how the number of birds per square foot and the animals are free to… well… range! They have access to open-air grass runs. Feed must contain at least 70% cereals. That said, they can be given chemically treated feeds and can be treated with drugs including, as far as I can tell, growth hormones.
There's also the subset of free range corn-fed birds – their feed must include at least 50% maize, which gives the meat it's characteristic yellow colour.
Organic, as I understand it, goes quite a bit further. It too governs how densely packed the birds are in their sheds and specifies access to open-air grass runs. But it also rules out growth hormones (antibiotics are permitted to treat sick birds but cannot be regularly and routinely given for any other purpose). The makeup of the chicken feed is also regulated. It contains cereals, some vegetable protein, a small amount of fish meal, and a vitamin/mineral supplement. In addition, the feed itself must be grown organically. In many cases, it's often also free from genetically modified produce.
To my mind, even if one puts aside the animal welfare issue, it makes sense that animals allowed to grow at a natural rate, to develop their muscles by normal movement, to eat a healthy and natural diet and to live a relatively relaxed life interacting with their fellow birds will taste better than their cheap, mass-produced counterparts.
A few years ago, some newspapers made a great fanfare about research papers published by food scientists at Strathclyde University. There was rather a large leap from what the papers contained to what the journalists claimed – that the scientists had shown that organic confers no nutritional benefit over non-organic and that it doesn't taste better either. All in all it was a gleeful nose-thumb to the merits of organic farming and the high prices of organic produce. In reality, the papers concluded no such thing, and what they did put forward was based on statistically insignificant samples.
In any case, I had never held the belief that there is a nutritional benefit to organic. My thinking is that organic is about curtailing the use of artificial chemicals in production, and therefore as much about the environmental benefit as the quality of the produce itself. And perhaps, there may prove to be long-term health benefits to ingesting less chemicals, though it's not something I worry about.
I figured that, in terms of taste, both free range and organic provide a clear taste/texture improvement over battery-farmed.
My question was whether organic would taste any better than free range or about the same?
So I set out to find out.
Abel & Cole have recently launched a range of free range meat, alongside their organic. They kindly sent me two beautiful chickens – one free range and one organic.

The birds were the same size and my plan was to cook them side by side and make a direct comparison.

The first step was to score a big F and O into the skins to ensure no accidental mixups! As you can see, the organic bird has a yellower tone to the free range.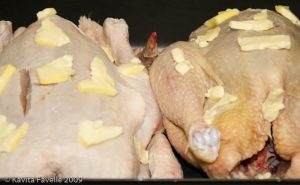 Then a liberal application of butter (à la Simon Hopkinson) and the birds went into the oven.
And came out beautifully roasted!
So what was the result?
Both birds did taste fabulous, but the organic one definitely had the edge. It's skin, especially, had far more flavour. The meat too had more flavour, though both were moist, tasty and with similar great texture.
I also fried both chicken livers as little snack before the meal. Both were delicious! Really not much in it, but the organic one was just that bit firmer and meatier.
We made stock from both carcasses / giblets and the two batches were indistinguisable.
A round of applause to the organic bird! It won, by a small nose (or should that be parson's nose?)
For those on a tighter budget, the free range bird is a great quality choice. When pushing the boat out, it's worth paying more for the organic.