I rarely order Indian food for delivery. Truth be told, I don't go out for it that often either (though I do have a few Indian restaurants I love and recommend). Instead, when I fancy "an Indian", I usually turn to Pete and ask him to cook some of my mum's recipes (from Mamta's Kitchen), many of which are comfort food favourites for me (and for him too now). He's a dab hand and cooks them as well as my mother, which is a rare and enormous compliment indeed.
But of course, this mental reluctance to go out for or order Indian food means we are missing out, because it tends to funnel us to the North Indian regional cuisine of my mother's family, albeit with some additional recipes from relatives and friends from elsewhere around the subcontinent.
Clays Hyderabadi Kitchen
Today I want to tell you about Clays Hyderabadi Kitchen, a small independent business run by husband-and-wife team Nandana and Sharat. Nandana cooks the starters and various curries, while Sharat takes care of the rice and biryani dishes. Their recipes hail from their families, handed down through generations of cooks, with tweaks and additions by the duo. Every dish on their menu is made with a different spice mix, each one mixed and ground to taste, and they select the best quality ingredients they can find.
Recently, I asked on Twitter for (tried and tested) recommendations for great restaurant food currently available for delivery nationwide. Three different friends recommended Clays Hyderabadi Kitchen, each of them people whose taste in food I respect. They told me about this "small independent doing remarkable things", creating "top end flavours", and that the food was "excellent". Of course, I checked out the website straight away, and as I started reading the menu descriptions, including many dishes I hadn't tried before, I knew I had to place an order. While I was literally talking to Pete about which items to choose, my Inbox pinged with an email from owner Nandana inviting us to review their offering.
To cut a long story short, the order arrived and we were thrilled and enchanted by the intense, utterly compelling flavours.
There were dishes we'd never come across before, plus familiar ones taken to another level, and to top it all, packaging was excellent (environmentally friendly and effective insulation that kept the products properly chilled), warming instructions were straightforward, and portions were generous.
In fact, we loved the food so much that as soon as we'd finished trying everything we were sent, we immediately placed a (huge) order for more, including nine main dishes, which should keep us going for a (short) while!
Sharat & Nandana's Story
Before I tell you about the food (and be warned, that's quite a long list), a little more about how Nandana and Sharat came to launch a delivery service. On moving to the UK, the couple lived in London for 15 years before they relocating to Reading a few years ago. Whilst Sharat always worked in hospitality, Nandana came from an IT background, but shared Sharat's vision of creating a food business that offered Indian dishes from their home region; dishes the two discovered were simply not being sold by Indian restaurants in the UK.
After taking on some catering jobs they sought premises for a restaurant, signing a lease at the end of 2017. They opened in the summer of 2018 to a warm reception. Nandana remembers fondly that, despite a multitude of mistakes on their part that resulted in some customers waited an hour for their food, the feedback and reviews were encouraging, supportive and above all, very complimentary about the food. They scaled down the operation for a short time to hone their routine, before increasing back to full capacity over coming weeks. Things were looking very positive.
And then, as it did for many restaurateurs, the Covid-19 pandemic threw a huge spanner in the works. Unfortunately, with over half their tables located in a basement area that lacks the ventilation required to operate to pandemic-era standards, they could no longer operate a profitable restaurant business. Like many others, the couple re-planned, regrouped and pivoted their business to a nationwide delivery service.
The Food of Clay's Hyderabadi Kitchen
On to the food at last! The majority of dishes on the menu come from Andhra region and wider southern India, reflecting where the two grew up; Sharat hails from Hyderabad whereas Nandana spent her childhood in different locations around South India, thanks to her father's job. The pair are also experiment with dishes from other parts of India which are often offered as Specials.
Some of the ingredients they use are unfamiliar to me, particularly a spice called pathar ka pool (a lichen known as black stone flower) which features in some of their spice mixes. Nandana tells me that dried coconut, nuts, tamarind and yoghurt are also key ingredients in their kitchen, and of course, they use many of the Indian spices and ingredients I also have in my cupboard.
The way Sharat and Nandana combine these ingredients is sometimes quite different to the way they are used in my mother's part of India, resulting in a wonderful mix of familiar and wholly new-to-me flavours.
"Necessity is the mother of invention", says Nandana, as she tells me about the origin of their Kothimeera Karam Chicken (Coriander Chicken Fry): when they started working out their menu for vacuum packed food suitable for delivery, they were keen to find a few starters that didn't need to have a sauce sent separately, so they adapted a fresh paste of coriander and ginger that they already used in a traditional aubergine dish, to create a coating for fried chicken thighs.
What we enjoy about this dish is the intensity and fragrant flavour of coriander on pieces of chicken that are satisfyingly tender, compared to many dry (non-gravy) Indian chicken starters we've had. It's also a versatile dish, and would work well for a light lunch wrapped in a fluffy naan with cucumber raita, or smooshed between two layers of fresh, soft bread.
The Bhooni Kaleji (Chicken Livers) are an important dish for the couple to offer, as they feel strongly that they "couldn't represent Hyderabadi food faithfully without including at least one offal dish on [the] menu" since "Hyderabadis are big on offal!" Instead of the iconic Hyderbadi dish of bheja (fried lamb's brains), they decided on chicken livers fried with cumin, coriander, mint, amchoor (dried mango powder), chilli and turmeric.
Like the coriander chicken, the chicken livers are beautifully cooked and rich in flavour, this time with a subtle kick of warmth and a little acidity from the dried mango.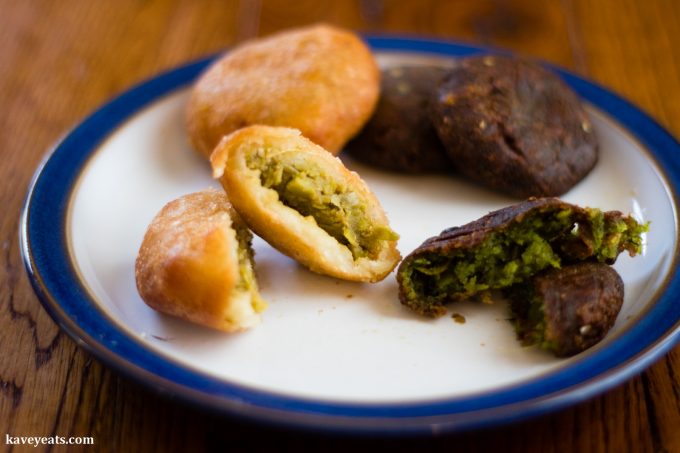 Pea Patties come four to the portion; mashed potato patties stuffed with a fiery green pea and green chilli filling that has a touch of sweetness from grated coconut. The flavours are delicious, but the textures a little affected by microwave reheating. That said, they are still very good dunked into the tamarind and date chutney provided, and very well balanced between shell and filling.
Spinach Patties (of which there are five) fare much better in the microwave, their texture less affected, but they are less exciting in flavour than their potato-pea brethren.
I probably wouldn't have ordered Mom's Fish Fry myself from the menu, and we'd have missed out, so I'm glad Nandana selected this one to send us. Lightly floured tilapia fillets are fried before tossing in a simple mix of spices, soft onion, ginger, garlic, tomato and fresh coriander.
We love the spicing here, and how tender the fish remains after reheating—it's so easy to dry fish out! Although it's listed as a starter, this would also work well for a light lunch alongside a crunchy salad, or rolled in roti or a fluffy naan.
I haven't eaten at many dhabas during my trips to India, which I regret as these roadside truck stop-cum-cafés are often renowned for the excellence of their food. Originally catering mainly to long-distance drivers missing good home cooking, they are now popular with anyone taking a road trip, and people often make special trips for the dhaba alone!
If Clay's Anda Masala, Dhaba-style (a Dhaba-style egg curry) is anything to go by, I've missed out on so much fantastic food! Dhaba food often uses punchy spicing, as well as plenty of oil to ensure that it keeps well without refrigeration. Charcoal, commonly used for cooking, also imparts a smokiness to the flavour. Nandana infuses their egg curry with smoke to capture that extra dhaba essence in the finished dish.
The curry has a thick sauce, slightly sweet from the heavy use of onions and tomato—almost jam-like in consistency—and be warned the chilli is in-your-face hot! The oily sauce clings seductively to the slippery-skinned, whole boiled eggs. This is one of our absolute favourite dishes, and we bought several portions for the freezer when placing our follow-up order!
The Dohneiiong (Pork Belly with Black Sesame) is unlike any Indian dish I've had before! This dish hails from the indigenous Khasi tribal community from Meghalaya, a North east state in India and is a deep black colour thanks to the black sesame seeds used liberally in its making. Nutty from the sesame and herbaceous too; its oiliness carries the flavours of spice and chilli forcefully, making it unexpectedly intense.
I previously associated black sesame with Japanese cuisine, so it is a surprise and education to see it used this way in an Indian dish. I really love this dish, but Pete finds the combination of pork belly fat and oil a little too much for his tastes.
In India many foods are tied to specific occasions; there are foods for feasting, foods to honour the gods, and foods to celebrate the harvest. Another such category is safar na khana—food for travelling. This includes foods which, with many centuries of experience, are deemed to be best suited to survive long and arduous journeys without the aid of modern equipment to preserve the food.
In my mum's family, there are several recipes that are strongly associated with travel, particularly the long and slow road trips made to visit family, or epic train journeys to and from boarding school. So it is with each region in India.
Baghare Baigan is considered one such dish in Hyderabad. Clay's Baghare Baigan is made with baby aubergines in a thick, complex sauce of ground nuts, sesame seeds, tamarind and spices. Each aubergine is split into four, but left connected at the stem end, allowing the sauce to coat the aubergine thoroughly, inside and out.
Another of the hotter dishes on the menu, this is superbly rich and savoury, and the nutty texture of the sauce contrasting beautifully with the silky soft aubergine flesh. Both of us love it, though I find the heat level just a touch high for my (limited) chilli tolerance! Pete is more than happy to eat my share!
Rice is so often an after-thought and nothing to write home about. I get annoyed at the sorry excuses sold as pilau rice by so many Indian takeaways and restaurants that are nothing more than plain rice with technicolour food colouring tossed in. That rice tastes of nothing, and is the blandest of carbohydrates with which to sop up a curry's sauce.
Clay's rice dishes are at the opposite end of the deliciousness spectrum! We are in Sharat's domain here and each of the four rice dishes we try combine the slender, long grains of top quality rice with spices and other ingredients, to create dishes that are absolutely not to be put in the corner!
Baghara Khana (Baghara Rice) is a Hyderabadi style pilao cooked with whole spices, herbs and saffron, plus onion, ginger, garlic, chilli, mint and coriander. When we unpack and heat our first round of dishes, the aroma of this rice makes me giddy with anticipation. It doesn't disappoint, and I could happily eat a bowl of this on its own for dinner and not feel short-changed.
Like the Baghara, Coconut Rice is another side dish good enough to eat on its own. Savoury from the mustard seeds, chilli and mace, the scent of curry leaves and ginger is stronger than that of the coconut. We like this, but not in the way I adore the Baghara!
Rice also features as main dishes in the form of biryanis, a category of dishes for which Hyderabad is justly lauded. The Paneer Biryani is cooked in the traditional dum manner (baked in a sealed dish) and is, again, deeply fragrant with the scents of basmati and spice. The paneer is firm but soft, its delicious spicing familiar to me from a shahi paneer dish we learned from a caterer my relatives in Northern India employed for celebratory parties.
Lamb Biryani pairs delightfully tender lamb with very lightly spiced rice, there's almost a milkiness to the taste. This dish lets the lamb and rice shine.
New to the menu is Dappalam, a vegan pumpkin and butternut squash curry. A very old, traditional dish, this was often made to use up all manner of leftover vegetables, not just squashes. In some parts of India, pumpkins are hung in front of houses, or smashed before a wedding, or entering a new home, as a way of warding off evil spirits.
In some regions (such as Kerala) a similar dish called Avial is made with coconut milk, but in Andhra, tamarind is the star ingredient. It gives the curry it's sweet and sour tang, which, together with the generous chilli, explodes with flavour in your mouth. For me, the heat is a couple of levels too high, but Pete savours every mouthful, even as he sweats through the heat. This dish is a real autumn-winter warmer!
Though it's not seen in UK Indian restaurants as often as lamb and chicken, game has long been a part of Indian cuisine, not least to make use of the large game estates that Indian royalty and nobility once maintained for hunting. These days, venison is banned in India (as part of an effort to protect local deer).
The Bhuna Venison offered by Clay's is rooted in tradition, from the cuisine of the royal households. Although venison is leaner than other red meats, it carries spice well, and here it is cooked in its own juices with spices, and sweet, soft caramelised onion. The flavour is deep and rich, and wonderfully intense (that's a word that applies to virtually every Clay's dish) and the meat very moist and tender. Oh, and yes, this is another super hot one!
Ambot Tik (Goan-style Prawn Curry) is another enjoyable dish, a spicy sour curry influenced by the Portuguese colonisation of the region. Traditionally, the dish is made with shark, but here fat, juicy fresh-water prawns are used instead. There's a touch of coconut milk that gives a sweet balance to the tamarind. Please check the restaurant's website for a far better image!
There are no dishes we try that we don't enjoy. Lahore Chana Murgh (Chicken and Chickpea Curry) is tasty, its flavours more familiar, similar to the Northern Indian dishes my family make, and which are more readily available across the UK. The chicken is not quite as tender as in other dishes but perfectly decent and we both appreciate the chicken chickpea combination.
John's Mixed Bread Basket is named for a suggestion from one of their first restaurant customers, who asked for an assortment of each type of bread they offered. The three flavours of paratha are beetroot, methi (fenugreek), and plain. All are soft and pliable, perfect for scooping up mouthfuls of curry, but very subtle in flavour. Between you and me, I'd advise you to go for the rice, and if in doubt, more rice!
If you're thinking of placing an order (and you should, you really, really should!) then be aware that while most dishes I've reviewed are on the regular menu, a few are limited-time Specials and may no longer be available. But rest assured, if they have gone, they may well be back in the future, and in the meantime they will be replaced with other dishes you will enjoy just as much!
Their nationwide delivery service is straightforward, and the food arrives very well chilled, packed in environmentally friendly packaging. Vacuum packs keep the food neatly and cleanly contained, and are perfect to freeze as well as to eat in the days following arrival—a great excuse to order several meals' worth!
We are witnessing so many hospitality businesses driven into the ground by the enormous challenges posed by the Corona-virus pandemic and its resulting lock-downs and restrictions on the industry. So it's a genuine delight to see small, independent businesses like this one find a way to not only survive but to thrive, by pivoting to ensure that they can still reach their customers and serve them the very best food.
If you love Indian food but are stuck in a bit of a rut with your local places, do please check out the website for Clay"s Hyderabadi Kitchen and place an order. I am confident you'll love it as much as we did.
Kavey Eats received a generous selection of dishes from Clay's Hyderabadi Kitchen for review. We have since placed a large follow-up order, and some of those dishes are also included in this review post. 
Please note that Clay's deliver to most mainland UK locations but are currently unable to deliver to Northern Ireland, the Scottish Highlands and Islands, the Isle of Man; and the Isle of Wight.