My friend Dom Ramsey has been a big influence on my love affair with chocolate. One of the first bloggers I met after launching Kavey Eats back in 2009, we became friends during a tour around a chocolate factory. In the years since then, our palates have developed, as has our hunger for the very best chocolate.
I'm just an enthusiast but Dom has become a true expert in top quality chocolate, constantly seeking more knowledge, getting to know many artisan chocolate makers and chocolatiers and learning about what they do – not just in the UK but around the world. He has helped so many people to better understand chocolate and discover their own favourites. A few years ago, he was one of the founders of successful online specialists Cocoa Runners, and has also provided a consultancy service to many other businesses.
Less than 18 months ago, he started to experiment with making his own bean-to-bar chocolate at home and discovered that he has a real talent for it. Within mere months of making that very first batch, his chocolate was already winning awards from the prestigious Academy Of Chocolate and that's facing some incredible stiff competition! His business, Damson Chocolate in Angel Islington, is now producing and selling small-batch chocolate that is amongst the very best I've tasted – and that's not just me being nice because he's a mate! It's phenomenally good chocolate!
You might be surprised to learn that many big brand chocolate makers don't make their chocolate directly from the cocoa bean – rather they buy couverture that has already been processed by someone else and just melt it down to make their own bars and confectionery. This means that they are not in direct control of the complete process in the way that bean-to-bar makers are. More importantly, the big producers tend to buy the cheapest cocoa they can find – usually high-yield, low quality cocoa available in bulk.
But in recent years, more and more bean-to-bar producers have set up shop creating small batch chocolate from the very best cocoa beans they can source. All those I've met have expressed a strong desire to support cocoa farmers, ensuring that they are fairly paid and helping them to implement sustainable and environmentally sound growing practices. Many work directly with farmers and small co-operatives, cutting out the middle men so that more of the money goes to the farmers.
To address the growing interest in bean-to-bar chocolate making, Dom has worked with publishers Dorling Kindersley to produce this fantastic book, Chocolate | Indulge Your Inner Chocoholic | Become A Bean-to-Bar Expert.
Inside the glossy gold and brown cover you'll find a comprehensive guide that covers everything from the history of chocolate, to an explanation of the chocolate trade today and how Fair Trade fits into that, an introduction to the main cocoa-producing regions of the world, tutorials on choosing, tasting and enjoying chocolate, lessons on how to make bean-to-bar chocolate yourself and a great selection of chocolate recipes from a range of contributors including Paul A Young, Maricel E Presilla, Edd Kimber and Micah Carr-Hill.
As is the norm in DK's Food Reference titles, the book is beautifully illustrated with lots and lots of photographs and diagrams and everything is explained in an approachable, easy-to-understand way. What I like is that this book works well for different audiences – whether you know very little about chocolate or you are pretty familiar with the process but looking for more detail and guidance on making your own.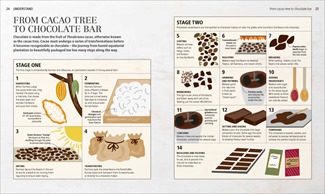 Click to view larger size versions, published with permission from Dorling Kindersley
The recipes Dom has chosen are really enticing; from a savoury duck ragu with 100% chocolate to a sweet cherry and chocolate mousse with balsamic glaze, everything looks and sounds so delicious.

Images published with permission from Dorling Kindersley
Recipes from Chocolate: Indulge Your Inner Chocoholic
Dorling Kindersley have kindly given me permission to share two extracted recipes here on Kavey Eats:
If you decide to buy this book after reading our content, please consider clicking through our affiliate link, located within the post and in the footnote at the end.
Kavey Eats received a review copy from Dorling Kindersley. Chocolate | Indulge Your Inner Chocoholic | Become A Bean-to-Bar Expert is currently available from Amazon UK for £13.48 (RRP £15).