I grew up in the culinary wastelands of Luton. My love of good food came from my parents and family friends. Not only did mum teach herself to cook dishes from around the world, we also encountered all kinds of new tastes and techniques whilst travelling overseas during the holidays. My dad enjoyed eating out so we went to restaurants from a young age, most often a simple steak house chain and a fantastic local Chinese (which I still miss since it closed a few years ago).
Of course, Indian food featured regularly too. Mum most commonly cooked dishes from Northern India where she and my dad grew up. She had learned some as she grew up but taught herself many more, gleaning recipes from family members still in India and local Indian friends too.
Just around the corner from us lived my "Auntie" Krishna who, to my sister and I, isolated from our blood family in India, was much more than 'just' a family friend. Her mother, who we called "Nani" (Grandmother) Maya, would visit from India for months at a time, like my own grandmothers did. Nani Maya was from Kolkata and taught mum many dishes from her regional repertoire.
Food was something that drew our families (plus a few other local friends) together – many happy moments were spent cooking and eating together in one or other nearby houses.
One day Auntie Krishna arranged for us to go to London to visit a high end Indian restaurant that had opened a couple of years earlier. A cousin or uncle of hers was a regular visitor there and wanted to take us all to visit. That restaurant was The Bombay Brasserie.
More than 25 years later, I still remember the high glass ceilings of the conservatory, the greenery around the room, the elegant days-of-the-Raj interior and the attentive service. Back then, a restaurant serving authentic dishes from different regions in India was a huge contrast to the more common flock wallpapered curry house.
Of course, The Bombay Brasserie was of it's time. It opened the same year that Gandhi was released. Our visit, two years later, coincided with both The Jewel in the Crown and Passage to India (the film). India was all the rage!
All I recall about the food is that, whilst everyone agreed it was tasty good, it was really, really, really hot! The visit was a big treat – we went out to restaurants regularly but Luton certainly had nothing to compare to this kind of establishment – hence it sticking in my memory.
Fast forward to 2010 and I received an invitation to visit Bombay Brasserie to review.
Of course, I couldn't resist going back after two and a half decades. Would I recognise the place? Would the food and service be as good as my teenage memories? How had Bombay Brasserie evolved in the face of increasing awareness and interest in authentic regional Indian cuisine and stiffer competition from the new kids on the block?
I didn't recognise the main dining area but once we walked into the rounded conservatory area, the déjà vu hit me. The furniture is lighter and more modern and there's less greenery than I remember, but the sloped wooden and glass ceiling is unchanged.

The conservatory part of the restaurant is most familiar, though lighter and more modern
The main dining area is more traditional with a huge chandelier hanging below the high, elegantly corniced ceiling and a glorious round glass window at one end (which has lights installed to give different colours). Although it's grand, it's not as unusual as the conservatory and somehow has a bit of a posh but dated hotel feel about it.
Both are comfortable places to sit, but I'd choose the conservatory, especially for a day time visit.
That said, I do wish they hadn't reduced the flora so much; I rather liked that slightly jungle feel about it, though perhaps I'm misremembering!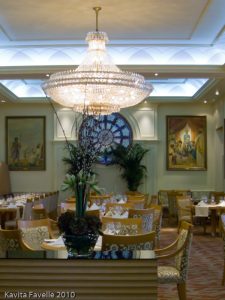 The main dining room, Chef Hegde
Before lunch, we'd arranged to meet and talk to Executive Chef, Prahlad Hegde who joined The Bombay Brasserie as a sous chef in 1991 and now heads up the restaurant team. He works in partnership with Hemant Oberoi who is the Executive Chef for the entire Taj Group, and visits this London outpost once or twice a year to work on menu development with Hedge. I was disappointed to miss an opportunity to meet Chef Oberoi during his recent visit, but very happy to chat to Chef Hegde who is responsible for the restaurant on a daily basis.

This mural was originally in the main dining room but was moved into the conservatory during last year's refurbishment
We made a short video of part of our chat with Chef Prahlad Hegde:
Before lunch we ordered a drink to enjoy in the entrance bar area.

Drinks and snacks in the bar area
I ordered a Blackberry cocktail from a section of the bar drinks menu called "Smashes", which I really enjoyed. Pete's Cappuccino Martini, on the other hand, was very poor, lacking almost completely in flavour and with virtually no alcohol kick whatsoever. It tasted mostly of cream.
With the cocktails were served some perfectly spiced and salted roasted almonds and some very moreish spicy orange crisps.
Time for lunch!
First out was a plate of crudités and fried snacks with a lightly spiced tomato dip.
Having looked at the menu and spoken to Chef Hegde, we mentioned a couple of dishes we particularly wanted to try and left the rest of the selection to him. For starters, he sent out a mixed plate so we could try a number of the most popular starters.
Chicken tikka 'doodha' was firm but tender with a surprising smokiness and wonderful blend of spices. It wasn't as soft as the Delhi Grill chicken tikka but soft enough, and the flavour really was wonderful.
The Curry leaf scallops on peppered crab were also a hit. Even with Pete, who would not normally eat scallops or crab let alone find anything positive to say about them. The scallop was subtly spiced and perfectly cooked. The peppered crab was incredible, somehow delivering some fairly robust spicing without overwhelming the sweet flavour of the crab, which came through very clearly.
Ganderi seekh (lamb kebabs on sugarcane sticks) were served in little shot glasses of green coriander and mint chutney. They were soft and moist, though the wet chutney made the crumbed exterior a bit soggy. Although I liked the release of sweet juice as I crunched down on the sugarcane, the flavours in the kebab didn't wow me.
But that's OK because the palak pakodi chaat blew me away. Thin leaves of spinach (palak) were deep fried in a very light gram flour batter to make unusually light pakora (as I know them in Hindi) , or pakodi (as they are called by Telegu speakers). These battered spinach leaves provided the crunchy element of the chaat (more commonly provided by fried bread or pastry) against the natural yoghurt, coriander, tamarind chutney, raw red onions and tomatoes and chaat masala (spices). It was a heavenly dish and a lunch of nothing more than an immense bowl of this palak pakodi chaat would make me a very happy Kavey indeed!
I resisted begging for more palak pakodi chaat and we went onto the mains.
The Chilean seabass on spinach and mushroom was decent. Again, the fish was beautifully cooked and nicely spiced. The soft spinach beneath was a good match.
The Dum ki nalli was impressive. Delivered in one piece to the table, the slow cooked lamb shank in saffron curry was then slipped off the bone at the table to make for easier serving. Whilst I couldn't detect the distinct bitter muddiness of the saffron, I did think the spicing delicious and the lamb itself very tender. And how lovely to get a decent serving of the gravy, all the better to dip the lovely lightly scorched naan bread and flaky-layered laccha paratha into!
Aloo katliyan didn't appeal at all. The spiced potato slices were undercooked hard and the flavours too bitter for our tastes.
We also had a mint and cucumber raita; a decent side, but the natural yoghurt is not as flavoursome as the home-made stuff they have at Quilon.
I loved the fresh sugarcane juice soft drink I ordered, though it was a touch heavy on the ginger for my tastes. The sweet earthy taste worked well against the spicy mains.
After our mains tiny dishes with a solid white tablet in them were brought to the table. I cannot describe them better than Marina O'Loughlin in her review of a year and a half ago:
What looks like a large indigestion tablet arrives, tumescing into a meringuey tube as the waiter baptises it with boiling water. I wonder how many people have attempted to eat this hot towel?
Still, they amused me greatly. It doesn't take much!
Dessert was disappointing. The malai kulfi was actually good, though it didn't really match well with the crispy pastry case in which it was served. The ginger brioche and butter pudding was a let down. Lacking in flavour and collapsed sadly into it's ramekin, it wasn't a good ending.
So, what's the low down?
I quite like Terry Durack's comment: "Not only does [Bombay Brasserie] have a grand sense of space, it has an equally grand sense of time." There's certainly a sense of longevity and tradition, aided by the black and white photographs of Indian maharajah's and British colonials that adorn the walls in the bar area. A visit does have a sense of occasion, though atmosphere is somewhat let down by the lack of fellow diners on a weekday lunch time!
My biggest problem is the price. Starters range from £5 to £11.50, with most of them around the £9-£10 mark. Mains are between £18.50 and £30 each plus extra for the various side vegetables, breads, rices and raita. Desserts are £6.50.
Rowan Moore said "It made me feel more slumdog than millionaire" and he has a very good point.
With so many great alternatives for fantastic Indian food in London, those are hefty prices and one senses that one is paying a large part of that for the rarefied atmosphere and decor – A Saudi prince made a last minute dinner booking for a large party just the night before our visit and I can't imagine him taking his guests along to the more everyman Delhi Grill or Dishoom!
You can also see from my review that I absolutely loved the starters, enjoyed the mains well enough and didn't think much of the desserts, so it's a little hit and miss. And for these prices, it needs to be hit and hit!
That said, there are less expensive options. A weekday lunch tiffin is priced at £22 per person and includes small servings of a couple of starters, a selection of mains with rice and naan, dessert and tea or coffee. Served in a modern take on a tiffin box, portions are just right for a working day lunch.
However, my next visit shall be for the weekend lunch buffet. Also priced at £22 a head and available between 12 and 3 on Saturdays and Sundays, this is a great way to enjoy many of the restaurants classic dishes without a bill of royal proportions. Since Chef Hegde assures me the buffet includes the palak pakodi chaat, I'm there!
Kavey Eats dined as a guest of Bombay Brasserie.