A city break holiday is the perfect pick-me-up when you have just a few days to spare but want an immersive escape with culture, history and great food and drink. I love a bit of people-watching too!
I was originally going to write about my personal Top 10 Cities – Kyoto, Cape Town, Venice for sure, and maybe Taipei, Porto, Toronto, Stockholm, I'd have to think hard to narrow it down. But as there are still so many places I've never been to, it would still be limited in scope.
Instead, I decided to reach out to the vast and wonderful community of travel bloggers all around the world. This post is the collaborative result, with each blogger telling us in their own words (and with one of their photos) why their chosen favourite city captured their hearts.
With such a well-travelled group, there's fantastic variety in the list so I'm sure you'll find some inspiration for your future travel planning!
Please enjoy the first twenty cities: Adelaide to Budapest.
Adelaide, Australia
Adelaide, the capital of South Australia and a cute, charming boutique city. Surrounded by the ocean to the west, the Mt Lofty Ranges to the east and wine country to the north and south this city of just over one million people has it all.
Surprisingly there was a plan when designing the CBD because you will find that the entire city is a grid, making it super easy to navigate for the direction conscious person. It is also home to, in my opinion, the best open-air shopping mall, Rundle Mall. With its famous malls balls and pig statues the mall is a must stop when visiting Adelaide.
Had enough of shopping? Head out of the CBD to indulge. The coast, especially the south coast of Adelaide is pristine. With white sandy beaches for miles, hip and trendy cafes in the suburbs of Glenelg, Brighton and Henley Beach, just to name a few, you could comfortably relax a day away down on the coast. Whereas if a glass of good wine is more your style venture out to one of our many award-winning wine regions just outside of the city. These areas consist of the Barossa Valley, McLaren Vale or the Adelaide Hills.
So there you have it, Adelaide is impressive. So add it to your list with Sydney and Melbourne and be sure to come and check it out when you are down under.
Lauren Owen blogs at The Traveller's Guide By #ljojlo. Find Lauren on Instagram.
Amsterdam, The Netherlands
Amsterdam, with its pretty tree-lined canals, crooked gabled houses, rich history and vibrant cultural scene, is one of Europe's most popular cities and one of my favourite places for a city break.
The city has something for every style of traveller. It's brimming with museums, hip neighbourhoods, gorgeous parks, cool cafe culture and a diverse food scene. It's easy on the eye too, whether you're exploring the networks of the UNESCO canal system by boat or cycling out to the tulip fields in springtime.
For culture vultures Amsterdam has more than its fair share of art and history. The Rijksmuseum and The Van Gogh museum are packed with hundreds of years of Dutch art and history while Anne Frank's house tells of darker times and a more recent tale. Dam Square's the place for street performers and people-watching.
There's an Amsterdam hotel to suit every pocket from five-star luxury, boutique hotels in canal-side merchant homes to quirky hostels and houseboat stays on the water.
Amsterdam's easy to get to from most places. Schiphol is a hub airport so flights are frequent and plentiful from Europe with many low-cost airlines flying there. To get to the city there's a direct train which takes just 15 minutes from the airport right to the heart of the city.
Suzanne Jones blogs at The Travelbunny. Find Suzanne on Instagram.
Baltimore, USA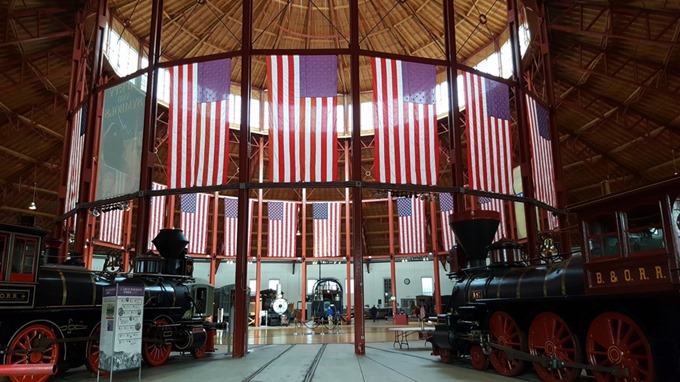 Baltimore is such a fun city that is literally dripping in history, with so much to do on a city break. We visited for 4 days in February, with our two children.
The Inner Harbor is the best place to stay with heaps of reasonably priced hotels (we stayed in the Days Inn, Inner Harbor). Within walking distance in the Inner Harbor are the US National Aquarium, the B&O Railroad Museum, Babe Ruth museum, Maryland Science Museum, the USS Constellation, the Chesapeake Lightship, USS Torsk submarine, USCGC Taney, Oriole Park (baseball stadium), the American Visionary Art Museum and a whole load more! Fort McHenry is a free bus ride away from the Inner Harbor (the birthplace of the Stars and Stripes).
You can even take a class in cake decoration at the Charm City Cakes studio – made famous by TVs 'Ace of Cakes'. Pig Town is an up and coming neighbourhood adjacent to the Inner Harbor where you can grab a coffee and cake and watch the world go by. And don't forget the famous crab cakes: the best you can get in Baltimore are purported to be from Dudas Tavern in Fells Point – you can catch a water taxi to Fells Point from the Inner Harbor. Baltimore is a brilliant city to visit, go for it!
Tracey Kifford blogs at PackThePJs. Find Tracey on Instagram.
Bangkok, Thailand
We've been to a lot of fantastic cities all over the world, but somehow Bangkok holds a special place in our heart. It's the first Asian city that we visited as a couple, on our first ever long holiday together in 2004. Since then we've been to Bangkok many times and even celebrated New Year's Eve 2016 there with our 2-year old son. It was amazing to experience this together with our little world traveler!
Khao San Road is a backpackers haven, but the surrounding streets have a vibrant atmosphere that we really enjoy. On Soi Rambuttri there are a lot of lovely budget places to stay. The easiest way to reach other parts of Bangkok from this area is by water taxi, a fun (and budget friendly!) experience. Bangkok has the perfect mix of fantastic (street) food, amazing landmarks, friendly people and great shopping.
Wat Po, although quite touristic, is still one of our favorite temples. Definitely visit some of the night markets, that's where you find the best food and it's a great way to experience Thai culture. Other recommendations: take a tuk-tuk ride, visit a Muay Thai boxing match, do a boat tour on the khlongs, discover Bangkok by bicycle, go shopping at MBK shopping mall and do a Thai cooking class.
Lisa blogs at Flip Flop Globetrotters. Find Lisa on Instagram.
Barcelona, Spain
I studied and lived in Barcelona back in 2008 and got to know the city very well during those five amazing months. I learned the language, got to know the people and fell in love with the music and the laidback Spanish lifestyle. Mañana, mañana… no rush… Barcelona will forever hold a special place in my heart.
For me, Barcelona is the perfect combination of laidback and lively. You can go to a different event every night or choose to chill on the beach at Barcelonetta or relax on a bench in beautiful Park Güell instead.
One of my favorite places in Barça is the La Fuente Mágica de Montjuïc. During my 5 months I visited these fountains countless times and every time I was enchanted by the music and lights…
I also recommend visiting Mount Tibidabo! Getting there is a lot of fun because it involves several modes of transportation: take the train (line 7) from Plaza Catalunya to Avinguda Tibidabo FGC Station, change to the 19th century Tramvia Blau, then ride the funicular railway and finally take the elevator to the top of the mountain. The views over the city are spectacular…
Que te diviertas en Barcelona!
Lotte blogs at Phenomenal Globe. Find Lotte on Instagram.
Check out this great guide on wheelchair-accessible Barcelona.
Beijing, China
Beijing, the capital of People's Republic of China, is one of my favourite cities in the world, due to its wonderful mix of history, culture, and modernisation. This megacity with 21.5 million population is full of amazing things to do.
Home to the world's largest and best-preserved imperial palace complex, the 597 years old Forbidden City and some of the largest shopping malls in the world, Beijing is one of the best cities in Asia to experience not only modern lifestyles, but some special historical and cultural activities. Furthermore, Beijing is the food capital of China with plenty of great food, and the unique Chinese Imperial cuisine that is still kept intact until today.
The distinct four seasons weather in Beijing also offer a variety of activities to do throughout the year. You definitely should check out the Great Wall in Beijing in each different seasons just to witness the amazing changes in scenery and colours.
Other top things to do in Beijing includes visit to the Tian An Men Square, Summer Palace, Temple of Heaven, 798 Art Zone, and definitely don't forget to try the iconic Peking duck!
Allison Wong blogs at Sassy Urbanite's Diary. Find Allison on Instagram.
Beirut, Lebanon
No matter where you are in Lebanon's capital, you will feel like you are in the center of action. Beirut is the capital and largest city of the country. And while no recent population census has been done and estimates range from only one to two million, Beirut always seems crowded. This could be due to the fact that there is always something to do for visitors.
Only a short flight away from major European airports, Beirut lies on the Mediterranean Sea and enjoys one of the best climates at anytime of the year. And no worries, there are tons of things to do to pass your time: Go for a stroll along the Corniche, meet the famous Pigeons' Rocks, pass the stunning American University gardens, visit Beirut Old City and dive into the past of this diverse country.
And, of course, don't forget to eat Mezze, a selection of small dishes served to accompany alcoholic drinks. You'll love it. Let the day end back at the Corniche, where the sun sets at the horizon, before moving on to enjoy the great restaurant, bar and (yes!) party scene. Beirut is a great city break destination and has just started to be on the rise again.
Clemens Sehi blogs at Travellers Archive. Find Clemens on Instagram.
Belfast, Northern Ireland
Belfast is one of those cities I honestly never thought I'd visit in my lifetime. I didn't know much about it other than it being located in Northern Ireland and that it was the front to a gritty conflict in the 90's.  It wasn't until one of my best friends from the States hopped the pond to get her masters abroad at Queen's University did I really get to know this incredible city. Ending my 3 month Europe backpacking trip I was set to spend a week in Belfast.
What ensued was one of the best weeks of my life exploring the beautiful surrounding natural landscapes, learning about its history and its tumultuous past in the 90's and meeting some of the best people I have ever met. The Irish, especially those in Northern Ireland, are the most genuine people out there. They are what make Belfast the city that it is today. Since my initial trip, I've been back twice and know that it won't be my last. I highly recommend anyone wanting a weekend city break to visit Northern Ireland and get lost in it's natural beauty in places like Cave Hill, the Mourne Mountains, Giant's Causeway, and so much more.
Alex Peters blogs at The Wayward Walrus. Find Alex on Instagram.
Belgrade, Serbia
While its reputation precedes it and sounds a lot edgier than it truly is, Serbia's capital city is never a bad idea. Besides being dirt cheap while still in the heart of Europe, it's also very beautiful in every sense. Many civilizations fought for this particular place at the confluence of the Sava and Danube rivers. All of them left an imprint.
Today you can enjoy Belgrade's excellent nightlife, gorgeous brutalist architecture juxtaposed with the ancient Kalemegdan castle, and yummy food all within short distance. The city is changing quickly, but it's not too late for you. What makes it a great city to visit on short notice (and time), is mostly its easy connection to the airport, railway and bus network in Europe. There are flights between east and west, day and night.
Belgrade perplexes me everytime I visit.
Iris Veldwijk blogs at Mind of a Hitchhiker. Find Iris on Instagram.
Bergen, Norway
Did you know Bergen was the capital of Norway until 1299? And did you know that its Bryggen seafront is a UNESCO World Heritage Site? And, in 2016 Bergen was named a UNESCO City of Gastronomy!
Bergen is often called the Gateway to the Fjords, because it is ideally situated as a base for exploring the fjords of Norway, yet another UNESCO World Heritage pick. Surrounded by seven mountains, Bergen is one of the most beautiful places on earth, bringing land and sea together at its core.
It's impossible to decide whether people watching is better at the famous Torget Fish Market or at Byparken, the city's park. The shopping is definitely best in Bryggen where the narrow alleyways reflect the history of the medieval merchant area.
For a special treat, take the daily boat ride from city centre at 6 pm to the Cornelius Seafood Restaurant, right on the ocean. It is one of five Bergen restaurants listed in the esteemed "White Guide" list of best restaurants in the entire Nordic region.
Oh, and did you know that the best view of Bergen is undeniably from the top of the Fløibanen funicular station on Mount Fløyen? Don't miss it!
Cindy Loe blogs at One Perfect Day In. Find Cindy on Instagram.
Berlin, Germany
Germany's capital of Berlin is one of the most dynamic cities in Europe and has something to offer every type of traveller. With fantastic connections (by both air and rail) from all over Europe, it is possible to experience the numerous cool things to do in Berlin quite conveniently as a short city break. 
If you're interested in street art and alternative culture, there is no better spot to explore this than Berlin. There are many free walking tours that take you beyond the typical tourist sites so you can easily get to know this massive metropolis even in a short period of time. If organised tours aren't really your thing, the trendy neighbourhoods of Kreuzberg and Friedrichshain are perfect to explore if you want to get a taste of the famous alternative Berlin scene. Also, it's impossible to talk about a city break to Berlin without mentioning its famous nightlife — there really is something for everyone in this amazing city and you certainly won't be alone if you fancy dancing into the wee hours of the night!
Maggie Turansky blogs at The World Was Here First. Find Maggie on Instagram.
Bilbao, Spain
Bilbao is an under the radar place for a city break, but it's somewhere I highly recommend you visit. Let me explain:
Bilbao has had somewhat of a renaissance in recent years. Since the completion of the Guggenheim Museum in 1997, the city has seen a surge in tourist numbers. It's not hard to see why. There are plenty of great sights scattered across Bilbao, none more striking than the museum itself! It really is a work of art. You need to walk around and soak it in from the various angles o appreciate its beauty. It's truly an architectural marvel!
One of the best places to go in Bilbao is to Mt Artxanda. Take the funicular to the top and you will be rewarded with some of the best views of the city. Something else that you can't miss in Bilbao is the food. Basque cuisine is some of the best in Spain.  Pintxos, which are small snacks, are a particular delight. They cost no more than €2 and are available in most cafes and bars.
Bilbao does have a reputation for poor weather. However, I was blessed with lovely conditions when I visited. The Basque people were really friendly and made me feel welcome in their city. Be sure to check Bilbao out on your next trip to Spain!
Tom Stevenson blogs at The Travelling Tom. Find Tom on Instagram.
Bishkek, Kyrgyzstsn
Most people in the Western World know very little about a city named Bishkek, the capital of Kyrgyzstan. After some pretty tough travels around the Middle East and Pakistan, when I arrived in Bishkek, I could hardly believe what I saw.
Home to a liberal and Westernized society, the streets of Bishkek are filled with all sorts of bars and restaurants, as well as big expat and digital nomad communities. With the fastest Wi-Fi I had seen in months and a wide range of cool pubs, I decided to spend one full month in Bishkek to rest from my previous travels.
But this is not all. If you are keen to enjoy the local, traditional life, in Bishkek there are also plenty of bazaars and local eateries where you can get an easy glimpse of what the local life in Central Asia is, which means that this city has the perfect balance between local and Western social life. Ah, and did I mention that it is as cheap as any other South Eastern Asia capital?
Joan Torres blogs at Against The Compass. Find Joan on Instagram.

Bologna, Italy
Bologna, Italy is a beautiful place for a city break. Only an hour away from Florence but far less crowded, Bologna is often considered Italy's "foodie capital" with tons of delicious trattorias churning out traditional Emilia-Romagnan dishes. Be sure to try the tagliatelle ragu, the local Parmesan, and prosciutto de Parma while you're there! It's also great to walk around the porticos, or go up one of the towers for an insane view over the entire city of Bologna.
While Bologna may not have the sights of other famous Italian cities like Rome, Florence, or Venice, it's much less crowded and much more affordable. Plus, it's well served by budget airlines like Wizz Air making flying to Bologna incredibly affordable at some times of the year.
Allison Green blogs at Eternal Arrival.
Bordeaux, France
France boasts a tremendous amount of beautiful cities, however, Bordeaux is the one that has stolen our heart. A two hour drive from our home in the Dordogne, it is one of our all-time favourite city break destinations.
With its world-famous wine, fantastic gastronomy, stunning architecture and buzzing night life, this UNESCO World Heritage city is a must on anyone's French itinerary. The magnificent waterfront quays, Les Quais, are a wonderful spot to go for a wander, people watch or bike ride (the city has a fantastic bike rental scheme). Les Quais are home to restaurants, bars, shops, skate parks and playparks not to mention the Miroir d'Eau – the world's largest reflecting pool – which stands proudly opposite the 18th century Place de la Bourse.
The city centre is compact and the main sites can be reached on foot including Place des Quinconces, Le Grand Théatre, L'Allée Tourny, Le Jardin Public as well Ste Catherine, the longest shopping street in Europe.
Meat lovers will enjoy the famous L'Entrecote restaurant and wine lovers should head to La Cité du Vin, a wine discovery centre, housed in a futuristic feat of architecture.
Gillian Denovan blogs at The Little Den. Find Gillian on Instagram.
Bristol, England
If you are visiting the United Kingdom a trip to Bristol is essential. Bristol is approximately 2 hours west of London by car and there are easy connections by train and coach.
Bristol is a youthful university city with a reputation for the avant-garde which is reflected in its vibrant arts and entertainment scene. Bristol's street art is world famous; colourful and thought-provoking artworks can be found all over the city, many of them are painted by the elusive Banksy. This attractive city is steeped in history, the charming Georgian architecture of Royal York Crescent and Brunel's engineering wonders of the Clifton Suspension Bridge and SS Great Britain will take you back to the marvels of yesteryear. Bristol is a shopper's paradise, we love strolling the streets of Clifton Village, exploring the unique boutiques and antique shops while stopping off for lunch or a coffee at one of the many restaurants and coffee shops in the area. St Nicholas Market is another favourite shopping haunt and a great place to get lost amid the tiny alleyways which are home to small eclectic shops and some of the best street food in the country.
The city hosts the annual Bristol International Balloon Fiesta and there is nothing so breath-taking as watching these brightly coloured balloons take off and fill the sky. Bristol should be on everyone's list of places to visit in the United Kingdom.
Alan and Rosalind Cuthbertson blog at Frequent Traveller. Find them on Instagram.
Bruges, Belgium
If you are looking for a romantic medieval destination in Europe, the city of Bruges in Belgium is one of the best picks without any doubt. The whole old town was declared UNESCO World Heritage site, and it really gives you the feeling to be at a place that has just appeared in front of you directly from a fairy tale.
Amongst the most essential places to visit in Bruges, you will find a dozens of beautiful gothic style buildings, cosy canals with picture perfect bridges and busy squares with markets. You can't miss out on the Market Square in the middle of the old town with the majestic Belfry Tower that offers amazing views. Bruges is very charming during the day, but it's even more impressive at night, when the buildings are illuminated and a walk amongst the canals is just simply magical.
In Bruges you can't miss out on the famous Belgian beer either, you can taste it directly in De Halve Maan, a local brewery in the old town.
Gábor Kovács blogs at Surfing the Planet.
Bucharest, Romania
My all time favourite city destination is Bucharest. I had no expectation when I visited, but it took me completely by surprise and I fell in love with it!
Bucharest is a really photogenic city if you know where to look. It is not as obvious as in cities such as Paris or Barcelona, but Bucharest is so instagrammable and has so much character. This character can be seen in the crumbling old buildings that could tell you a million stories if they could speak, in the quirky hidden alleys and in the modern spaces that show that this exciting city is full of life and has an exciting future ahead.
I got the feeling that Bucharest is a happening place and is about to become the next big thing in Europe. There are so many exciting things going on in this city! And the foodie and coffee scene is no longer up and coming… it's already there! And the nightlife… Romanians can party!
Teresa Gomez blogs at Brogan Abroad. Find Teresa on Instagram.
Budapest, Hungary
Budapest is a city that has it all: from sweeping views of the Danube River to architectural highlights like Hungary's majestic Parliament building, and from adventurous tours like caving under the city to relaxing highlights like Budapest's famous thermal baths, Budapest is absolutely packed with things to do.
We first visited Budapest in 2015, and after our first taste (of both Budapest and the traditional Hungarian cakes that the city is known for), we were hooked: we recently spent two weeks in the city and fully intend to return for third, fourth, fifth, and beyond trips in the future.
Though Budapest is rising in popularity as a tourism destination, its prices are still incredibly competitive for the value it offers, and tourists are able to spread out enough among the city's many highlights that it avoids feeling congested. Some incredible sights–like the Szabo Ervin Library, for example–are still unknown enough that we didn't have any crowds around when we visited at all!
Kate and Jeremy Storm blog at Our Escape Clause. Find them on Instagram.
Buenos Aires, Argentina
Buenos Aires, the capital of Argentina, is one of our favourite city breaks. We love it because there are plenty of things to do and as a gay couple, it's one of the most gay friendliest cities we've visited.
You could easily spend an awesome weekend in Buenos Aires, exploring the milongas (tango halls), eating delicious steaks at some of the best parillas (steak houses) and one particularly favourite of ours, shopping and soaking up the atmosphere at the massive vibrant San Telmo market every Sunday.
For us, the most memorable moment of Buenos Aires was attending a queer tango class and being able to dance this famous sultry dance together, which we would not normally be able to do, nor feel comfortable doing so in a non-gay place. Interestingly, at its inception in the 1880s, tango was originally danced between two men in the back alleys of Buenos Aires, largely due to the shortage of women amongst the immigrant population.
Many of the milongas tango offer classes, which we highly recommend. There's nothing more romantic than dancing the tango with your partner in hand – it's like being transported back to another era.
Stefan Arestis and Sebastien Chaneac blog at Nomadic Boys. Find them on Instagram.
Check out the best European cities to visit in summer.
Save for later:
Thank you so much to my fellow travel bloggers for their contributions. I hope you enjoyed this first set of 20 as much as I did and are looking forward to the next installment of 100 Fantastic Cities.