Taiwan is increasingly gaining international recognition as a foodie's paradise. If you haven't already heard, this compact nation features such great street food that many of its night market stalls have earned Michelin designations.
If you are in the midst of planning your Taiwan travel itinerary, you may find that much of your trip revolves around eating, and for good reason. Many travellers nowadays really do come here just for the food!
While Taiwan's night markets get the most attention, there's much more to the country's culinary scene than that. Combining elements of regional Chinese, Hakka, aboriginal, Japanese, and Western food cultures, Taiwanese food is increasingly being regarded as its own thing rather than just a combination of other food cultures.
Below I'll outline 15 general must-have food experiences in Taiwan, with my specific personal recommendations for each. I'm pescatarian, but I've included options for everyone. Also, since I live in the capital, Taipei, and this is the city that travelers are most likely to visit in Taiwan, many of my recommendations are focused on the capital.
1. Night Markets
Taiwan's night markets are the talk of Asia and have drawn food critics from around the world, including the likes of Anthony Bourdain. Considered by many to be the quintessential Taiwanese food experience, strolling through one of the country's numerous night markets (Taipei alone has more than 30 major ones!) should be at the top of any foodie's list when visiting Taiwan.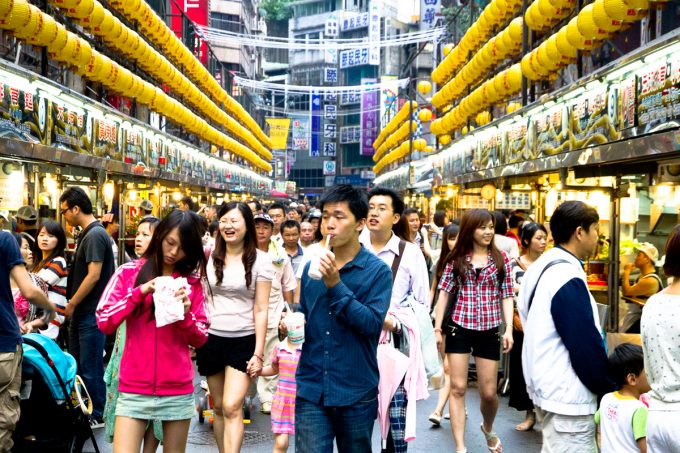 The food on offer at Taiwan's night markets is so good that 24 night market stalls in Taipei made the 2019 Michelin Taipei Bib Gourmand list. A word of warning, though: visiting a night market can be a full-on sensory experience. Expect big crowds, lots of heat, and lots of noise. To find out where to begin, see my detailed guide to the 15 best night markets in Taipei.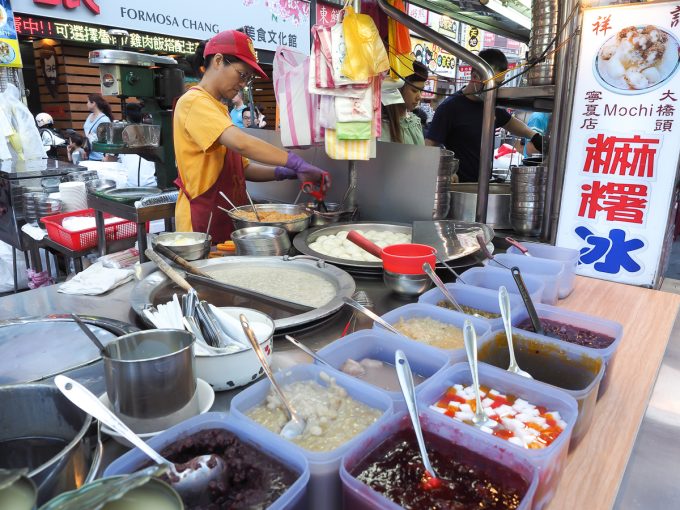 Personal recommendation: I love Keelung Night Market, with its picturesque yellow lanterns and abundant seafood. Every stall's specialty is labeled in English, making it easier for visitors. It is located about one hour by train from Taipei.
2. Hot Pot
Hot pot is thought to have originated in Mongolia nearly 1000 years ago. Today it is extremely popular in Taiwan, especially in winter, although the Taiwanese love for this body-warming feast is so strong that even on scorching hot summer days, most hot pot joints are still packed full.
A hot pot experience starts with choosing a soup base, with common ones including mala (literally "numbing spicy"), Chinese herbs, pork broth, pickled vegetables, and more, to be placed at the center of the table and shared.
Next, diners order or help themselves at a buffet-like counter to an unlimited supply of meats, seafood, vegetables, noodles, tofu, and more, which they boil in the soup until ready. The resulting soup is extremely flavorful. To complete the rather gluttonous experience, unlimited ice cream (often Häagen-Dazs), soda, and beer are usually included.
Personal recommendation: At Ding Wang Hotpot in Taipei, higher quality dishes are ordered à la carte, and the traditional soup pots stand on three legs.
#89 Guangfu N. Rd., Songshan District, Taipei (Taipei Arena MRT exit 4)
3. DIY BBQ
Nearly as ubiquitous as hot pot, and sometimes (goodbye waistline…) the two experiences are combined, barbecue joints are an absolute favorite among Taiwanese. Whether on a date, family gathering, or company outing, barbecue is a universally loved choice in Taiwan.
Like hot pot, the experience is usually all-you-can-eat, but classier places offering higher quality meat cuts tend to be à la carte. Also like hot pot, the experience is loved because it is a long, drawn out social affair (usually restaurants set a 2-hour limit) in which everyone at the table gets to help out. Foods are cooked on a grate over hot coals, with smoke sucked up by enormous vents above.
While BBQ tends to be meat heavy, there is usually plenty of seafood and veggies on offer. You may even find contemporary items like breaded cheese sticks and pastry puffs, which are especially delicious when you roast then place them atop a bowl of strawberry ice cream.
Personal recommendation: I don't find a great deal of variety when it comes to these places. My wife and I have always enjoyed 禾丰烤炭火烤肉, but we try not to go too often because we always eat WAY too much.
#54, Zhongxiao East Road Sect. 4, Taipei (Zhongxiao Fuxing MRT exit 3)
4. Quick Fry
Also known as hot fry (both are literal translations of the Mandarin kuai chao or re chao), this is yet another eating experience that is a way of life here.
Particularly suitable for large groups of friends or colleagues at the start of a night out, a quick fry is a large, noisy, bustling restaurant that often spills out onto the sidewalk, where guests sit on low stools at large round tables and share a huge variety of small, usually fried dishes.
Seafood is usually abundantly featured, and at many quick fry places the options are displayed at the front on the street. The food tends to be salty, heavy on basil and chillies, and very delicious. Washing your food down with Taiwan beer, which you can grab yourself from large fridges at the back, is essential.
Personal recommendation: In Taipei, 打卡生猛活海鮮 (#43, Rooselvelt Rd. Section 1, Zhongzheng Dist, Chiang Kai ShekMemorial Hall MRT exit 3) is our go-to place with friends.
In Kaohsiung, I also love東京酒埸-愛河店 (#152, Wufu 3rd Road, Qianjin District, Kaohsiung City). The food isn't the best, but the view over the Love River is unbeatable and it's the only quick fry I've been to offering a great selection of craft and imported beers.
5. Aboriginal Roasted Boar
Moving away from urban eating experiences, roasted boar is an aboriginal specialty that you can find in just about any aboriginal village or area. It's not an uncommon sight to have the entire giant pig on display, which may be a shock for some.
The boar meat is usually cooked over hot stones and served with slices of green onions. For the full aboriginal experience, you must wash it down with some aboriginal millet wine (xiaomi jiu). It is also common to see aboriginal boar in night markets, though it may be cooked on a grill or made into sausages instead.
Personally recommendation: While I don't personally eat it, the easiest places to find roasted boar are in Wulai (the closest aboriginal village to Taipei), Ita Thao (an aboriginal village on Sun Moon Lake), or any other aboriginal village in Taiwan.
6. Tea Infused Foods
Taiwan produces some of the finest oolong teas in the world, and in tea producing areas a culture has also developed of using tea powder, tealeaves, or tea oil in cooking.
Many tea growing areas of Taiwan now feature speciality restaurants dedicated to tea-infused foods. Some of the dishes you may find on the menu include deep fried tea leaves, tea oil noodles, tea oil chicken, tofu with tea flavored dipping sauce, tea ice cream, and more.
For those who don't like matcha flavor, Taiwanese tea foods aren't quite the same. Most are more subtle, and make more use of oolong and black tea rather than green tea. Another extremely popular tea-infused food in Taiwan is tea eggs (cha ye dan), which are what make every 7-Eleven in the country smell so good when you walk in.
Personal recommendation: The village of Pinglin in New Taipei City is home to the world's largest tea museum, many tea farms, and some great restaurants serving tea foods. You can also find such restaurants in other tea growing regions around the island, but most are harder to reach and may require your own transportation.
7. Hot Spring Cuisine
Just like tea foods developed around Taiwan's tea culture, the country's abundant hot springs have also inspired a unique eating culture of their own.
Taiwan sits on several major fault lines and is a very geologically active island. There are over 100 hot spring sources in the country. Most hot spring resorts were developed by the Japanese when they colonised Taiwan (1895-1945).
Unsurprisingly, the food culture that developed along with Taiwan's hot springs has a major focus on Japanese food. These meals are typically taken after one soaks in a thermal spring, and many hotels and resorts offer packages that include a meal. These can range from modest to extremely lavish, multi-course sets.
At the opposite end of the spectrum, there are hot springs in Taiwan where you can buy eggs and boil them in the springs (try Jiuzhize hot spring in Yilan for example). Because of the way they are slow cooked, hot spring eggs tend to be gooier in the center and very delicious. "Hot spring eggs" (Japanese onsen tamago) also appear on Japanese restaurant menus, but they tend to be soft boiled eggs not actually cooked in hot spring water.
Personal recommendation: Beitou hot spring in Taipei is the easiest place to find hot spring eggs (sold near Beitou Geothermal Valley), hot spring ramen, or upscale hot spring cuisine from the many hot spring hotels there. Another great place for all of the above is Jiaoxi hot spring town in Yilan county.
8. Barrel-Roasted Chicken
When Taiwanese people go on a road trip or day trip out of the city, it is pretty much a given that they will stop somewhere for barrel-roasted chicken if given the chance.
The dish is prepared by hanging a whole chicken inside a large barrel atop a wood fire. The result is meat that is very tender but with crispy skin, and the drippings are usually served as a dip or to pour over rice.
What some people enjoy the most about it is being given a pair of plastic gloves to rip apart the chicken at the table and serve to one's friends.
Personal recommendation: The best places to find barrel roasted chicken are on the main roads leading into popular tourist towns such as Jiaoxi hot spring town in Yilan County, Wulai in New Taipei City, Guanziling hot spring town in Tainan County, and Alishan in Chiayi Country. You may also find it in night markets around the country.
9. The Stinky Tofu Capital of Taiwan
Stinky tofu is easily Taiwan's most infamous snack. After people ask you where you are from and what you think about Taiwan, their next question may very well be whether you've tried stinky tofu yet, and they get a real kick out of tourists' disgusted reaction.
Foreigners living in Taiwan either love stinky tofu or hate it; I belong to the former. The smell can range from hardly noticeable to genuinely off-putting, but the taste is always delicious.
For a full-on stinky tofu experience, head to Shenkeng Old Street in New Taipei City, a day market focused almost entirely on this smelly snack. There you can find all manner of tofu and tofu-based dishes besides the stinky variety.
Personal recommendation: Stinky tofu usually comes in one of two forms. The first is deep fried cubes of it served with crunchy fermented vegetables. The second is big stewed hunks of tofu served is a spicy broth. I would suggest trying both, as they are very different yet equally delicious.
10. Vegetarian Buffet
Even if you aren't a vegetarian, you shouldn't miss experiencing a traditional vegetarian buffet in Taiwan. Typically an incredible variety of mock meat and veggie dishes are on display. You load up on whatever you want, then pay by weight. Rice and soup are included and are self-serve at the back.
For vegetarian visitors these places are a godsend. Not only do you get to try vegetarian versions of many foods you'd never be able to try otherwise, but also you can easily get a good, meat-free meal without speaking a word of Mandarin.
For vegans, most of the dishes on offer are actually vegan. Egg and creamy sauces are sometimes used, but when they are, it's very obvious because you can see them. You can find these restaurants everywhere; watch for the buffet table and Buddhist iconography such as the Buddhist swastika.
Personal recommendation: I've always loved Three To Vegetarian Restaurant (#23 Wuchang St. Sect. 1, Zhongzheng Dist., Taipei, Taipei Main Station or Ximending MRT), which features a huge spread, and where you may very well end up sharing a table with a monk or nun.
11. Bando (Traditional Banquet)
A bando is a kind of banquet that takes places under a huge tent set up right on the street. Often these events can totally block traffic on an entire road, but nobody seems to mind. They may be held for weddings, funerals, traditional festivals, and more. You are less likely to see bando away from Taipei and other urban centers.
So what's the food like at a bando? Basically you can expect a feast that includes all manner of dishes, from abalone, crab, and eel to sticky rice, noodles, and roasted chicken. And the best part is that any leftovers are traditionally handed out to guests to take home afterwards.
Personal recommendation: As a traveler in Taiwan, there isn't a high chance you'll be invited to one. But spend more time here, make some local friends (or like me, marry one), and no doubt you'll eventually attend many.
12. Harbour Seafood Markets
As a seafood lover, one of my personal favorite food experiences in Taiwan is visiting one of the country's many seafood markets set up right beside harbours. Here you can enjoy ultra fresh seafood while overlooking a picturesque harbour filled with traditional fishing vessels with their squid hunting light bulbs.
Most of these markets are rather run down (one might say that is part of the charm?), but the seafood is cheap and of very high quality. The eating areas often resemble quick fry places in the city, with ample dishes besides seafood available, and drinking beer with your meal is pretty much a must, no matter how early in the day it is.
Personal recommendation: One of the best seafood markets in Northern Taiwan is Guihou Fish Market, which is quite close to Yehliu, a popular coastal park with unusual rock formations that is a popular day trip from Taipei for tourists. It features a very traditional, local market plus a number of newer seafood restaurants.
Another great option is Nan-fang-ao Fishing Harbour on the coast of Yilan, while in the south of Taiwan, Donggang Fish Market in Pingtung is famous for its Bluefin tuna, available every April to June. For a seafood market experience in a luxury setting, check out Addiction Aquatic in Taipei.
13. Taiwanese Breakfast
I know very few Taiwanese people who eat breakfast at home. Why would you when the breakfast shops are so cheap, plentiful, and delicious? There are easily 20 breakfast shops within three blocks of my home, to give you an idea.
While there are a few regional variations and shops offering unique items, there are some standard breakfast items that you can find in practically every breakfast shop across the country. These include danbing (thin crepes with egg and other toppings), green onion cakes, toasted sandwiches, breakfast burgers, white radish cakes, fantuan (sticky rice rolls), noodles, and more. Order soy milk or milk tea to wash it down, but don't trust the coffee; just head to 7-Eleven or one of the country's many great cafés for that!
Taiwanese breakfast food is also the go-to snack for night clubbers to feast on in the early hours of the morning after a night on the town.
Personal recommendation: Yong He Soy Milk King (#102 Fuxing South Road Sect. 2, Fuxing South Road, Da'An MRT exit 5) is 24-hour breakfast shop institution. In Kaohsiung, Xinglongju (#186 Liuhe Second Road, Kaohsiung) is the stuff of legends, but lines can be long.
Really, though, just head into any residential area in the morning and you'll find a great local breakfast shop in no time.
14. Hakka Food
The Hakka are a nomadic people with roots in Central China and were among the many Han Chinese that migrated from China to Taiwan in the last 400 years. They make up a significant percentage of the population in Hsinchu and Miaoli counties in Central Taiwan, with another settlement at Meinong in Kaohsiung.
Hakka food is known for being rich and hearty, as it was developed to sustain farmers for long days of work out in the fields. Signature dishes include bantiao (super thick glutinous rice noodles), mochi, pickled vegetables, root vegetables, steamed cakes, bamboo, and lots of stewed and meaty dishes.
Personal recommendation: One great place to try Hakka food is Neiwan, a stop on an old train line in Hsinchu county. The mountain village's old street is extremely popular among domestic tourists and lined with shops selling local specialties. My favorite is lei cha, or "pounded Hakka tea," a thick tea made with ground tealeaves and a variety of nuts, seeds, and grains.
15. Shaved Ice and Pearl Milk Tea
Did you know that pearl milk tea (aka bubble tea or boba) was invented in Taiwan? The story goes that the owner of a tea shop in Taichung called Chun Shui Tang started serving iced tea after he noticed the trend of iced coffee in Japan. One day in a meeting, his product development manager dumped some of his dessert, little chewy balls called fenyuan, into his iced tea, and bubble tea was born.
Nowadays there are many flavors of bubble tea, but many Taiwanese still stick to plain milk tea flavor. Also, unlike what I was used to in Canada, bubble tea is seldom a blended drink in Taiwan.
Shaved ice is another extremely popular refreshment, especially in summer. At traditional shops, toppings include a variety of beans, legumes, and QQ (chewy) balls, all doused in brown sugar syrup. Modern shops lean more towards fruit toppings, ice cream, and sweetened condensed milk.

Personal recommendation: Bubble tea is sold from shops at practically every corner. My personal favorite is passion fruit iced green tea. The original Chun Shui Tang in Taichung is still open, but it's rather touristy.
When it comes to shaved ice, mango is king in my books. Yongkang Street, a famous food street in Taipei, is the supposed birthplace of mango shaved ice and features numerous shops of it today. Another great innovation is pearl milk tea flavored shaved ice, complete with tapioca pearls.
Well, have I got your mouth watering yet? Hopefully this list helps you mentally prepare for the sheer volume of food you are going to enjoy on your Taiwan trip!
Save for later: