You probably think you know tofu, don't you? A wobbly block of bland, white protein much-loved as a meat substitute by vegans and health nuts. But as a card-carrying carnivore, I'm telling you that tofu is a delicious, versatile and nutritious ingredient that should be in everyone's fridge or store cupboard.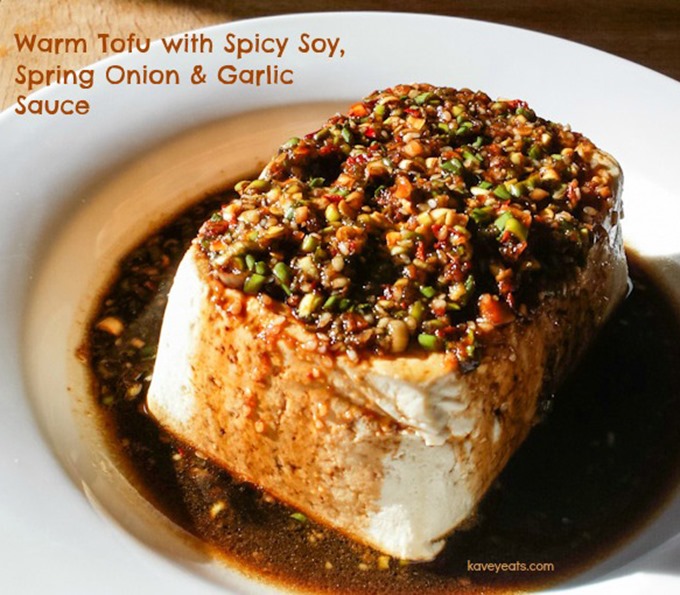 Certainly, the flavour is delicate, though I've come to love the subtle soybean taste of top quality tofu. It's also a fantastic foil for your favourite punchy flavours, whether they are traditionally Asian or not. The other joy of tofu is in the wide range of textures, each one suited to a different way of cooking.
Tofu is also very healthy as it's high in protein but relatively low in calories and fat. Depending on the coagulating agent used, it can also be high in calcium and magnesium.
Neil McLennan developed a taste for tofu in South West China's Sichuan Province. Inspired by the "subtlety of taste, simplicity of craft and versatility of cooking", he began to make his own tofu at home, eventually launching his business 'Clean Bean'. He uses top quality organic soybeans from North China to make his London organic fresh tofu which he particularly enjoys in the Japanese dish hiyyayakko – chilled tofu served with a few simple toppings and a dipping sauce.

Tofu | image via shutterstock.com
Tofu is made by coagulating soy milk (itself made by soaking, grinding and heating soy beans with water) and straining the resulting curd. Originating in China about 2000 years ago, the technique spread to Korea and then Japan in the 8th century, coinciding with the spread of Buddhism – tofu becoming an important source of protein in a Buddhist vegetarian diet.
Incidentally, if you ever wondered about the English-language name, it's taken directly from the Japanese, which is itself taken from the Chinese dòufu. Dòufu translates as "bean" "curdled", giving us the name that is more prevalent in the United States – bean curd.
The variety of tofu available in East Asia is amazing!
Silken tofu is the softest kind and, because it's not strained or pressed after coagulation, it has a really high moisture content. It comes in soft and firm versions but both are far softer and wetter than pressed tofu. It is great added to clear soups and salads or blended into desserts, smoothies and sauces.
Pressed tofu retains some moisture, but not as much as its silken cousin. The firmest is pressed rigorously and has an almost rubbery texture, a little like paneer or halloumi cheeses. Try it in stir fries and hotpots, or marinated and grilled on the barbecue.
There are also a number of processed products including fermented, pickled and dried tofu. Look out for Stinky tofu which smells much like the very stinkiest of European cheeses and, just like cheese, tastes better than it smells! These days, tofu is readily available in the UK, though not in quite as many varieties as you'll find in East Asia.
Maria Dawson has been involved with Clearspring since her father Christopher set up the business in 1993 and is now the Sales & Marketing Manager. She explains that after developing an interest in organic production methods, a macrobiotic vegetarian diet and Far Eastern philosophies, her father moved to Japan, where he worked for a Japanese exporter of traditional foods. It was a natural progression for him to bring Japanese foods to the UK, and he focused on products that are "not only delicious, authentic and healthy, but also produced according to sustainable and traditional production techniques". Clearspring's organic firm and silken tofu is long life which means it doesn't require refrigeration and makes it a great store cupboard staple. Try it in recipes such as Maria's favourite tofu cheesecake, my green beans with a tofu, miso and sesame dressing or this warm tofu with spicy soy, spring onion & garlic sauce.
Warm Tofu with Spicy Soy, Spring Onion & Garlic Sauce
Serves 2 as a light lunch, with some green vegetables or salad
Ingredients
1

packet

firm tofu

(approx. 300-350g)

1

clove

garlic

2-3

spring onions

(scallions)

2

tsp

white sesame seeds

3

tbsp

dark soy sauce

1

tbsp

sesame oil

1/2

tsp

red chilli flakes

(or more if you prefer)

generous

pinch

salt

, to taste
Recipe Notes
There are significant differences in the many types of soy sauce (light, dark, Chinese, Japanese) in both their strength of flavour and their saltiness. I use Japanese dark soy sauce, which is light in flavour and not too strongly salted.
Instructions
Remove the tofu from its packaging and transfer to a saucepan of cold water. Take care, as tofu can be quite fragile and you don't want to break it.

Bring to a simmer and then turn the heat down to its lowest setting and cover the pan.


Meanwhile, finely slice the spring onion (white and green parts), crush or very finely chop the garlic and grind the sesame seeds. I use a Japanese surabachi to grind the sesame seeds but you can use a spice grinder or regular mortar and pestle – if you use the latter, it's easier to crush the garlic and sesame seeds together.


Combine all the sauce ingredients (everything but the tofu), taste and add a little more sugar if needed.


To serve, carefully lift the warmed tofu from the pan, drain on paper towels and transfer to a small plate or shallow bowl.


Spoon half of the sauce over the top and serve immediately, with the rest of the sauce in a small jug or bowl.

Where to Find Tofu
Organic
Fresh organic tofu from Clean Bean
Long life organic silken tofu from Clearspring
Long Life
Long life tofu products can be purchased online from many oriental supermarkets including Japan Centre, Wing Yip and Wai Yee Hong.
Fresh
Fresh tofu is not available by mail order so seek out your nearest local oriental grocery or health food store and phone to ask if they stock it.