This Sea bass in Tomato & Dill Broth from Uyen Luu's new cookbook Vietnamese is not a recipe I'd probably have picked out, amongst the great number of recipes I've bookmarked to make, but luckily for me, it's the recipe Uyen sent me last year as part of her army of testers, and I'm so glad she did because we really loved it! I love that pieces of fish are taken out of the broth and eaten dipped into the chilli dipping sauce, whilst the broth is enjoyed as a soup, and of course, there is rice on the side.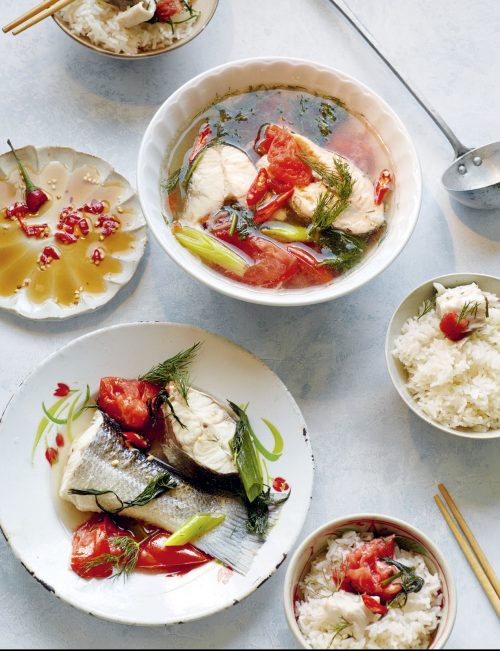 This dish is great reminder to try dishes outside of your instinctive comfort zone now and again, and to give those you're not naturally drawn to a go. Its such a buzz when you discover new things to enjoy!
To find out more about Uyen Luu's Vietnamese cookbook, read our full review.
Sea Bass In Tomato & Dill Broth (Canh Chua Lá Thì Là)
This is one of my most favourite traditional meals that I love sharing with my mum and Olive. This is a classic, easy, one-pot wonder – and my mum makes the best version. Known as 'sour soup', canh chua is loved by our family and all Vietnamese people because of its perfect balance of sweet, sour and hot tanginess. It cleverly makes two dishes in one – a fish broth, which is spooned onto plates and served with the fish that flavoured the soup. Everybody at the table should share small morsels of fish at a time, dipping in the pool of spicy fish sauce and ladling the soup into their rice bowls whenever they wish. It is really important to prepare all the ingredients before you begin the cooking process, then you can cook everything quickly. Make sure the rice is cooked beforehand.
Ingredients
1

sea bass, cleaned (ask fishmonger to slice into 1 in steaks including head and tail (about 4) with bones)

1

tbsp

vegetable oil

2

round shallots,sliced

1

garlic clove, finely chopped

1

litre

(34 fl oz/4 cups) homemade or good-quality chicken or pork stock (or boiling water)

2

tomatoes, cut into bite-sized chunks

1

tbsp

caster (superfine) sugar

4

tbsp

fish sauce

1

juice of lime

30

g

(1 oz) dill fronds, sliced into 1 cm (½ in) lengths

1

spring onion (scallion), sliced

freshly chopped chillies (optional)
For the dipping sauce
1

–2 bird's eye chillies

3

tbsp

fish sauce
Recipe Notes
Substitute the sea bass for cod, haddock, monkfish, carp, prawns, scallop or razor clams.
Instead of dill, you can use coriander (cilantro) or mint.
If you don't have chicken stock, use water and a stock cube.
Instructions
Heat a small pan on a medium heat, fry the sliced shallots gently until golden in 1 tablespoon of oil, stirring occasionally, then add the garlic. Watch until the garlic turns golden then set aside.

Pour the chicken or pork stock (or boiling water) into a pot, add tomatoes, sugar and fish sauce, and cover with a lid. Let this come to the boil then immediately add the sea bass chunks, head and tail included. Cover.

When this reaches a boil, bring the heat down to simmer for about 3–5 minutes, depending on the size of your fish. Then add the fried shallot and garlic, including their oil, and the lime juice. Taste to adjust the sweet, sour and salty balance, adding more sugar if a little more sweetness is needed, more lime for sour and more fish sauce for umami.

To check if the fish is cooked, pierce a knife through the deepest part – if it reaches the bone easily it is cooked.

Make the sauce on a plate large enough to hold a couple of the fish steaks. Crush the bird's eye chillies with the back of a spoon onto the plate, then add the fish sauce.

Pour the soup into a large sharing bowl, then add chopped dill and spring onions. The bowl of soup and the fish is to be shared together with steamed rice.

Take out a couple of fish steaks and place onto the plate with the sauce. Then put the rest of the soup into a large serving bowl for the middle of the table.
I'm not usually a huge dill fan but it's flavour is so perfect for this dish that I'm now a convert!
If you decide to buy this book after reading our content, please consider clicking through our affiliate link, located within the post and in the footnote below.
Recipe published with permission from Hardie Grant. Kavey Eats received a review copy of Vietnamese: Simple Vietnamese Food to Cook at Home by Uyen Luu.