I really identify with this quote by Vladimir Nabokov, a Russian-American novelist born in 1899.
I can see just why he's used the word nostalgia to portray that diametrically opposite longing for somewhere you've not yet been; nostalgia often paints an inaccurate picture of the place you long to revisit – tinted by the rose-coloured spectacles of happy memories, and remembered just as it was in that past moment of time, no doubt quite different now.
That's often how it is when you long to visit somewhere you've never been – the image you carry in your head is based only on what you have read in books and magazines, watched on the television or in films, or gleaned from those who have travelled or live there. That mental image may make the place out to be far more exotic than it proves to be, an exaggerated version of itself, and an out-dated one in many cases.
For me, reading James Clavell's Shōgun before a visit to Japan engendered exactly this kind of nostalgia for a place I didn't know, even though I knew that the account was not only fictional (albeit based loosely on a mingling of real stories, and upon plenty of historical research) but set in a Japan that had long since disappeared.
Are there places you have felt nostalgic for even before you've ever visited them?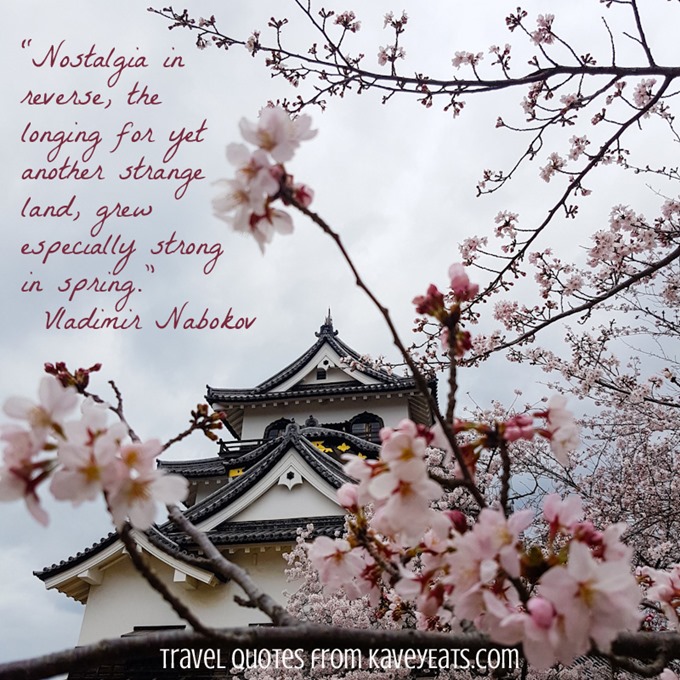 On our latest trip to Japan (the third we've made since 2012) we were fortunate to arrive in Hikone at the very peak of cherry blossom season, and visiting Hikone castle with the sakura in full bloom was just magical, a nod to that nostalgia I carried for my fictional image of a feudal Japan from centuries past.
More Kavey Eats Travel Quotes.
You are welcome to save or share this via Pinterest, Facebook, Twitter or Instagram provided you do not alter the image or crop out the attribution text.