I think there is a lot of truth to the idea that one of the most common drivers towards the urge to seek out adventure and excitement is the monotony of everyday life. Of course, that's not to say that everyday life must always be monotonous… but a recognition of how easy it is for the familiar to feel mundane. It's only natural that excitement lies in the extraordinary, in the things that take us out of our ordinary experience, even to the extent of risking the ordinary life. Sometimes adults feel the need not to be sensible, not to do the list of things they know they ought to do…
I had come across the short quote I've shared upon the photo a long time ago, but only recently tried to find out more about the author and the origin of this text. I've failed utterly to find out more about the author, but came across this longer passage, from which the quote was taken. In it, Michael Drury discusses a concept as described by Alfred North Whitehead – that adventure is a necessity. If you know more about the author, please do let me know.
"Alfred North Whitehead listed adventure as one of five necessities to the truly civilized community, next after truth and beauty, ahead of art and peace. It is a startling idea and he meant it to be so. Men and women are both taught to recognize adventure only as a passing fancy in the growing child, to be put aside with adolescence at the latest. The mature individual settles down; that is to say he does without adventure. Then he should do without beauty, and faith, and laughter, for these too are incidental to real life, to eating and begetting and keeping out of rain.
….Adventure is as needful to the real life of the spirit as food is to the body. The inadvisability of an action will not curtail it if it fills that need. Gambling is more or less bad for society, but people will play the tables so long as hope of sudden wealth connotes hope of change, variety. That is why it appeals broadly to the poor more than the rich: their lives are drearier. Workers go on strike not only for wages and decent hours but out of sheer dramatic hunger. A love affair imparts adventure, not merely because it is unsanctioned and a little risky, but because it proceeds on part-knowledge, like all creative endeavor. A general goes into battle; an artist paints; men climb Everest and fling themselves into the sky; become healers and judge a crime on part-knowledge. They have to, for that is the condition of living."
Do you agree? Where do you feel adventure fits in to our human needs and urges, and what do you think drives it?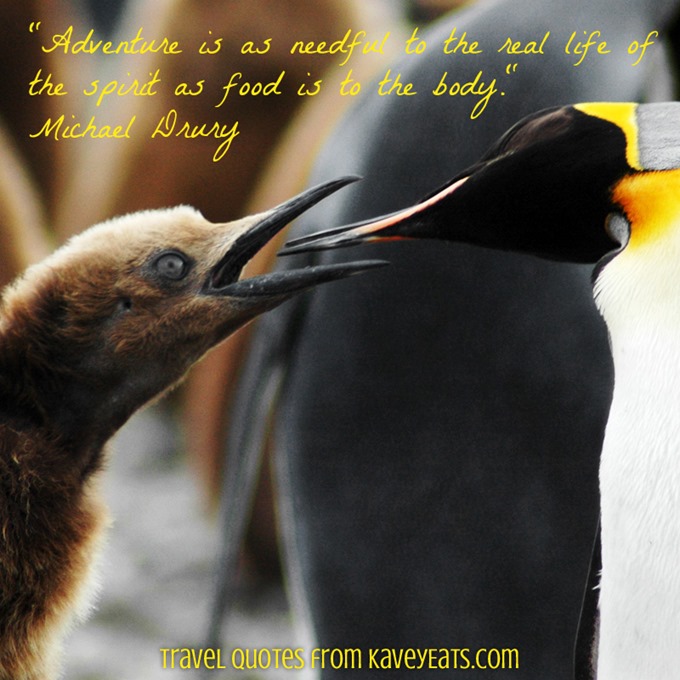 This is one of my favourite photos from our first trip to Antarctica in 2004. I loved watching adult king penguins feed the cuddly brown balls of fur that were their chicks – so very different to their parents that early explorers assumed they were a completely different species, rather than adult and child of one!
More Kavey Eats Travel Quotes.
More inspirational adventure quotes.
You are welcome to save or share this via Pinterest, Facebook, Twitter or Instagram provided you do not alter the image or crop out the attribution text.
Save
Save
Save
Save
Save
Save