"Life is short and the older you get, the more you feel it. Indeed, the shorter it is. People lose their capacity to walk, run, travel, think, and experience life. I realise how important it is to use the time I have." ~ Viggo Mortensen
Maybe I'm feeling a little old at the moment, sharing this quote so soon after the one from Joanna Lumley about being tied to a tree… but it's certainly the case, now I'm in my mid-forties, that I am much more assertive about using the time we have to chase the dreams we have and to do the things that bring us joy. We try not to put off 'til some undefined and blurry period in the future what we can realistically do today, or tomorrow or in the short- to mid-term because, frankly, none of us know what is around the corner and life is short.
How do you ensure you best use the time you have?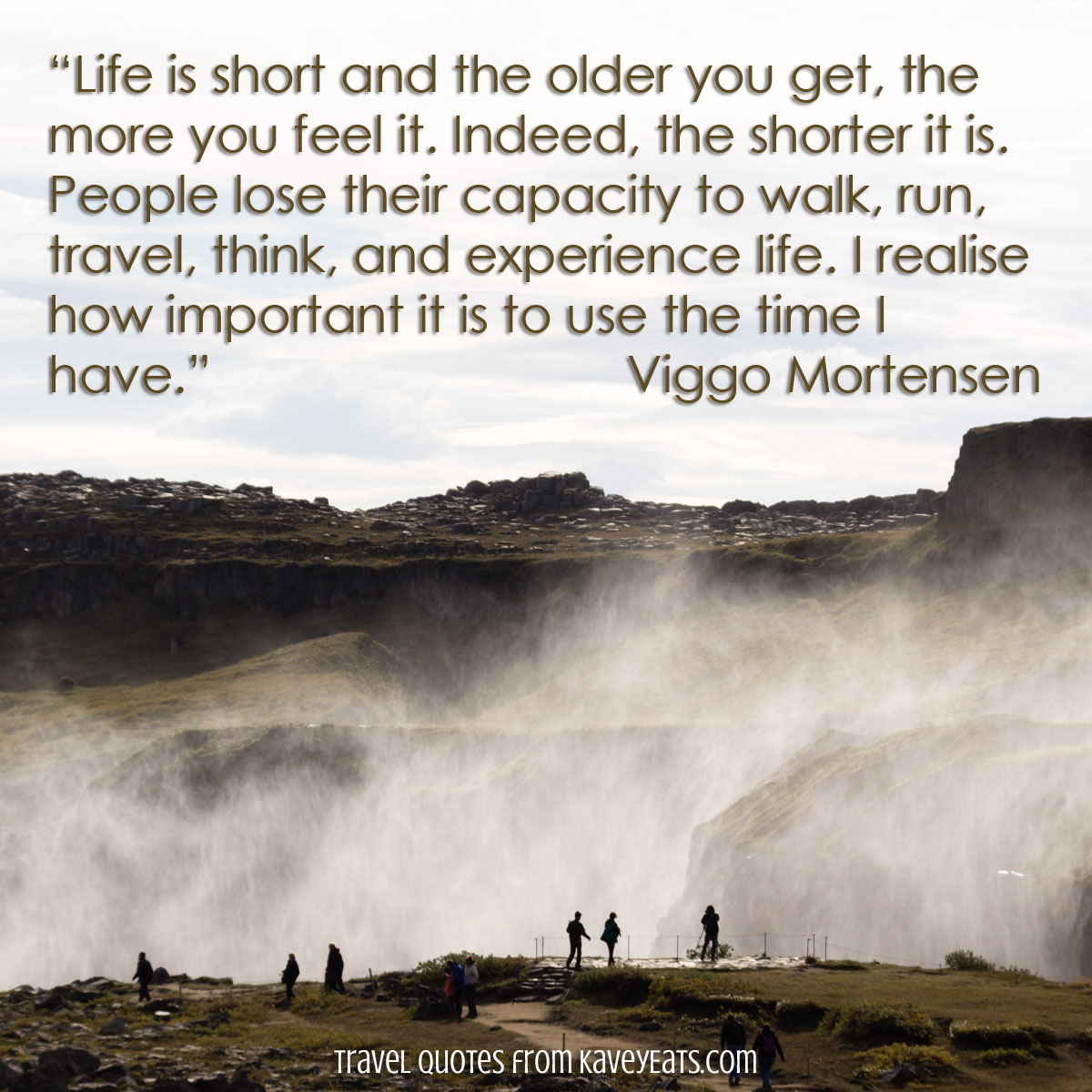 Iceland is one of the most beautiful countries I've visited; virtually the entire island is a site of outstanding beauty and with so many varied landscapes, many of which are utterly alienesque. I said before in my Guide to Icelandic Food that you could film an entire series of Doctor Who here, each little corner of Iceland representing another alien world far across the universe!
This image was taken at Dettifoss, Iceland's most powerful waterfall and indeed the largest in Europe by amount of water that falls over it. The waterfall is on the Jokulsa a Fjollum River in Vatnajokull National Park, in North East Iceland. In this image, you can see the spray that is thrown up by the sheer force of the falling water.
More Kavey Eats Travel Quotes.
You are welcome to save or share via Pinterest, Facebook, Twitter or Instagram. Please do not alter the image or crop out the attribution text. Thank you!