"When you look at Japanese traditional architecture, you have to look at Japanese culture and its relationship with nature. You can actually live in a harmonious, close contact with nature – this is very unique to Japan." ~ Tadao Ando
Tadao Ando is a renowned Japanese architect, unusually self taught, with no formal training in architecture. He was inspired by the design of Frank Lloyd-Wright's Imperial Hotel in Tokyo during a high-school trip there, and quickly put aside a short career in boxing to pursue architecture and design. He learned to draw in night classes, and studied interior design via a correspondence course, supplementing this with visits to buildings designed by renowned architects. He was still in his twenties when he established his design studio Tadao Ando Architects and Associates in his home city of Osaka.
Ando's architectural style has always been strongly influenced by the Japanese Buddhist concept of Zen, which focuses on simplicity and an awareness of life. His building projects (all around the world)  have an emphasis on clean lines, open internal spaces and a modesty of external ornamentation. Concrete and glass are used to great effect, creating architecture that appears paradoxically weightless despite the heaviness of its building materials.
As his quote describes, there is an inclination in Japanese traditional architecture to respect and integrate man-made structures with nature; this is particularly true in religious architecture, and echoed in Ando's modern style. Whether he is designing a religious, residential or other public space, Ando imbibes the space with spirituality as well as functionality, aiming to help people experience the spirit and beauty of nature through architecture.
This very Japanese approach to building design – both traditional and modern – is something I particularly love about Japan.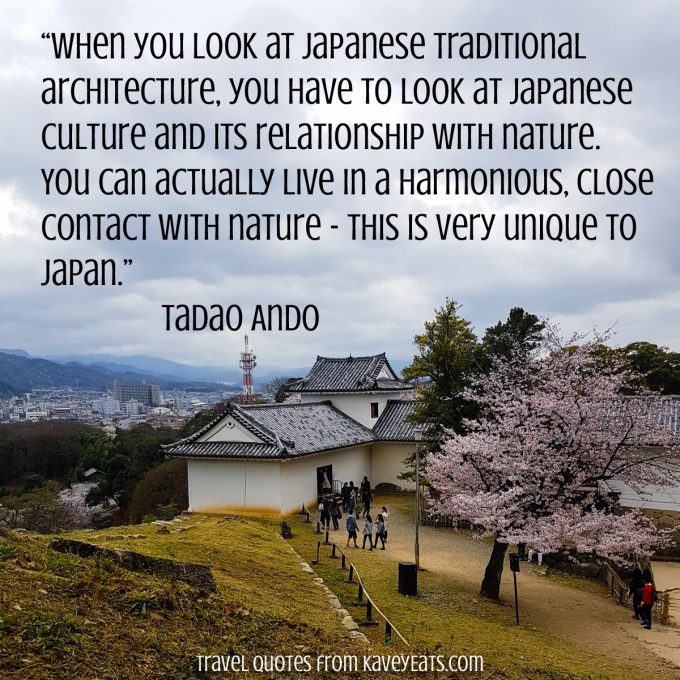 This is Hikone Castle, in Japan. The timing of our one day visit could not have been better to enjoy sakura (cherry blossom) at its peak within the castle grounds. Read my tips on how to plan a trip to Japan for cherry blossom season.
More Kavey Eats Travel Quotes.
You are welcome to save or share via Pinterest, Facebook, Twitter or Instagram. Please do not alter the image or crop out the attribution text. Thank you!