"You can't cross the sea merely by standing and staring at the water. Don't let yourself indulge in vain wishes." ~ Rabindranath Tagore
I think all of us have a few daydreams that take the form of fantasies or wistful dreams rather than actual life goals. Some of mine include time travel and instantaneous teleportation, bionic body parts and cures to all illnesses, the ability to take photographs simply by thinking it, and several more esoteric ideas.
But of course, we have some things we wish for that are actual life goals or objectives, albeit some of them more realistic than others!
For us, a huge one is moving out of London to the countryside into a bigger house with a huge kitchen and a master bedroom with en suite bathroom, on a property with enough land to plant a fruit orchard and kitchen garden, not to mention build a pottery studio and an annex or standalone cottage we could rent out to holidaymakers. We are now working on making this a reality, rather than the "one day" reverie it's been for nigh on two decades! We probably could have taken the first steps along this path years ago but we fell into the habit of thinking that "one day" couldn't possibly be here yet. Now we've started, we're deep into working out our must-have and nice-to-have criteria, and considering all the factors that will play into narrowing down the location, finding the right property and establishing the lifestyle we hope for.
Not all the goals we have on our lists are so grand; I want to have another go at learning Japanese; Pete would like to learn to play guitar properly; and both of us want to master wheel throwing pottery.
Is there a goal you have been holding onto for a long time, and can perhaps take a step or two towards making a reality?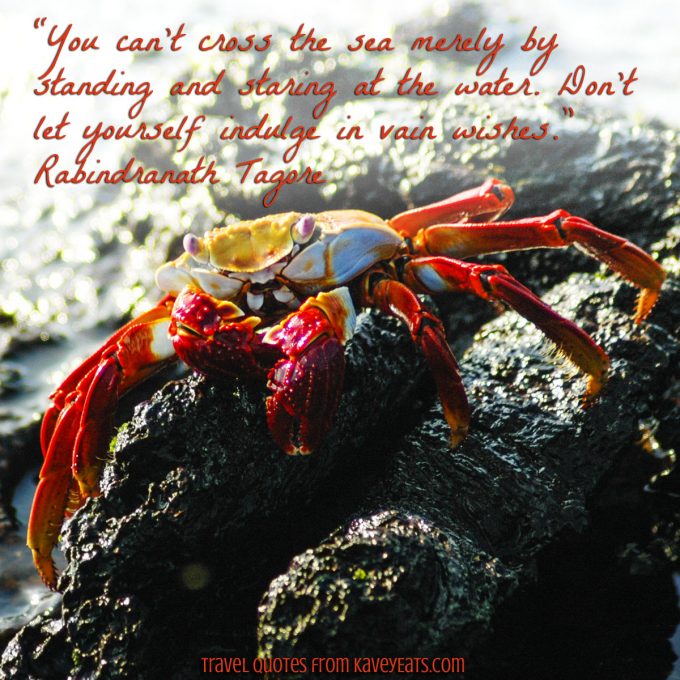 A Sally Lightfoot crab on the shoreline of one of the Galapagos Islands.
More Kavey Eats Travel Quotes.
You are welcome to save or share via Pinterest, Facebook, Twitter or Instagram. Please do not alter the image or crop out the attribution text.