I have no idea whether there's a correlation between those who love science fiction and those who love to travel. It seems to me – as a lover of both – that there ought to be! For me, both are rooted in a curiosity about the unknown and a delight in exploring every corner of our world, and outwards into our universe. If I can't yet do both in person, I can at least do so in my imagination!
I am not such an intrepid explorer as some. I have neither the stamina, the fortitude nor the mindset to map the unmapped, to accept the discomfort and uncertainty of that kind of endeavour. I am greatly impressed by those who do.
But I do take enormous joy in visiting the many corners of our world, in seeing the incredible diversity we have on our one tiny planet, in meeting those who are just the same as us and yet completely different.
If only I had a TARDIS at my disposal, oh can you only imagine?!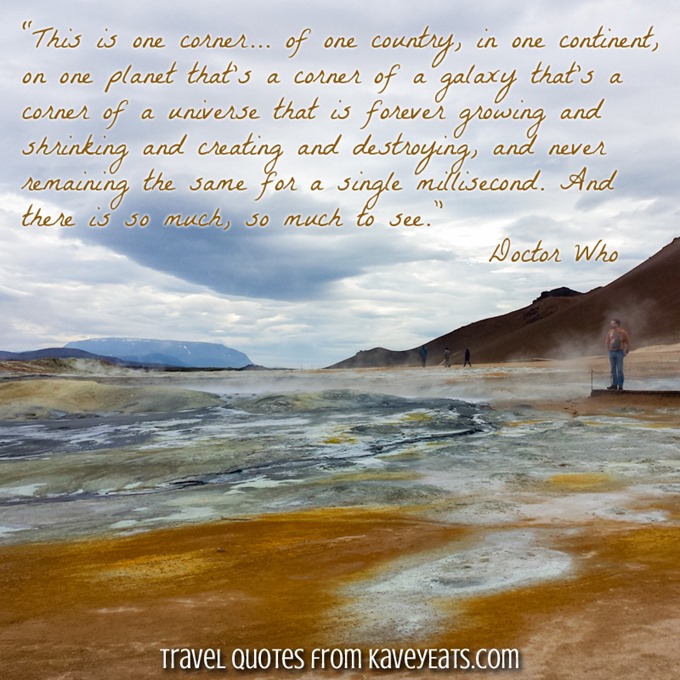 During our holiday to Iceland, we were astonished by the sheer changeability of the landscape. Every mile, we might round a corner and see yet another completely different, and often very alien, environment. I said at the time that it felt rather like being a location scout for Doctor Who because surely Iceland's surreal scenery could represent a thousand and one alien worlds?!
More Kavey Eats Travel Quotes.
You are welcome to save or share this via Pinterest, Facebook, Twitter or Instagram provided you do not alter the image or crop out the attribution text.