"Travel is the only thing you buy that makes you richer." (Unknown author)
I don't agree that it's the only thing – what about books (both fictional and non-fiction); classes (or any kind of learning experience); music and artworks that give you joy; high quality and delicious ingredients and food (as opposed to the cheapest 'fuel' that will keep you alive); the services of a specialist or expert that either enhance your life or buy you back time that you can spend doing more of the things you enjoy; charitable donations, fundraising or volunteering for organisations that conserve wildlife and our environment, or that research cures for a multitude of diseases and ailments…
…I'd love to know what else you'd add to the list?
But I understand the sentiment behind the quote, which is of course talking about richness of life rather than material wealth.
We all need shelter, clothing, food, sanitation, plus things like healthcare, personal care, education, the tools of communication… And, for the vast majority of us, we must of course buy them. When we have disposable income left after taking care of our base needs, that's when we get to invest in things that enrich our lives…
Travel teaches us about the world around us, about other people and cultures, about politics and food and life and death, about geography and history, about our own capabilities and our limitations… it throws all kinds of experiences our way and engages every one of our senses, and our emotions too. It creates the most enduring of memories, and often new friendships. We develop ourselves, build knowledge, increase our skills and we grow and change in ways that are almost impossible to foresee.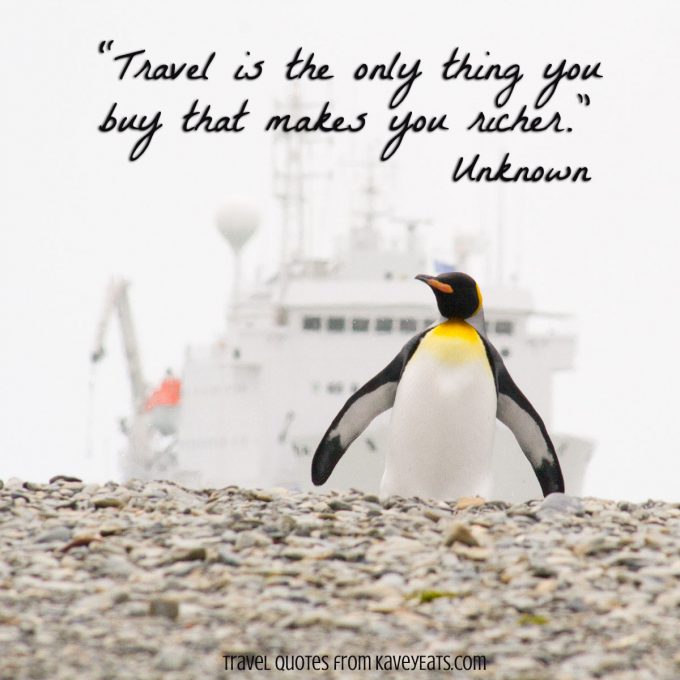 This was taken during our first trip to Antarctica.
I loved the backdrop of our ship behind this lone King Penguin crossing the pebble beach towards the penguin colony.
More Kavey Eats Travel Quotes.
You are welcome to save or share via Pinterest, Facebook, Twitter or Instagram. Please do not alter the image or crop out the attribution text. Thank you!