I adore tofu! Although it's often dismissed as a wobbly block of pale, bland protein favoured by those seeking meat substitutes, I truly think this assessment is missing the joys of a delicious, versatile and nutritious food. Rather than thinking of it as a replacement for meat, it is far better to appreciate tofu as an ingredient in its own right.
Bonnie Chung – founder of Miso Tasty – is also a huge fan of tofu and, alongside the miso for which her brand is named, she includes organic firm and soft tofu in the company's product range. As a true lover of tofu, she enjoys it in many different ways, and has collated a wonderfully varied set of recipes in her second cookbook, Tofu Tasty: Imaginative tofu recipes for every day. This title follows neatly on from her first book, Miso Tasty: Everyday, tasty recipes with miso. 
In her Introduction, Chung talks about her love for tofu, and tells us that the book shares classic tofu recipes from across Asia – particularly Japan, China, Korea – as well as dishes of her own invention where she mixes up modern and traditional techniques and ingredients. Before we move on to the recipe chapters, Chung presents an explanation of how tofu is made, the many types of tofu and their key characteristics, and a brief history of the ingredient. In Cooking Tips you'll find advice on keeping tofu fresh, draining and pressing fresh tofu, and instructions on blanching, microwaving, freezing, crisping, dehydrating and cutting tofu. Lastly, there's a page on tofu's nutritional values, with references to research papers that underpin the facts.
The recipe section begins with detailed instructions on Making Tofu From Scratch (though of course shop-bought works fine). After a helpfully illustrated recipe for soft or firm tofu, Chung also provides guidance on making Hot-smoked barbecue tofu, Chinese spicy fermented tofu (foo yee), Japanese deep-fried tofu (atsuage), and Tofu cheese (misozuke). Under this chapter Chung also shares her recipe for vegetarian dashi stock, bao buns.
The recipes for dishes made with tofu are categorised by texture into chapters for Crispy Tofu, Soft & Chunky Tofu, Mashed Tofu, Silken Tofu, Fermented Tofu, Dried and Fried Tofu, and Sweet Tofu.
Recipes are simply and clearly presented, and the majority have a photograph of the finished dish – it's a shame all don't as there are a few I would like to see to understand better. Oddly, many of the recipe photos are vastly over-saturated with reds and yellows boosted to wholly unnatural levels; this really threw us for the first few recipes we made until we realised the trend and discounted the colours as unrepresentative. Aside from that aspect, the photos are attractive and those showing what different kinds of tofu look like are particularly helpful. There are also handy sketches illustrating how to make tofu from scratch. One touch I really like is that most recipes come with a 'Twist' textbox sharing ideas for amending the core recipe – mostly ingredient swaps and additions; this is a great way of expanding the variety in what is a fairly slim tome.
Back to the chapters, then, starting with Crispy Tofu; a favourite of mine. Most things are better deep fried, after all! – so this chapter is full of temptations. Chung advises choosing tofu with as little moisture as possible, by way of draining and pressing your tofu before using. I am keen to try Oat flake salt and pepper tofu (the addition of oats being Chung's 'killer twist'), Bookshop Katsu (which Chung first tried on a stressful day rushing around Tokyo during a quick lunch stop in a tiny katsu curry booth inside a station bookshop), Tofish seaweed nuggets (where nori sheet wrappers impart a flavour of the sea to battered cubes of tofu), and Lime & coconut crispy tofu salad (in which crunchy tofu is paired with tropical flavours). Other recipes include Tofu and veg tempura, Black pepper butter tofu, Panko tofu bao, Tofu miso dengaku, and Korean fried tofu lettuce wraps, as well as Agedashi tofu (a dish I order without fail whenever I see it on the menu in Japanese restaurants).
Obviously, Agedashi tofu was one recipe we were keen to try as soon as possible! The recipe is straightforward – the only additional information that might be useful would be a recommended oil temperature for those using deep-fat fryers rather than woks or saucepans – and the results are superb. The combination of crisp surface, pillowy interior, grated radish and the classic sauce transported us immediately to eating the dish in Japan. We had this two nights in a row!
Soft & Chunky Tofu features recipes in which the tofu is tender and squishy. A slightly porous an bouncy texture in your tofu helps the flavours imbue well – choose soft or medium-firm tofu. Recipes in this chapter include a veggie Ma Po Tofu with Button Mushrooms, Poached Tofu with 'strange flavour' sesame dressing (inspired by a chicken dish featuring the same 'strange flavour' sauce), Okinawan tofu with bitter melon (in which tofu takes the place of pork), Indo-Chinese chilli tofu (inspired by a dish Chung ate in Mumbai), Kung pao tofu with macadamia nuts (featuring the tongue-tingling flavour of Sichuan peppercorns), Curried coronation tofu (a satisfying comfort-food kind of sandwich filling), Spinach & coriander masala tofu (in which tofu is treated as paneer would be in Indian-inspired skewers), and Roasted peanut tofu curry (where soft chunks of firm tofu are immersed in a creamy and rich peanut-based curry).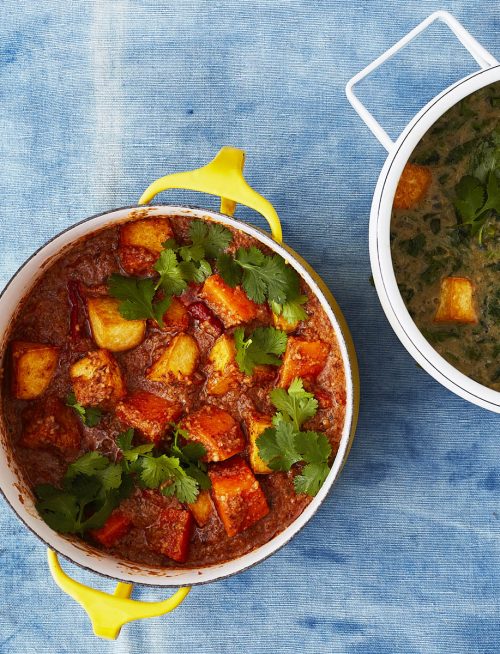 First image from book; second image Kavey Eats
That last dish, the Roasted peanut tofu curry, is one of those for which the book photo was so wildly saturated it looks more like tumeric-stained,fried paneer in a fiery red curry. Ours, using the specified red-skinned peanuts, chilli powder and one fresh tomato, looked completely different but tasted great. Even with a gentle hand, our firm tofu fell apart, unlike the neatly-edged pieces in the image.
In Chapter 3, Mashed Tofu, Chung advises that these recipes work best with low-moisture tofu, since excess water separates out when the tofu is pulverised. In these dishes the tofu provides a thick and creamy texture; you'll find recipes such as Chilli butter turmeric tofu scramble (a surprisingly satisfying alternative to scrambled eggs), Tofu shirae salad (where mashed tofu provides a key element of the thick dressing, similar to this green beans shira-ae), Lemon miso tofu stuffed peppers (reminiscent of the prawn- and rice-stuffed peppers found in many different regions of the world), Double-cooked spicy tofu burgers (in which the double cooking provides the textural variation often missing from veggie burgers), and Ganmodoki tofu patties (a traditional Japanese recipe that Pete and I learned to make in a cooking class during our first trip to Kyoto many years ago).
Silken Tofu is another favourite of mine; its slippery soft texture utterly soothing and easy to contrast with so many flavours and textures. It works in soups, where wobbly cubes or slices float in flavourful broths and stews, and it's wonderful served as a block loaded up with bold and crunchy toppings. In desserts, its silkiness is a great way to achieve a creamy mouthfeel without the use of dairy cream. Some of the recipes in this chapter are Fully loaded spicy Xi'an cold tofu, Steamed silken tofu with enoki mushrooms & sweet soy, Soya milk and tofu miso soup, Sapporo miso ramen with tofu, soy eggs & corn, Korean tofu stew, and Cantonese egg tofu & pak choi.

First image from book; second image Kavey Eats
Although the colours once again seem far brighter and bolder in the book than reality (though you can't see our far browner sauce pooled beneath the tofu and lettuce), Fully loaded spicy Xi'an cold tofu is a fantastic dish to showcase the slippery-soft texture of silken tofu. It's also very quick to make and had us buying Sichuan preserved pickled vegetables for the first time. I love using new-to-me ingredients!
Chung describes Fermented Tofu as the blue-cheese of Asia and I totally agree that its funky, umami flavour offers a similar tangy flavour profile to cheese veined with delicious blue mould. The texture is much fudgier than unfermented tofu – like a ripe soft cheese, it's almost spreadable. Use it's pungent flavour for the handful of punchy dishes in this chapter including Stir-fried spinach with white fermented tofu, Red-fermented tofu cauliflower steaks, and Triple tofu banh mi with quick pickles (which calls on silken, fermented and crispy tofu).
Dried & Fried Tofu is where you'll find recipes for fried tofu (also known as doufu pao, atsuage, and tofu puffs), abuurage (fillable pockets of fried tofu, often used to make sushi), and tofu skin. Tofu skin is essentially a sheet of skin that forms on the surface of heating soy milk (much like the skin that forms on hot custard). This skin is deftly lifted off the soy milk in sheets which can be enjoyed fresh (as I experienced when I tried yuba in Kyoto during our first trip to Japan), but are most often dried and sold as a pastry staple. Dried tofu skin is sold in sheets, sticks and knots. This chapter shares six recipes including Tofu and mushroom dan dan noodles (featuring fried tofu sticks), Miso soup with aburaage and deep-fried aubergine, Inari sushi (also featuring aburaage), Tofu puff atsuage with miso chive butter, and New year's day tofu (which showcases tofu sticks with shiitake and black fungus mushrooms).
In this chapter, Chung describes her Sweet and sticky tofu knots recipe as her team's favourite dish, and possibly her own favourite from the book too. The combination of crispiness and chewiness in each bite, along with the sticky sweet-sour sauce, is definitely a winner, and immediately a favourite for us too. I can't wait to have this dish again and, with the exception of the spring onion garnish, which we skipped, it calls on long-life store-cupboard ingredients.
Ending the book as well as the meal comes Sweet Tofu, which makes use of both silken and dried tofu in a short sweet selection of recipes that range from classic Cantonese to modern fusion. I'm drawn to Chocolate raspberry tofu ice cream (in which silken tofu takes the place of dairy), Tofu fa pudding (which I fell hard for in Hong Kong), and Tofu doughnuts with miso caramel (because, honestly, how could anyone resist?) Frozen tofu peanut butter pie is also on my list if Pete overcomes his dislike of peanut butter.
What you will hopefully take away from this review is how incredibly versatile an ingredient tofu is in all its many forms, and how can deliver such a range of textures in very diverse dishes. Chung has pulled together and presented a truly tempting and varied selection of recipes that are easy to follow and deliver satisfying and utterly delicious meals.
Whether you want to eat tofu as part of a vegetarian or vegan diet, to reduce your meat intake a few times a week, or simply to expand your cooking to include this most wonderful East Asian staple, Tofu Tasty is a lovely book to add to your shelves.
Recipes From Tofu Tasty
We are delighted to share these three recipes from the book, with permission from publisher Pavilion.
If you decide to buy this book after reading our content, please consider clicking through our affiliate link, located within the post and in the footnote below.
Kavey Eats received a review copy of Tofu Tasty by Bonnie Chung from publisher Pavilion. Photography by Yuki Sugiura.