The second best thing about Tim Anderson's Vegan Japaneasy cookbook is that it makes me laugh. On almost every page a tongue in cheek note, an off the wall comment or a daft joke catches my eye. Tim doesn't dilute his personality or his tastes in this book. He talks with love about hunks of meat … in a vegan cookbook … but as a way to impart his impassioned attempts to achieve that richness of flavour in a meat-free, plant based repertoire. He demystifies where Japanese flavours come from, how they're created and how to emulate them at home with a sharp, bright sense of humour and true practicality.
And that brings me to the best thing about Vegan Japaneasy: the recipes. I'll admit to being sceptical. I've been to Japan twice. I've stayed and eaten in a vegan Buddhist temple for two nights. But let's face it, a lot of what we ate (no, almost all of what we ate) was most definitely not plant based. And it was thoroughly delicious, to the point that Japanese is probably in my top three choices of world food. So how would, how could Tim create an 'easy' set of vegan Japanese dishes that would live up to my taste-buds' memories? Well, it turns out that he's not just laugh-out-loud witty, he's very clever. He does exactly that.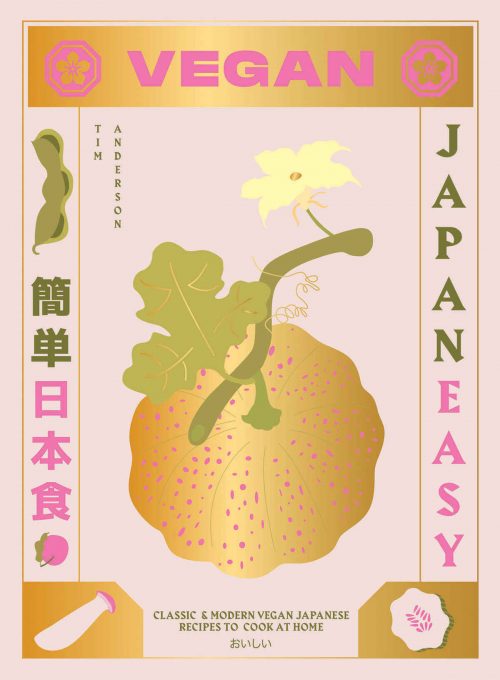 The book starts by unlocking the secrets of what makes Japanese food taste as beautiful as it does, combined with a description of Tim's inadvertent veganism in the early days of running his restaurant Nanban, which opened up his thinking to the possibility of this cookbook. The reassuringly small, basic larder needed to replicate Tim's flavours and techniques comes next (some of which you've probably already got in your cupboards: think soy sauce, mushrooms, sesame seeds).
Using these basics (there are only seven essentials), Tim takes you through the straightforward sauces and seasonings that you'll use regularly whilst making his recipes; then how to put a meal together Japanese-style.
Many recipes rely on those sauces and seasonings, so here's my only tip for you: reading the recipe you're planning to make up front is important – essential even. Make sure you've checked whether you need Sweet Soy Sauce on page 40 or Tonkatsu Sauce on page 47 before you make a recipe. Whip up a quick batch and you're good to go. And don't ever worry if you have too much, these sauces will pretty well all sit happily in the fridge or the freezer to use again for another recipe in the future.
The remainder of the book follows a logical format: Snacks, Small Dishes & Sides (Mushroom parcels with Garlic and Soy Sauce, Gyoza, Sushi); Big Dishes (Shitake, Onion and Potato Stew, Vegetable Tempura); Big Rice & Noodle Dishes (Curry Ramen, the excellently named Rough Night Rice); Desserts & Drinks (Soy Sauce Butterscotch Brownies, Watermelon Sake Mojito). The index is great at pinpointing an ingredient to cook with, but also conveniently has the Japanese term (so I could find and make the dish my husband unhelpfully described as "that wafu thing").
The recipes themselves are laid out in four to five sections: portion size; chit chat about the dish (often completely hilarious and always useful); ingredients and instructions (only split into two where there's a longer ingredients list); and difficulty rating (this is different on every page, but the overriding theme is "very not difficult"!).
I cooked a lot from Vegan Japaneasy. In fact a lot more than I'd expected to, wrongly anticipating that the recipes would be less flavourful, use odd ingredients, be faffy or fussy to make and probably unsatisfying to eat.
This couldn't have been further from my experience. Many of these dishes have now hit our table more than once. Teriyaki Carrots (aka best carrots ever) has had its third outing. The unctuous Sweet Miso-Roasted Beetroot has completely transformed my lacklustre view of the humble root. Cauliflower Katsu Curry is absolutely freaking gorgeous, to the point of almost mourning when I realised I'd eaten the last crispy, melty, subtly spicy mouthful. Stir-Fried Cabbage and Bean Sprouts with Ginger Sauce was bright, zesty and zingy, making a rather uninspiring cabbage into a complete highlight. Japanese Celeriac Steak has become one of my favourite "quick makes" of all time; who knew that this ugly, knobbly, unprepossessing monster of a vegetable (apologies to any celeriacs reading this) could make such a stunning centrepiece? And finally, the most astonishing dessert, Chocolate Mousse with Boozy Cherries and Miso-Roasted Pecans. I didn't believe you could make a perfect chocolate mousse with just chocolate and water, and frankly, having done it, I'm in awe of the sheer chutzpah of Hervé This who came up with the idea (and I admit to having made an extra batch of the ludicrously moreish pecans to snack on once this dessert had been demolished).
Most importantly, Tim is true to his word. These recipes are not difficult. Really not difficult. To the point where after each recipe I made I caught myself saying with mild surprise "well, that was easy".
The luxuriously gold-embossed cover and purple-edged pages are instantly alluring, and I'll freely say that I'm usually a sucker for a fancy picture of gloriously arranged and artfully styled dishes, but true to the ethos of this book even the photographs are simply the essence of the dish laid bare, with subtle nods to Japan in the crockery and serving materials. It makes every dish seem attainable whilst looking utterly beautiful.
I'm essentially a lazy cook. I'm not great with long, complex process, fiddly techniques and extended ingredients lists that exhaust me just reading them. And I adore Japanese food in all its complexity and umami and brightness and lightness of touch. Vegan Japaneasy panders to me, my laziness and my craving for Japanese food whilst coincidentally being entirely vegan. It's a wonderful, exciting, imaginative book and I'm excited to cook more from it.
Recipes From Vegan Japaneasy
We are sharing three recipes from Tim's cookbook!
If you decide to buy this book after reading our content, please consider clicking through our affiliate link, located within the post and in the footnote at the end.
Kavey Eats was provided with a review copy of Tim Anderson's Vegan Japaneasy from publisher Hardie Grant Books. The hardcover book retails for £22 (RRP), the kindle version is £7.99.
Book cover image provided by publishers, all other images by Nicky Bramley.