Even if I didn't love eating chicken as much as I do, I'd find it hard to resist Carl Clarke's A Whole Chicken with its vibrant green cover splashed with bright yellow and hot pink in the shape of a chicken's face! The book's cover promises "100 easy but innovative ways to cook from beak to tail" from one of the founders of Chick'n'sours, a very successful group of three chicken-forward restaurants in London.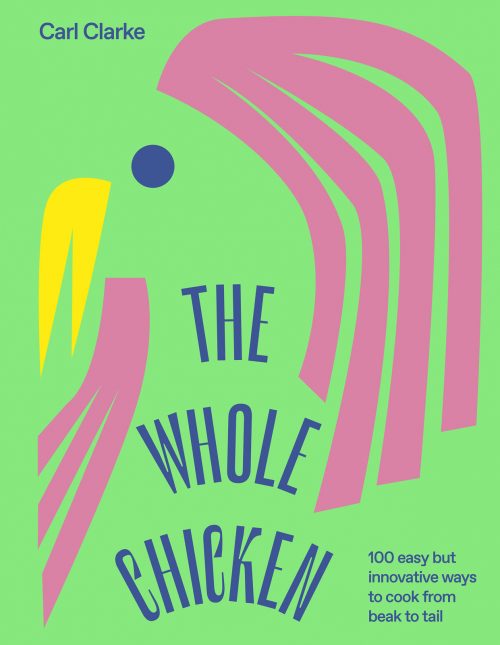 Clarke's Path to chicken Guru
The book's introduction shares Clarke's path to Chicken Guru—a title I've bestowed upon him, by the way, not a self-proclaimed one!
There are no stories here of learning to cook on his mother's knee or recipes passed down through the family, nor any burning aspirations to cook for a living. Clarke describes himself as an accidental chef, having stumbled into cooking after he ran away from his home town of Birmingham at 16 with a friend, and ended up on the island of Jersey in need of a job. He asked for work at a big fancy hotel, was given a chance in the hotel's kitchens, and ended up staying for a couple of years. After that, he joined the military and became a cook in the Armed Forces.
In between the years of cooking, Clarke taught himself to DJ, and thanks to an opportunity at London's only 24-hour nightclub, Turnmills, became a highly regarded and well-paid DJ, in demand all around the world. Perhaps music was in his blood, as Turnmills was owned by distant relatives!
As the rave era came to an end, Clarke went back to cooking, determined to work and train with the best in the industry. He worked with Marco Pierre White at The Belvedere, as a private chef to a former US President, as U2's head chef at The Clarence Hotel in Dublin, as executive chef for Harvey Nichols in Istanbul, and in some of the world's leading restaurants back in the UK including The Fat Duck and Le Manoir.
Looking for something different, he came to a turning point when he met David Wolanski while both were working at the Latitude music festival and the two hit it off over their shared love for food and music. Wolanski had also once worked for Marco Pierre White but in a front of house capacity, at L'Escargot.
The two set up a series of successful popups including Rock Lobsta, God Save the Clam, the English Launderette, Invaders Must Die and finally Disco Bistro before eventually launching a permanent restaurant. Chick'n'Sours was billed as a guilt-free, next-level fried chicken experience sourcing only ethically-reared, free-range birds and paying all staff the London living wage or above. The excellent cocktails and music list were as well-received as the chicken! Since then, the pair have also launched fast food chain CHIK'N, to share their fried chicken with a wider audience.
What this all boils down to—and which I could no doubt have expressed in far fewer words—is that Carl Clarke really knows and loves his chicken! His commitment to ethical sourcing drives him to use every edible part of the bird, and he knows just how to wring the best out of it!
The Whole Chicken
Before we reach the recipes comes a 'Butchery' chapter which is enormously useful. Clear, illustrated instructions on how to portion a whole chicken into ten parts and how to spatchcock a chicken, encourage us to spatchcock a whole bird for the very first time. Yes it was quick and easy, and no I don't know why we never tried it before now!
Next, two techniques for cooking crispy chicken skin (one of my favourite chicken treats) and making schmaltz (rendered chicken fat, which we always save after roasting a chicken but is here purpose-made from chicken skin). These are followed with a primer on how to brine and why. Throughout the book you'll find plenty more lessons on everything from seasoning to poaching, grilling and frying.
Clarke's love of punchy flavours and incorporating ideas from all around the world gives rise to an appealingly wide range of recipes, which not only showcase how versatile a meat chicken is, but also put a globally-influenced store-cupboard of ingredients to great use. I appreciate his note that "none of these recipes are authentic, but they were created by me, through my lens, with love and respect for their origin." There is reassurance too that this is "not a cheffy book" and that recipes are simplified to suit home cooking for family and friends. Indeed, of the recipes we've tried, we have found them approachable, accurate, straightforward and delicious.
The first ten chapters are named for the chicken parts used in the recipes: 'Mince', 'Whole', 'Breasts', 'Thighs', 'Legs', 'Wings', 'Offal', 'Bones', 'Skin', 'Eggs', followed by 'Pickles', 'Sauces', 'Sides', 'Desserts', and 'Drinks'. I'm a big fan of this prosaic style, which makes it far simpler to find a recipe to suit my needs than the poetic but wholly indecipherable chapter names contrived by some authors.
Styling is bold and brash, with food photography to match; colourful, high-saturation photos that are the polar opposite to the modern trend for clean and elegant styling. I love how 'human' the photos are; hands make an appearance in several images—I wonder who some of them belong to, these young hands, old hands, bejewelled hands, tattooed hands… A photo of pizza-laden paper plates on a sofa next to beer bottles with paper cups and crumbs on an unpainted wooden floorboards makes me smile every time I flick past it but I'm less enamoured of one in which Clarke is stuffing his mouth with a vast spoonful of super noodle lasagne! The portrait of him sporting on a flowery armchair sorting a cheeky expression is far more appealing. I've a minor gripe that there are quite a few recipes without photos, especially when the photos are such a delight—my appetite is stimulated by the visuals as much as the recipe ingredients and descriptions.
I mentioned the global flavours to Clarke's recipes, and its certainly what draws me towards so many of them: spatchcock chicken with five spice, honey and soy; firecracker chicken (featuring Korean gochugaru); soy and molasses poached chicken (with two dipping sauces, one ginger and spring onion and the other "explosive chilli"); Romy Gill's butter chicken; re-imagined chicken kiev (in which the garlic butter filling is enhanced with chilli, shrimp paste, shallots, palm sugar, lime juice, and fresh coriander); Xin-style fajitas (a Chinese twist on a Mexican staple); cheeseburger dumplings with kimchi cheese and big mac-style dip; 'ants climbing a tree' noodles (based on a Sichuan dish but using chicken and bacon in place of minced pork); coffee-rubbed 'red eye' chicken thighs (inspired by Southern USA red eye gravy); Viet-Cajun Gumbo (based on a fusion that came about when Vietnamese immigrants into Texas and Louisiana added Vietnamese flavours to local Cajun cuisine); bulgogi grilled chicken with kimchi (the flavours of which transport me instantly to the hundreds of Korean lunches I ate in New Malden a few short years ago); Hakka-style chilli chicken (an Indo-Chinese fusion also born of migration); cherry cola chicken legs (which cites Chinese char sui as its starting point); chicken, white miso and truffle pie (was there ever a more tantalising combination of east-west ingredients?); ramen-fried chicken (based on David Chang's idea to blitz instant ramen noodles and use the powder to coat chicken); gunpowder wings (loosely based on a south indian spice blend of the same name); Joy Luck chicken wings (an homage to a favourite Chinese restaurant in London's Chinatown); tamarind chilli caramel wings (which references Thai chilli fish sauce caramel); chicken offal Thai larb; popcorn chicken gizzards with seaweed shake; crispy feet with chilli vinegar sauce; Jewish chicken soup (learned from partner Wolanski's mum); Chinese hummus with chicken skin crackers (a pure Clarke invention combining flavours from disparate cuisines); son-in-law eggs (in which the eggs are fried flat, rather than boiled and then fried as per the original Thai recipe); pickled watermelon rinds (first encountered whilst working in Savannah, Georgia); Malaysian Nonya pickles; 'alive' ketchup (the name a reference to its bubbling fermentation); Me Xo sauce (which uses Mexican chilliies into a Chinese Xo sauce); and banana miso cream pie (a collaborative creation for a pop up in Carters of Moseley). I didn't intend to tell you about so many of them, but it's hard not to get excited by this exuberant collection of full-flavour dishes!
Recipes themselves are in the usual format—intro, ingredients, and instructions. Each intro offers a glimpse into how the recipe came to be, what (or who, or where) inspired it, what Clarke loves about the flavours, and often some extra tips such as possible ingredient substitutions or another way to use an element of the recipe, such as the sauce.
A scattering of recipe pages are splashed with irreverent banners such as 'winner winner chicken dinner', 'from the bowl to the soul', and 'take a walk on the sunny side' that sometimes relate to the dishes they adorn, but are other times more random. It's the kind of design detail that often has a forced fun feel, but here I find it warm and genuine, and a way of representing Clarke on the printed page. The only thing missing is a link to a suitable sound track to be played whilst cooking and eating the book!
Recipes From The Whole Chicken
When it comes to cooking, the recipes work and are absolutely delicious. We are delighted to share the first three recipes we cooked and loved from the book, with permission from publisher Hardie Grant.
If you decide to buy this book after reading our content, please consider clicking through our affiliate link, located within the post and in the footnote below.
Kavey Eats received a review copy of A Whole Chicken by Carl Clarke from publisher Hardie Grant. Photography in the book is by Robert Billington.