Put your hand up if your mental image of the Caribbean is a collection of beautiful beach destinations? Keep it up if you've ever flicked through a travel brochure or website full of gorgeous hotels along pristine beaches lined with swaying palm trees, and tourmaline waters. Stunning, no?
But beaches don't keep me occupied for more than a few hours before I'm bored. My sister can relax on a beautiful beach for days on end, but me, I start itching to do something else; I need to explore, see the sights and discover the local food.
My recent visit to Grenada has shown me a whole different side to the Caribbean from the familiar beach paradise.
Known as the Spice Island, this quiet and friendly gem of the West Indies has far more to offer, especially to those of us who love chocolate, spices and tropical fruit, lush green rain forests full of native wildlife, and some of the most welcoming people in the world. Don't worry, there are lovely beaches to be found here too, just so you know!
Invited to visit during Grenada's annual Chocolate Festival in June, I immediately started to make a list of all the things I wanted to see and do the island, many of which I was able to experience during my trip.
Read on to discover the best Grenada attractions for food lovers.
Contents
Chocolate
Cocoa Farms & Chocolate Makers | Visiting Chocolate Estates | House of Chocolate Shop | The Grenada Chocolate Festival
Nutmeg, Mace & Other Spices
Grenada-grown Spice | Hot Sauce | Nut-Med
Markets
St George's Market | Grand Anse Craft & Spice Market
Grenada Food & Drink
Local Grenada Dishes | Fish Fridays and Weekly BBQs | Rum, Beer & Chocolate Liqueur
Chocolate
Cocoa Farms & Chocolate Makers
Grenada has been growing cocoa since French colonists introduced the crop in the early 1700s, and has long been known for the exceptional quality of its cocoa. Traditionally, the beans, once harvested and processed, were sold for export to chocolate producers around the world.
In 1999, the Grenada Chocolate Company, founded by Mott Green, created a chocolate factory in Grenada itself, creating the first tree to bar chocolate company. From the start, there was a focus on fair trade for the cocoa farmers, sustainability in the entire process, and high quality chocolate.
In the last two decades, four more tree to bar producers have followed the example of The Grenada Chocolate Company: Belmont Estate Chocolate, Crayfish Bay Organic Estate, Jouvay Chocolate and Tri Island Chocolate.
All five of these companies produce excellent chocolate from cocoa grown on the island.
Visiting Chocolate Estates
A visit to one or more of the chocolate producers in Grenada is an absolute must-do, whether you're in Grenada for a few days or a few weeks.
My first stop was Belmont Estate, a beautiful historical plantation estate that farms and processes cocoa, makes its own chocolate, and runs a lovely restaurant where those taking the full tour can sit back and enjoy a delicious meal, appreciating the view from the open air dining room.
A visit here really helps you understand both the history of the place itself, and the full chocolate-making process from tree to bar.
Crayfish Bay is a very different kind of place, a far more homespun affair that really showcases the ingenuity, determination and dedication of founders Kim and Lylette Russell. Learning how Kim designed and built his own charcoal bean roaster, and hearing his thoughts on the exploitative nature of the big name chocolate brands is eye-opening. Lylette looks after the chocolate production, and there is a team dedicated to growing and harvesting the cocoa.
Lunch here is taken in a charming traditional wooden house, on the open-air veranda which offers wonderful views over the plantation and across to the sea.
House of Chocolate Shop
Founded and run by Magdalena Fielden, this is a one stop shop for the very best of Grenada chocolate. As well as the full range of chocolate bars from each of the island's producers, the House of Chocolate in St George also sells locally made spices, jams, spirits and liqueurs, and a selection of non-food items made on the island such as crafts, clothing, jewellery and beauty products. There's also a small cafe offering cakes, drinks and ice cream.
As well as filling your basket with chocolate, look out for guava jelly, nutmeg syrup, cocoa tea balls (used to make the ubiquitous Grenadian cocoa tea), and coffee.
The Grenada Chocolate Festival
Founded in 2014 by Magdalena Fielden, the annual Grenada Chocolate Festival is a week long celebration of Grenadian chocolate, and of the island itself.
Based at True Blue Bay Resort (the hotel owned and run by Magdalena and her husband Russ), the festival lays on a packed schedule including visits to cocoa farms and producers, and lots of interactive activities.
From making chocolate in the original Mexican way on traditional metate (mesoamerican stone grinders), to a yoga session incorporating mindful chocolate tasting, to a rum and chocolate pairing, to cookery lessons (where all the recipes feature chocolate), to painting colourful postcards as a way to express flavours of chocolate, to making a chocolate face scrub, visitors are immersed in Grenadian cocoa in all its forms. The festival also organises trips to visit the chocolate producers on the island, always a highlight for attendees.
There are also opportunities to experience more of the island, from an evening of live music, food and beer at the West Indies Brewery, to a sunset sailing trip, with chocolate tasting on board of course!
Nutmeg, Mace & Other Spices
Grenada-grown Spice
Grenada is a major producer and exporter of nutmeg, mace and other spices such as cinnamon, cloves, ginger and turmeric. Of these, the largest crop is nutmeg, the seed of the Myristica fragrans tree. The seed covering, a reddish webbing between the seed and fruit, is mace, sold either dried as is, or ground.
Markets and shops all over Grenada sell a wide range of locally-grown spices, at excellent prices compared to their cost in a UK supermarket.
If you have time, it's worth visiting the nutmeg processing factory, located in Gouyave.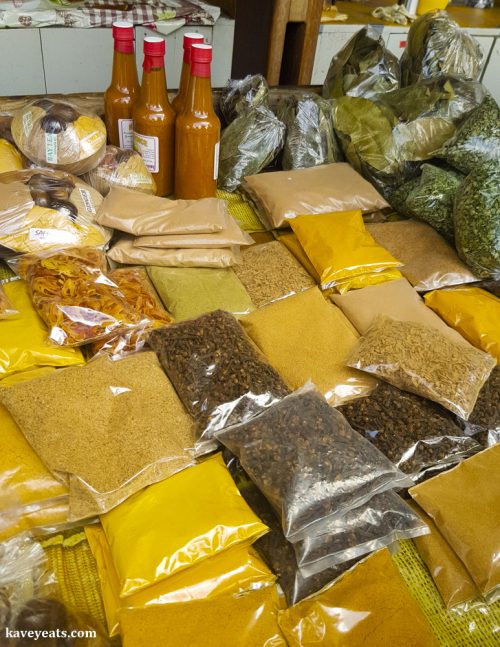 Hot Sauce
Combining locally grown chillies with spices, Grenadians love hot sauce, and you can buy a wide range of different types in small or large bottles to take home.
Nut-Med
I rarely talk about medical products on Kavey Eats, but I was wholly persuaded by Nut-Med, a Grenada pain relief product a little like Deep Heat or Tiger Balm. Available in spray and cream forms, I'm a total convert, after experiencing first hand its effect on a painful knee that had been troubling me for weeks.
Markets
I'm an absolute sucker for a food market, and when left to my own devices I can easily spend an entire day. Between learning about foods I've not encountered before, chatting to vendors and taking photos, the time just disappears.
I also love browsing craft markets that sell locally made art – one of the loveliest souvenirs of a place to bring home.
St George's Market Square
Located in the heart of bustling St George, Market Square is packed full of vendors selling fruit, vegetables, and spices plus a wide range of other food and drink.
There are fruits I've never seen before, such as the sapodilla, native to Central America and the Caribbean; on spotting a pile of these unfamiliar fruits I asked the vendor what they were, and he generously gave me one to try – they were so sweet and delicious! I was also intrigued by soursop and cashew fruits. You'll also find plenty of more familiar tropical fruits, all of which thrive on the island.
Spices are sold whole or ground, and even strung into pretty garlands that you can hang in your home for the wonderful aromas. Many of the stalls sell a range of much-loved Grenadian hot sauces. We bought ours from Betty and Aunt Rubes, inside the market building, who were really friendly and happy to talk us through their goods.
Also available are a small selection of handmade local crafts, such as batik, woven baskets and painted calabash bowls, as well as toiletries and beauty products featuring local ingredients.
Grand Anse Craft & Spice Market
In times gone by, art and craft vendors used to sell their wares directly on the beach but now they are based in the purpose built craft and spice market. The entrance is by the Grand Anse Catholic Church.
This market has a much wider selection of craft goods including jewellery, leatherwork, paintings, clothing, and more. You will also find plenty of food and drink (to enjoy on site or takeaway), plus spices, fruit and vegetables, and even some fun tourist activities such as hair braiding.
Grenada Food & Drink
I've already mentioned the locally grown spices, which feature regularly in local cuisine, and the wonderful fresh tropical fruit. Look out for the bright yellow watermelon, which I enjoyed every day for breakfast at True Blue Bay Resort; it's just like the regular red version but yellow instead.
Local Grenada Dishes
There are several local dishes that are well worth seeking out.
Callaloo is a vegetable dish made from popular across much of the Caribbean. In Grenada and much of the West Indies, it's made from the leaves of the taro bush, known locally as dasheen, which is often found growing along the roadsides, and most commonly enjoyed as a thick, pureed soup.
Curried goat and roti was first introduced by the Indians who came to Grenada in the late 19th century as indentured workers, and is a hugely popular dish today. For me, it's a taste of my roots too, as the flavours are much like my mum's North Indian-style lamb or mutton curry.
The rotis are popularly used as wrappers for food on the go, too. Filled with curried vegetables or meat, they're available all over the island.
Oil down is considered the national dish, a hearty stew of salted fish, chicken or meat with vegetables such as breadfruit, sweet potato and dasheen, cooked in coconut milk, herbs and spices, including turmeric which gives the dish it's rich yellow colour. Many versions have dumplings added too. The sheen of the oil as it releases from the coconut milk is what gives oil down its unusual name.
Fried bake and saltfish souse is often enjoyed for breakfast. The slightly sweet baked or fried dough cakes are served with a dollop of salted fish that's been soaked and then fried with tomato, onion, carrots, peppers and spices.
Crab back is definitely one of my favourites when it comes to Grenadian cuisine. Fresh crab meat is cooked with spices and cream, and served in the crab's back or shell. BB's Crabback restaurant in St George is a great place to enjoy crabback, goat curry and other classic Grenadian dishes.
For those with a sweeter tooth, lookout for Grenadian spice cake – a light sponge flavoured with local spices, guava cheese – where guava and sugar are cooked together until they form a thick, paste that's usually allowed to firm up before being cut into pieces and coated in sugar, sweet potato pudding – in which the sweet potato is cooked with sugar, cinnamon, nutmeg and ginger, coconut milk, flour and butter to create a thick, stodgy cake, and tamarind balls – round sweet and sour balls made from the pulp of tamarind fruit mixed with sugar.
There are quite a few drinks that I've not found elsewhere, including several thirst quenchers made with local fruit. But the one you'll find everywhere is cocoa tea, made with local chocolate, cinnamon and herbs in boiling water.
Fish Fridays and Weekly BBQs
A popular Grenada tradition is Fish Friday, also called Fish Fry Friday. A nation of fish lovers, Friday evenings are when everyone gets together to enjoy the day's catch of fresh fish and seafood, grilled or fried. The most famous Fish Friday that visitors can attend is held in Gouyave, on the north west coast, but you can find places offering Fish Friday along Grand Anse Beach too.
Grenadians also love their barbecued meat, and you'll readily find a BBQ event running somewhere near you most weekends. Just ask your hotel or bed and breakfast hosts to point you in the right direction!
Rum, Beer & Chocolate Liqueur
As it only fitting for a Caribbean island, Grenada produces some excellent rum to be enjoyed neat or in one of a long list of delicious cocktails. There are three rum distilleries, Clarke's Court (aka Grenada Distillers) in St George, River Antoine in the north, and Westerhall on the South West coast. All three distilleries welcome visitors; Clarke's Court have a hospitality centre, but call first to check when it's open. Westerhall and River Antoine both offer guided tours.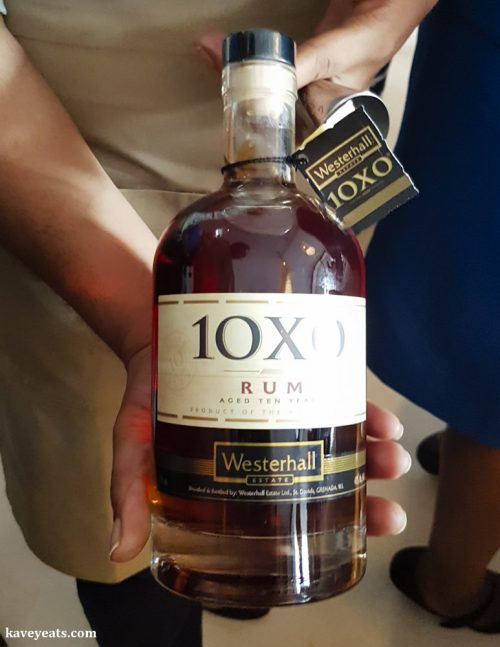 Beer is popular, with many brands available, but do make time to visit the West Indies Beer Company, near the southern tip of the island. As well as a long bar where you can enjoy all their varied beers, they often put on live music and food in the evenings. It's a great party spot.
A favourite Grenadian tipple of mine is Amaz-In, a chocolate cream liqueur launched by Grenada Distiller's a couple of years ago. Made with Grenadian chocolate and rum, this is glorious served chilled neat or over ice and it's fantastic in cocktails too.
The bars in Grenada are very welcoming, so do find time to pop into some of the colourful ones you'll encounter on your journey around the island. Check out Charlie's Bar in St George's; decorated with lost of colour and quotes painted onto the walls by Charlie and his friends, it also boasts an incredible wall made of painted tyres just opposite, that's fast become one of the island's most instagrammed spots. Esther's bar on Grand Anse Beach is a favourite for delicious cocktails featuring local spirits and ingredients.
What Else Does Grenada Have To Offer?
The country encompasses the main island of Grenada plus a number of smaller islands to its north including Carriacou and Petite Martinique. The main island is home to many of Grenada's attractions but it's also well worth visiting the smaller islands for a different vibe.
There are several beautiful beaches including the long wide bay of Grand Anse, as well as Levera, Morne Rouge, La Sagesse, and Anse La Roche over on Carriacou.
History buffs will appreciate historical attractions such as Fort Frederick, Fort George and Fort Matthew, and the historical estates such as Belmont and Westerhall.
For those who like exploring urban spaces, St George is a must-visit for its pretty harbour and carinage, and the many colourful streets and houses. It's also the best place to find a large selection of delicious bars, cafes and restaurants.
Gouyave, a much smaller fishing village to the north is a riot of brightly coloured homes and businesses.
Nature lovers are well catered for. The lush rainforests and lake of Grand Etang National Park & Forest Reserve, are utterly beautiful as is Levera National Park, where you can visit the turtle hatchery. If you are in Grenada at the right time of year, you may also be able to take a tour to see wild turtles laying their eggs in the sand, or the baby turtles hatching out and racing to the sea. The island has many beautiful waterfalls to chase too.
Carriacou has its own set of attractions including unspoilt mangroves, excellent snorkelling and the striking Underwater Sculpture Park in Molinere Beauséjour Marine Area.
Kavey Eats visited Grenada for the Grenada Chocolate Festival courtesy of the Grenada Tourism Authority. Our own images are labelled for kaveyeats.com; additional images courtesy of Grenada Chocolate Festival and