Located in the basement of a grand old building on Corn Street, The Ox offers a classic British menu, with global influences, in the heart of Bristol city centre.
Dark without being dingy, the dining room is lit by fabulously kitsch chandeliers of glass grapes, tucked up against the burgundy vaulted ceiling. Tables and chairs in leather and wood complement walls of wood-panelling below distressed but ornate plaster work. The gloom is barely lifted by small pools of light from a few table lamps. This space must surely have some tales to tell, if only we knew… a dark, cosy bunker of secrets.
As you'd expect from the restaurant's name, the menu features a fair bit of beef in the form of steaks and burgers. Pork's popular too, choose from hickory ribs, a plate of mixed charcuterie or a terrine.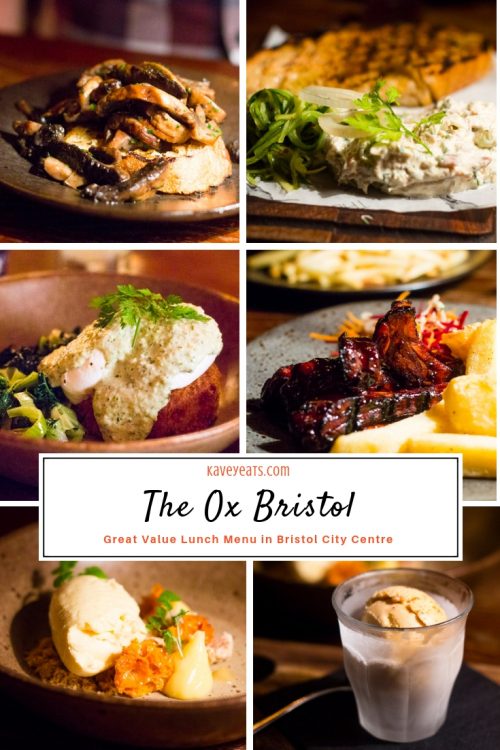 The lunch time set menu is good value, offering two courses for £15, and three for £18 (though note that the prices on the sample menu on their website are a fair bit lower, suggesting the website doesn't get updated often). There's also a 6 ounce rump and fries with your choice of sauce, and a glass of wine, for £15.
Mackerel rilletes, sourdough toast. Delicious sloppy-style rillettes, served with the most wonderful pickled cucumber and onion. Only disappointment was a soggy sourdough, no crunch at all like it had been toasted and left out for a while.
Charcoal roasted mushrooms, persillade on toast. Generous heap of mushrooms piled on sourdough with suitably robust garlic and parsley butter. Nothing not to like here; pure comfort food.
Hickory smoked sticky ribs, chopped salad, fries. Rich, sticky and smoky barbeque sauce on well-cooked ribs, the meat tender enough to come away easily, without being overly soft and pappy. Lovely light slaw-style salad. I swapped the fries for triple cooked chips which were disappointing, bland and without much texture. The skin-on fries, ordered by one of my friends, were only marginally better.
Salmon and smoked haddock fishcake, poached egg, greens, tartare sauce. Beautifully plump fishcake with lots of flavour, topped with a deftly poached egg and some generous spoonfuls of homemade tartare sauce. A great lighter lunch, as no carbs other than the fishcake breadcrumbs.
Lemon cheesecake, honeycomb, milk crumb. Not really a fan of the whole "desconstructed" thing, though I get that it's quicker and easier for the chef to make and to serve. But each individual component was delicious, and the balance pretty good.
Malted milk chocolate and honeycomb ice cream. Perfect for those seeking a smaller dessert, one scoop of delicious ice cream served in a cold glass.
All in all, an enjoyable lunch for the price, and friendly service too. Next time, I'll try the steak, or burger.
Bristol is a vibrant city with a fascinating history, plenty of cultural activities and some great food and drink to be enjoyed. Check out this guide on fun things to do in Bristol.