I love travelling by Eurostar! The London terminal is based at St. Pancras International, next door to King's Cross station and as such, it's easy to get to by train from outside London or London Underground within. For me, it's just a short hop down the Northern Line, making it exceptionally convenient. It's also so much quicker to get through check in, security and passport control than it is at the airport; an hour is plenty of time versus the minimum of two or three you need to allow if you fly. And of course, there are less restrictions on what you carry, meaning you can more readily bring back food, drinks and other souvenirs.
The next question for me after booking evening tickets to Gent in Belgium, was where to enjoy an early dinner before setting off. St. Pancras offers a wide selection of options, both of the fast food variety and sit down restaurants.
As our trip was for a birthday celebration, I booked us an early evening table in The Gilbert Scott restaurant by Marcus Wareing, located in the very grand and historical St. Pancras Renaissance Hotel.
The very striking St. Pancras building was built by the Midland Railway Company, who were constructing St. Pancras Station at the time, and was designed by architect Sir George Gilbert Scott. It opened in 1873, but closed in 1935, by which time it was considered too costly to maintain. It was used as offices from then until the 1980s when it failed to pass safety regulations and was closed down. The exterior was refurbished during the 1990s, and it was then redeveloped inside, with lower floors and former taxi driveway areas forming the new St. Pancras Renaissance Hotel and upper floors made into 68 luxury apartments by the Manhattan Loft Corporation.
The Gilbert Scott restaurant is, of course, named for the architect, and inhabits a huge, high-ceilinged room on the ground floor, beautifully ornate and elegant. Access is via the 'Booking Office' bar or internally from the hotel.
We ordered from the set menu, which costs £30 for 3 courses, and is available Mondays to Fridays for lunch, or for dinner before 6.30 pm or after 9pm, on Saturdays before 5.15 pm and anytime on Sundays.
Smoked salmon paté with horseradish, lemon jam, rye toast was light and fresh, lifted by lovely spirals of courgette.
Crisp lamb belly with asparagus, mint, goat's curd was full of rich lamby flavour, though a couple of the belly pieces were a little too chewy. The spring greens on the plate saved this from being too heavy a dish for a starter.
Roasted bream with wild garlic, peas, fennel was an excellent fish dish, the bream perfectly cooked to deliver soft flesh and a crisp skin, and balanced beautifully by the fresh peas, fennel fronds and wild garlic sauce.
Sides are available for an extra charge of £4 to £5 each, including chips, salads, mushrooms, potato croquettes, and mac'n'cheese, but we decided against and felt plenty full after our three courses.
Pork belly with truffle mash and piccalilly is not a dish for the faint-hearted! The belly fat was full-on fantastic and I couldn't resist eating every last morsel of the crunchy skin and wobbly white fat beneath it. Paired with a heavily truffled mash, this was a really rich and decadent dish. The piccalilly sauce was lost though, as soon as the deeply-meaty gravy is poured on.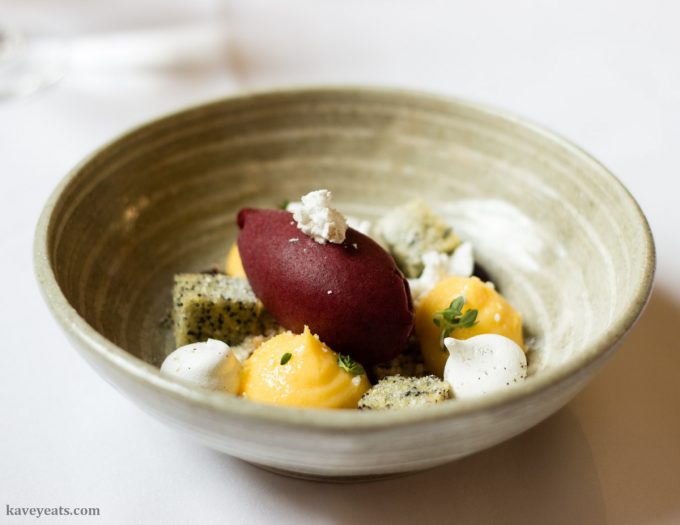 Lemon meringue and blackberry cleverly balanced sweet and sharp. Despite the sweetness of the lemon curd and meringues, it was not at all a heavy dish.
Chocolate nougat, salted caramel and hazelnut was altogether richer, with delicious chocolate truffles, a dense chocolate mousse, and a smooth and creamy ice cream.
Service was formal but friendly, and having advised that we had limited time, both the kitchen and service staff turned our three courses around in less than an hour, as requested. The wine list includes several affordable wines by the glass, carafe and bottle.
Whether you're looking for a good meal to tie in with a journey in or out of King's Cross or St. Pancras stations, or simply for a well-priced set menu in this corner of London, I can recommend looking at The Gilbert Scott's set menu offering.
Save on Pinterest: