Wales is a country of dramatic coastlines, towering mountains and historic castles. Oh, and dragons too, of course! It's also known for the quality of its produce, and there are plenty of traditional Welsh foods to try during your visit to Wales. In this post I've picked out just a few of my favourite traditional Welsh foods, to help whet your appetite.
This is the third post in a series exploring the best traditional foods around the United Kingdom. Why not take a look at my selections of traditional Scottish foods and traditional food from England?
Welsh Lamb
When you visit Wales, you'll see sheep all over the beautiful countryside; they are well suited to the hilly terrain, which is often not ideal for arable farming. Given the superb quality of Welsh lamb, it won't come as a surprise that this meat is so popular.
You could try an elegant french-trimmed rack of lamb served delicately pink, or a beautiful chop grilled on charcoal. The tender meat is ideal as the star of a good Sunday roast dinner – I recommend a slow cooked leg of lamb with meat that falls off the bone.
If you love the flavour of lamb, seek out Welsh hogget and mutton too. Whereas lamb is the meat of sheep less up to one years old, the meat of an animal between one and two years of age is known as hogget, and any older than that is classed as mutton. Mutton has a reputation as being tough, but that's rarely the case, especially when the meat is cooked low and slow, and the flavour is wonderful.
Cawl
Cawl (rhymes with 'owl') is probably the national food of Wales, and dates back to the 11th century. It's one of those dishes which every family has their own recipe for and everyone thinks that their way is best.
The best description of cawl is a hearty meat and veg soup. A broth is made by simmering beef or lamb in water with a selection of vegetables, of which leeks are the most popular. The meat is taken out, and the broth thickened with oatmeal or flour. Traditionally, cawl was been cooked slowly in a large pot while the family was out working all day. The soup was usually served as a first course, ahead of the tender meat that had cooked in the liquid.
Today, the soup is often enjoyed as a full meal in its own right. If you tuck into a bowl of Cawl during your trip to Wales, you might eat also enjoy it with some hearty dumplings cooked in it. Or you could just dip in some lovely crusty bread, and a little cheese.
Welsh Rarebit
Another very popular Welsh dish is Welsh Rarebit, a delicious concoction of cheese and other ingredients melted over hot toast.
Once again, this is a recipe for which everybody has their own way of making it. Generally it's made by mixing grated cheese with ale or beer and some kind of piquant seasoning; perhaps some mustard, maybe a dash of Worcestershire sauce, or even a pinch of cayenne pepper.
Whatever goes into it, Welsh Rarebit is a deeply satisfying dish that makes a hearty lunch, often served with a side salad.
Laverbread
Despite the name, Laverbread isn't a type of bread – in fact, there's no bread in it at all!
It's actually made from an edible seaweed that grows along the Welsh coastline. The seaweed is thoroughly washed and then cooked down into a soft mush.
Laverbread is often served fried with bacon or cockles as part of a full Welsh breakfast. It has a high iodine content which gives it the same distinctive flavour of the sea that you get from shellfish. It's an acquired taste, but one worth trying during your visit to Wales.
Welshcakes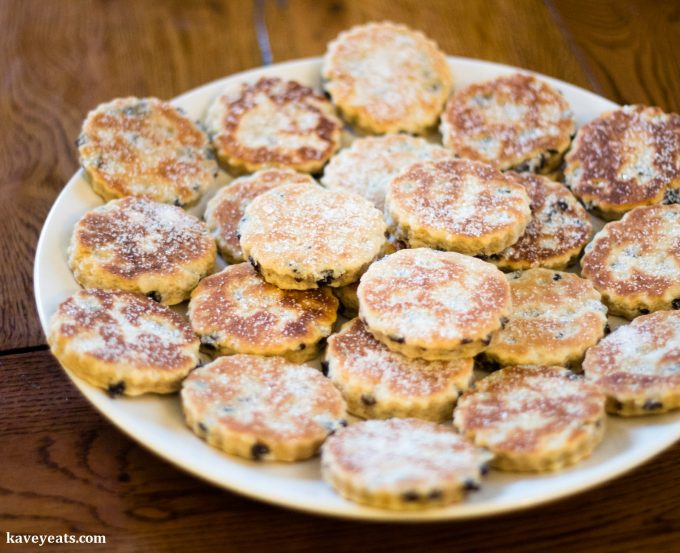 My next choice is more universally enjoyed. Welshcakes are a simple sweet treat and have been cooked throughout Wales since the 19th century.
They're also known as griddle cakes, which gives you a clue as to how they're made. A simple dough is made from flour, lard (or butter), eggs, sugar, milk and raisins, to which spices such as cinnamon and nutmeg can be added. The dough is rolled out and cut into circles, before being baked on a hot griddle or bake stone. Indeed bakestone is another name by which they are known in some areas. The hotly grilled Welsh cakes are often dusted with sugar to finish.
The flavour and texture are similar to scones, but these little round raisin-studded cakes are thinner, and often eaten unadorned, or thickly spread with butter.
Save:
Have you ever tried any of my selection of traditional Welsh foods? if not, which one do you think you'd like best?