If you're wondering what souvenirs to buy in Thailand, look no further than our fantastically comprehensive guide, created with the help of fellow Thailand travellers. It's full of lovely things to seek out!
Who doesn't love bringing home a souvenir (or two) from their travels, to remind you of a wonderful trip and give you pleasure for years to come? I was tempted by so many things throughout our three week holiday in Thailand but in the end, I chose just a few of the following items to bring home.
Souvenirs to Buy in Thailand
Backpacker Bracelets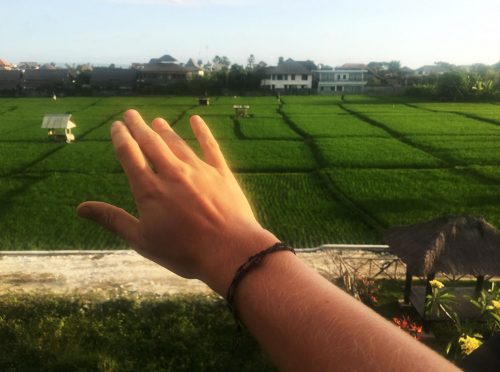 Everyone who's backpacked around Thailand has seen them and has probably bought a couple of them – the famous "backpacker bracelets", which are all across Southeast Asia!
You see these bracelets on every street and in every shop in Thailand, and they make a cheap and very nice souvenir of your Thailand trip. I remember exactly how I bought mine from a local woman in a rural village north of Chiang Mai.
In recent years, it became a big trend for every traveller to put an increasing number of bracelets around the wrist, with each bracelet reflecting a different country or memory. After my 2 months in Southeast Asia in 2014, I had at least 10 bracelets myself, but removed all but one of them when I got home – the one I bought in Thailand. The knot was too tight to take it off and I didn't want to cut it, so I decided to keep it as a memory of my first big solo backpacking trip in Asia. And I still wear it today, 4 years later! Let's see if I will ever take it off!
Patrick Muntzinger blogs at German Backpacker.
Benjarong Ceramics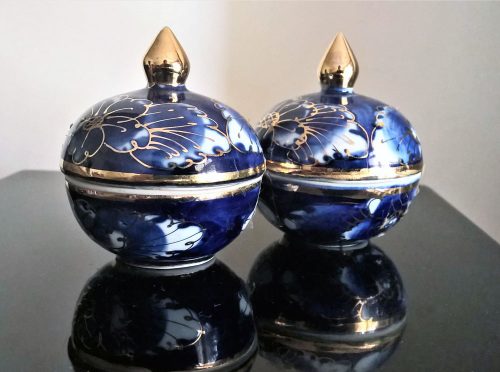 One sensational souvenir that you can get back from Thailand is Benjarong, a traditional form of Thai porcelain. The word 'Benjarong' simply means 5 colors. Entire designing and coloring is done on plain bone china, which is usually white porcelain. If you are a traditional handicraft fan you will surely love seeing and learning the process of making them. Skilled craftsmen and women draw patterns or themes which are then filled with colors, 2 or more. After that they add liquid gold to the designs. The final finish is given by firing the painted product. This ensures the paint lasts a whole life time. The colors look much more bright and definite compared to the dull effect with just the original paints. Best part is the final finish is resistant to scratching and fading. However they advise you not to put in dishwasher or microwave.
This Thai art originated in 19th century. Benjarong village is at a distance of 40kms from Bangkok. Should you wish to see the art take form from scratch it is just an hours' drive from Bangkok. The village has plenty of home stays and workshop facilities. Tourists can try a hand at them and create their own designer pieces. Price can range from as low as 80 baht to many 1000s of baht depending on the size, intricacy of the designs, and amount of gold used.
Indrani Ghose blogs at I Share These.
Blessed Souvenirs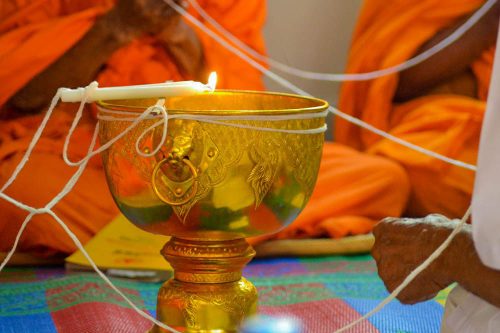 During almost every monk ceremony, like holy days, there will be lengths of string connected with bowls and vessels of water, while the monks are in prayer. Afterwards the blessed water will normally be poured into the roots of plants and trees, to give prosperity and growth. This water is also found bottled to be bought at many temples and it can be later used to bless objects, as well as people, during various ceremonies.
The string is more common, known as "sai sin" – sacred thread, which the monks will cut into smaller pieces to tie as bracelets to people's wrists, in a ceremony of good fortune.
However monks can more or less bless anything, from water and pieces of string, to new homes and cars. One of the more revered blessed items is pendants and amulets, which have become big business in Thailand, where prices generally depend on who, when and where the pieces were blessed. Many of these blessed items can be bought (open to donation) at most temples.
I was once gifted a fancy bead bracelet by a monk at a temple along the old Khmer Highway of rural Isaan (Wat Khao Anghkan). I was all chuffed at the time and played with it, only the thread snapped and the beads scattered all over the temple floor. Apparently this is very bad luck!
Allan Wilson blogs at Live Less Ordinary. Find him on Instagram.
Buddha Statues
You will find wooden, stone and jade carvings, plus various metalwork statues of Buddha (or Buddha's head) all over Thailand, sold for display in temples and homes as an item of worship.
Most commonly, Buddha is represented in the tall, slim style of this is Gautama Buddha – the Indian spirital leader and founder of Buddhism, but you'll also find the bald, portly style of Maitreya, the future reincarnation of Buddha.
Buddha also appears in items of jewellery, particularly the small amulets and pendants that are blessed by temple monks and worn for good fortune and health.
Although icons of Buddha are very popular souvenirs, be aware that it's illegal to export any items in the form of Buddha from Thailand without a license issued by the Fine Arts Department. In practice, I've rarely heard of people being stopped or fined, but it's your choice to take the risk.
Note that there are additional restrictions on exporting antiques.
Me, here at Kavey Eats. Find me on Instagram.
Chalong Bay Rum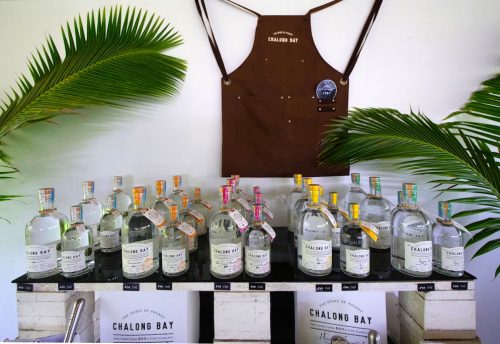 Thailand is the fourth largest producer of sugar cane in the world and in Phuket, this sugar cane is used to produce rum. The local Distillery, Chalong Bay Rum, buys the sugar cane and produces its sugar before distilling it to make the rum.
As their rum is made from sugar and not molasses (like most of the large brands) it has a unique taste which makes it a perfect partner for tropical drinks like pina colada or mojito.
The distillery organises tours every day in the afternoon where you can learn about the production process and taste the rums. Buying some of their half or full bottles of infused rums with traditional Thai ingredients like lemongrass, sweet Thai basil or lime is a nice souvenir. You can also get a cocktail recipe book to go along with the spirit.
Mar Pages blogs at One In A Lifetime Journey.
Coconut Oil
Extracted from the fleshy 'meat' of coconuts, coconut oil is an edible oil that is used for both cooking and beauty treatments. It's high fat content makes it slow to oxidise, and it lasts many months, if not years, without spoiling.
These days, it's often touted as a healthy diet alternative to animal and dairy fats, but it does have high levels of saturated fat, so should still be eaten in moderation. Usually solid at room temperature, it quickly melts at body temperature which makes it a popular moisturiser and hair conditioner, and it can also be used as bath oil and massage oil.
Thailand produces a lot of coconut oil and you can find it everywhere, from cheap outdoor markets to high-end (and high-priced) boutique shops. Quality and purity varies hugely depending on the method used to extract the coconut oil, so do try and seek out pure coconut oil, especially if you plan to ingest it.
Me, here at Kavey Eats.
Coconut Palm Sugar
During our tour of Tha Kha Floating Market in Bangkok, we took a boat trip to a nearby cottage-industry coconut palm sugar producer, and learned the process from collection of sap through its reduction via boiling, and pouring the thickened syrup into shallow dishes to cool. This creates solid-block coconut palm sugar which is usually grated for use.
It's a fantastic ingredient to bring home, and actually Pete enjoyed nibbling at lumps of it moulded into little flower-shaped blocks but do be careful to buy 100% pure coconut sugar. Big brands sometimes cut it with cheaper sugars to bulk out and reduce the price of their products.
Your best bet is to buy it in local markets within an area where its produced, for best prices on pure product.
Me, here at Kavey Eats.
Coconut Shell Decorated Bowls
These coconut shell bowls can be found at many of the markets in Thailand, including on the famous Khao San Road. We first caught sight of them at the Sunday Market in Chiang Mai and found that the best deal on them was about 150 baht. We managed to match this on our last day in Thailand but we had to buy two to get them for 300 baht.
There is much more choice in Chiang Mai, but you will still have a few designs to pick from in Bangkok. I actually was offered a seat to browse them as I did the last of my shopping with a broken foot! Make sure there are no chips in the smooth varnish, and stick to using them as ornaments or bowls for odds and ends to prevent heat from ruining the design.
Tasha Haley blogs at Meldrums on the Move.
Coffee & Tea
I wrote in my post on our visit to the Akha hill tribe community of Doi Pha Mee about the deliberate move away from growing opium to growing coffee and fruits instead, thanks to support and encouragement from the late King Rama IX. Many hill tribes in Northern Thailand made the same change switch of crop, creating a successful coffee industry within the region. You can find Thai beans and ground coffee in shops throughout Thailand.
Tea is also an established crop in Thailand, not just different types of tea tea (Camellia sinensis) but herbal and floral infusions including chamomile, butterfly pea flowers (which tint food and liquid a vivid purple-blue colour), chrysanthemum, hibiscus and rose flowers. An inexpensive purchase at a food market, you can buy tea leaves and dried flowers in fairly small amounts if you prefer, and prices are very reasonable.
Me, here at Kavey Eats.
Croaking Frogs
Perched on a plastic chair, sipping a cold Chang as you watch the craze of Th Khao San (Khao San Road) stroll by, your ears prick up to the sound of… what is that?… a frog!?
A small elderly lady, dressed in colourful hill-tribe dress beams a wide toothless grin in your direction. She's holding a small frog carved from acacia wood and stroking its back with a stick. You smile sweetly, shake your head to decline and order another Chang.
Although omnipresent around the tourist markets of Thailand, these wooden frogs originated in Northern Thailand, near Chang Mai. They were once believed to be bring fortune and a successful rainy season in agricultural communities. They are a unique souvenir to take home as a percussion instrument for any friends or family with young kids. Or simply purchase one to sit on your mantelpiece as a reminder of that awesome trip to Thailand.
Jenny Lynn blogs at TraveLynn Family. Find her on Instagram.
Elephant Pants (Trousers)
If there's one thing you must absolutely bring home as a souvenir from Thailand, it's a pair of pants (trousers). It's a cliché, but there's a reason Thai pants are very popular. We bought ours when we were island hopping in the south of Thailand, in Koh Lipe.
The most common pants you'll see are elephant pants. They are ubiquitous and a clothing staple of backpackers visiting Southeast Asia. Elephant pants have beautiful bohemian designs and are representative of Thailand itself – the elephant is the national symbol in Thailand. Moreover, they're very comfortable, airy and can easily be paired with various tops.
A bit more general are the harem pants. You can find elephant pants with harem design also. Other prints include tribal patterns, mandala or peacock. Harem pants can be found in different fabrics (from pure cotton to a rougher material) and are available in cropped or full ankle-length versions.
Lastly, there are fisherman pants, which are wide-sized pants designed to fit all. Fisherman pants are loved for their wide use and versatility.
Thai pants can be found in various parts of Thailand, most commonly in markets in tourist areas. Prices start at 500 baht above, depending on design and quality.
Katherine Cortes blogs at Tara Lets Anywhere. Find her on Instagram.
Elephant-Shaped Souvenirs

Images courtesy of Strecosa (Pixabay), Mizianitka (Pixabay) & Thomas Mathys (tripgourmets.com)
Elephants are the national animal of Thailand, and as such, you'll find their likeness in temple architecture, furniture, paintings and decor across the country.
They also play a huge role in souvenirs. It's not just trousers, scarves and bags on which you'll find elephants (woven into the design of the fabric itself). From jade and wooden carvings to bronze moulds, from pottery sculptures to ceramic dishes, from keyrings to colourful soft toys, from hanging ornaments to jewellery, the elephant is a ubiquitous motif and a lovely reminder of these beautiful animals and their place in Thai culture and tradition.
Me, here at Kavey Eats.
Fabric Souvenirs
One of the most ubiquitous items to buy in Thailand are the range of souvenirs made from beautiful and colourful woven fabrics in traditional designs.
Whilst scarves, trousers, tops and hats are among the most popular items, the range is as large as the prices are a bargain and you can find everything from rucksacks, satchels, handbags and coin purses to slippers, shoes, and childrens' toys.
Me, here at Kavey Eats.
Floating Boat Models
Anyone who has been to Thailand will tell you that it's a paradise for shoppers. I specifically love shopping for souvenirs in the various street markets, night markets and floating markets. The colorful shops keep drawing me in to shop more and more.
While we have quite a collection of souvenirs from our three trips to Thailand, my favorite remains the one that I picked up from our first trip there. We were visiting the floating market in Pattaya and were fascinated by waterfront art galleries and souvenir shops. We took a ride through the river in a longtail boat like the locals and thoroughly enjoyed the local cuisine. To remember our first floating market experience, we got a small souvenir – a beautiful boat with a fruit seller and her fruits. We bought it for 70 Baht and enjoyed bargaining on the price from 100 Baht. While you will find souvenirs in galleries and super markets in Thailand, we always buy them from local shops.
Pujarini Mitra blogs at My Soul Travels. Find her on instagram.
Folded Fabric Ladies Tops
You may wonder why I'm listing these out separately when we've already listed fabric souvenirs above, as well as elephant trousers. It's because they're one of my favourite items, and I have several in my wardrobe!
Made from a huge rectangle of fabric, usually with bold and colourful prints, these tops are the simplest construction imaginable – a large hemmed rectangle of fabric is folded in half, a neck hole is cut out and hemmed, and the sleeves are made simply by sewing up the sides but not quite to the top.
This leaves flaps of fabric to both sides, which drape and add interest. Sometimes a simple drawstring is added below the neck-line, to allow the shirt to be cinched in, but I like mine without.
You'll find these throughout the markets of Thailand, priced at around 100 to 150 baht each, occasionally less. As usual, bargain a little on the price, especially if you want more than one.
Me, here at Kavey Eats.
Fruit and Flower Shaped Soaps
During my visit to Bangkok, Pattaya and Rayong what remained a constant at most gift shops were the quirky fruit and flower-shaped soaps. The only thing which changed about them was the price. Sold for anything between 30 baht in Bangkok to 120 baht a piece at the airport, they are a must buy souvenir when in Thailand and thanks to the bright colors they are hard to miss.
The soaps are handmade, organic, herbal and perfumed. Some are shaped like fruits (like mango, watermelon and grapes), and some are shaped like flowers (such as frangipani and roses). Good places to shop for these soaps are Asiatique in Bangkok and any of the street shops in Pattaya. Bargaining is advised. You can also order them online but it's much more expensive.
Abhinav Singh blogs at A Soul Window.
Hill Tribe Hats

While I was visiting the Northern Hill tribes of Thailand, I was struck by how colorful all their souvenirs are but couldn't really find anything appropriate to buy that I would really keep. Except for their really colorful and playful hats with vivid stripes of colors and bells adorning some of them. These caps make a fun and wearable souvenir.
The Lisu tribe I visited in the region is located in a variety of villages and you'll find a few storefronts of stands where you can find all the handicrafts that they make for supplementary income from the tourist crowds visiting. Many of these Lisu tribes came from areas located further north in Cambodia and China, eventually migrating to these hill areas of Thailand with the local government allowing most of these tribes to live in these association of loose villages. Many maintain an agricultural lifestyle or work in local business to sustain a livelihood in the region.
Noel Morata blogs at Travel Photo Discovery.
Pete and I spent a couple of days with the Akha hill tribe community of Doi Pha Mee. One of the activities we enjoyed was learning about their local handicrafts, including a demonstration of weaving. The community also had their handmade items on sale, including the traditional hats they had us try on.
Me, here at Kavey Eats.
Pottery
I love pottery and am always drawn to it whenever I travel. In Thailand, you can find a wide range of pottery souvenirs, from the ornate and more formal styles (such as the Benjarong above) to plain and practical kitchenware.
The teeny tiny teapot decorated in a dragon design (which fits easily in the palm of my hand) was ridiculously cheap, from a narrow alleyway market in Bangkok's Chinatown. It's too small to be anything other than decorative, and was in a jumbled box of similar teapots in both terracotta and black clays, with all kinds of different designs.
My friend Diana bought the large mortar and pestle on one of her many trips to Thailand several years ago, carrying the heavy object back to Bangkok by hand, and all the way home. It's perfect for making som tam (green papaya salad), and I'm thrilled that she passed it on to my following our recent visit.
Me, here at Kavey Eats.
Rice
If you're a keen cook, bringing home local ingredients is always on your shopping list, as it is on ours!
As it is across South East Asia, rice is a very significant crop in Thailand, and represents a large part of the Thai economy and workforce. In fact, it has the fifth-highest area of land under rice cultivation in the world – nearly ten million hectares – and is the second largest rice exporter after India.
There are many different varieties of rice grown and eaten in Thailand including the staple Thai Jasmine rice. You will also find different types of long grain and sticky (glutinous) rice; various red, brown and black varieties and even a recently-developed purple rice called riceberry.
Buying in a local food market is your best bet for the lowest prices.
Me, here at Kavey Eats.
Sak Yant Tattoo
My Sak Yant tattoo remains one of the most incredible and meaningful souvenirs I've ever bought, not just in Thailand but anywhere.
A Sak Yant tattoo is a blessing from a Thai monk. The crazy part is you show up at the temple and without any discussion or planning, he just gives you the tattoo he feels you need. I went in with no idea what I'd come out with.
It was my first of 5 tattoos, 2 of which are sak yants. I love them!
Kristin Addis blogs at By My Travel Muse.
Same Same But Different T-Shirts
In Thailand you will frequently hear the expression "Same Same". It's commonly said by vendors, when trying to sell you something, from souvenirs to tours. What they mean is that something is similar, not exactly the same as what you asked for but very close. It is quite funny hearing Thai people use the expression and they do it constantly. The origin of this expression has to do with the fact that the Thai for "similar" is "khlai khlai gan". The word khlai is repeated to emphasise it. In English, they replicate the expression by repeating the word "same".
The expression is now so widely used that it's becmoe a recurring joke between locals and travelers. Tha Thai even make souvenirs with the expression, sometimes adding "but different" on the other side. You will find plenty of clothes with the expression, particularly t-shirts. These T-shirts are a souvenir with cultural meaning and also a nice reminder of the good times spent in Thailand.
Cláudia Pereira blogs at Travel Drafts.
Silk & Woollen Scarves
Whether or not all the beautiful scarves labelled as silk and pashmina are actually made of these two materials, I'm not sure, but for around 100 bahts each, they are a great value buy regardless, and a wonderful fashion accessory to remind you of your visit.
The range of colours and patterns is immense, ranging from elephants and birds to flowers and peacock feathers, through hundreds of traditional Thai design motifs, as well as plainer options. There should be something to suit every taste. It's worth shopping different stalls before you buy – although most seem to have lots of similar items in stock, some vendors have a few unusual designs in their mix.
Although available in most tourist markets, I found the most choice in Northern Thailand, particularly in the markets of Chiang Rai and Chiang Mai. As always, bargain a little on price, especially if you want buy more than one from the same seller.
If you're keen to buy real Thai silk, visit the Jim Thompson shops in Bangkok; they are pricy but sell very high quality silk and a great range of silk products.
Me, here at Kavey Eats.
Silver, Pearls and Precious Stones
Thai silverware is well known for its intricate detail, and is made into jewellery, tableware, ornaments and decoration. Look for the .925 stamp which means the item is made of 92.5% silver. The Northern Thailand hill tribe communities are particularly well-known for their beautiful silverwork.
Pearls and precious stones are also popular, and often available at a great price compared to shops in Europe and North America. You can have jewellery made to order to your own designs, ready for collection in a few days. Buy from a reputable shop to be sure you're getting the real deal.
Me, here at Kavey Eats.
Snacks
Dried fruit is a very popular type of snack in Thailand, and can be found in every market and supermarket, as well as smaller convenience stores, and of course, it's dried for preservation so will last anywhere from a few weeks to several months after purchase. The range is amazing, from durian, mango, lychee, pineapple, pomelo peel, mangosteen, papaya and rambutan to bananas, coconut and grapes, there's plenty of choice.
Nuts are also popular, especially the macadamia nut, one of the newer crops introduced to Northern hill tribe farmers during the last century. Peanuts and cashew are also big crops.
While you're at the stalls that sell dried food products, you may want to pick up some dried mushrooms and dried shrimps too – mainly for use in cooking rather than to eat as snacks, but great for keen cooks to bring home.
More unusual, and perhaps a bit of a novelty gift, are dried insects such as silkworms, again these are easy to find in local food markets.
I also love the large range of what I think of as 'crackling' – deep fried animal rind and other fatty parts that puff up into light, crunchy snacks. These are best consumed fairly quickly though, as the high fat content means they can go rancid quickly, as well as soft and soggy.
I'm also a sucker for local crisps and sweets (potato chips and candies), especially flavours that I can't find at home.
Make sure you're aware of the restrictions on food imports before travelling home or to any other country with your food purchases.
Me, here at Kavey Eats.
Thai Spices & Curry Pastes
You'll smell the intriguing mixture of spices as soon as your arrive in Thailand – delightful aromas from street food vendors, market restaurants, and if you're lucky enough to sit at a local person's table.
Thai spices are definitely something you'll want to bring back home as a souvenir for friends or yourself to re-create these delicious flavors in your own kitchen. They pack easily and won't take up much valuable suitcase weight.
Unique Thai spices include galangal, lemongrass, kaffir lime leaves, coriander, cinnamon, turmeric, Thai chili, Thai holy basil, as well as green and black peppercorns. Quality in Thai spices can vary greatly, so look for freshly packaged spices and don't be afraid to take a sniff. Fresh spices will have a nice aroma, while stale spices may have no smell at all.
You'll find aromatic Thai spices at most local markets in Bangkok and the floating markets around Thailand. Prices are very reasonable – packs of single spices are less than 30 baht, and combination packages of Thai spices can be found for less than 300 baht. Choose commercially packaged vacuum sealed bags and be sure to check your country's customs regulations on 'food stuffs' so cano avoid any problems at customs when you return home. In Thai, "aroi mak" – very delicious!
Lisa Chavis blogs at The Travel Pharmacist.
Also look out for fragrant Thai curry pastes. Fresh ones are available at food markets across the country but look for pastes sold in vacuum sealed bags or pots for longer shelf life – these are mostly found in supermarkets, souvenir shops and airport shops.
Me, here at Kavey Eats.
Woven Wickerware
Plant materials such as bamboo, reeds, grasses and vines have long been dried and woven into a wide range of items such as sleeping mats, floor mats and table mats; baskets, dishes and containers and cookware; hats and bags; even furniture.
Many of these items are still used a lot in everyday Thai life, and as such, you'll find stalls selling all kinds of wickerware products in pretty much every market you visit. Many products are a little fragile, so larger pieces may be hard to transport without damage, but the prices are very low as a result of the need for regular replacement.
Smaller items can be packed more easily and I'm still kicking myself for not having bought some of the small lidded pots that are used by many restaurants to serve sticky rice, keeping it warm at the table during your meal.
Me, here at Kavey Eats.
Save for later:
A Three Week Itinerary For Touring Thailand
We visited Thailand for a wonderful independent holiday, which we organised and booked ourselves. Check out my comprehensive three week Thailand itinerary, including tips on sightseeing, hotels, food and transport.
With many thanks to all my contributors for helping me to compile this guide to the best souvenirs to buy in Thailand. All images provided by authors of the relevant sections, unless credited otherwise. 
Please check the customs restrictions of your home country before your trip, so that you know which food and drink souvenirs you are permitted to import.