Yes we absolutely love shopping for souvenirs when we travel around the world! Enjoy our recommendations for souvenirs to buy from Kenya, to remind you of your wonderful trip.
Souvenirs From Kenya: Contents
Beadwork | Bone & Horn Jewellery | Handmade Drums | Kazuri Beads | Maasai Blankets | Sarong-style Wraps | Soapstone Carvings | Spices | Wooden Animal Carvings
Beadwork
The beautiful and brightly coloured beadwork of Kenya is world-famous and very recognisable, thanks to images and documentaries about the Maasai and Samburu people (amongst other tribes), who make and wear lots of decorative beaded items as part of their traditional dress.
Historically, such jewellery was made with beads of clay, wood and bone, as well as copper and brass where available. But in the late 19th century, Europeans introduced the tiny and colourful glass beads that are so popular in Kenyan tribal jewellery today.
If you buy directly in the villages from the women who make the jewellery, they will tell you of the meanings of some of the colours and traditional patterns, which can signify things like bravery, energy, and purity. They will also show you some of the special items made to be worn specifically by unmarried or married men or women, by warriors and by other indivduals in the tribe, to show their status. Of course, these and many other items are sold for anyone to wear and enjoy.
By Kavita Favelle, author of Kavey Eats. Find me on Instagram.
Bone & Horn Jewellery
Bones and horns from cattle have been carved into jewellery in Kenya for many, many centuries, long before more modern materials such as glass and plastic beads, were available.
Cattle horns in particular polishes up to a glossy shine – especially with the addition of beeswax – and the natural curved shape of horns is perfect for bangles and bracelets. Smaller pieces of horn, as well as pieces cut from bone, are used to make pendants and beads.
As for the beaded items, you can find horn and bone jewellery, as well as ornaments and napkin rings, being sold in villages, craft shops and even at the side of small-plane landing strips as you fly in to a remote safari destination.
By Kavita Favelle, author of Kavey Eats. 
Handmade Drums
One of the most unique and best things you can buy as a souvenir in Kenya is a handmade drum. The handmade drums in Kenya are crafted completely from scratch and various materials are used to make them. A lot of handiwork goes into crafting the entire drum including woodwork to form the drum shell and stretching out animal hide to cover the top of the drum.
Drums are a commonly used musical instrument in Kenya and while visiting you will most likely encounter people performing and dancing to the sound of the drums being played.
You should be able to find handmade drums to buy in most craft shops. Talk with the shopkeeper and ask where they get their handicrafts to make sure the crafts are locally and ethically sourced before buying. The price of a nice handmade drum varies, but you shouldn't need to spend more than 5,000 KES (Kenyan Shilling) for a good one.
By Jessica, author of Unearth The Voyage. Find her on Instagram.
Kazuri Beads
Kazuri means 'small and beautiful' in Swahili. It's also the name of a workshop in Nairobi, Kenya where you can find pretty jewelry made from ceramic beads. You can visit to see firsthand how women turn clay into beautiful necklaces and African themed pottery.
What began in 1975 as a little workshop experimenting in handcrafted ceramic beads has now grown and is recognised around the world. The Kazuri factory has a workforce of over 300 women crafting ceramic beads in striking colors and stringing them into beautifully jewelry. Its founder started with two single women and soon discovered that there were many others in the villages around Nairobi who needed regular employment, mostly from disadvantaged families, and so expanded operations.
You can walk around the factory and see these women working, sipping tea, chatting all the while turning clay into pieces of art. While there is no charge to visit the factory, it is customary to tip your guide who takes you to visit the different rooms in the factory and it is better to prearrange the visit.
Payment in US dollars is preferred but local currency is accepted as well. I spend about $50 on a nice necklace and 2 bracelets. Buy some for yourself and souvenirs for friends and family. Pick beads in colors of fiery sunsets that remind you of Africa. Or in patterns of stripes, spots and hooves to remember all the amazing wildlife you saw. It will be a keepsake you cherish forever; every time I wear one of the pieces, it takes me back to our safari days.
By Priya, author of Outside Suburbia. Find her on Instagram.
Maasai Blanket
Not only is the Maasai blanket or shuka a perfect gift to take home for family and friends, but it is also considered the national dress of the Maasai people. When you buy a Maasai blanket or shuka, you're getting something that symbolises Maasai culture as well as a souvenir you can use in your daily life. Maasai blankets are useful as picnic blankets, tablecloths or to keep you warm on a cold day.
The Maasai are a semi-nomadic tribe of warriors and farmers who live in Kenya and Tanzania. There are about 1.5 million Maasai, and the majority live in the Maasai Mara National Reserve of Kenya, so when you purchase a Maasai shuka from the Maasai Mara, you're helping the Maasai people earn a living.
Most Maasai wear red shukas wrapped around their bodies because it's part of their culture and they also believe that red scares away lions. Although the shuka is known as the "African blanket", it looks a bit like Scottish tartan, and some believe it was introduced to the Maasai by Scottish missionaries during colonial times.
Besides shopping for a shuka in a Maasai village or a souvenir shop, you can buy one a bit cheaper at the local markets in Nairobi or any other Kenyan city. I bought mine from the Olonana Maasai village, after admiring the one worn by a Maasai guide who took me on a nature walk.
Most shukas measure 200 cm by 150 cm, but if you're buying from a market, make sure to unfold them and check the measurements. Shukas can cost as little as 600 Kenyan shillings but for a better quality shuka, expect to pay at least 1500 Kenyan shillings. Quality shukas are made from thicker material.
By Christina, author of Travel 2 Next. Find her on Instagram. (Image Kavey Eats).
Sarong-style Wraps
A Khanga, Kikoi, Kishutu or Kitenge (depending on its place and tribe of origin) is a large piece of fabric commonly worn as clothing, wrapped around the body or legs. They are also sometimes used to create slings to carry children.
These colourfully patterned fabrics make great souvenirs, and can either be worn, sarong-style, or used as tablecloths, throws and wall-hangings. They are often on sale in general markets, as well as some craft shops. Expect to pay around 500 Kenyan shillings.
By Kavita Favelle, author of Kavey Eats. 
Soapstone Carvings
Soapstone is a relatively soft stone, making it ideal for carving with simple tools. The heavy talc content makes it smooth to the touch when polished, like a piece of soap, hence the name. In Kenya, it's mostly mined fro quarries in and around Kisii, in the southwest of the country.
Sculptural carvings of animals, people and abstract art are popular items, and can be found in craft markets all around Kenya. Decorative bowls and wide shallow spoon are also widely available, usually featuring a safari scene or abstract pattern, carved into the stone and inked with black and a range of bright colours.
Soapstone items are not very inexpensive but do wrap them in a thick layer of padding; soapstone is quite brittle and will break if it receives a hard knock or fall. Expect to pay around 500 Kenyan shillings for a small item, upwards for larger and more intricately decorated items.
By Kavita Favelle, author of Kavey Eats. 
Spices from MacKinnon Market, Mombasa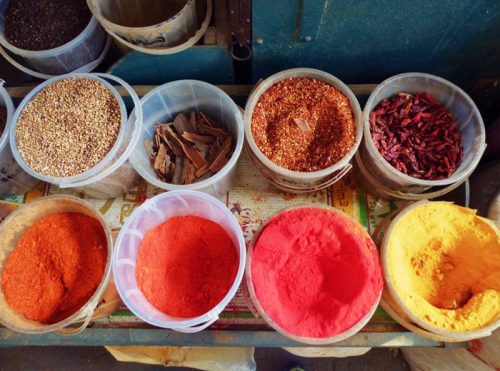 As a food lover, I always try to bring home something to cook. Eastern Africa is famous for its spices, which make a great souvenir for yourself and your friends. They are grown across the region, though Zanzibar has historically been the most important market for spices in the Western Indian Ocean.
If you are lucky enough to visit Eastern Kenya and the beautiful city of Mombasa, head to MacKinnon market in the old town. This heritage building, today also called Marikiti Market, stands on the big Abdel Nasser Rd. While it is not one of the largest markets in the country, it has a beautiful atmosphere and all vendors will be happy to propose you their goods, despite not being as pushy as in other places.
I highly recommend to buy the local saffron, lighter than the one we are used to, but perfect to give a hint of flavor and yellow colour to your dishes. There is also a red spice which the vendor said would be perfect for the fish – although I never caught the name, he was right! Price? For a very bad bargainer like myself around 500 KSH for two small bags of ground spices.
By Mario, author of Rest & Recuperation. 
Wooden Animal Carvings
If you visit the Maasai Mara tribe in Kenya, the best souvenir you can bring home is one of the beautiful handmade wooden carvings of animals.
You can buy these wooden animal carvings in other places around Kenya but we thought it was especially amazing to buy them here. The Maasai people carved these wooden animals based on watching the actual animals roaming their natural surroundings in the Maasai Mara National Reserve. Buying directly from the tribe also insures that they were really hand carved and that the money went directly to the Maasai community.
Our tour guide brought us to the village and showed us where we could buy the carvings. He was able to give us advice about the price and quality of the carvings. The prices vary especially because the carvings come in a variety of sizes, from miniatures to 1.5 meter tall giraffes!
By Karen, author of Travel Mad Mum. (Image Kavey Eats).
Kavey Eats' Shopping Tip for Kenyan Souvenirs
A one-stop shop for an absolutely huge range of Kenyan craft items and souvenirs, including all the ideas above, is the wonderful Utamaduni Craft Centre in Nairobi. We always like to buy some items directly from those who make them, but we also pop into Utamaduni to find a few extra pieces, and enjoy a coffee or light meal in their onsite cafe.
Read more posts on the best souvenirs to buy around the world.
Images contributed by authors of each souvenir, unless otherwise attributed.
Please check the customs restrictions of your home country before your trip, so that you know which food and drink souvenirs you are permitted to import.