Japan is one of my all-time favourite destinations, I have absolutely loved the three trips we've made there so far, and am busy planning our fourth. It's also a fantastic place to shop for unusual souvenirs. There are so very many things to choose from! Here are some excellent suggestions for the best souvenirs to buy in Japan from me and fellow travel bloggers.
The Best Souvenirs to Buy in Japan
Chopsticks
Japan is an amazing country and if we hadn't visited Japan on a budget we probably would have brought home a whole suitcase full of souvenirs. We usually like to buy souvenirs only if we know that we will actually display or use them after we have returned home. That's why we chose to buy some chopsticks in Japan.
Learning to eat with chopsticks as a person coming from a country where it is not common to eat with them, is not easy at the beginning. But you can learn quite fast and then it's fun to use them.
Finding a place where you can buy chopsticks in Japan is not difficult at all. Besides souvenir shops or household supply stores, there are even places that specialise in chopsticks. Since you can buy them in so many different places, there is also a huge variety of different designs, sizes, materials, quality, and prices.
With so many different chopsticks to choose from it's not easy to make a decision. In the end, we went with a pair of wooden chopsticks each. Unfortunately, my partner lost one of his chopsticks during a security check at the airport.
Vicki Franz blogs at Vicki Viaja. Find her on Instagram. 
Daruma Dolls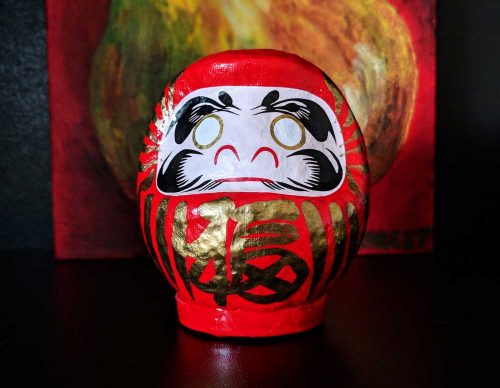 Daruma dolls make an adorable, lightweight souvenir. These roly-poly figures are modeled after Bodhidharma, the Indian monk who founded Zen Buddhism in China 1500 years ago. Bodhidharma spent years in meditation, so the daruma doll symbolizes patience and perseverance.
Crafted from washi, Japanese hand-made paper, these dolls are available in a rainbow of colors, but bright red, representing good fortune, is the most traditional. Also known as goal dolls, daruma dolls conventionally have both eyes left unpainted. Upon setting a goal, the owner of the doll paints in one eye with black ink. Next, the doll is displayed where it will be seen often as a reminder of the unfinished goal. When the goal has been achieved, the second eye is painted in.
The majority of daruma dolls are handmade in Takasaki in Gunma Prefecture, but they can be purchased all over Japan. I paid only about US$5 for my 9cm (3.5in) doll; prices increase with size.
Ingrid Truemper blogs at Second-Half Travels. Find her on Instagram. 
Ghibli Merchandise
If you're not already a fan of the beautiful animated films made by Studio Ghibli, why not? I strongly recommend you rectify that by watching some of the classics right now, go ahead, I'll wait! Come back and see me again after!
Films such as My Neighbour Totoro, Spirited Away, Ponyo, and many more have given rise to merchandise featuring the most popular characters, and we have come across Ghibli souvenir shops in Tokyo and Kyoto, and concessions within some of Japan's large department stores too.
I just about manage to resist the Totoro and Catbus cuddly toys, and can usually talk myself out of buying knick-knacks such as figurines, jewellery boxes, keychains, stationery, phone cases, bags and wallets but I could not resist a set of towelling face flannels embroidered with Ghibli film motifs.
Me, here at Kavey Eats. Find me on Instagram. 
Hand-Forged Metal Boxes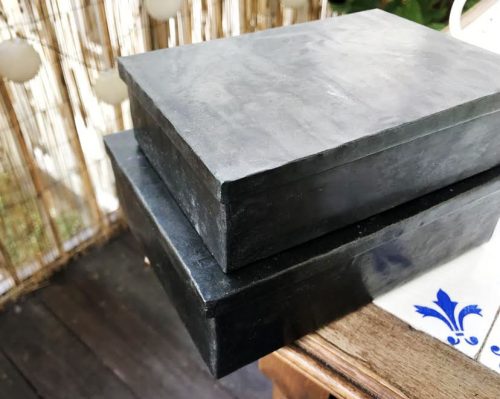 When it comes to handmade products, Japan is the absolute champion; nowhere else in the world can you find so many amazing handmade products. When we went on a round-the-world-trip last year, we ended buying another suitcase in Japan because we bought too many beautiful things.
One of the things that we really fell in love with was cute hand-forged tin boxes. Kotodo Takahashi Corporation was founded back in 1910 and has been making tin boxes ever since. The special thing about those boxes is that they are each being handmade by a skilled craftsman and that the have an additional interior lid that ensures not only seamless but also smooth sealing. The tin boxes can be basically used for everything, whether it's tea, noodles or coffee. You find round boxes as well as massive but beautiful boxes.
We bought our boxes at a small Kotodo wholesale showroom in the Asakusa district of Tokyo. You can not only get an idea of the products the company is producing, but also buy yourself some of the tin boxes.
Clemens Sehi blogs at Travellers Archive. Find him on Instagram. 
Kimono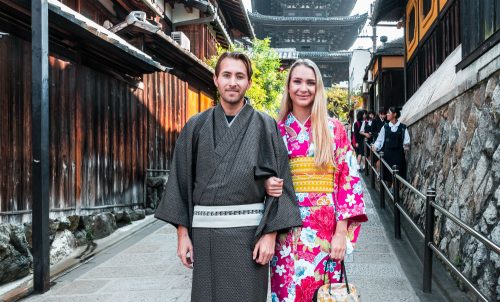 The Kimono is one of the most characteristic things about Japan. It's the traditional clothing that is still being used today, mostly worn for important festivals or formal occasions. There is a male and female version, though it's more common among females to use a kimono today.
A proper kimono may cost as much as US$10,000 or more, but as a tourist you can also buy a more simple kimono at a cheaper price. It's the ultimate Japanese souvenir since you get to bring some real culture with you back home, and it's also quite stylish. Depending on the pattern, color and type of fabric you can distinguish if the kimono is formal or casual.
A traditional women's kimono consists of at least 12 pieces that are worn and matched together. In contrast, the male kimono is simpler with about 5 pieces. If you want to try what it's like wearing a kimono before you buy one, it's possible to rent a kimono for a few hours and walk around.
Alexander Waltner blogs at Swedish Nomad. Find him on Instagram.
Kit Kats
Getting KitKats from Japan is a must! There are specially made flavors only available in the Japanese market (like green tea and "sweetness for adults" pictured), and some are only available from specific regions in Japan (like Tokyo banana). Many are limited editions, so you may never see that flavour again if you don't get it when you see it.
KitKats are one of the best selling candy bars in Japan, so you will be able to get them anywhere from convenience stores like Lawsons and 7-11, to grocery stores, to train station and airport souvenir shops.
You can also visit the KitKat Chocolatory in Sapporo, various locations in Tokyo, and the Osaka airport, which sells special high-end versions. If you want to scope out beforehand what flavors are available, you can check Nestle's Japan KitKat website and find out where you can buy them.
We always make it a point to find the most unique (baked potato flavour!) versions when we go to Japan to bring back home for friends and family. They are always a hit!
Emily Jenks blogs at Henry and Andrew's Guide. Find them on Instagram. 
Kōdō Silk Incense Pouches
Kōdō silk sachets or incense pouches make fabulous souvenirs for people of all ages who like beautiful scented things. A traditional Japanese gift for all occasions, they come in various shapes, sizes, scent combinations so plan some time to browse all the designs available because if you're like me, you'll have a hard time making a decision.
Another great reason why they make great travel souvenirs is that they aren't fragile and they pack up small in your suitcase. I had to resist the urge to fill my entire carry-on with these sweet-scented beauties!
When shopping for incense pouches a sure sign of the quality is whether the fabric is silk or polyester and the intricacy of the pattern of the material. Be aware of incense pouches purchased in the markets because the chances are that they are polyester and that the scents will not be as long-lasting.
For the best quality authentic of silk incense pouches visit Yamada-Matsu Incense Shops in Tokyo and Kyoto, a family-owned business who have been practising the art of Japanese Incense since the early 1700s. I was able to buy gifts between US$5-10.
Mary Chong blogs at Calculated Traveller. Find her on Instagram. 
Kokeshi Dolls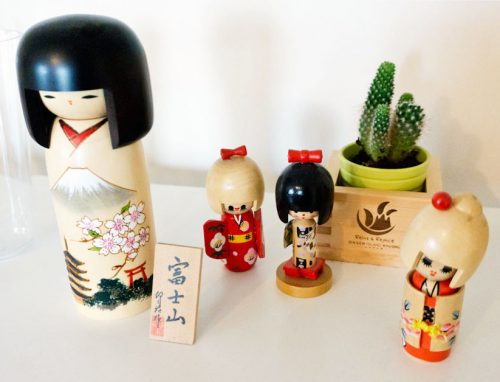 Kokeshi are Japanese dolls handmade from wood. They have a simple head with a painted face and often a floral design on the body. The dolls don't have arms or legs and on high-quality dolls, you can find the stamp of the maker at the bottom or back of the piece.
While it's not clear where the name kokeshi comes from, it is thought that the words 'ko' ('wooden' or 'small') and 'keshi' ('dolls') are what make up the name for these artisan products. It's said that the first dolls were made during the middle of the Edo period (1600-1868) as souvenirs for people visiting hot springs in the Northeast of Japan.
Nowadays, you can find kokeshi in almost every souvenir shop in Japan and besides the 11 traditional types, there are many modern versions by different artists. Prizes range from about US$1 (such as the little ones in the photo) to several hundreds of dollars, depending on style, maker and authenticity.
The large white kokeshi in the picture below is very popular and costs about US$30-40. You can see Mount Fuji, as well as the traditional sakura flowers and the famous 5-story pagoda Horyu-ji painted on the doll.
Nienke Krook blogs at The Travel Tester. Find her on Instagram.
Okinawa Hotal Glass
Okinawa Hotal Glass is one of the most unique things to buy as a souvenir in Japan. It's handmade on the islands in a tradition that goes back to the Ryukyu kingdom that once ruled these islands.
The Hotal Glass is always handmade, which make each piece of jewelry unique. The blue of Okinawa's ocean and sky is reflected in the glass. To get the beautiful colours, craftsmen use a special technique where they take coloured glass and melt it over a metal core in order to make it round. When the glass is melted they overlay it with silver foil.
You can often find Hotal Glass souvenirs as pendants or bracelets. There are unisex items available, but hotal glass is more commonly bought by and for ladies.
Christine Wedberg blogs at Christine Abroad. Find her on Instagram.
Purikura (Photo Booth) Photo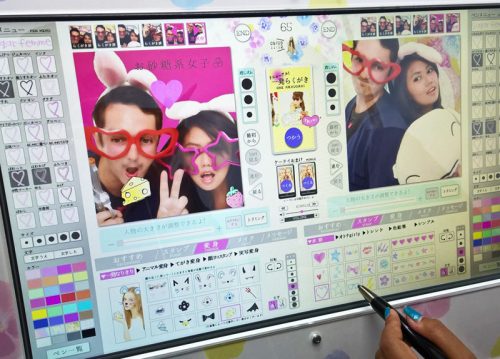 Not only are Purikura great souvenirs, they are one of the must-do Japanese attractions, and they're surprisingly great fun. The name purikura is a shortening of the Japanese pronunciation of 'print club' aka purinto kurabu) and in Japan, these photo booths are used to make kawaii (super cute) photo printouts, by shaping and editing them into fun photos.
Some of the better PuriKura machines can be found in Japan's many amusement arcades, where entire floors are often set aside for them, with various accessories to wear as props, like hats, and sunglasses, and just all sorts of fun features. One of the better areas to find these photo booths is Harajuku in Tokyo, where there are a handful of tourist-friendly studios found on Takeshita Street.
Once you have taken your photos in the booth, the machine offers a choice of images for editing – the funniest tend to be the best. Your chosen images are loaded onto the screen, where seemingly countless options and features can be added, adjusted and played with. When the edited photo is as cute, funny, or ridiculous as you prefer, just press the print button, and take it home as a souvenir, and a reminder of a fun day out in Japan.
Allan Wilson blogs at Live Less Ordinary. Find him on Instagram.
Sake Set
One of my favorite souvenirs from Japan was a beautiful sake set. Sake is a Japanese rice wine traditionally served warm, though chilled sake is also common these days. Sake is served in a flask with a narrowed neck so that it can be heated in a pot of hot water if necessary. Small cups called choko are used to drink the rice wine. Sake sets come in all kinds of designs and materials – they can be made of wood, glass, or even plastic.
I picked out a beautifully decorated ceramic set for myself even though I wasn't old enough to drink when I visited Japan. Because I wasn't planning on using it for sake, I paid a little more for a pretty one that would look nice in my souvenir display case with my favorite mementos, and its gold detailing is as gorgeous today as it was when I bought it years ago. Sake sets can be found all over Japan in both cheap souvenir stores and expensive specialty shops, so keep an eye out for the perfect one during your trip!
Kris Morton blogs at Nomad by Trade. Find her on Instagram. 
Specialist Kitchenware & Cookware
If you're a keen cook, especially one that is drawn to specialist items for your kitchen, Japan is a goldmine!
If you want to recreate Japanese specialities, you could buy a small rectangular tamagoyaki pan, used to make those square-rolled omelettes that are often served at breakfast, in a bento box or at the end of a sushi meal. Or perhaps a takoyaki pan, with its half-spherical indentations in which to make octopus-filled batter balls. If you make sushi at home, you might covet a Cypress-wood sushi rice mixing bowl, a bamboo rice paddle and a bamboo rolling-mat. You could also seek out a yakinuku griddle for use on at the table over a portable gas stove, or a ceramic charcoal grill also for cooking at the table.
Knives are a hugely popular choice, whether you want a ceramic knife or a multi-layered Damascus steel one, there are many choices to suit all budgets.
If you have children, look out for plastic moulds for shaping hard-boiled eggs into animals, cars and other fun shapes, plus colourful bento lunchboxes, and little flags and toys to decorate the contents. Another fun idea is to buy some unusually-shaped vegetable / cookie cutters – some of the specialist kitchenware shops along Tokyo's famous Kappabashi Dori have a vast collection to choose from.
Also useful are the simple ceramic graters used for pureeing ginger and wasabi root, and the small metal ones for spices like nutmeg or cinnamon.
Then there's the vast range of ceramicware available for both cooking and serving food. You can find beautiful inexpensive mass-produced items and one-of-a-kind artisan handmade pieces. We have a range of mugs, bowls, plates and a gorgeous tea-roaster (used to roast tea leaves for hoji-cha).
Me, here at Kavey Eats. 
Suribachi & Surikogi
I could have included this suggestion under Kitchenware but I wanted to show off one of my favourite purchases!
On our second trip to Japan, Pete and I took a private cookery class with a local Kyoto resident who taught us some classic dishes in the comfort of her own kitchen. One of the items we used was a traditional suribachi and surikogi – a grinding bowl and wooden pestle; the inside of the bowl has fine ridges across its surface making grinding much easier than in a smooth-surfaced mortar and pestle. We had first come across these on our previous visit, when visiting a specialist katsu restaurant that served customers with sesame seeds and a surabachi in which to freshly grind them but didn't think to buy our own to bring home until the class.
Our cookery tutor was able to direct us to a small kitchenware shop on Kawaramachi Dori where we bought our set, choosing from a large selection, all reasonably priced.
My Saya Ingen Shira-ae (Green Beans with Tofu, Miso & Sesame Dressing) recipe is a great one to make using a suribachi and surikogi.
Me, here at Kavey Eats. 
Teapot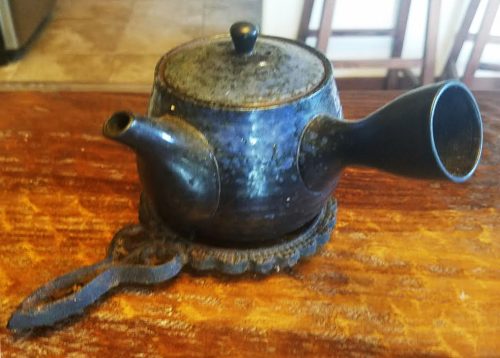 One of my favorite souvenirs was purchased in Kyoto. Having spent about five days visiting the historic districts of the city, I visited a few ceramics studios along my daily walks as the city is known for its amazing ceramics works. Kyoto ceramics follow many different styles and guilds but my favorite design criteria is the well known Japanese art concept of wabi sabi – which means imperfect, incomplete or impermanent. I love seeing the hand of the artist in making something individual and imperfect but done to the artist's style and acceptance as a completed piece.
It's not easy deciding on what to buy, but I wanted to purchase something I would be using on a regular basis and the teapot I brought back was perfect and beautiful to see and use in my home. Now every time I make a nice pot of tea, it brings me back to Japan and my wonderful visit to Kyoto.
Noel Morata blogs at Travel Photo Discovery.
Temple and Shrine Ema (Wooden Plaques)
Shinto shrines are sacred places in which to pray to one or more of thousands of different kami (spirits). Individual kami are associated with specific issues, so you will come across shrines for pregnant women wishing to pray for a safe delivery and healthy baby, shrines to pray for a good harvest or successful business venture, shrines to ward off evil spirits and even shrines dedicated to relationships and sexual satisfaction!
Many worshippers also like to leave prayers or messages for the kami. Originally, horses were given as votives, to represent the divine steed, but over time, boxes painted with their image were given instead. Nowadays, these have been replaced with wooden plaques called ema, on which personal messages are written before they are hung onto hooks provided.
Ema come in different shapes – though rectangular ones are most common, many shrines have ema shaped for one of their motifs such as hearts, rice-paddles, torii (archways) and rulers – the designs painted onto them are hugely varied; usually colourful, often intriguing and occasionally startling!
Although ema originate from Shintoism, today you will also find them in some Buddhist temples, as many Japanese incorporate both religions into their spiritual beliefs and traditions have crossed between the two.
Sales of ema help support temples and shrines financially, so staff are very happy for visitors to buy ema as souvenirs to take home with them. They cost from 300-1000 Yen each (£2-7) and each shrine has its own designs to choose from.
Learn more about Shinto shrines and my idea for showcasing a collection ema at home.
Me, here at Kavey Eats. 
Temple and Shrine Goshuin
Japan is a very religious country and they are very proud of their ancient traditions. You can find thousands of Buddhist temples and Shinto shrines throughout the country. From the famous ones, to the unknown temples in remote locations, there are so many places here where Japanese people go to worship.
There is an ancient Japanese tradition to record these visits in a designated Pilgrim's book. A goshuin is a large stamp, pressed with traditional red ink seals, that proves a visit to a particular temple. Each temple and shrine has a unique and intricate goshuin design, which contains the temple's name, the date of visit, and the worshiped deity of the temple. Typically, the temple's priest or the designated kannushi applies this elaborate calligraphy and other markings in the Pilgrim's book.
You can start collecting these amazing souvenirs by getting your own Pilgrim's book in most shrines and temples. Expect to pay around 1000-1500 Yen (around 10-15 USD) for these books. Typically, a temple will also include your first goshuin. After this, just look for the counter or priest and pay a 'donation' of 300 Yen. Where you need to get your goshuin may not always be obvious, but either memorize the characters of goshuin (朱印) or ask the staff.
For sure, you will end up with a very personalized, beautiful book of Japanese art. They make great coffee table pieces, or you can frame it as wall art.
Halef and Michael blog at The RTW Guys. Find them on Instagram.
Traditional Fan
When we visited Japan for the first time, we wanted to get a magnet for our fridge, but during a trip around the Arashiyama Bamboo Forest, we came across this old lady selling fans. We were in love! She had this amazing old looking shop, a wooden house with traditional sliding doors, all filled with fans everywhere. It was surreal. The fans were only £5 or so. The old lady showed us around, and unravelled an array of beautiful fans. She even pointed out what fan she thought matches my outfit, a cute little touch, I thought.
In ancient Japan, hand fans were made of silk and their earliest visual depiction dates back to the 6th century CE. Nowadays, most tourists can purchase paper fans for cheap or authentic Japanese fans for a few hundreds of pounds. To buy an authentic fan, you will need to find a specialised shop, where you can also find silk kimonos. Japanese fans are still used today for ceremonies, a beautiful reminder of how Japan loved to preserve its traditions.
Cory Varga blogs at You Could Travel. Find her on Instagram.
Watercolour Paintings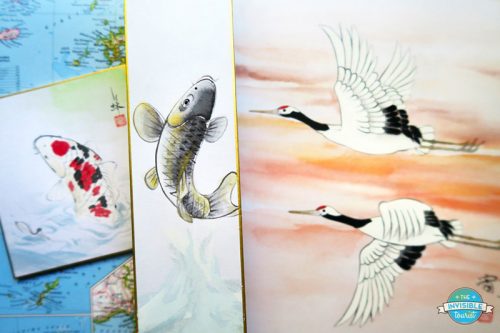 World-renown for their beautiful handicrafts, Japan's stunning yet meaningful paintings are no exception. Purchasing watercolour paintings in Japan is a wonderful way to commemorate your trip as Japanese subject matter is very symbolic.
Personally, I'm a huge lover of art and enjoy scouting out locally-made pieces during my travels. I found these exquisite watercolours in the gift shop at Kinkaku-ji in Kyoto. This isn't your regular gift shop – almost all pieces available for sale are sourced locally and your purchase goes towards the upkeep of the temple. Supporting the temple, its gardens and locals meant I didn't mind when I noticed the prices weren't exactly cheap.
My three pieces demonstrate impeccable Japanese attention to detail; all board edges are neatly covered in gold foil and a nice finishing touch to each painting is the unique numbering on the back, with the name of the local artist who created it in Japanese.
Consider purchasing paintings with symbols that are meaningful to you, or the person you'll be gifting them to. For instance, the cranes in my watercolour represent living a long life, and because they are a pair it symbolises a loving couple. Koi fish represent a long and fortunate life. As an added bonus, watercolour souvenirs are flat so they won't take up much room in your suitcase. Be sure to bring home a few watercolours on your visit to Japan!
Alyse Madeline blogs at The Invisible Tourist. Find her on Instagram. 
Save for later: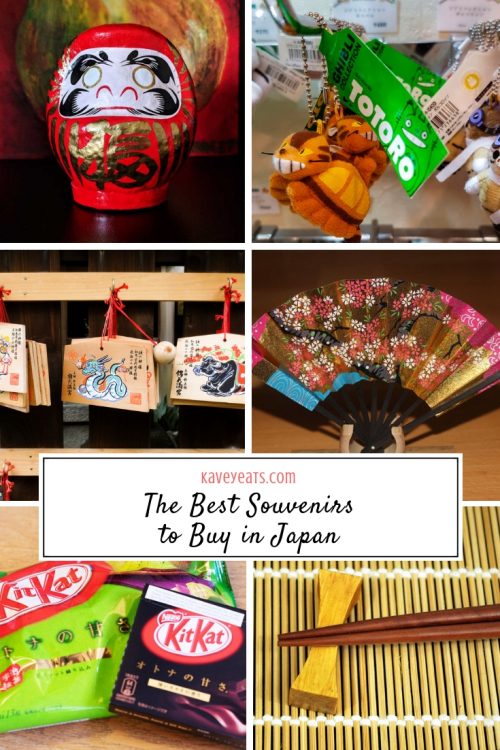 Find more of my posts on the best souvenirs to buy around the world.
With many thanks to all my contributors for helping me to compile this guide to the best souvenirs to buy in Japan. All images are by the authors of the relevant entry, unless credited otherwise. 
Please check the customs restrictions of your home country before your trip, so that you know which food and drink souvenirs you are permitted to import.