I know I'm not alone in loving to shop during my travels – many travellers love to bring souvenirs back from their holidays; a little something to remember the trip. But what to buy from Italy? Here are some ideas about favourite souvenirs to buy in Italy from me and fellow travel bloggers.
Souvenirs to Buy in Italy
Balsamic Vinegar from Emilia Romagna
Traditional balsamic vinegar is one of my favourite souvenirs to buy in Italy, and it's usually found in the Emilia Romagna region, including towns like Bologna, Modena and Parma. Everyone knows balsamic vinegar, a common condiment used throughout the world; traditional balsamic vinegar is a whole different story, and it's made over a number of years by transferring grape must into a series of wooden barrels, acquiring a delicious sweet and sour taste. On the other hand, regular balsamic vinegar (not the traditional variety) is blended with white wine vinegar, and the sour notes definitely overpower the sweet.
The only issue with traditional balsamic vinegar is that it's quite expensive – usually from €40 onwards, while regular vinegar can be bought for only a few euros. But trust me, once you try them both you'll know the difference! Traditional balsamic vinegar can be enjoyed drizzled over strawberries and cheese, and it really enhances the flavour of anything you add it to.
To buy traditional balsamic vinegar, make sure to bottles labelled as 'Aceto Balsamico Tradizionale' from either Modena or Reggio Emilia and also look for the signature bottle with a rounded bottom, which can only used by producers using the traditional process. Trust me, whoever receives this present will be very happy!
Margherita Ragg blogs at The Crowded Planet.
Ceramic Kitchenware from Calabria
One of my favorite souvenirs from my visits to Italy are the utilitarian hand painted ceramic pieces of oil and vinegar sets that I have collected from the Amalfi coast of Calabria in Southwest Italy. The ceramic work from this region is meticulous, colorful and well made with wonderful imagery details.It's easy to have the vendors wrap these collectibles and if you hand carry them, it is a breeze to bring back home.
There are many pottery studios all along the Amalfi coast worth checking out and the region has become very well known for the excellent craftmanship in pottery ware. Vietri Sul Mar, is known for its excellent hand painted ceramic ware.Every time I have a nice salad, using this set brings me back to Amalfi right away and I really treasure my visit to the area and finding something perfect as a keepsake and talking point to my visit of Italy.
Noel Morata blogs at Travel Photo Discovery. Find him on Instagram.
Espresso Cups
When visiting Italy, there are many exciting things that you may think of purchasing as a lovely souvenir to take home. If you are a coffee lover and want to pursue the Italian coffee ritual when back at home, buying the proper gear is a great idea. Besides an espresso coffee machine, you should get Italian espresso cups.
First of all, espresso can only be served in proper cups, the classic thick-walled cups that everyone knows from your breakfast in the Italian bars. In ordinary kitchenware and retailer shops, you can find any type of cups, from the white and coloured ones for every-day use in ceramic, to collection espresso cups with more sophisticated design and materials.
If you really love to have unique espresso cups, you should visit your favourite coffee brand retail shops in Italy where you can purchase the yearly editions of their collections. Moreover, if you love culture in Italy, almost every cultural event has got their own espresso cups too. So this may also be a fantastic idea to recall those events and cultural traditions while sipping your freshly brewed morning espresso at home.
Michela Fantinel blogs at Rocky Travel. Find her on Instagram.
Italian Cheese
Cheese is possibly not the first thing that springs to mind as the perfect souvenir from Italy but it is! These days, vacuum seal technology and cool bags mean that you can bring your favourite cheeses home easily. You can keep the memory of your trip going with regular cheese tasting long after you have returned.
Visit a market or specialty store where you are staying and seek out the local varieties. Choose hard cheeses that will travel better than their softer counterparts. In Tuscany we bought a piquant pecorino sheep's milk round from Pienza. Each town and region has their own specialty and in fact there are over 450 varieties of cheese made in Italy. Of course the Emilia Romagna region is famous for Parmigiano Reggiano and Lombardy makes delicious Grana Padano, but look for unusual cheeses for the ultimate souvenir.
Italian producers pride themselves on the quality and provenance of their formaggi (cheese). All you need to do is ask for a taste and they will be happy to share and discuss their wares. Your hardest decision will be narrowing down which cheeses to buy. The price and quality of produce in Italy means that your souvenir will not only be tasty but a bargain.
Katy Clarke blogs at Untold Morsels. She is also on Instagram. 
Italian Cured Meats

Some of our favourite souvenirs from Italy are the delicious cured meats. We love the many different varieties of sliced meat prizes you can get there.
The majority of the cured meats from Italy are made from pork and include salami, prosciutto, pancetta and Italian speck. There are also a few made from beef, which is salted, air dried and aged for around 70 days; the most ubiquitous is bresaola. We love all of these because they make the best pizza topping, and can also be eaten separately as a snack, starter or accompaniment to a meal. Most importantly, you can buy them and bring them back as souvenirs to enjoy, and show off to your friends.
Cured meats are particularly famous in Italy, as well as in Spain and France. The varieties listed above are unique to Italy, but can be found in good supermarkets back home. The best places to buy them are in local supermarkets and delis across Italy where you can select from a range of different types of meats, and of course choose the quantity you want.
When travelling in Italy, we like to buy our cured meat souvenirs from a local supermarkets because you can ask your server which is the best one they recommend – every region will have many different varieties, so will vary from place to place.
Stefan Arestis blogs at Nomadic Boys. He is also on Instagram. 
Italian Olive Oil
Italian olive oil is some of the best in the world and that makes it one of the best souvenirs to bring home from Italy!
All consumable souvenirs give you the treat of getting to relive a piece of your trip while you enjoy them, but unlike wine and cheese (that can be devoured immediately after getting home), olive oil can enjoy some time in your pantry and everytime you pull it out and use it, you'll think of Italy.
If you happen to visit Italy in the fall during the harvest season, even better: fresh olive oil is incredibly delicious, and a rare treat for those of us who live outside of olive-growing regions.
Practically speaking, there are two ways of bringing olive oil home from Italy: to pack it carefully into your luggage, or have it shipped. If you do bring it home in your luggage, be sure that it is well wrapped, well-insulated, and goes into your checked bag (security likely won't let it through if it's in a carry-on). Too much hassle? Many olive oil shops and vineyards in Italy are happy to ship products directly home for you.
Kate Storm blogs at Our Escape Clause. Find her on Instagram. 
Italian Pasta
When you mention Italian food, there is no chance that you would miss pasta.
Pasta is one of the staple foods of Italy and they are pretty serious about it. They take pasta cooking as a serious sport! On my visit to Abruzzo, one of the beautiful places to visit in Italy and home to two of Italian pasta companies (Delverde and De Cecco), I had the opportunity to visit Delverde pasta factory located at the foot of Majella National Park.
There I saw the meticulous production of pasta that is exported to different countries around the globe. If you want to buy a quality pasta, make sure that it is made from organic durum wheat, which has more nutritional value, texture and flavour.
Since  I was already at the pasta factory, it would have been rude not to get a little stash of pasta to take home with me. The price was a lot cheaper than the supermarket
When cooking your pasta, make sure that you follow the instructions as each pasta type has different cooking type depending on its style, shape and thickness to guarantee 'al dente' goodness. Most importantly, never put salt when you are boiling your pasta!
Ryazan Duray-Tristram blogs at Everything Zany. Find her on Instagram. 
Italian Truffles
If you are going to Italy the most important thing you will bring back are your memories, but you may also bring back a love for truffles. Luckily, you can bring home truffle products to enjoy the flavors until your next trip back to Italy.
First, make sure you order some food with truffles while you are in Italy to make sure you like them and to give you an idea of how food flavored with truffles can taste. Next, go to the grocery store or markets to find a few different products to take home with you.
Most popular is truffle oil. The infused oil can be used in many types of cooking and can be used to finish a dish before serving. I also recommend truffle salt. You will see little pieces of truffles incorporated into the salt and it is perfect to mix into a sauce, soup or to sprinkle to finish a dish.
I do not recommend bringing actual truffles home simply because they do go bad in a few days and for the cost, I do not think it is worth the risk. You can purchase dried truffle shavings which would be the best for buying and traveling with pure truffles.
Dan Bagby blogs at Honeymoon Always. Find him on Instagram.
Lemon Soap from the Amalfi Coast
Amalfi coast was part of our two-week Italy trip and a break from big cities and sightseeing. Amazing coastal views, fragrant lemon trees and pastel coloured houses hugging mountain sides is what Amalfi conjures for me. I had never seen lemons as bright yellow and large as I saw all over Amalfi coast and towns. They are easily thrice the size of what I am familiar with in India and they are well used in many products, for personal care, home and food items.
One of the best souvenirs that you could take for family and friends back home is lemon soap from Amalfi. Easy to carry, small in size, non-perishable, I bought several lemon-shaped soaps. We found many cute shops selling all sorts of lemon products in Amalfi town, just around the main square near the Cathedral. The minute you walk into any of these small shops, the fragrant citrus smell will hit you. Thankfully, there is no need for bargaining, no issue about quality and pricing. You only need to worry about over-buying!
Shweta Singhal blogs at Zest In A Tote. Find her on Instagram. 
Limoncello from Capri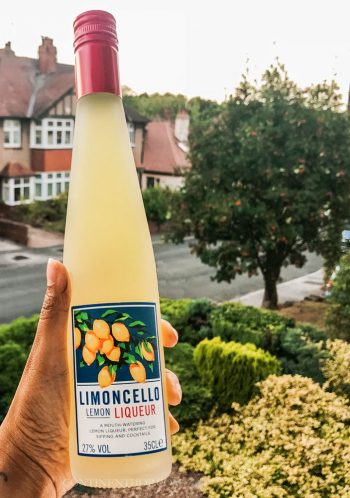 Legend has it that Limoncello originated in the early 1900s in Capri where Lady Maria Antonia Farace used to make home-made liqueur to serve to guests using lemons and oranges she grew herself. Some others say Limoncello originated in Sorrento while others say it came from the Amalfi coast. Irrespective of where it first came from, it is an excellent aperitif (before a meal), or a digestive (after a meal).
Limoncello is unique to Italy not only because it originated here but because it derives flavour from lemons grown mainly in the Campania region of Italy. It is usually had chilled without ice and can be used in a variety of cocktails.
Limoncello can be found throughout Italy, in stores as well as restaurants and the best quality Limoncello is bright in colour and has a strong lemony smell and flavour! While the price varies according to the region, brand and size of the bottle, good brands to look for include Villa Massa and Limoncello di Capri.
Lavina D'Sousa blogs at Continent Hop. Find her on Instagram.
Lion Doorknocker from Venice
Venice is one of those places that spoils you when it comes to the breadth of choice of souvenirs to take home. Alongside Murano glass, Burano linen and lace, ornately decorated face masks, handmade paper and stationery, leather goods, and original paintings, a more unusual idea is a Venetian doorknocker.
Walking around Venice, you won't fail to notice the prevalence of beautifully ornate brass doorknockers, often featuring a human or animal head. Since the lion is one of the symbols of Venice, lion doorknockers are the most popular, and something we knew would remind us of one of our favourite cities.
Once there were several metal foundries in Venice, now there is only one still in operation, the Valese Artistic Foundry in Cannaregio, with a store in St Mark's square. We bought our lion doorknocker from a small, low-ceilinged shop at 2543 Fondamenta Misericordia selling doorknockers, light fittings and faucets. We paid about €40, but there were several cheaper (and more expensive) designs available.
Me, here at Kavey Eats. Find me on Instagram. 
Linen from Burano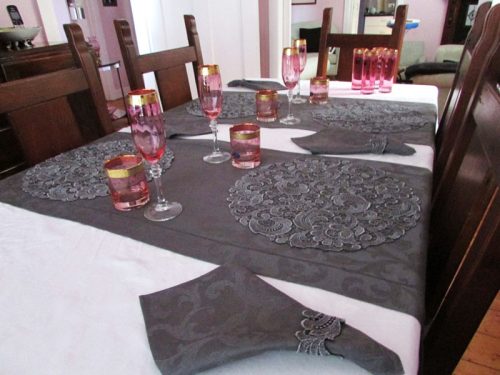 Having travelled to Venice on several occasions previously, this time we decided to stay on the island of Mazzorbo with views across the vineyards to the water and colourful homes of Burano. It is said that the homes are all painted brightly and of different colours so that fisherman could easily find their homes from a distance after a long time at sea.
We have always made mealtimes a special occasion at our home and love decorating our table with our holiday purchases. I am always on the look out for new table runners and napkins and what Burano was the perfect place to find something to add to my collection.
We instantly fell in love with the linen and lace from a beautiful shop called Martina Vidal Venezia. The table linen and lace can be found by going up in a lift made of glass and I decide to purchase two table runners with round lace placemats, serviettes and serviette rings also made of lace. There is a beautiful sheen to the lace and when you turn it over it is a deeper shade. The combination is lovely and I couldn't wait to get back home and place it on a white cloth with the pink and gold Murano wine and water glasses we bought locally in Melbourne.
Cathy and Danni blog at Cathy Travelling. Find them on Instagram.
Murano Glass from Venice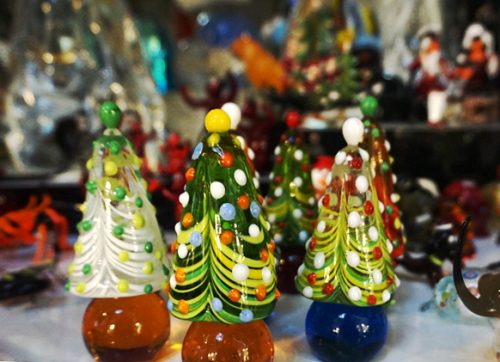 One of my favorite souvenirs from Venice are my gorgeous Murano glasses. Murano glass is named after the small island in Venice on which it has been crafted for centuries and was considered some of the elite glassware on the continent.
Visiting some of the still-operational factories is one of the top tourist activities in Venice and tours are offered regularly. The island can be accessed by ferry boat from the main part of Venice. Once you're done seeing the glass being crafted and learning about its history, why not bring some of it home with you? You can get glasses, jewelry, decorations, and more. If you're really looking to get something fancy, you can grab one of the famous chandeliers, but I opted just to admire them in various museums and palaces around town.You can get tons of cheap knock-offs at the gift shops in the  tourist areas, but I'd recommend buying directly from one of the factories if you want the authentic product.
Kris Morton blogs at Nomad by Trade. Find her on Instagram.
Rosary Beads from St Peter's
After surviving the long climb to the dome of St Peter's Basilica in Rome, I was surprised to find a quaint souvenir shop on the roof. Although there is an elevator, taking the stairs truly gives you a sense of the height of the dome. The view of Rome from the roof is stunning and well worth the climb.
St Peter's is such an iconic building and so central to the lives of the Italian people, that I was keen to remember this visit with a souvenir. Unlike the souvenir shops that line the streets of Rome, this shop sells only Catholic items like rosary beads and religious artifacts. And the nuns that run it are absolutely lovely.
I fell in love with these beautiful beads, especially as they are inscribed with "Vaticano" on the back of the cross to denote that they are from the Vatican City. Mine cost about US$30, but there is a wide range of prices depending on what the beads are made from. Even without being Catholic, these rosary beads hold special memories and meaning to me.
Kirralee Baker blogs at Escape With Kids. Find her on Instagram. 
Sandals from Positano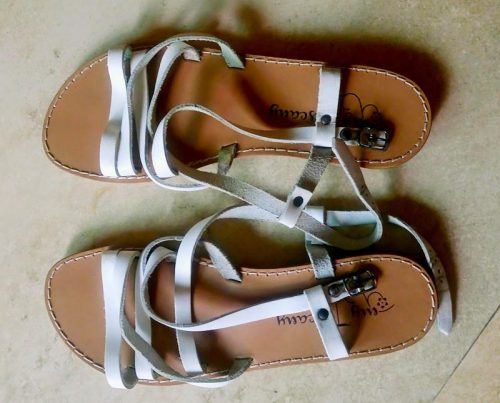 You can recognize Positano, the prettiest town on the famed Amalfi Coast, from the yellow-tiled dome of its stunning cathedral, hills-side streets with bougainvillea-laden, red-roofed homes and the stony Spaggia Beach splashed with vibrant beach chairs. There are shops selling ceramics, linen goodies and macrame garments.
But the real deal is to shop for handcrafted leather sandals of Positano. You can get them customised as you wait a mere 10 minutes. Pick the design, straps and diamantes according to your personal preference. They are made from the softest material you can imagine and give all the comfort you crave to walk down up and down the hilly streets of the Sorrentine peninsula.
White or tan make the ideal choice that go with every outfit, but there's a wide array of colour choices available, if you prefer. Perfect for those who like one of a kind footwear! A souvenir to remember and that too bespoke! Positano perfect.
Punita Malhotra blogs at 100 Cobbled Roads. Find her on Instagram. 
Venetian Face Mask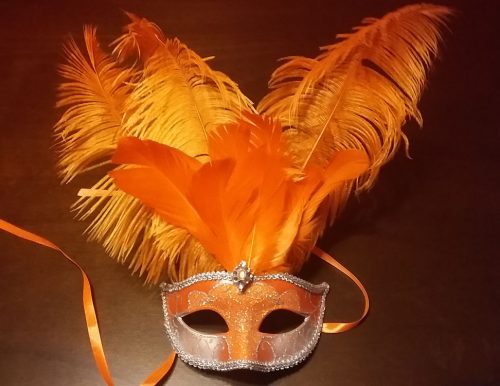 We don't usually buy a lot of souvenirs from the cities we visit. There are just a couple of them which we really loved to have back home. Our Venetian mask is one of them. You can find Venetian masks in almost every other city in Italy but you will find more variety to choose from if you buy them in the small shops in the corners and alleys of Venice.
Traditional Venetian masks were made of glass or leather, adorned with precious gems, gold, and silver and were worn by people from higher class mostly to hide their identity. The tradition of Venetian Masks is celebrated in Venice during the 'Carnival of Venice' which is an annual festival and is something not to miss.
Today, the colorful masks come in different sizes and are decorated with lace, studded with beads and stones, some are glittery and some are plain and simple. The price starts from 1 or 2 Euros for smaller ones to a few hundreds of dollars for the larger ones with ornate designs. We were so smitten by the colors and designs that we couldn't resist buying one to take back home.
Rashmi Pandit Chalukya blogs at Go Beyond Bounds. Find her on Instagram. 
Wine from Sardinia
Most people who visit Italy hardly make the effort to visit Sardinia – if they even know where it is. Those who do visit in the summer, spend their time going to all the best beaches and do little else. It's a shame, because Sardinia has so much more to offer, including some fabulous wines.
The region may not be the top Italian one in terms of bottles produced per year, but the quality is unrivaled. That's why one of the best souvenirs to carry home from Sardinia is a bottle of a fantastic wine.
There's many to pick from, made with local grapes such as Vermentino and Nuragus (both are fresh, crispy whites); Carignano (a earthy red) or Nepente (a very strong Cannonau with a special relationship with Italian revolutionary Gabriele d'Annunzio).
Yet, the best Sardinian wine is Turriga, a fantastic blend produced by Cantine Argiolas in Serdiana, near Cagliari. Turriga is a blend of Sardinian grapes – Cannonau, Malvasia Nera, Carignano and Bovale Sardo, aged for two years in French barriques. It is expensive, and the price vary depending on the vintage. Expect to pay €50 or more for a bottle. It's worth every cent, and even more.
Claudia Tavani blogs at My Adventures Across The World. 
Save for later:
Find more of my posts on the best souvenirs to buy around the world.
With many thanks to all my contributors for helping me to compile this guide to the best souvenirs to buy in Italy. All images are by the authors of the relevant entry, unless credited otherwise. 
Please check the customs restrictions of your home country before your trip, so that you know which food and drink souvenirs you are permitted to import.