We love sharing ideas for the best souvenirs to buy around the world!
In our latest guide, we explore what to buy from India.
The Best Souvenirs to Buy in India
Bangles | Bracelet Charms | Brass, Copper & Steel Ware | Coffee | Darjeeling Tea | Jaipur Quilts | Kondapalli Wooden Toys | Kullu Shawls | Masala Chai Spice | Mewar Handpainted Silk Art | Pattachitra Scroll Paintings | Saris & Other Indian Clothing | Saffron | Spices | Terracotta Handricrafts | Tie-Dye | Woodblock Printing Stamps | Tourism Visa
Bangles
Bangles are the perfect souvenir from India. When I first arrived in India in December 2005, I had been saving money for a year for my trip, and it was frankly burning a hole in my pocket. Along with seeing the sites, I spent most of my time shopping in Delhi's fabulous markets. Flowing scarves, bejewelled shoes, and outsize earrings all vied for my attention. I was like a kid in a candy store. But nothing caught my eye like bangles.
My first bangle shop was in GK 1 M-block market, in South Delhi. I walked in and was gobsmacked by an entire wall of bangles – in every hue and shade. Some were blingy and shiny, some metallic and smart, some glass and delicate. I was going to a wedding wearing a pink-and-gold sari, and I marveled at the way the saleswoman put together two forearms' worth of various bangles in these shades to create a stunning look.
Some months later, I chanced upon the famous bangle market at Hanuman Mandir in Connaught Place, in central Delhi, and this time I was (almost) ready. I still could not believe the amount and variety of bangles, in every colour combination under the sun, from the subtle to the ostentatious, from glass to lacquer, and metal to fabric. It was truly overwhelming and I feel very lucky that I got away with a nice set – pale turquoise with mirror work – that I still wear to this day.
Bangles make a perfect souvenir of India because they truly do exemplify the culture, plus they are fun, affordable, and wearable. You really can't go wrong – just make sure to wrap the glass ones carefully as they do break easily, especially in transit.
By Mariellen Ward, author of Breathe Dream Go. Find her on Instagram.
Bracelet Charms
The silver charms I bought for my charm bracelet while in Jaipur, Rajasthan are my absolute favourite souvenirs from India.
My bracelet was gifted to me by an ex-boyfriend almost ten years ago and each charm has either been given to me by family or friends, or purchased myself from one of the various destinations I've travelled to over the last few years. I even have a charm from my 21st birthday and one from the day I graduated from university. For these reasons, my charm bracelet is very sentimental to me.
My Indian charms were the perfect addition to my bracelet because they remind me of the short-yet-sweet ten days I spent in India while attending a friend's wedding back in 2016. Just glancing at them is enough to ignite my senses and set me off daydreaming about my adventures. Pictured either side of the heart-shaped padlock clasp on my bracelet, one of them is a simple tea-cup (it reminds me of all the masala chai I loved to drink while I was there) and the other is an Indian deity – although I can't for the life of me remember which one!
You can find charms like this in jewellers all over India, but I bought mine from a gem shop while on a day trip to Jaipur, Rajasthan. India's so-called 'Pink City', Rajasthan has a fine reputation for precious gems and it's a great place to shop for some new jewellery, as prices are often much cheaper than they are back at home.
By Kacie Morgan, author of The Rare Welshbit. Find her on Instagram.
Brass, Copper & Steel Ware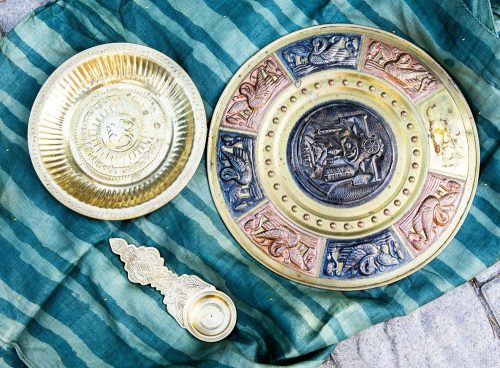 One of my favorite things to purchase while in India both for personal use and for gifts are copper, brass and steel handicrafts. Metal crafts are common throughout the country, with different regions specializing in different styles.
Metal items make wonderful gifts as they are not only highly representative of the country, but can often be useful, as well. Common goods include plates, pots, serving utensils, small religious sculptures, and decorative wall hangings.
Copper items are especially beautiful, and tend to be much less expensive than purchasing them in many other parts of the world. Look for everything from pans to jewellery. Brass items have the advantage of being even more inexpensive, and significantly more lightweight. Small, decorated brass plates make excellent and stackable gifts to pack home. Even simple stainless steel plates make great souvenirs – they're cheap, lightweight, can be found almost anywhere, and are absolutely ubiquitous in Indian dining.
While there are many upscale shops where you can purchase metal handicrafts, I suggest visiting a local market instead. Not only will you find better prices, but you'll experience a more authentic shopping experience, finding goods intended for actual use instead of simple tourist purchases. Be prepared to haggle, however – shop owners often raise prices significantly when they recognize that you're not local. Visit several retailers to get an idea of a reasonable price, and ask for bulk discounts if purchasing more than one item.
By Preethi Bettadapur Harbuck, author of Local Passport Family. Find her on Instagram.
Coffee
While most Indians are tea drinkers, people in some parts of India, mainly the South, like their coffee – served strong with milk and sugar. Also called filter coffee, or kaphi, Traditional South Indian coffee has been enjoyed for generations here.
The coffee is grown in the estates of Kerala, Tamil Nadu and Karnataka and makes for excellent souvenirs that travel well.  Look for packages that have some chicory added, which gives the coffee a slightly woody and nutty flavour, and is believed locally to have health benefits such as reducing blood sugar.
Readily available everywhere in South India, filter coffee is brewed in a unique metal device and served in a tumbler and dabarah, poured back and forth between one receptacle and the other to create more foam and froth.  You can buy both of these as souvenirs from Chennai along with the ground coffee bags.
By Priya Vin, author of Outside Suburbia. Find her on Instagram.
Darjeeling Tea
Darjeeling Tea is grown in the Darjeeling district of West Bengal at an altitude ranging from 750 to 2000 meters. Known worldwide for its unique aroma, muscatel smell, Darjeeling Tea, made from the leaves of a small-leaved plant known as Camellia Sinensis, is one of the finest teas in the world.
Traditionally, it used to be only a black tea but there are now green, white, Oolong, Matcha and many more varieties of tea produced in the region. Each estate in Darjeeling produces 7-8 varieties of tea and they are classified according to the harvesting season; as the harvesting season progresses, first flush tea moves to second flush and so on.
First flush (also known as spring flush) tea, is harvested from late February to mid April and is light in color, has a mild aroma and astringency and is said to yield the purest and freshest cup of tea. It is the most premium and expensive Darjeeling tea and most of it is exported. Second flush (aka summer flush) tea, harvested from May to June, is a more vivid, copper-purple in colour and has a muscatel flavor. Monsoon flush (often labelled as breakfast tea) is picked from July to September, and is usually sold in blended teas and served as a milk tea. Autumn flush tea, produced from October to November, has a copper-gold hue with a fresh fragrance, fruity flavor and a sparkling character. It is briefest of all the harvests, expensive and most of it is exported.
Before buying, check for one of the certification schemes that are applied to Darjeeling tea: Ethical Tea Partnerships, UTZ Certified, India Organic, Rainforest Alliance, Fair Trade all the purity and freshness of the beverage from the Himalayas.
By Suruchi Mittal, author of All Gud Things. Find her on Instagram.
Jaipur Quilts
Every time my family members visit Jaipur in India, they bring me back one or more beautiful Jaipur quilts, known as Jaipuri razai. Available in cotton and velvet versions, the quilts feature colourful designs, often different on each side, making them a versatile way to decorate a bedroom or living area.
The cotton Jaipur quilts available today feature both traditional and modern designs, in a wide range of colours. In many cases, they are still made by hand using woodblock stamps to print designs onto the fabric. Velvet Jaipur quilts are woven on looms; traditional handlooms are pedal-powered, but modern electric looms are now also used. The main patterns are woven directly into the velvet, with ornate embroidered borders sometimes sewn on.
My favourites are a pair of burgundy-coloured velvet quilts which I use as throws or blankets and snuggle under when watching TV from the sofa. I also have a great collection of cotton quilts which I use to bring beautiful colour and design to our bedrooms.
Prices start at around 1000 rupees, ranging to a few thousand for the highest quality. The quilts are available in different sizes to fit single, double, queen and king beds.
By Kavita Favelle, author Kavey Eats. Find Kavey on Instagram.
Kondapalli Wooden Toys
Kondapalli toys are made by the artisans of a small village called Kondapalli in Andhra Pradesh. These brightly coloured toys made from the soft wood of the 'Tella Poniki' tree usually depict Indian deities, rural life, scenes from Indian mythological stories etc. The soft wood is carved into figurines and then brought to life with colours. Traditionally, natural vegetable dyes and colours were used but nowadays artisans use enamel and/or acrylic colours for durability.
While the best place to pick up these wooden toys is obviously Kondapalli, you will also find them in other cities/towns of Andhra Pradesh and Telangana, the two South India states where these toys are very popular. If you are visiting Hyderabad, you can pick these toys up from Lepakshi stores or Shilparamam, the arts and crafts village. Prices for the toys start from as low as INR 50 (for the smaller models) going up to thousands of rupees for the more intricate and larger pieces of work.
By Deeptha Doshi, author of The Globe Trotter. Find her on Twitter.
Kullu Shawls
Himachal is known for weaving and one of their world famous products is Kullu shawls, specifically Bhuttico Kullu shawls. Locals weave these shawls as a part or full time job and this forms one of their major sources of income. The industry plays a significant role in the economy of this beautiful Himalayan valley.
Bhuttico stands for Bhutti weavers Cooperative Society Ltd of Kullu, which was set up in 1944 in the remote village of Bhutti by 12 weavers. Today it has expanded, and has its own weaving shed and housing colony. It is also the only cooperative society in India.
The variety of Kullu shawls ranges from traditional Kullvi to modern. They are available in handspun angora wool, Pashmina cashmere (goat wool), sheep wool, and yak wool. The original designs have geometrical patterns on the borders or floral designs on a plain background. Traditionally bright colors like red, yellow, magenta pink, green, orange, blue, black and white were used for patterning and flowering whereas white, black and natural grey or brown were used as the background but today, thanks to customer demand, the shawls are available in pastel colors and modern designs too.
Purchase Kullu shawls from Bhuttico stores (both online and offline), after checking for the "Handloom mark" and GI (Geographical Index) patent tag. Pure Pashmina Kullu shawls are made in pale shades and their price ranges from Rs. 4500 – Rs 6000; whereas all other varieties are available in a widee range of colors and patterns, and range in price from Rs. 600 – Rs 1500.
By Suruchi Mittal, author of All Gud Things. Find her on Instagram.
Masala Chai Spice
There are so many memories I have of India that include tea. I am a big fan of the sweet blend of tea, milk and spices that is India's number one national drink. A good cup of masala chai always lightens up my day whether in India or at home. In India it is not difficult to find one, but at home I am limited to expensive Indian restaurants.
However, with the right ingredients it is surprisingly easy to make at home. One essential part of Indian tea are the spices. Although every region and every family has their own mix, the masala chai blend usually has cinnamon, cloves and cardamom.
These tea spices are one of my favourite souvenirs from India that I always buy so that I can have my cup of Indian tea back home. You can buy them for less than a dollar in the supermarket. MDH or Everest are well known brands of packed spices in India and they also have tea masala.
The best spice mixes are home made though. If you get the chance to buy a homemade blend of tea spices its well worth the extra price. Also if you happen to pass by Jodhpur they sell the best tea spices under the Clocktower.
By Ellis Veen, author of Backpack Adventures. Find her on Instagram.
Mewar Handpainted Silk
In the beautiful white city of Udaipur in the Indian state of Rajasthan, one of the best souvenirs you can get is an original Mewar painting. Mewar is one of the most important Indian miniature painting schools of the 17th and 18th centuries.
The Mewar art school developed in the old kingdom of Mewar within Rajasthan. The paintings are very bright and colourful, with an emotional appeal. They show scenes from everyday life, portraits and scenes from the Hindu mythology. While you can buy different miniature paintings from other art schools in other cities, Udaipur is one of the only cities where you can buy these specific Mewar paintings.
As is common in India, the price is often determined by your haggling skills. There are many places in Udaipur selling Mewar paintings of different sizes and quality, so look around first and get a feel for the price. We paid about 1400 Indian Rupees (~$20 USD) for a postcard-sized painting on silk.
Before you buy one of these miniature paintings, make sure you have a safe way to transport them. Because they're created on silk paper, they are very delicate. We bought ours from an artist in his own home, after his wife invited us in for a cup of chai. The artist kindly rolled it up in a small length of plastic pipe, where it stayed for a year until we returned from our travels. Now it has pride of place on our wall at home, reminding us of our trip to Udaipur.
By Sarah Rothrie, author of Trip Gourmets. Find her on instagram.
Pattachitra Scroll Paintings
Cloth scroll paintings, locally known as Pattachitra (from the Sanskrit word patta meaning cloth and chitra meaning picture) make a unique and great souvenir for those travelling to Odisha. The scrolls depict the story of Hindu deities through paintings.
Most of the paintings are inspired by Lord Jagannath and Vashinava sect. The colours used in the paintings are completely natural. The lines in Pattachitra paintings are bold, clean, angular and sharp. The style of Pattachitra is a mix of both folk and classical elements with decorations of flowers and foliage and creative borders. The paintings originate in the old murals of Odisha, found in Bhubaneswar, Puri and Konark, and dating back to the 5th century. The artists are mostly Mohapatras and Maharanas.
Buy pattachitra at Raghurajpur, a village in Odisha, which is about 10 km from Puri. This is where the best pattachitra is found. If you buy directly from the artists you are likely to be charged less and can find good work in many Odisha handicraft stores.
The cost of pattachitra starts from Rs 1000 and increases according to the size and complexity of designs.
By Shalini Garnaik, author of Eager 2 Travel. Find her on Instagram.
Saris & Other Indian Clothing
Culture & traditions constitute the soul of India. Everything in this country, whether it is the ideologies of the native people or their clothes, reflect this. When visiting India, one of the most popular souvenirs taken home by tourists are vibrantly coloured items of Indian clothing; wearing them is a fond reminder of the visit.
Among the most popular Indian ethnic wear purchased by visitors are saris, salwar kameezes (long tops worn over trousers) and lehenga-cholis (skirts and blouses) for women-folk, while for men kurta–pyjama (the male equivalent of salwar kameez) and mundu (long wrap skirts) top the list.
The sari (also spelled saree) is an evergreen choice and one of the prettiest souvenirs for a lady. Each region of India has its special kinds of sari. There are a wide range of fabrics and fabric designs, some have different kinds of embroidery and borders, and there are also different lengths available. Prices of saris vary according to the fabric and work. Popular styles of sari include Banarasi, Settu Mundu (from Kerela), Kanjivaram, & Nauvari (from Maharashtra).
Lehengas, cholis and dupattas are fast gaining popularity as a souvenir choice. A lehenga is a wide, full-length skirt, often very ornate for special occasions, a choli is fitted blouse (there are styles to be worn under saris as well as those designed to pair with lehengas), and dupattas are long scarves that are worn with saris, salwar kameez and lehenga-cholis.
The mundu is bought as a large big piece of cloth, often white or off-white in colour, which is worn by tying around the waist, and covers the entire legs. It's traditional in southern India and works well on a hot day. Ethnic Indian clothing items are also easily available for kids. To find good quality and reasonably priced clothing, buy from Government handloom shops.
By Judy Morris, author of The Other Brain Inc. Find her on instagram.
Saffron
In 2013 I planned a surprise visit to one of the most visited places in India, Kashmir. Decorated with flowers and covered by enchanting mountains of the Northern Himalayas, Kashmir is rightly known as Heaven. Situated in the Northern-most part of the country and visited by millions of travellers from around the world, Kashmir is famous for saffron (known as kesar).
Original varieties are available from authenticated outlets, and are very famous, often bought to feed mothers and pregnant ladies. The price for saffron varies depending on quality, but is around 200 rupees per gram. Saffron strands are orange or deep red in color, a few inches in length, and they appear curly. True saffron can be tested by putting a strand in water, which should turn honey-yellow rather than red, as with fake saffron which has been dyed red. When you remove it from the yellowed water, real saffron will retain its red colour.
Good quality saffron is often consumed with milk and sugar to make the best out of it. The quality is superior to varieties available in other parts of the country, and Kashmiri saffron is widely distributed to other parts of the world for its aroma and flavour.
I carried home almost 10 boxes of saffrons for my family and it was the best and affordable souvenir available in this corner of the country.
By Somnath Roy, author of Travel Crusade. 
Spices from Kerala
God's Own Country, Kerala, is famed for its spices, particularly pepper, cardamom, clove, cinnamon, nutmeg and vanilla. These can be used to make the flavourful rasam (a local favourite) or can be added to soup or broth to enhance the flavours.
The spices of Kerala have a long and interesting history. The Arabs, the Chinese, the Portuguese, the French and the British travelled to the Malabar Coast in search of them.
Several hill stations around Kerala including Munnar and Wayanad have Spice Plantations which you can tour to learn about the cultivation, significance and usage of spices in the local cuisine. These plantations also sell fresh produce and are the best places to buy.
If you are in Kochi, the Fort Cochin and Jew Town areas have several shops that sell spices. Since these places attract a lot of tourists, you will have to bargain to get a good price. The first time I purchased some pepper and cloves, I ended up paying double the market price for them. It's important to do some window shopping, ask around for the prices and be firm while bargaining to get the best deal. Another alternative is to go to fixed-price shops and the Spice Board of India outlets.
While buying loose spices look for the a good aroma, the presence of natural oils and for the spices to be fully dry. If you are unsure, it is safe to depend on the kindness of strangers. I always ask locals to help me select the best products. People of Kerala are warm, friendly and take great pride in showcasing their wonderful spices to tourists. I have walked away with some delicious recipes in addition to my spice packets while talking to strangers. Spices make wonderful presents and they can be packaged in cute jute pouches that are readily available.
By Khushboo Motihar, author of Munni Of All Trades. Find her on Instagram.
Terracotta Handricrafts from West Bengal
If you are visiting eastern India, especially West Bengal, then terracotta handicrafts are great souvenirs to take back home. Terracotta is one of the most iconic products of West Bengal art and the world-famous Bankura horses are a very popular item. These horses are made only at a particular village named Panchmura, located near Bishnupur, the terracotta town of Bengal.
Although these horses are now available in almost all the handicraft stores as well as online, you will get the best and most authentic ones from Bishnupur town. If you visit Panchmura village, then you can actually see the artisans at work. If not, then any Biswa Bangla store is good for getting these terracotta handicrafts.
Why should you take this as a souvenir back home? Bankura horses are now considered a symbol of the artistic excellence of Indian rural handicrafts and are used as the official motif of the All India Handicrafts Board. Bankura horses have typically feature a long neck and erect ears. Made of burnt clay, they are mud-brown and black in colour. You can get them in various sizes too.
Apart from horses, you can find terracotta elephants and idols of gods and goddesses as well. Of late, jewellery made from terracotta is also quite famous. The price range of terracotta horses starts from as low as 50 rupees for a small size horse, up to 3000 rupees for a 3-foot horse.
By Amrita & Agni, authors of Tale of 2 Backpackers. Find them on Instagram.
Indian Tie-Dye (Bandhani)
Tie and dye (bandhani) is one of the many traditional handicrafts in India. It is especially common in Rajasthan in the north west of India. The technique involves tying small sections of fabric with string and then dipping the fabric in brightly colored dye. The piece of fabric that is tied does not get dyed, creating tiny circular patterns. This can be repeated with multiple colors, creating elaborate designs of tiny circles on the fabric.
It is not uncommon to see rows of fabric strewn along the tops of buildings to dry, and it is possible to buy them in almost any fabric shop (of which there are many in Rajasthan). Common colors are red, gold and green. Entire saris and turbans can be tie dyed, though it is also possible to buy smaller pieces of fabric that can be used as small table cloths, runners or cushion covers. A piece of fabric a couple of yards long by a couple of feet wide can cost as little as 200 rupees, depending on your ability to haggle. I bought several bolts of fabric in a market that I use as table clothes on a small coffee table. In fact, I got so inspired, that I even took a workshop in how to tie dye fabric myself. Tie dye fabrics are simple, light and cheap souvenirs that make perfect gifts as well.
By James Ian, author of Travel Collecting. Find him on instagram.
Woodblock Printing Stamps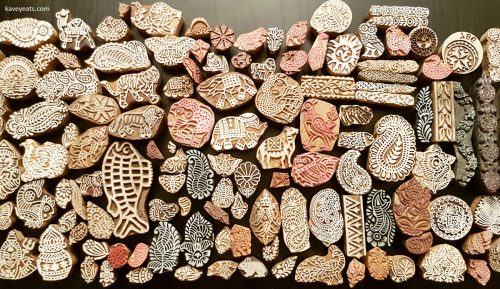 Hand-carved woodblock stamps are the perfect souvenir from India for anyone interested in printing and crafting. Traditionally used across Asia to imprint designs on to fabric and paper, the technique is believed to date back many millennia; with the earliest surviving stamps (found in China) dating back to 220 AD.
Smaller blocks are often inked and stamped onto the cloth by hand, whereas larger blocks can be placed on a table or printing press design-side up, inked across their surface, before a cloth or paper is carefully placed over the top. The cloth is either pressed or gently rubbed with a hard pad to ensure a good transfer of the pattern to the material.
For multi-coloured patterns, perfectly matched blocks are created, one for each colour. In India, these designs are hand-carved into wooden blocks, in a wide range of traditional and modern designs. The highest quality stamps are incredibly intricate.
Woodblock printing stamps can be bought across India in any place with a tradition of making printed fabric products. Mine were bought from Jaipur, with prices ranging from 20 to 500 rupees each. Larger and more intricate blocks are more expensive.
Of course, the stamps can be used on fabric and paper, as intended, but they also make great stamps for clay, creating beautifully tactile designs.
By Kavita Favelle, author Kavey Eats. Find Kavey on Instagram.
Do you have a favourite memento from your own voyages to India? Let us know in the Comments about great souvenirs we missed!
Save for later:
Find more of my posts on the best souvenirs to buy around the world.
Applying for a Tourism Visa for India
Are you planning a visit to India? Once you've done all your research and planning, and are ready to book your trip, don't forget to ensure that you have the relevant travel visa for visiting India. You can apply for your Indian visa online at e-visa.
Some submissions have been edited for clarity and length. All photos submitted by individual contributors.
Please check the customs restrictions of your home country before your trip, so that you know which food and drink souvenirs you are permitted to import.