I was excited by the thud on my doormat of a review copy of Take One Fish by Josh Niland. Josh is an Australian chef and restaurant owner renowned for his nose-to-tail (fin-to-flipper?) approach to fish cooking, first published to universal acclaim in his previous book, The Whole Fish. He wants to inspire us with the culinary possibilities of fish, whilst also encouraging an appreciation of quality ingredients and sustainability. We can be so imaginative in our use of meat and Josh wants us to apply that equally to fish.
I approached Josh's book with the same ethos I use when reviewing any cookbook: first, cook a variety of dishes (even if that pushes my boundaries); and second, stay as true as possible to the recipes (he hasn't devoted time and energy to planning, cooking, testing and writing for no reason, and you aren't going to buy a book on the basis of me randomly riffing on the author's theme). My initial thought on opening the book: uhhh, Australian native fish varieties aren't exactly the same as UK native (or available) fish varieties. And, on top of that, there's a sneaky little devil called seasonality that defines what fish I can source at a point in time. Urk. What now?
Fortunately, Josh has anticipated this. The recipe chapter headings (usefully subdivided into ascending fish size order from X-Small to X-Large) might be e.g. Sardines, Coral Trout, Snapper, Yellowtail Kingfish or Tuna but each chapter is fronted with a list of alternative fish you could use to achieve the recipes within. Many familiar favourites like salmon, mackerel, turbot and red mullet make an appearance (though not in the otherwise adequate Index, so you'll need to bear that in mind). I was able stay true to the book whilst making the most of the fish sparkling on my fishmonger's slab (a little wave to Phil from Phil's Plaice www. https://philsplaice.com/ and his ubiquitous right hand man Dave here, who have keenly supported my efforts). As Josh says, "look at the recipes … as a window into a world of opportunity, rather than a list of specific demands and instructions". So what you'll find here is a faithful representation of how to cook under Josh's guidance with the fish available to you. I like to think Josh would approve of that.
Our relationship with fish, potentially one of the more healthy, sustainable, satisfying and delicious forms of protein available, seems to be caught in a childlike tantrum stage of rejection of all but the most familiar. Several great home cooks I know rarely tackle fish: they reckon it's just too far out of their comfort zone. Take One Fish isn't going to fix all of this, don't misunderstand me. But what it does is allow a traditional meat cook to understand how to relate what they know to fish cooking and produce meals that can open – or at least widen – the blinkered perception of fish-based dishes in the UK.
Josh starts with two accessible short pieces on storing and buying the base ingredient (the signs of high quality fresh fish for each variety are detailed at the start of each chapter) which were eye-opening for me and have already transformed my behaviour, such as unwrapping and drying fish before refrigerating just as you would meat.
My first recipe chose me. The aforementioned Dave had sourced a beaut of a 2kg John Dory and rang to say it was coming in so I sped down to the Fish Quay to pick it up (if you possibly can, befriend your fishmonger). I'd heard John Dory described as the true Premier Cru of the ocean and it would normally get the plainest of treatment from me, so John Dory Tagine was a definite curve-ball dish that leapt out from the book. The tagine sauce was simple but intense, the salt and vinegar pine nuts and preserved lemon yoghurt accompaniments were inspired, but the sweetly pearlescent flakes of just-cooked John Dory in amongst all those flavours were divine. I'd urge you to get a meat thermometer if you don't already own one – it allowed me to get the cooking of the fish just so. This recipe also allowed me to try out the Brown Fish Stock from the Basics section at the back of the book; it's a softly nutty, delicate and fragrant basic that's now stored in bulk cartons in my freezer for future use.
Our mackerel have started their seasonal "throw myself onto the boat deck" routine and are cheap as chips, conveniently for the Tuna Kofta with BBQ Grapes and Sour Garlic Sauce recipe (Josh suggests mackerel as a yellowfin tuna belly replacement). These are the dog's wotsits: as rich and tender as lamb kofta, perfect BBQ fodder and immensely satisfying. I added Josh's serving suggestion of Eggplant & Macadamia Puree from the Basics section which is luxurious against the sour of the sauce and the pop of the hot grapes. Stuffed into warmed pitta, these have unreal levels of "make again"-ness, especially as they're speedy enough for you to knock them up for a weeknight meal.
Red Gurnard Tikka with Spiced Chickpea yoghurt next (with monkfish instead of elusive end-of-season gurnard). After a thorough marinating period this straightforward, quick, juicy recipe gave standard old chicken tikka a run for its money (I'd fire up a BBQ next time for added char). As a bonus, it allowed me to use another stonking recipe from the Basics section, the innocuous sounding Grilled Pickles, which are now one of my store-cupboard staples.
Sourcing some affordable white poppy seeds round my way was a bit of a slog but once I had them, Red Mullet and White Poppy Chana Dal was on the cards. Josh's tips of brushing the cooked fish (sea bass in my case) with flavoured ghee and part-cooking the fish so that it completes the process on top of the hot dal were transformational. I feel as if my knowledge on managing the cooking of fish has come on in bounds, much of which seems obvious if only in retrospect.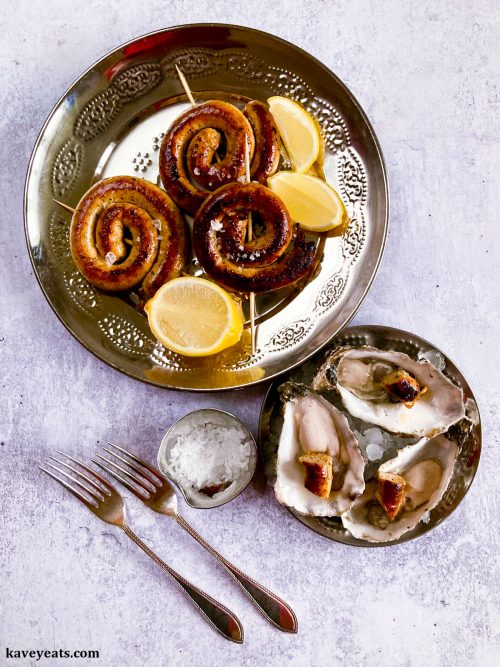 Finally, the one recipe that had been on the cards from the minute I first flicked through the cookbook, Oyster Charentaise and Trout Merguez Sausage. With the book's stark white background, white crockery, minimalistic photos, the food really pops. The photo for this was, like the other illustrations, mouth-wateringly simple: just the final dish, on a white background, with some wine and buttered bread. It'd been a very long time since I'd stuffed sausages and the final results were the subject of much swearing, giggling and quite a lot of blame (it's definitely a two-person job!). But they were worth every minute of bother and a perfect complement for the buttery saline oysters, with bouncy spice and a satisfying textural bite to balance the shellfish's softness. We shoved leftover merguez unceremoniously into buns with ketchup and quick-pickled shallots the next day and devoured them with equal pleasure.
There are so many attention-grabbing options that attract me: simple Charcoal Sardines in Saffron Vinegar and Almond Oil; an elegant Gurnard Soup; a spectacular Salt and Vinegar Whole Coral Trout (using turbot); a bright Raw Flounder, Fragrant Leaves, Herbs and Citrus Dressing; or even Swordfish Tacos Al Pastor.
My experience of this book has been overwhelmingly positive. The informative introductions Josh provides for each recipe, the achievability of the dishes, the range of countries that inspire his recipe choices, the thoughtful recipe-writing and exceptional Basics library, the educational (but unpreachy) information about sourcing and cooking, all inspire more fish dishes on my menu and more imagination in how I use fish. I'm planning my own garum (fish sauce), and a fish liver terrine. I think I'm hooked.
Recipes From Take One Fish
We are delighted to share these three recipes from the book, with permission from publisher Hardie Grant.
If you decide to buy this book after reading our content, please consider clicking through our affiliate link, located within the post and in the footnote below.
Kavey Eats received a review copy of Take One Fish by Josh Niland from publisher Hardie Grant. Photography by Rob Palmer.