I love cable cars! So I was very excited about riding on the Taipei Maokong Gondola during our visit to Taiwan's capital earlier this year.
It wasn't until we did it that I realised quite how incredible this particular cable car journey would be – a long and leisurely half an hour in duration each way and taking us up, over and back down across several forest-clad hills on the way, often at great heights above the ground. During that time, we enjoyed incredible views back across Taipei City, and down onto the trees, tea plantations and rural landscapes below.
Our destination was Maokong – a small village nestled in the mountains to the South of Taipei and known for its tea production. As a huge fan of Taiwanese mountain oolong teas, especially tie guan yin, for which Maokong is known, it was high on my list for our three night stay in Taipei.
We started our journey by taking a Wenhu Line train from Zhongxiao Fuxing station (near our hotel), directly to Taipei Zoo station and from there we walked over to the Gondola station, a five minute stroll.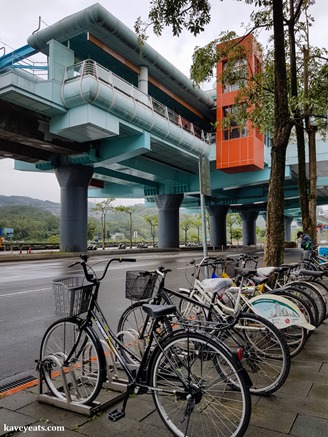 On route; and Taipei Zoo MRT station
Here, we bought one way gondola tickets to Maokong for NT$ 120 (about £3) each. Oddly, a return ticket costs NT$ 260 (because it allows for a third journey after the round trip), so it was cheaper to buy two singles instead. There are discounted prices available for children and elderly visitors.
The cable car route is just over 4 kilometres long and rises a total of 275 metres in height between the start and end stations at Taipei Zoo Station and Maokong Station, respectively. There are four passenger stations in total – the two terminals plus stops at Taipei Zoo South and Zhinan Temple – and two angle stations to allow for direction changes along the route.
Built and launched in 2007, and upgraded in 2010, the Maokong Gondola now has 147 cabins of which 31 are 'crystal cabins' also known as the Eyes of Maokong Gondoa – these have reinforced glass floors that allow passengers to look down at the view beneath their feet. The glass floors have a green-yellow tint to them, which made the greenery below appear more vivid than the overcast day outside.
Because the glass floor cabins are more popular, there are two queues for boarding – one for regular cabins and one for the crystal ones. Because of the extra weight of the reinforced glass floor, the crystal cars are significantly heavier so no more than five passengers are permitted to ride each one. The regular cabins can take up to eight.
Taipei is not the most attractive of cities – though we loved visiting and quickly developed a genuine affection for it, aesthetically, it's not a beauty. However, the sweeping views from the cable car transformed the city and were utterly captivating. Half an hour went by in a flash and we stepped out of our gondola at Maokong Station.
For those who are not keen on cable cars, you can also reach Maokong by public transport – there are buses from Taipei Zoo station or Xinyi.
If you have enough time, you might enjoy a visit the Tea Promotion Center to learn  about the production of local teas, how to make and drink tea and a little more about the area. Switchbacking roads zigzag between key sites including local temples, teahouses and shops. You could also enjoy some of the many walking trails in the Maokong area that afford great views of the beautiful local landscape – in times gone by, many of these were the routes used by farmers to take their tea and rice harvests into town for sale.
As I was struggling with foot pain, we left those activities for a future visit and instead timed our visit for lunch at one of the teahouse restaurants within a short walk of the cable car station.
We chose Jheng Da Tea Organic Garden based on the menu outside, and took a table inside next to the windows looking out across the valley. If the weather is warm and dry, there are outdoor tables too.
Tempted by so many dishes on the menu, we over-ordered and had a feast fit for four, but I don't regret it – it was all delicious!
We ordered crispy tofu with tea (NT$ 180), tea fried rice (NT$ 120), grilled salted pork slices (NT$ 280), stir-fried cabbage (NT$ 100) and sizzling beef (NT$ 280). The one I'd leave out if I were to order again would be the beef – nothing wrong with it but just not as exciting and delicious as the rest. With our meal we had some local tie guan yin tea for two (NT$ 350). Our total bill was around NT$ 1400, about £33.
The food was really good, and I'd happily go back for more of that tea fried rice, salted pork and crispy tofu! To visit Jheng Da Tea Organic Garden (spelled Cheng Da on Google Maps), turn left out of Maokong Station and follow the road, about 5-6 minutes walk.
After a leisurely lunch, we headed back to the gondola station, bought our return tickets from the easy-to-use vending machine and hopped aboard a gondola within minutes.
Our half hour ride passed all too fast, and soon we were back in Taipei City proper.

With our limited time in Taipei, we skipped some of the usual things to do in Taipei in favour of this wonderful excursion to Maokong. Whether you have five days or three weeks in Taiwan, it's definitely worth finding a few hours during your visit to ride the Taipei Maokong Gondola, we definitely recommend it!
Advice on affordable hostels in Taipei.
Save this for later on Pinterest
Save
Save