On Saturday 14th May, Mamta's Kitchen celebrated it's 10th anniversary by holding our first ever cookery class!
In those 10 years, the site has had over 7 million visitors from international visitors keen to investigate over 1,400 recipes contributed by Mamta, family and friends and readers.
Three intrepid food lovers attended the day, held at my parents' home in Bedfordshire.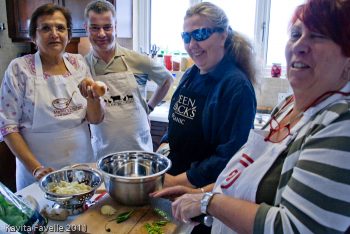 Feedback
A rundown of the day
On arrival at 10 am, our students were greeted with lassi, cumin biscuits and peanut biscuits whilst being introduced to mum and each other, given recipe folders with all the recipes for the day, and chose from my random pile of aprons. It wasn't long before we were in the kitchen!
Mum ensured that the students had a lot of hands on experience, having them prepare the ingredients, measure out and mix in the spices and do most of the cooking. She would demonstrate where needed, before handing over to them. Throughout the day, the students felt, smelled and tasted at each stage, to help them recognise the correct balance of flavours and consistency of the various stages of each recipe, next time they make any of the dishes at home.
The first dish we started making was the last one we'd eat – my grandmother's recipe for Vermicelli Milk Pudding (Senvian Kheer). This dish took quite some time, frying the vermicelli and slowly reducing the milk, stirring regularly. We continued checking this throughout much of the morning, until it was finally ready and then popped it into the fridge to cool ready for the evening.
Next we prepared the two marinades for the paneer malai dish, switching the cubed paneer to the second marinade later that morning, before oven baking shortly before lunch.
A couple of simple salads were made next – a mooli and tomato one and a peanut, cucumber and tomato one. They were popped into the fridge until lunch time.
During our morning break, the students enjoyed a relaxed tour of mum's beautiful garden, which looks stunning at this time of year, full of blooming flowers and vegetables.
It took some time to prepare all the vegetables and the two batters for the two types of pakoras we made, my mum's regular pakoras and my aunt Geeta's mixed pakoras. We cooked these just before lunch so we could eat them hot and fresh.
Lunch was quite a feast – far too many delicious pakoras (served with some green coriander chutney mum and I had made the previous night) plus the two salads, the paneer and several of mum's home-made pickles.
In the afternoon we made a fabulous kofta meatball curry. An accidental mix up between sweet paprika and hot chilli powder meant a fast thinking rescue of the curry gravy, but it allowed mum to show that mistakes happen even for experienced cooks, and that most can be well recovered! And it took just a few moments to make a cooling mint raita to serve alongside.
During the afternoon break, mum made an aromatic masala chai which we enjoyed outside in the garden.
The class also made stuffed baby aubergines, using traditional mustard oil, a very Indian ingredient and flavour. They also made another recipe from my grandmother in the form of a simple but tasty urad dal.
Fish was coated in a simple marinade and popped in the fridge for a few hours. Just before dinner, we retrieved it, coated each piece in a dry flour and spice mix before frying and serving hot.
With such a large array of dishes (and salads leftover from lunch) mum used her smaller rice-cooker to make a pea rice pilau which cooked quietly in the corner while the students got stuck in rolling and cooking rotis and pooris. They fried the fish at the same time – one definitely needs multi-tasking skills for this course!
We sat down to an early dinner and had so many dishes I had to put several onto a side table.
Alongside what the students had cooked, we had some poppadoms that mum and I had prepared the previous night, mum's delicious pickles and some fresh pickled onion she'd also made for the class to try. Plus a mystery dish she'd made the previous day, a turnip curry – the students were asked to guess what it might be before mum revealed the ingredients!
We only just had room for dessert!
There were lots of leftovers which I packaged up in lots and lots of takeaway containers, so each of our students left with enough food for another meal for two!
Fundraising
As promised, we donated £60 per student to the Khushboo Welfare Society. Khushboo Welfare Society is a small, voluntary NGO in Gurgaon (near Delhi), which provides multidisciplinary education for the development and rehabilitation of children, adolescents and young adults with mental and multiple disabilities. This is something that is not widely available in India, even today. The charity are very pleased to have received this support.
Next time
We know our three students enjoyed the day.
However, we are intending to make a few tweaks. Our schedule for the morning was a little ambitious, so we'll likely scale back by cutting out the salads, and possibly replacing the paneer with a simpler and quicker dish. The afternoon schedule went very well so we'll likely stick to it pretty much as it is for the next class. The range of dishes we chose seemed to be appreciated and give the students a range of techniques and tastes, so we'll stick to most of the same or similar.
We also have plans to do a specialist class on making Indian pickles, chutneys and ketchups.
And we're thinking of doing another focusing on a variety of Indian breads.
Interested?
We're currently working on dates and details for future courses. We'd love to hear from you on what you'd be most interested in.
Get in touch by email with your ideas and suggestions.
Subscribe to our email mailing list for information on future courses. (The list will only be used to send you information about Mamta's Kitchen Cooking Classes and nothing else).