If you read our review of Su Scott's Rice Table: Korean Recipes & Stories To Feed The Soul, you'll know we are enormous fans of this wonderful Korean cookbook, both for the delicious recipes within and for Scott's beautiful and evocative writing. To that end, we were keen to find out more from Scott about how this book came to be and her quest to share Korean food and heritage.
Please can you explain the concept of Rice Table, and why you chose this name for your book?
Rice Table came about because of my struggles as a mother bearing a duty of passing on the Korean heritage to my daughter who is half Korean and half British. The responsibility of being the sole bearer of culture and heritage weighed heavily on me, made worse by my realisation that I was deeply confused about who I was. I was too busy and too eager to integrate to make a new home for me in the city that I madly fell in love with. In the process, I lost all that makes me Korean, including my ability to speak my mother tongue fluently.
It was only through cooking the dishes of my own childhood that I was able to reconnect and rebuild my Korean heritage. The process brought a lot of small details back about my own upbringing. I wanted to bring the conversation back to the maternally lead kitchens of the Korean home that I grew up in, championing the rich and vibrant culture of Korean home cooking, hence the title Rice Table.
Rice Table, known commonly as meal table (bapsang) represents the very ordinary spread of daily meals at home: a simple spread of home cooked food that sustains us.
What are the common misconceptions you encounter about Korean food and cooking, that you want to counteract through this book?
I think people often think that Korean cooking is difficult, but I think when we talk about particular cuisines being difficult, it often simply reflects a lack of familiarity. I wanted to provide readers with a friendly yet informative foundation that forms the predominant flavours of the Korean pantry, covering a range of classic dishes in a simple and accessible way.
Banchan – small dishes served with rice – are a unique aspect of Korean dining which don't really have an equivalent in other cuisines. Can you tell us more about the place of banchan in Korean food?
Korean food became highly popular in recent years in UK which I think is absolutely fantastic. But I do feel the ranges of Korean food represented in UK has remained fairly limited to more well known trendy dishes. Banchan culture is such an integral part of home cooking that forms our daily meal table. The varieties of textures and flavours offered through the small assorted plates are lead by the four distinctive seasons and Korea's rich landscapes that brings the produces from both land and sea, and regions. I think banchan culture is a prime example that highlights the wonderfully diverse and vibrant world of Korean food and culture.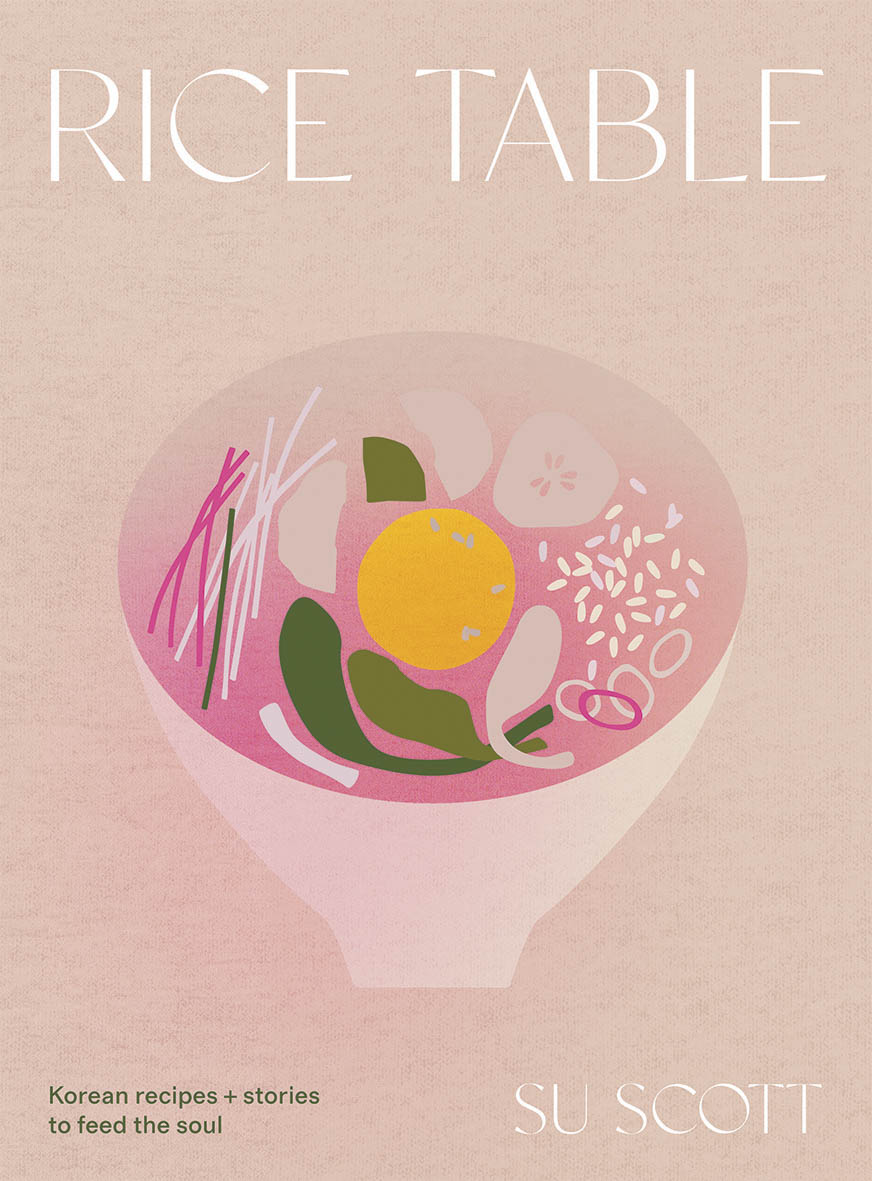 Which are the recipes in your book that you find the most comforting to cook and eat, and which connect you most strongly to your childhood and memories of life in Korea?
Kimchi jjigae or dakdoritang are both wonderfully comforting dishes that I cook frequently. They are both an easy one pot wonder that rewards big bold flavours that I associate with home cooking. But I do have a real soft spot for my poached pork belly wrap (bossam). It was something that my mother cooked often and I still remember the intoxicatingly fragrant smell of cinnamon bark and coffee in my mother's poaching liquid so vividly. Whilst I wanted to recreate the dish like hers from my memories, I also wanted to embellish it with a little bit of me and my own kitchen in London for my daughter, and I think the recipe in the book maintains a good balance. Oh, and of course, the bone broth – it's a winter ritual that I continue to practice to feel a piece of my childhood home and my mother's love that grew my bones and flesh.
Which recipes do you recommend to those who are new to Korean food?
I think it's important to start from something that is going to satisfy you. If you like spicy, something from the soup and stew chapter would be a good start: kimchi jjigae is a good dish that thumbs up the robust flavours of typical homely Korean dish. If stew is not your thing, start with simple vegetable dishes from the banchan chapter. Choose the recipe that has an ingredient you enjoy eating so there is an element of familiarity to get you started.
How has the process of learning, cooking and writing about Korean food, especially home-style food helped you to rediscover your Korean heritage and re-establish that side of your identity?
Cooking and writing about Korean food has allowed me to rebuild and nurture my Korean roots that I have forgotten in the name of integration. Writing my book Rice Table was a cathartic experience which gave me an opportunity to face many questions that I hadn't been able to answer. It really pushed me to dig deep and recall the small details, right from the very beginning of my childhood. The process has taught me that what appear to be seemingly ordinary and mundane days of our lives and the memories that surround taste, are in fact what sustains and shapes the way we are. I know now, I can exist in the in between places, being neither this not that, but being altogether the 'other'.
Has food been a doorway through which you can pass on a wider understanding of Korean culture and history to your daughter Kiki? What have been the main challenges in sharing this Korean heritage with her?
Food has always been at the core of our existence as a family of three; it was the same with my family back home in Korea growing up. Food carries so much more than just delicious flavours. Through the dishes I cook for my daughter Kiki, I can open up conversations about Korean culture and my family's own history and traditions in the most approachable – and hopefully memorable – ways which she can naturally absorb to build her own food memories. I think food is the most powerful and tangible tool I have. It's lovely that she is showing more interests as she gets older each year. I like to keep our growth as organic as possible, to maintain the balance that respects her own views and stance with how she would like to approach these topics such as heritage / identity. We tried to keep our conversations as open and real and light as possible. My job is simply to share without any expectations or acceptance in return.
What is next for you in your food writing career? Do you have other cookbooks you hope to write? Where is your main focus now and what are your dreams longer term?
I would like to continue my journey of exploring my Korean roots through food, and share my experiences with others via the medium of recipes, to champion the rich and vibrant world of Korean food, culture and its people. The food I cook daily also very much reflects the time I've lived in London, which extends far beyond Korean food and shares diverse flavours that I have been exposed to. I hope to be able to write freely about all of the delicious things I cook at home, to share my love and passion for food that reflects and represents me and my family, my home and my birth home.
Where can fans of your recipes find you (online and in print)?
I frequently contribute to UK food publications: you will find my recipes in Waitrose Food, Waitrose Weekend, Olive Magazine, Tesco Magazine and Sainsbury Magazine which are available both online and in print. You can also find me on Instagram.
Published by Quadrille, Rice Table: Korean Recipes and Stories to Feed the Soul by Su Scott is currrently available for £21.35 (RRP £27).