Stockholm is not the first city that comes to mind when talking about foodies cities. A quick straw poll via social media confirmed that this epithet is attached to many cities around the world – asked for the first few cities that popped into their heads my friends gave me London, Paris, New York, LA, Melbourne, Hong Kong, Tokyo, Bangkok, Barcelona, Bologna, Bristol, San Sebastian, Lyon… and many more. But not Stockholm.
And yet the Stockholm we discovered during our recent five day visit is a an absolute gem for food lovers, albeit food lovers with deep pockets!
Find out more about other great cities in Scandinavia for a citybreak.
Eating out in Stockholm is expensive!
But the quality was so high that we didn't begrudge the prices. I'd say that it's worth saving up for a little longer so you can budget to visit some of the many fantastic restaurants and cafes Stockholm has to offer. I spent many hours researching the trip, especially in reference to hotels and restaurants. For Stockholm sightseeing, advice was easy to find online. (Visit Stockholm website)
Unusually, I found the city's own tourist website
Visit Stockholm
far far
more useful than such government-made sites usually are. Firstly, the recommendations seemed to genuinely tally with independent reviews I found on blogs and suggestions from friends who'd been there. And secondly, the huge array of information was organised in ways that made it easy to find what I was looking for;
restaurants in Gamla Stan
(the Old Town) and in
Södermalm
; the city's best
food trucks
, where to shop for
vintage goods
; the
best cafes for fika
(coffee and a sweet treat) or
true coffee enthusiasts
; places to find excellent
ice cream
; a list of all the
weekend markets
– flea markets, farmers markets, street food markets, a night market for art, jewellery and clothes and more;
cafes located in gardens or parks
,
food halls
including
Östermalm Food Hall
and
Hötorgshallen
(more of which, below). Of course, the website also covers all the usual
tourist attractions
, as well as a wide range of activities such as hop on hop off boats and buses, places to go
cycling
or
swimming
, where to get
spa treatments
, how to sign up for
roof top hiking
or a
ghost walk
,
great things to do with kids
, even a bunch of
ideas for those with special interests
such as vinyl, science-fiction, comics, pets… As you can see, I found a tonne of information here, which I then cross checked against recommendations from other sites, which simply backed up all the Visit Stockholm suggestions!
Even over a long weekend, I knew we'd never have time to visit all the food spots I was busily pinning onto my Stockholm map so we booked to do a walking tour with Food Tours Stockholm and spent a happy few hours on our first full day in the city eating and drinking our way around the city's Vasastan and Norrmalm districts.
Unlike many such tours I've attended, Food Tours Stockholm are not at all reticent about identifying the places you'll visit – they are listed on their website, and in a handy booklet given to all participants. Of course, that means that you could do a similar tour on your own and visit all the same places without paying for a guided tour, but by the time you've paid to taste all the things we tasted, you will probably find that it isn't very much cheaper! And of course, we also benefited from the expertise of our tour guide Gunilla Blixt, not to mention the attention and time we were given by many of the staff at our various stops. We were even permitted a quick visit to the roof garden above Urban Deli's Sveavägen branch – usually only open during the day to employees who work in the building – and to Fromageriet's maturation and storage unit.
Our meeting point and first stop is Urban Deli's Sveavägen branch – the space includes a large deli, a coffee shop and a restaurant. As a manager tells us a little about the company, what their aims and ideas were in launching the original store in Södermalm and a little about this branch, we are given generous samples of their Korean steak tartare – a fabulous dish of minced raw beef, Korean mustard, red onion, coriander, spring onions, sesame seeds and chilli mayonnaise.
From here we head to Hötorgshallen, an indoor and outdoor food market with a history dating back to the 13th century, though it didn't take on its current name until 1644. We skipped the outdoor stalls and headed straight down into the basement food hall where we visited a number of specialist shops.
The first was the Hellbergs, a game and poultry specialist. Each of is gets a plate with a taster of smoked bear meat, a reindeer cream cheese paté and a slice of cold-smoked wild boar sausage.
Our next stop is just around the corner at Fromageriet, a cheese shop that sells a range of Swedish and international cheese.
Here our tasting includes Västerbottensost – the most famous of Swedish cheeses, Getmese – a beautifully fudgy soft brown made by cooking the whey of goat's cheese until it reduces to a thick sticky gloop, and Bredsjö blå– a wonderfully sharp and pungent sheep's milk blue. We are also treated to an aged apple juice, something we realise is quite a trend around Stockholm – many of the restaurants we visit having vintage labelled apple juices on their drinks lists.
Finska Butiken (The Finnish Boutique) does a busy trade in a range of Finnish food and drink items but amongst their most popular items are the Karelska piroger (Karelian pastries) best enjoyed piping hot and topped with egg butter. The filling inside the pastry is rice, and the egg butter is exactly what it sounds like – chopped up boiled egg mixed in a very generous amount of melted butter.
By this point, I'm starting to worry that I won't be able to stay the pace – I'm already feeling full and we have hours still to go!
Our next stop is Hav, one of a number of fish specialists in the market. Here, we try herring pickled in two different ways and marinated salmon with a sweet mustard sauce, learning more about Swedish pickling styles from a staff member. With our fish we enjoy not one but two drinks – first a glass of Danish beer and then a shot of Norwegian Linie aquavit, a traditional spirit flavoured with herbs and spices.
We also learn about Helan Går, a traditional song to sing when drinking aquavit or vodka and lest we think we'll get out of it by not speaking Swedish, Gunilla gives us little cards with the ditty spelled out phonetically!
By this time, I'm not the only with feet aching from standing about so everyone seems as happy as I am that the next stop is a seated one. Our group of eleven gratefully take seats at two tables in Kajsas Fisk, a popular family-run fish restaurant.
We are soon served bowls of their amazing fish soup alongside a fried fresh herring  on hard bread, with homemade tartare sauce. It's an outstandingly good soup, full of flavour and freshness.
Before the next location on our tour, we head down into the underground at Hötorget station and hop onto a train for a couple of stops to Odenplan station.
From here it's a short walk to Tennstopet, one of Sweden's oldest restaurants and pubs. They serve a range of classic dishes – we are treated to their traditional Swedish meatballs with creamy mash potato, lingonberries and pickled cucumber. This is another sit down stop, and we learn a little about the history of the restaurant and its name as we eat.
Österqvist

is one of the oldest delicatessens in Sweden, established in 1888. The current location on Odengatan is relatively new, but the long tradition of importing high quality food and drink items from overseas continues as it has for many generations. The current owner bought the business some years ago, and told us about his focus to find the best products at the best prices by forging relationships directly with producers. We taste some fantastic serrano ham, olives and a hard cheese drizzled with truffle honey before moving on to the next stop.
Bakery and Spice has a tiny store where consumers can buy their products – most go directly to restaurants, cafes and other retailers. We try a sesame-studded crisp bread and some soft cardamom bun.
Chokladfabriken (the Chocolate Factory) is a small business with a handful of outlets across Stockholm.
We first enjoy a delicious cup of hot chocolate before tasting one of their signature chocolates.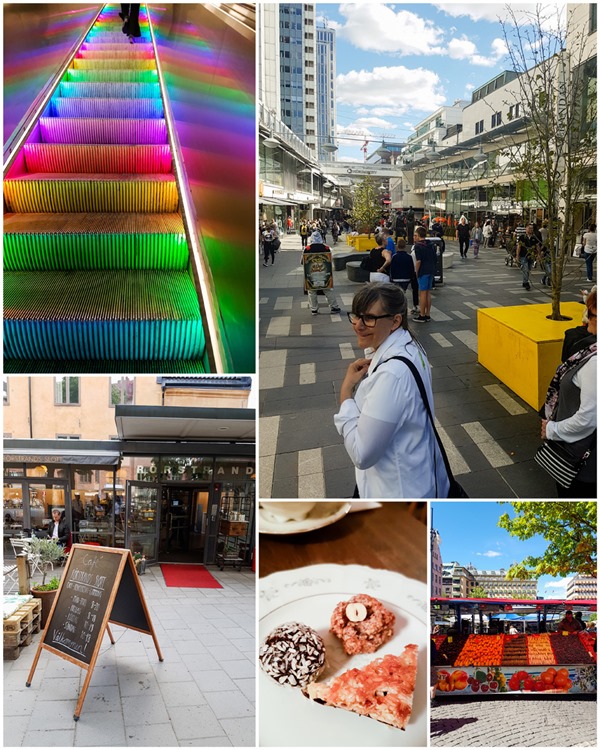 Our last stop is another very welcome sit down in the former dungeons of Rörstrands Slott, now a bustling cafe. Our little room has low, arched brick ceilings and the tables are set out for Swedish fika – tea or coffee and sweet treats, three each in this case: a little chocolate ball, a chewy hazelnut ball and a sticky cake.
Here is also where we say goodbye to our guide and to each other, and start worrying about how on earth we're going to do justice to the dinner reservation we're holding for an hour's time!
The Food Tours Stockholm's Nordic Experience tour is priced at 795 SEK per person (approximately £71 at today's exchange rate) and includes at least ten tastings, plus the fare for the quick journey on the metro that is part of the itinerary. It's a hugely enjoyable way to introduce yourself to Stockholm's vibrant and delicious food, and the tastings included in this tour are far more numerous and generous than on any other food tour I've ever taken.
During our trp we also made use of the Stockholm Pass, a multi-day tourist ticket that gives entry to most of the city's main attractions, as well as use of the hop-on hop-off tourist buses. Read more on whether the Stockholm Pass is good value.
Kavey Eats attended the tours courtesy of Food Tours Stockholm.