If you want to get to the heart of Japanese home cooking, you will surely appreciate Phaidon's most recent Country Cookbook, Japan: The Cookbook by Nancy Singleton Hachisu. This hefty collection of over 400 recipes showcases the breadth of Japanese home-cooking today, and is a great reference book for any cook keen on the cuisine.
Read my full review of Japan: The Cookbook here, and enjoy the first extracted recipe, below.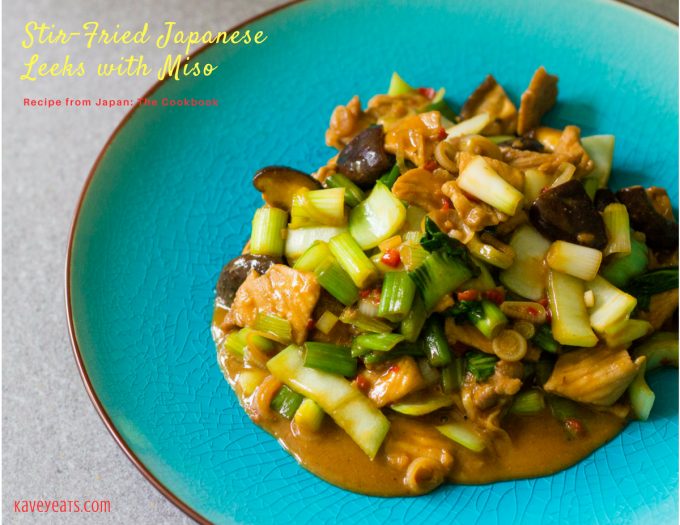 Stir-Fried Negi (Japanese Leeks) with Miso | ねぎの味噌炒め
Negi does not have the toughness of a Western leek and melts down to a lovely silky texture when stir-fried. While still not widely available outside of Japan, more and more Western farmers are growing negi, so check your local farmers markets. And in the meantime, fat spring onions (scallions) substitute admirably for negi.
Servings
6
people (if part of a multi-dish meal)
Ingredients
150

g

(5 oz) akami no usugiri [thinly sliced pork shoulder]

1

tablespoons

soy sauce

1

tablespoons

sake

2

usuage [deep-fried tofu pouch]

optional

Boiling water

optional

1

tablespoons

gold sesame oil

1

tablespoon

finely chopped fresh ginger

1

small dried red chile

seeded and finely chopped

200

g

(2 medium) negi or 6 fat spring onions [scallion]

cut crosswise into 2 cm pieces

100

g

(3 1⁄2 oz) bok choy, cut crosswise into 4 cm pieces

4

shiitake mushrooms

stems discarded and caps quartered

2

tablespoons

barley miso

1

tablespoon

mirin
Instructions
Cut the pork across into 2 cm (3⁄4-inch) pieces. In a bowl, whisk together the soy sauce and sake. Toss with the pork pieces to evenly coat.

If using the usuage, place in a wire-mesh sieve and pour a steady stream of boiling water over it for 10 seconds. Shake off and cut into 2 cm (3⁄4-inch) squares.

In a large frying pan, heat the oil over medium-low heat until starting to shimmer. Add the ginger and chile and stir-fry for about 30 seconds until fragrant. Scoop up the pork with your hand, letting the marinade drip through your fingers, and drop the pork into the frying pan.

Increase the heat to medium and cook, stirring, until the meat whitens, 1–2 minutes. Slide in the negi, bok choy, shiitake, and usuage (if using) and stir-fry until the vegetables are cooked through, 3–5 minutes.

In a small bowl, stir together the miso and mirin. Scrape over the vegetables and toss off heat until incorporated. Serve hot or at room temperature. Leftovers are fine reheated or cold.
Save for later:
If you decide to buy this book after reading our content, please consider clicking through our affiliate link, located within the post and in the footnote at the end.
Kavey Eats received a review copy of Japan: The Cookbook by Nancy Singleton Hachisu from publisher Phaidon. Food photography by Jennifer May. Recipe published with permission.