I fell in love with this book the moment I saw it, on a friend's coffee table, towards the end of last year.
Sitting in her flat, steaming a number of Christmas puddings and occasionally checking they hadn't run low on water, I had plenty of time to give the book lots of attention. By the time the pudding tasters arrived, I had reached page 135! Soon after that, the same friend bought me a copy for Christmas, an unexpected and wonderful gift! (Thank you, Sarah)
Saraban: A chef's journey through Persia, by Greg & Lucy Malouf, is about the Maloufs' journeys through the culinary landscapes of ancient Persia and modern-day Iran. It's definitely one of the most beautiful books I've ever seen.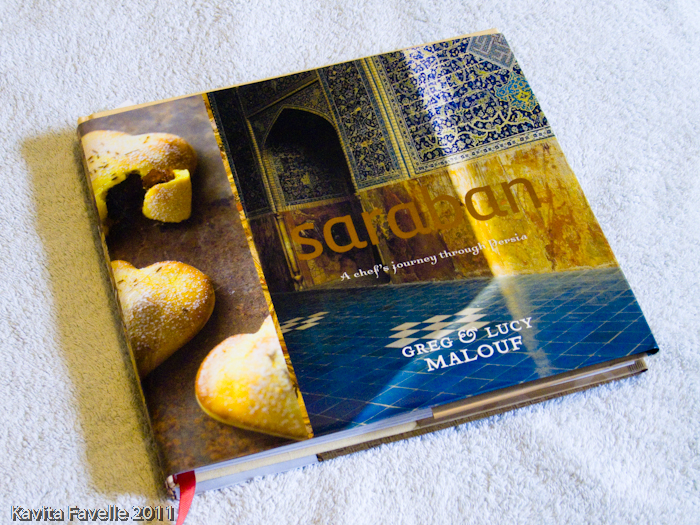 There is an extravagant richness of colour, patterns and texture. The book is full of vibrant photographs of architecture and landscapes, of small details and wide open views, of the people of Iran, and, of course, the wonderful food.
The publishers have been generous with their choice of materials and finishes; I particularly love the shiny metallic copper-coloured pages used liberally throughout the book and the matching ink used for shimmering recipe titles on white paper pages. Each chapter is welcomed by another coppery page with the most beautiful star-shaped arabesque fretwork cut into it. It is simply a sumptuous feast of a book!
The Maloufs have already received much acclaim for their previous books Arabesque, Moorish, Saha and Turquoise (about travels and food in the Middle East and North Africa, the same plus Spain and the Eastern Mediterranean, Lebanon & Syria and Turkey, respectively). Born in Australia to Lebanese parents, Greg is also well-respected for his successful restaurant MoMo, which serves modern Middle Eastern cuisine. Lucy, (no longer married to Greg) is a food and travel writer; it is her evocative prose that pulls Greg's recipes together.
In Saraban, Greg and Lucy explore Persian cuisine, one of the oldest in the world, with an influence that spread across India, the Middle East, North Africa and even into Iberia and Medieval Europe.
As well as being a visual feast, the content of the book draw me in completely.
It starts with a story that reveals how the book got its name; a chance encounter in their hotel one evening with two young Tehrani women and their male cousin who is acting as their guide. After some lively conversation the two begin to sing… "ay saraban, ay caravan"… What does it mean? They explain that their cousin is their saraban, their guide. In the days of the camel trains or caravans, the saraban was the head of the train, the one whose job it was to lead travellers safely across the desert.
Also in the introduction is an acknowledgement of how Iran is perceived by most of the world through the reaction to its politics and religion. Yet the long history, rich culture, warm and welcoming people and fabulous cuisine get far less attention. The next few pages give some history and current day context to the Maloufs' visit and try and convey a little of this fascinating country.
Despite making genuine efforts to follow current affairs and international politics, I confess that I'd never really got my head around the Shia and Sunni divide; source of so much friction in Iran. In just four paragraphs, the Maloufs present the facts in such a way that I understand. For this one short passage alone, the book deserves its place on my bookshelf.
Of course, there is an introduction to Persian food which looks at the roles of history, climate and terrain (and the bounties they provide), Persia's position on ancient trade routes and also the influences of religion (which resulted in the prohibition of alcohol and the use of verjuice and other non-wine-based souring agents, for example). There is also recognition of how much Persian cuisine has influenced not just neighbouring and nearby countries but much farther afield, into Europe and along the old Silk Road.
Some of you will recognise Hippocrate's categorisation of blood, yellow bile, phlegm and black bile as bodily representations of earth, air, fire and water. What you may not realise is that these were originally so classified by Zoroaster (the founder of Zoroastrianism), before being further developed by Hippocrates and his theory of humours. Zoroaster advised that health and happiness could be achieved by maintaining balance in the body. This gave rise to the Zoroastrian diet system which classes different foods as garm (hot) or sard (cold) and is still widely followed in Iran to this day. It continues to inform traditional dishes and meals and minor ailments are often first treated by tweaking the diet.
Having learned (just a very little) about Ayurvedic principles from my mother and aunt, I was struck by the similarities between this Persian classification of foods into hot and cold with the Ayurvedic classifications of sattvic, rajasic and tamasic. It's perhaps even closer to the Chinese philosophy of Yin and Yang which advocates balancing light and dark or, in food terms, ingredients with cold and hot properties.
The introduction goes on to describe the place of food in Persian celebration and festivals and also the culture and rituals of eating.
image from book
Lastly, the Maloufs clarify that the book is not intended to be a definitive collection of traditional Persian recipes. Such tomes exist already and are excellent. Rather, it is a book about the country, its people and its food, and the recipes have been tweaked or modernised by Greg. The idea is to share flavours, ideas, techniques and dishes in a way that makes the cuisine accessible, enjoyable and practical.
The rest of the book is filled with evocative passages about their travel experiences, the people they encountered, the food they tasted… and of course recipes, all illustrated with truly beautiful photography.
I was entranced by the book and eager to meet the authors. Luckily, I was invited to attend a talk they gave in February, hosted by Made in Camden.
The Maloufs, and their book, were introduced by Mr Vahid Alaghband, the chairman of the The Iran Heritage Foundation, which describes itself as "a non-political UK registered charity with the mission to promote and preserve the history, languages and cultures of Iran and the Persian world."
Mr Alaghband explained, "We Persians love to feast. We feast at the time of mourning let alone feasting for celebration!"
After a slide show of images from the book, Lucy talked to us first and started by telling us about how little they'd known about Persia/ Iran before their two visits, and how they had, perhaps, shared some of the misconceptions commonly held by much of the world. Certainly, they had not imagined quite how much Persia has given to the rest of the world – the first charter of human rights, the first postal service, the first windmill and watermill, algebra, chess, and the clever technique to build the agreeably-named squinch – a construction that allows a spherical dome to be built on square supporting walls. She also read some beautifully poetic passages from the book, about their experiences in Iran.
Then Greg took the microphone to talk to us more specifically about the food they encountered and about his recipes. During their time in Iran, they researched many traditional dishes, observing them being cooked not just in restaurants but also in the many homes into which they were invited and welcomed, asking lots of questions and taking many notes and photographs. From this base, Greg developed and tweaked the recipes to suit his style, not to mention ingredients and equipment readily available outside Iran. For example, provolone in kuku-ye kadoo (white zucchini omelette) is certainly not traditional, but Greg loves what it adds to the dish.
He also admitted that, as a third generation Lebanese in Australia, he had always been convinced that Lebanon was the most hospitable nation on earth. After his travels in Iran, he was willing to concede that this title should rightly belong to the Iranians!
Most of those attending were Iranians living in the UK, and the pride in their country and food heritage was palpable. They loved the book and images, and asked lots of questions. Asked about which one dish summed up Persian cuisine for him, Greg answered:
"There is one dish that is the centre of the universe for Iranians and that is rice… the way they cook it with a crispy edge, it's like suckling pig!"
Many questions later, he was asked about any particularly difficult cooking techniques:
"The rice! I really like making it… it's really easy… but there are five minutes of sweating at the end to see if there's a crust!"
So, when it came to choosing which recipes to try first, I had no hesitation. For the first, it had to be one of the crusted rice bakes, rice being at the core of Persian cuisine. I chose the tahcheen-e morg (baked yoghurt rice with chicken).
The other was also an easy choice. One of my favourite local restaurants, and my regular haunt for kuku-ye sabzi (soft herb omelette), closed early this year. It was time to learn how to make my own.
I was absolutely delighted with the results of both these recipes!
As you can probably tell, I recommend this book wholeheartedly, and can't wait to try more recipes from it. If you make (or have made) any of the recipes from Saraban, do please let me know how they turned out!
If you decide to buy this book after reading our content, please consider clicking through our affiliate link, located within the post and in the footnote below.
Published by Hardie Grant Books, Saraban: A chef's journey through Persia is currently available from Amazon.co.uk for £18.11 (RRP £30).