Already well established in Spain and Latin America, Sagardi have now opened a restaurant in London serving their well-honed Basque country cooking. The restaurant group was founded by chef Iñaki Viñaspre and focuses on traditional food from the region, which he promotes in association with the Basque Tourism Agency. At the heart of the menu are Basque ingredients, flown in daily from San Sebastián, with a focus on grilled meats and fish and seasonal produce.
The restaurant is in Shoreditch, about ten minutes walk east of Old Street tube station. Just inside the door is a butcher's counter, where the chefs can cut and prepare the meat. To the opposite side is a generous bar, and then one passes by the open kitchen to reach the main seating area.
The interior is semi-industrial, with lots of bare concrete and exposed pipework but softened by lots of wood and leather; a kind of barnyard chic! I have no idea why there's a vintage Basque fishing boat suspended to the ceiling – perhaps it represents the fish dishes on the menu? A large feature wine cabinet runs along the back wall.
I struggle with the menu, partly because there are many things that tempt, but more because so many of the dishes I want to try are available only in large sharing portions which means we're restricted to things that only both of us would enjoy. Steak, for example, is impossible to order unless at least two people want it for their main – they have no one-person cuts available. I'd really have liked to try the beef sweetbreads but again, the portion is a whole piece, listed as a main dish priced at £26 – I'd like to see it portioned so it could be enjoyed as a starter.
As we juggle through our choices for starters, our waitress tells us that all tables are being served a complimentary taste of the traditional pan-fried Orio txistorra – these thin little sausages are chorizo-like in flavour and a perfect taste-bomb to start with – so we are finally able to narrow our choices enough to pick two temptations.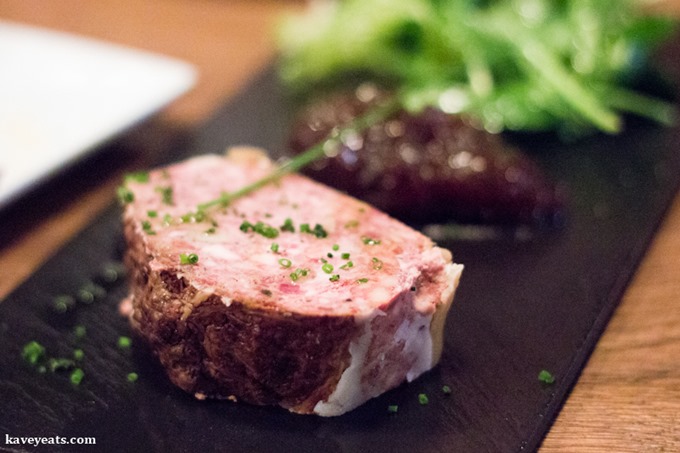 The charcoal-roasted Ibai pâté de Campagne (£12) is a really thick slice, served with a simple but delicious onion jam and some green leaves. I can't detect any flavour notes from the charcoal roasting, but it's a good, hearty pate. We enjoy it on excellent fresh sourdough bread (£2.50), served with the txistorra.
I guess the assumption is that every starter is intended to be shared, rather than individual diners choosing different ones – The grilled morcilla from Biscay (£9) doesn't come out until we're just finishing up the pâté. In our case it's not an issue but I often dine with fussy eaters who won't eat half of what I fancy, so it might be helpful for the staff to ask whether starters are being shared or not, and have the kitchen time delivery accordingly.
It's a really delicious black pudding, and I'm impressed by how thin the skin is compared to ones I've had before. If you're a fan of morcilla, you need to try this!
I would have preferred to order two different mains and taste a wider range of the menu, but as the smallest cuts of beef are huge, we went for one steak instead; it's such a core feature of the menu. Two different options for Txuletón (Basque beef) are offered – vaca (ex dairy cows) and buey (Galician ox). After our helpful waitress Silvia showed us the two smallest cuts (so I could get a mental picture of just how enormous they were), we picked the 900 gram vaca, a ribeye on the bone, priced at £7/ 100 grams.
Cooked simply on the grill, it's served sliced off the bone and laid out on a large plate. Salted to bring out the flavour, it's a beautiful piece of beef, with a rich beefy flavour.
There are a few menu items that appear in more than one section of the menu – the slow-roasted Tolosa-style red piquillo peppers (£16) being listed as both a starter and a side dish. These were silky soft and absolutely delicious but seemed a small portion for the price tag. Our other side dish was more substantial – homemade Sagardi style potatoe wedges (£5) which are basically skin-on thick-cut chips.
I'm glad we decided to be a little greedy and squeezed in desserts!
This traditional Goxua sponge cake with chantilly cream (£7) is only for the sweet-toothed – a gorgeous sponge with a thick layer of cream, topped with a creamy custard and a cracking layer of bruléed sugar, it was super sweet, soft and very good.
Our second choice was another winner, though less of a hard hitter on the sugar front. Poached peaches in txakoli sparkling white wine syrup served with lemon verbena ice cream (£7) were a last taste of summer. Even with the ice cream, they were a much lighter choice. The chopped fruit was perfectly poached to retain its shape and yet be pleasingly soft all the way through; the syrup had a good balance between tartness and sweet and the wonderfully smooth lemon verbena ice cream was just the right partner for the peaches.
On the drinks front, I liked the list of sixteen gins offered for gin and tonic – and a choice of tonics too – and that my G&T was made freshly for me on a trolley pushed to our table. As I'd expected from the wine cabinets across the back wall, the wine list is extensive, with a strong selection from the Basque Country, and there are several Basque ciders as well – Sagardi is named for the term for the smell of apples when made into cider, after all. Several cocktails feature Txakoli firewater, with some classics cocktails also available. There are beers too – with a good range of styles offered rather than lager after lager.
Overall, we really enjoyed the meal and I'd certainly go back, though only with a group of at least four people.
You've already picked up on my frustration that the menu is designed for larger groups – even with two of us, the portion sizes were a challenge. Of course, I am certain this reflects the way people dine in the Basque Country; larger groups of family and friends can order lots of dishes to be shared family-style. For me, a little adjustment to better cater for those dining in ones, twos and threes would be a positive move – especially when it comes to the grilled meat dishes.
What I loved the most was the focus on fresh ingredients, cooked simply to let them shine. Everything we had was delicious.
Kavey Eats dined as guests of Sagardi London.