It's no secret, by the time I publish this review, that I adore Rice Table: Korean Recipes & Stories To Feed The Soul, the debut cookbook of award-winning food writer, recipe developer, and mother Su Scott. I've been raving about the book via social media for a good few weeks, and Pete's made several recipes already, which we've loved!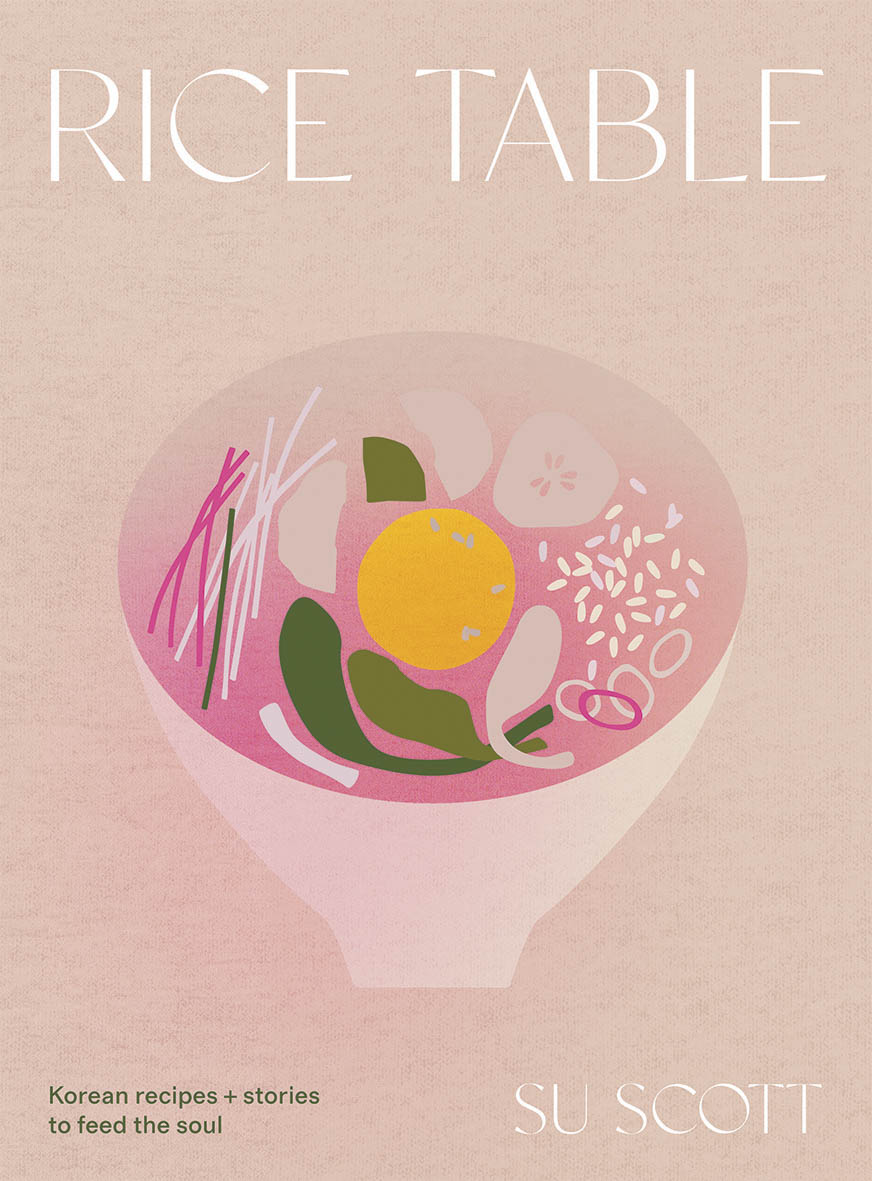 I wouldn't usually mention that a cookbook author is a mother, but in this case, it's a core part of how the book came to be, and its poignant and occasionally melancholy content. Scott's beautiful and evocative writing gives insight into her life experiences, the struggle to settle into her identity as an immigrant from South Korea to the UK, and how she sought connection with her family and homeland through remembering and cooking the dishes of her childhood.
Scott tells us in her Introduction that just shy of 20 years old she "left a home that [she] never really felt [she] belonged to and was eager to dive deep into [her] newfound freedom and immerse [her]self fully in London life". Desperate to be accepted by the the city she fell in love with, she didn't want to be recognised as a foreigner; she wanted to belong. Now, over two decades on, Scott is married to an Englishman she met within her first few years here, and the couple have their dual-heritage daughter, Kiki.
Scott goes on to explain that "the birth of my daughter in 2015 left me feeling deeply lonely and homesick. Having spent all my adult life in the UK, motherhood made me feel confused about my identity as an immigrant and a mother. I was a Korean living in London, but when I went back home I was also a foreigner visiting Korea." She started to re-evaluate her desperation to integrate and the loss of her Korean identity. The moment when she realised that she felt neither Korean nor British was a difficult one, and lead to her realisation that she, as an immigrant mother, bore a "duty to pass on the culture of [her] Korean heritage to [her] daughter".
Perhaps Scott's words resonates with me so strongly because my own parents emigrated to England a few years before I was born and I, like Scott's daughter Kiki, was born in London. I am immensely grateful and full of respect for the careful line my parents – especially my mother – walked to keep my sister and I connected to our ancestral motherland, family and culture whilst also robustly encouraging us to grow up comfortable in our British identities.
My mother's love language is definitely food, which she's shared not only with my sister and I, and with wider family and friends, but also with the world via her long-standing website, Mamta's Kitchen. Like my mum, Scott also wants to share with Kiki stories of where she comes from, why she is here, and to cook and eat together the kind of food her own mother fed her as a child. Becoming a mother helped Scott to appreciate the importance of cooking dishes that connect her and her daughter to their Korean roots, and this effort has helped her to restore her own sense of her Korean heritage.
An additional reason I am so excited about this book is that Pete and I recently returned from a wonderful four weeks holiday in South Korea which we enjoyed so very much, not least for the delicious food we ate throughout our journey.
I have enjoyed Korean food for many years since first encountering it in the 2010s, but grew to know and love a wider range of dishes when I worked in New Malden, Surrey for several years at the latter end of the decade. Within 5 minutes' walk of my office were several Korean restaurants, all of which offered great lunch deals during the week. I did what any sensible person would do and ate a delicious, hot, Korean main served alongside an array of banchan nearly every day of the week.
A rice table is a typical meal within an ordinary Korean home, and typically consists of rice, soup, a selection o three to five banchan dishes, kimchi, and a main dish of meat or fish. It's for this simple meal that Scott has named the book, though more elaborate versions are made for special occasions and celebrations. The many recipes throughout the book lend themselves perfectly to rice table meals.
In a chapter called Making Friends with Korean Ingredients, Scott mentions how the growing popularity of Korean food in the UK means that Korean ingredients are far easier to find than they used to be. She quickly counters the common misconception that Korean cooking is difficult, introducing the classic combination of spring onion, garlic, toasted sesame seeds or oil, sugar and salt; known as gazn-yangnyeom. These, alongside one or more of the trio of Korean fermented jang are at the core of many recipes. Scott runs through 18 key ingredients in more detail, including how to use them and substitutes where relevant – divided into dry seasonings, sauces, oils and liquid seasonings, sweet seasonings, seaweed, seeds, and other ingredients.
Scott encourages readers to make her recipes their own by adjusting to taste, especially when it comes to saltiness and level of chilli heat.
The recipes themselves are divided into chapters for Banchan: The Small Plates, Ferments + Pickles, Soups + Stews, Meat, Fish, Rice, Noodles, Sweet Treats, Stocks + Condiments. At the beginning of each section is a beautifully written introduction to the food that is woven around Scott's poignant, moving and often melancholic memories.
Recipe summaries provide insight into Korean life, food and eating habits as well as more of Scott's memories. In a nod to her realisation that using her mother tongue had become uncomfortable and unfamiliar to her, each dish is named in English with the Korean language title also provided; a boon for those of us with an interest in both the country and the language. Photos are bright and inviting, making use of simple backdrops, crockery and styling – the way our home cooked efforts closely resemble the styled shots is satisfying!
I must single out the index for additional praise: given a rare generosity of space, it's unusually comprehensive with entries in English and Korean for ingredients and dishes that make it easy to find the recipes you want.

Our initial forays into cooking from the book have focused predominantly on plant-based recipes, helping us to reduce the volume of meat we eat. The delight of enjoying an array of banchan in a meal triggers memories of the wonderful rice table feasts we enjoyed in South Korea just a few months ago.
First, a trio of vegetables: Sautéed Courgettes, Spicy Radish Salad, and Charred Cabbage in Warm Gochujang Vinaigrette enjoyed with Braised Tofu. Although these share a number of ingredients in common, the flavours and textures are very distinct.
Best of all, they were each made in quantities to enjoy over the next few days, lifting a simple Spring Onion Pancake into a rather special lunch.
Raw Beef Salad was a treat, perfect with fresh Korean pear and sheets of dried seaweed.
A pared back version of Soy Butter-Glazed Baby Potatoes (minus cheese and chives) were a delicious side for a non-Korean main.
There are so many more dishes we are keen to make over the weeks and months to come including King Oyster Mushrooms with Doenjang Butter Sauce, Pork and Tofu Meatballs, Rolled Omelette with Seaweed, Old-School Pork Cutlet, Soy Sauce Beef with Jammy Egg, Cubed Daikon Radish Kimchi, Spicy Pulled Beef Soup (a dish I had for lunch often in my New Malden days), Kimchi Stew with Pork Belly, Doenjang Lamb Skewers, Grilled Meat Patties, Korean Fried Chicken, Buckwheat Noodles in Icy Pink Broth, and sweets too such as Honey Panna Cotta with Instant Mum's Naeng Coffee Coffee Caramel, and Sweet Rice Doughnuts.
This is one of those rare cookbooks where virtually every recipe appeals, and is certainly a book we'll cook from for years to come. The recipes in Rice Table not only bring Korean cuisine into our home, they are wonderfully varied, quick and straightforward to make, and utterly delicious.
Recipes from Rice Table
We have permission from Quadrille to share these three fantastic recipes with you from the book [coming soon]:
Kavey Eats received a review copy of Rice Table by Su Scott from publishers Quadrille.