You'd be forgiven for thinking the yellow colour of lemon posset comes from the lemon, but actually it's all down to the cream and sugar base. As soon as you start heating the two, the cream takes on a rich golden yellow and the addition of the rhubarb syrup at the end does little to change that.
Posset is one of the simplest and quickest desserts to make – just double cream, sugar and your chosen acidic liquid; most commonly lemon juice. Since it's rhubarb season here in the South East and our allotment is providing a plentiful harvest, we decided to switch the lemon juice for rhubarb instead.
We could have juiced the raw rhubarb to produce the liquid for our recipe but instead we stewed it gently with the barest hint of sugar. Straining the lightly stewed fruit resulted in sufficient thick, tart liquid for the posset plus a side of fruit to pile on top.
The rhubarb flavour in the posset itself is fairly subtle, with added punch from the fruit on top.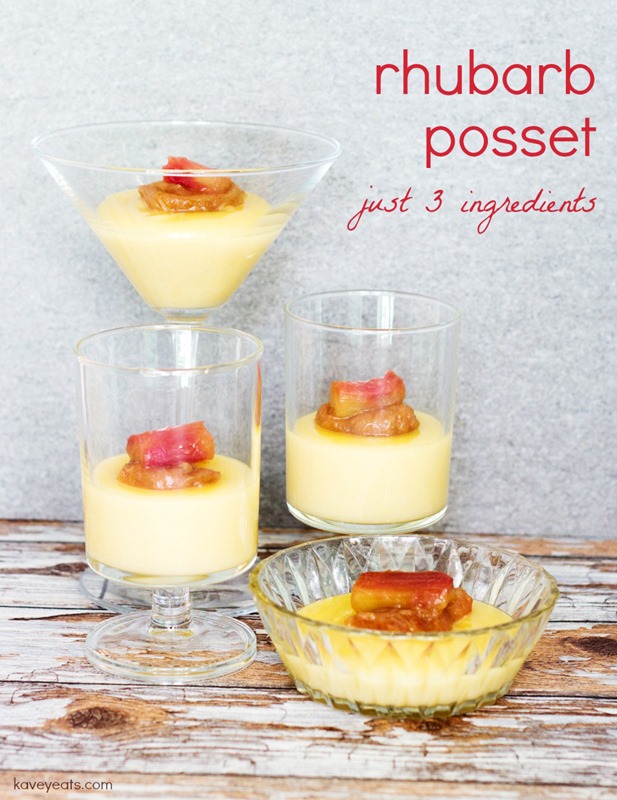 The History of Posset
In medieval times posset referred to a hot drink of milk curdled with wine or ale, often with treacle and spices added for flavour. It was thought to be a general restorative and a remedy for various illnesses. Later, in the 16th-century, posset was often made from citrus juice; cream and sugar, sometimes with the addition of egg; it sounds rather like lemon curd to me, but was apparently served as a sauce to accompany meat. These days posset most commonly refers to a cold set dessert containing cream, sugar and citrus juice, similar to a syllabub but without any wine.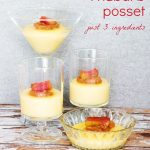 Rhubarb Posset
Ingredients
For the rhubarb syrup and garnish:
250

g

rhubarb stem

, washed and cut into 3cm pieces

1

tbsp

caster sugar

1-2

tbsp

water

(optional)
For the posset:
300

ml

double cream

100

g

sugar

60

ml

strained rhubarb syrup
Recipe Notes
Don't use shop-bought rhubarb cordial for this recipe, it's far too sweet. You need a good and tart syrup to balance the sugar content of the posset.
You can double this recipe to make 6 generous servings or 8 small ones.
Instructions
To make the rhubarb syrup and garnish:
Put the rhubarb plus one tablespoon of sugar into a small pan and cook over a gentle heat until the rhubarb softens but doesn't break down, this shouldn't take more than a few minutes.


If it looks a little dry as it's cooking, add a tablespoon or two of water, but don't overdo it as you don't want to dilute the resulting syrup.


Carefully pick out 4 pieces of rhubarb to use as garnish and set to one side, then allow the rhubarb to cook for a further 30 seconds to a minute, until the fruit breaks down a little more.


Remove from the heat and strain into a jug – you need 60 ml of syrup. Set syrup and fruit aside to use as a garnish.

To make the posset:
Put the cream and caster sugar in a large saucepan (that allows for the liquid to double in volume) and bring to the boil over a medium high heat, stirring occasionally to dissolve the sugar. This takes several minutes but keep a close eye, as when it reaches boiling point, it expands very fast.


Reduce the heat a little so that the mixture doesn't boil over, but don't turn it too low as you need it to continue to bubble enthusiastically.


Allow to bubble for 4 to 5 minutes, stirring regularly.


Remove from the heat, thoroughly stir in the rhubarb syrup and leave to settle for a minute.


Pour into small serving dishes or cups and leave to cool.


Spoon a little stewed rhubarb and garnish each serving with one of the reserved pieces.


Refrigerate for a couple of hours before serving.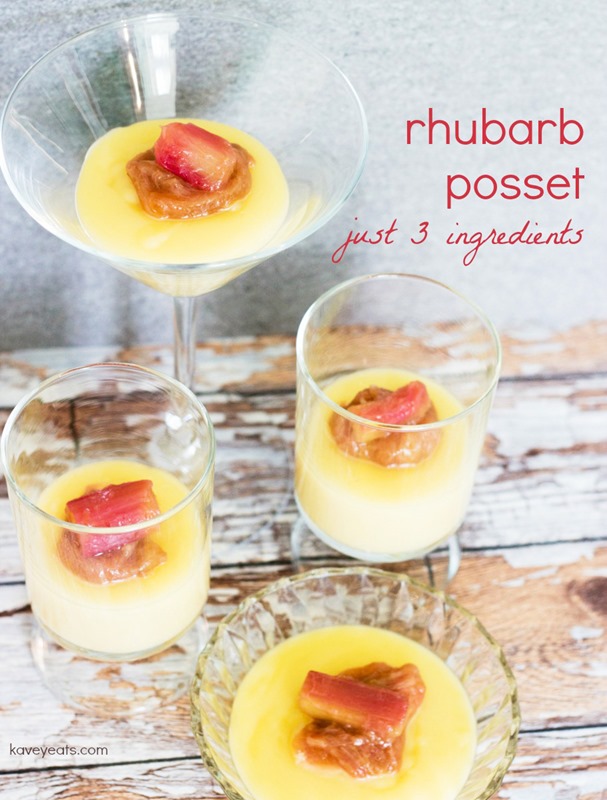 I hope you enjoy this recipe as much as we did – if you make it, do leave me a message about how you got on!
For those of you enjoying a bumper rhubarb harvest, here are some more sweet rhubarb recipes from my friends: