I know I'm not alone in missing international travel, which is naturally hugely affected by this awful Covid pandemic we are experiencing all around the world.
A great way to travel in one's imagination is to cook and eat dishes from other countries, celebrating international cuisine and travelling by way of our bellies. Here, I and fellow food and travel bloggers share our recipes for delicious dishes from the Middle East, Central Asia and South Asia.
Middle Eastern, Central Asian and South Asian Recipes
Georgian Grilled Lamb Kebabs | Indian Chilli and Ginger Pickle | Indian Lamb Biryani (Rice Dish) | Indian Lamb Meatball Curry | Indian Lemon Pickle | Indian Mango Lassi Ice Lollies | Indian Spicy Tomato Ketchup | Indian Tamarind Ketchup | Indian Tandoori Roasted Leg of Lamb | Iranian Borani Bademjan (Aubergine Yoghurt Dip) | Iranian Tahcheen-e morgh (Baked Yoghurt Rice with Chicken) Lebanese Baba Ghanoush (Roasted Aubergine Dip) | Lebanese Kousa Mahshi (Stuffed Courgette) | Lebanese-Inspired Carob Molasses & Tahini Chocolate Brownies | Middle Eastern Cheese Sambusak (Pastries) | Middle Eastern Cheese Kanefeh (Pastry Dessert) | Middle Eastern Sheer Khorma (Vermicelli Dessert) | Omani Chicken Majboos (Rice Dish) | Palestinian Ma'amul Cookies || Turkish Borek (Filo Pastries) | Turkish Lahmacun (Spiced Lamb Flatbreads) | (United Arab) Emirati Muhammara (Red Pepper Dip)
Georgian Grilled Lamb Kebabs with Cloves and Cinnamon
This recipe is from Eleanor Ford and Caroline Eden's book Samarkand which documents the cuisines of Central Asia and the Caucasus. Whilst this isn't an area of the world I've travelled to yet, I'm intrigued to do so and have a real love for the food I've tried so far, including these wonderful kebabs. The gentle spice in these Georgian lamb kebabs from the cloves and cinnamon (used commonly in Georgian cuisine) is just delicious and the 24 hour marination leaves the meat juicy and tender. It's served with hot hummus – that is not spicy hot but temperature hot – and a popular way to eat it in Turkey and Central Asia apparently. Together, on a flat bread, the meat and the hummus are absolutely delicious and this is a dish that I'll not only make again and again but hope to one day eat in situ.
By Alex Ryder from Gingey Bites.
Indian Chilli and Ginger Pickle
My mum is a great lover and maker of pickles, some of which she's taught me to make too. Many of the recipes come from her father, who – during his career in the Indian sugar industry – did some recipe development of jams, chutneys and pickles.
This fiery hot chilli and ginger pickle is a simple recipe in which the two core ingredients are pickled with sugar, salt, vinegar, mustard oil and turmeric. It matures within a few weeks, though you can leave it longer if you'd like the chillies and ginger to break down even more. It's great as a condiment with Indian food, as well as in cheese sandwiches, and inside flatbreads with some spiced meat, natural yoghurt and crunchy salad.
Recipe by Mamta Gupta from Mamta's Kitchen, contributed by Kavita from Kavey Eats.
Indian Lucknowi-Style Lamb Biryani (Rice Dish)
Beautifully tender spiced lamb between layers of fragrant basmati rice, a good biryani is a wonderful dish. Often misrepresented as a stir-fried rice served with a sloppy vegetable curry alongside it, a biryani is commonly made by preparing meat and rice elements, assembling them in layers in a pot, and then baking to finish. In some versions the meat and rice are par-cooked before assembly, in others they are assembled raw before baking. If you're wondering how a biryani differs from a pulao, the key difference is the layering of ingredients, whereas in a pulao, they are all mixed together.
The name for biryani comes from the Persian birian, which refers to frying an ingredient before cooking it further. The dish originated within Muslim communities across India, an there are many different versions across India today.
One of the best known versions is Lucknowi (Awadhi) biryani in which the meat is usually seared and cooked in water with spices, then drained. The resulting broth is used to cook the rice. The pukki (cooked) elements are then layered together in a deep pot, sealed and baked. Cooking in a sealed pot is known as the dum pukht method – once the food has been arranged in the cooking vessel, the lid is tightly sealed (traditionally using dough but foil or rubber-sealed lids are a modern-day substitute) and the pot is baked in an oven or fire; the steam trapped inside keeps the ingredients moist and the aromas and juices are locked in.
My mum, who grew up in Utter Pradesh, makes a delicious Lucknowi-style lamb biryani. However, rather than using the liquid from the meat to cook the rice, she makes a fragrant lamb curry (with just a small volume of thick, clinging sauce rather than the usual generous gravy) and she flavours the rice with fresh coriander and mint, with rose or kewra (screw pine flower) essence. Her recipe involves slowly caramelising onions, half of which go into the lamb curry and the rest of which are layered with the meat and rice when the biryani is assembled. The pot is sealed and baked until the rice is cooked through.
Recipe by Mamta Gupta from Mamta's Kitchen, contributed by Kavita from Kavey Eats.
Indian Lamb Meatball Curry
My mum developed this Indian lamb meatball curry recipe for a campaign with Simply Beef and Lamb, which they punnily called the Keema Nans! The list of spices seems long but the recipe is actually pretty simple.
For this dish, she creates delicious kofte (meatballs) and cooks them in a classic North Indian tomato-based sauce. You can use the kofte recipe with other curry bases, such as South Indian curry sauce, creamy cashew nut sauce, Pasanda sauce, or even a hot, sweet and sour patia. The meatballs also work on their own as a snack, either round as they are or pressed into patties for mini burgers.
Recipe by Mamta Gupta from Mamta's Kitchen, contributed by Kavita from Kavey Eats.
Indian Lemon Pickle
Lemon pickle is one of the most popular Indian pickles, often enjoyed in Indian restaurants here in the UK, as well as by many home cooks. The spices in my mum's hot, sweet, sour, tangy lemon pickle recipe include chilli, coriander, cumin, fennel, nigella seeds, black pepper and cardamom, with jaggary or muscovado sugar, malt vinegar and salt to preserve.
Mum tells me that lemons in India aren't quite the same as the varieties we usually find here – they are rounder, and their skins are far thinner and softer. Some recipes switch to using limes instead, but while the skin and pith of limes is thinner than European lemons, it's also tougher. Mum suggests sticking with lemons for this recipe, and leaving the pickle to mature for longer, to give more time for the thicker skin and pith to break down. If you can, seek out the thinner peeled varieties, often found on sale in Middle Eastern and South Asian groceries.
Recipe by Mamta Gupta from Mamta's Kitchen, contributed by Kavita from Kavey Eats.
Indian Mango Lassi Ice Lollies
Lassi is a popular Indian drink made from natural yoghurt and water. It can be sweet or salty – the former often enhanced with rosewater or kewra essence, the latter with spices such as cumin. These days it's become common to add fruit, and mango lassi is increasingly popular both in India and worldwide.
My Mango Lassi Ice Lollies are based on the delicious combination of mango and natural yoghurt, and are so refreshing in the summer. I recommend using Indian or Pakistani mangoes, and seeking out alphonso, kesar, chaussa or honey mangoes – their sweet, heady, almost perfumed flavour is perfect paired with the tang of yoghurt.
By Kavita from Kavey Eats.
Indian Spicy Tomato Ketchup
If you're fortunate enough to have a glut of tomatoes, whether home grown or a bargain at your local farmers market or shop, making homemade tomato ketchup is a great way of preserving and enjoying them throughout the year.
This is my nana (grandfather)'s recipe for an Indian spicy tomato ketchup, and it's really easy to make. The tomatoes are cooked with a selection of spices, plus malt vinegar and sugar to preserve. You can use any variety of tomatoes, including red, yellow or orange ones that make a vibrantly coloured ketchup. You can even use unripe tomatoes, the last fruit on the vines, which you know won't ripen so late into the year – but do adjust the volume of sugar to balance the extra acidity, and keep an eye on whether you need a little splash of extra water, to counteract the lack of juice in the unripe fruits.
Recipe by Mamta Gupta from Mamta's Kitchen, contributed by Kavita from Kavey Eats.
Indian Tamarind Ketchup
Did you know that the word chutney comes from the Hindi word chaatni, itself an extension of the verb chaat? Chaat means to lick your lips, but is also the name for a wide range of savoury snacks' and chaatni is essentially a lipsmackingly good condiment, often served alongside those snacks!
In the UK, chutney often refers to a preserve with chunks of fruit and veg in a sugar and vinegar preservative. But in India, chutneys include smooth sauces as well, and this condiment is known as Imli Chatni. It's made by combining and cooking tamarind pulp in water, before squeezing and straining the resulting thick juice from the pulp. This is then cooked with spices to make the ketchup.
I've taken to calling it Indian tamarind ketchup to give non-Indians a better idea of the texture and use of the sauce, which is excellent not only with chaat (snacks) but anywhere you'd use tomato ketchup or brown sauce. In fact, British brown sauce is likely to have been inspired by this most Indian of sauces.
Recipe by Mamta Gupta from Mamta's Kitchen, contributed by Kavita from Kavey Eats.
Indian Tandoori Roasted Leg of Lamb
This tandoori roasted leg of lamb is another of my absolute favourites from my mum. Though traditionally cooked in a tandoor oven, it works extremely well in a domestic one too.
Tandoor is another word that comes to Indian cookery by way of Persia, from tanūr (clay oven); with more ancient roots in Mesopotamian Akkadian tinūru (mud fire). In India, the use of tandoor ovens for cooking is associated with the Punjab, having become more popular in Delhi and other parts of India after partition, when many Punjabi Sikhs and Hindus in Pakistani Punjab migrated and settled in India.
The leg of lamb is marinated overnight in a yoghurt-based spiced marinade, which helps to tenderise the meat and give the flavours time to develop. The marinade creates a lovely crust on the lamb as it cooks. The beauty of this dish is that it can be served as the centre piece for an Indian feast, or a British-style traditional roast dinner – growing up, we often had tandoori roasted leg of lamb with roast potatoes, carrots, cabbage, gravy and so on.
If you want to recreate the effect of a classic charcoal- or wood-burning clay tandoor, try cooking it in a wood-fired pizza oven or lidded barbeque.
Recipe by Mamta Gupta from Mamta's Kitchen, contributed by Kavita from Kavey Eats.
Iranian Borani Bademjan (Aubergine Yoghurt Dip)
Borani Bademjan is a Persian aubergine (eggplant) dip that can be served as an vegetarian starter or a main course. Borani means an appetiser made with yoghurt, amongst other ingredients. Bademjan is Persian for aubergine but this dish is made throughout the Middle East. It is common in Afgan cuisine and somewhat similar to baba ganoush. If you like spicy food this is not the dish for you. Although it's mild, it is still very flavourful thanks to the charred aubergine and caramelized onion.
There are so many Persian recipes that use aubergine – the key to this one is the ingredients; charring the aubergine for flavour and using a great yoghurt. It is a light and healthy option.
The aubergine can be fried, but it tends to soak up the oil, so many cooks prefer to bake the aubergine until charred, rather than frying. In some cases the recipe uses crushed tomatoes to stew the aubergine, adding a lovely umami flavour. Many recipes also call for saffron to give the vibrant yellow colour. As it is very expensive many recipes substitute with tumeric, which is equally vibrant but much more affordable.
Borani dishes are typically served alongside plain yoghurt. Traditional Persian yoghurt is a bit sour and very thick like Greek yoghurt. Like most dips, typical sides include naan bread, pita chips and fresh crunchy vegetables.
By Ayngelina Brogan from Bacon is Magic.
Iranian Tahcheen-e morgh (Baked Yoghurt Rice with Chicken)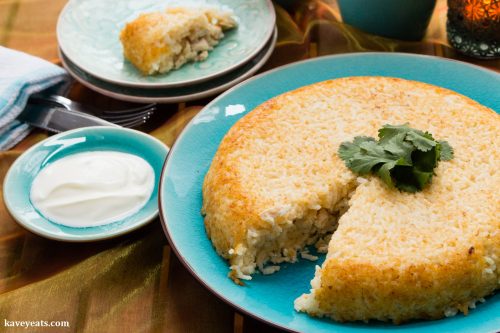 The Persians (aka Iranians) adore rice, and are particularly fond of dishes in which a crust is formed – known as tadig (scorched rice), it's formed by direct heat at the bottom of the pot, creating a crunchy surface once the rice cake is turned out. A tahcheen is a 'cake' of rice with yoghurt and saffron, and sometime the addition of eggs.
This recipe for tahcheen-e morgh is an impressive dish in which a layer of yoghurt, saffron and orange-blossom marinated chicken is cooked inside the rice cake. The recipe is straightforward apart from one tricky step – turning the cooked rice cake out onto a dish in one piece. We recommend placing a liberally buttered circular sheet of baking parchment at the bottom of your dish, alongside greasing the dish itself, to give yourself the best chance of turning out a beautiful, whole rice cake.
Recipe by Greg Malouf from Saraban: A chef's journey through Persia, contributed by Kavita from Kavey Eats.
Lebanese Baba Ghanoush
Baba Ghanoush is a smooth, creamy Middle Eastern roasted aubergine (eggplant) dip. Many Middle Eastern countries have variations of this roasted aubergine dish, but baba ghanoush finds its origins in the country of Lebanon. It is said that the word baba derives from the Arabic word bābā which is used to mean both dad and a general term of endearment. The name of the dish is sometimes interpreted as pampered or spoiled father, though it could equally be understood as pampered aubergine!
To make baba ghanoush roasted aubergine is mixed with garlic, lemon juice, olive oil and tahini – a paste made from sesame seeds. The dip is similar to hummus, but replacing the chickpeas with the aubergine .
It is important to obtain a smoky flavour from the roasted aubergine. Traditionally, the aubergine is grilled over an open fire to get the best smoky taste, but you can also roast the aubergine (still in its skin) in an oven. It is best to let the aubergine roast slowly so the flesh inside becomes soft, creamy and smoky. After roasting, the skin is removed and the flesh is mixed with the other the ingredients to form a smooth dip. The dip can be made in a food processor, but the best way to achieve a great flavour and texture is to mix it by hand.
Baba ghanoush is often served as a dip in a mezze platter along with pita bread or raw vegetables. It is also delicious to serve as a spread with flatbread or crackers.
By Sabine de Gaspari from The Tasty Chilli.
Lebanese Kousa Mahshi (Stuffed Courgette)
As anybody who has ever grown courgettes (zucchini) will tell you, the time lapse between the appearance of flowers and fruits the size of a large cucumber can be measured in nanoseconds! Skip a day of harvesting at your peril!
If you do end up with rather large and unwieldy courgettes and no idea what to do with them, this Lebanese kousa mahshi recipe will provide some inspiration for you! I call these Lebanese stuffed courgettes, but they are more correctly pan-Levantine – versions of the dish are made all over the Middle East in Egypt, Syria, Lebanon, Palestine, Iraq, Israel, Jordan, and Cyprus.
The basic idea is to hollow out and stuff courgettes or other summer squash with a mixture of raw mince, uncooked rice and spices, before simmering them whole in a tomato broth until the meat and rice are cooked. The result of this deceptively simple preparation is quite heavenly, laced with the perfume of Middle-eastern spices and the sweetness of slow-simmered tomatoes, garnished with fresh herbs.
It's not fancy or fiddly; kousa mahshi is a real homestyle comfort dish that will be instantly familiar to anybody with Levantine family roots. It's also naturally dairy- and gluten-free, and if you substitute soy mince (or finely chopped mushrooms) for the ground beef, you can even make it vegetarian or vegan.
By Jeanne Horak from Cooksister.
Lebanese-Inspired Carob Molasses & Tahini Chocolate Brownies
Carob molasses mixed with tahini are a common dessert in Lebanon, often served with bread to dip.
The malty caramel flavour of carob molasses and the delicious sesame of the tahini work wonderfully with chocolate and make for a delicious, unusual chocolate brownie. If you've never tried the combination before, its well worth seeking out carob molasses from your nearest Lebanese, Turkish or Greek specialist store to make these Lebanese-Inspired carob molasses and tahini chocolate brownies.
By Kavita from Kavey Eats.
Middle Eastern Cheese Sambusak (Pastries)
Researching the origins of sambusak pastries, I discover that the origin of the word as well as the dish hails from Central Asia. Descendants of the Central Asian sanbosag include samsa, samosa and sambusak. Many variations exist but all are pastries with fillings enclosed in pastry and baked or fried.
These Middle Eastern cheese sambusak are traditionally crescent-shaped, with a cheese filling – a popular breakfast snack in Israel, where they are also commonly served on Shabbat morning and for Hanukkah. This recipe calls for a simple handmade dough and a filling of feta and parmesan wtih eggs, salt and pepper. The pastries are baked, but instructions for frying are also provided.
Recipe by Leah Kroenig from The Jewish Cookbook, contributed by Kavita from Kavey Eats.
Middle Eastern Cheese Kanafeh (Pastry Dessert)
Cheese Kanafeh or Konafa is a Middle Eastern dessert made with a vermicelli-like shredded pastry, along with sugar syrup cheese. The Arabic name of the dish is thought to come from an Egyptian word meaning 'bread' or 'cake'. It is mostly prepared in the Arab countries, especially across the Levant and Egypt. Variants are also found in Turkey, Greece, and the Balkans.
The dish was created, prepared and prescribed by doctors to satisfy the hunger of the caliphs during Ramadan, though it's unlikely that dish resembled the modern kanefeh – it was more like crepes layered with nuts and honey-syrup. Today's version with its shredded noodles and cheese is most commonly prepared during Ramadan and is a great dessert for gatherings and occasions.
Kanefeh is made in many different ways and types. Traditionally, the dish uses Akkawi or Nabulsi cheese, but to make things easier, my recipe uses only 3 simple ingredients! Kataifi (the string-like pastry), mozzarella cheese, and sugar syrup. It might not be completely authentic but tastes just like kanefeh served in restaurants and is really delicious!
By Sarah Sarvath from the Hungryoungwoman.
Middle Eastern Sheer Khorma (Vermicelli Dessert)
Sheer Khurma is a popular dish among Muslims all around the world, a hotly anticipated traditional dish of Eid. Eid is a festival of joy, family, and most of all food! After one month of fasting, we look forward to a celebratory breakfast after the Eid prayer. That's when we this serve creamy, velvety, and delicious vermicelli pudding.
Sheer Khurma is known to have originated in Herat, Afghanistan but is made throughout Afghanistan, India, and Pakistan as well as farther afield around Central Asia. The name derives from the Persian shîr xormâ meaning 'milk and dates'.
This sweet pudding consists of vermicelli (noodles), milk and sugar, and is topped with fried cashew nuts, pistachios, almonds, raisins, and dates. Some households make slightly different versions according to their liking, including additional ingredients such as condensed milk, khoya, rose water, and saffron. My sheer khurma recipe uses both condensed and evaporated milk to add richness to the result.
By Sarah Sarvath from You Cook, I Eat.
Omani Chicken Majboos (Rice Dish)
Majboos is a popular dinner in the Middle East. In Oman, it consists of vegetables (usually potatoes and eggplant, & onions), rice, and a selection of protein. As well as being incredibly delicious, majboos is really easy to make.
I first tried chicken majboos during an overnight camping trip in Oman. When lunchtime came, my friend whipped out a pot and some ingredients and quickly cooked a delicious meal within half an hour. Since coming home to Canada, chicken majboos has made a regular appearance, especially when I miss Omani cuisine.
My simple chicken majboos recipe requires only one pot, and the ingredients – onion, rice, potatoes, tomatoes, chicken stock and chicken – are easy to find in your supermarket. First, lightly pan-fry the potatoes. After taking these out and putting them to the side, cook the pre-marinated chicken inside the same pot until it's partially done. Add tomatoes and diced onions on top of the chicken before pouring half a can of chicken stock onto the mixture. Let it boil for a few minutes before placing the potatoes back in to the pot, on top of the vegetables. Lastly, layer the rice on the potatoes and pour the rest of the chicken stock on top. Let the pot steam on low heat until fully cooked. Serve it as is, or have it with some fresh salad on the side!
By Daisy Li from Oman Travel Guides.
Palestinian Ma'amul Cookies
Ma'amul or Ma'amoul are found throughout the Arabic world and are typically are the end of Ramadan (Eid al-Fitr) speciality. They are perhaps the mot popular of the Arabian cookies, and there are many, many of them.
I suppose they could be liked to the rather British fig roll, but they are much more exotic, being headily scented with rose water, orange blossom and cinnamon amongst others.
Ma'amul are crumbly shortbread style biscuits made with semolina and/or flour which are stuffed with nuts or dates and daintily decorated either by use of intricate moulds or by hand painstakingly with tweezers called malqat tongs. These cookies really are an edible form of art.
The use of semolina serves two purposes. One in that it gives the finished cookie a fabulous crumbly finish and two it gives the ma'amul an extra sturdiness which helps make it easier when forming.
Traditionally the ma'amul are dusted with icing sugar before serving but I also like to add a sprinkle of edible rose petals to enhance that Arabian nights vibe. The cookies are best served alongside a cup of Arabic coffee or cardamom tea but however you eat them they are a true delight.
By Georgina Ingham from Culinary Travels.
Turkish Borek (Filo Pastries)
One of the most iconic Turkish foods is a snack or breakfast food called borek. Delectable layers of flaky dough called yufka, encase any number of fillings such as meat, cheese, potato, and spinach.
Many people attribute borek to the Ottomans who indeed spread the popularity of the dish far and wide – today borek is easy to find in the Balkans and other parts of Europe and Asia, where it is known as burek, byurek, and other similar names. However, the dish is much older than the Ottoman Empire, originating as a staple with the nomadic Turks of Central Asia. The Ottomans just capitalized on a popular trend, and made it even more popular.
Turkish Borek comes in many different forms; the most popular that you will buy on the street is called su-boregi, or water borek, and the most common filling is a tangy feta cheese. Another popular way to serve borek, especially in cafes, is sigara boregi. This type of borek is fried instead of baked, formed into small enclosed fingers of cheese, which is much easier to eat than the cut squares of baked borek. It is often offered as a warm starter at restaurants and should not be missed.
In Turkey, there are shops dedicated to borek where you can find a range of shapes and fillings. Most of these are grab and go style bakeries where you can pick up a few different pieces to take out and munch down for a quick and tasty breakfast. On the other hand, some bakeries will have a couple of small tables where you can eat in and enjoy it with a nice hot glass of Turkish tea. Whether you buy your borek at a bakery or make it yourself at home, you're sure to fall in love with this amazing, flaky savory pastry.
By Corinne Smith Vail from Reflections Enroute.
Turkish Lahmacun (Spiced Lamb Flatbreads)

Lahmacun are one of my favourite snacks, perfect for a light lunch or dinner, or as a starter before a larger feast. My easy lahmacun recipe is based on the Turkish lahmacun I often enjoy in London's many Turkish restaurants, served hot straight from the oven.
Lahmacuns are simple circular flatbreads topped with a thin spread of spiced lamb and baked fast and hot until they are crisp. They originated in the Ottoman Empire, and are particularly associated with Turkey. The name comes from the Arabic lahm b'ajin (meat with dough) – lahmacun in Turkish.
Like the Turkish restaurants in which I first tried the dish, I always serve mine with a generous pile of fresh salad. At a minimum, I have to have tomatoes and fresh herbs, preferably coriander, mint or both. Alongside these I love diced cucumber or crispy lettuce (for crunch), red onion or spring onion, and a selection of pickles.
You could eat lahmacun with a knife and fork, but much as I do with Italian pizza, I prefer to cut a big slice, fold it in half (around the salad, in this case) and eat with my hands!
By Kavita from Kavey Eats.
(United Arab) Emirati Muhammara (Red Pepper Dip)
I discovered this vibrant Levantine red pepper and walnut dip on one of my trips to Dubai. Muhammara is savoury, sweet, tangy and spicy all at once.
Muhammara is made with roasted red bell peppers, walnuts and 2 special ingredients, pomegranate molasses (which gives it the tangy sweetness) and Aleppo pepper (which adds flavour and a mild heat, and is often sold under its Turkish name of pul biber). It's very simple to make.
The dip is often served as part of a mezze spread, a key course in Levantine and Middle Eastern cuisines. The spread usually includes a selection of small plates including bowls of olives, hummus, baba ghanoush, sometimes a fatoush salad, all accompanied by warm, puffy pita bread. It's the ultimate display of hospitality. Friends of mine from the region tell me that their mums always had muhammara ready at home and they enjoyed it as an afternoon snack while doing their homework.
Besides being a delicious dip, you can use muhammara with kebabs, roast chicken, roast lamb or fish or as a sauce for other Middle Eastern dishes. I use it as a base for a vegetable side dish or roasted cauliflower as it looks great and adds so much flavour.
By May Chong from Eat Cook Explore.
Save for later
Images provided by contributors, or from cookery book recipe extracts (as credited).