If you're looking for an introductory cookbook to Thai cuisine, check out Easy Thai Cookbook by Sallie Morris published by Watkins and Nourish. Split into three sections, the book provides an introduction to key ingredients, equipment and cooking methods, 70 recipes with colour photographs, and twelve suggested menus for how to put the dishes together. Read my full review here.
In the meantime, I have permission to share three great recipes from the book with my readers. This is the recipe for Chiang Mai Curried Noodle Soup with Chicken (Khao Soi Gai), which makes use of the Thai Red Curry Paste (Krueng Gaeng Phed) recipe I've already shared. You may also enjoy this Thai Spicy Green Beans (Pad Ped Tou Kag) recipe.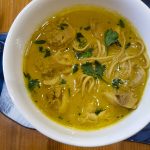 Chiang Mai Curried Noodle Soup with Chicken (Khao Soi Gai)
Total Time
1
hour
5
minutes
Ingredients
1

1.25 kg

whole chicken, skinned

600

ml

coconut milk

1-2

tbsp

red curry paste (see Recipe Notes for link)

1

tsp

ground turmeric

825

ml

/ 3 cups chicken stock

2-3

tbsp

fish sauce

2

tbsp

soy sauce

juice of 1 lime

1

handful

coriander/ cilantro leaves, roughly chopped

300-400

g

fresh or equivalent dried egg noodles
For the garnishes
sunflower oil for deep-frying

55

g

dried egg noodles

1-2

red chillies, deseeded and finely sliced

4

shallots, finely sliced

4

spring onions/ scallions, sliced

140 g

canned fermented mustard greens, finely slied
Instructions
Cut the chicken meat into bite-size pieces. (The legs can be kept in the refrigerator for use in another recipe if liked.)

Pour the contents of one can of coconut milk into a wok or large saucepan. Stir over a medium heat until the milk begins to curdle, then add the curry paste and turmeric. Stir to make a rich sauce, then reduce the heat and cook for 3 minutes.

Add the chicken and turn in the spicy mixture until well coated. Pour in the remaining coconut milk, stock, fish sauce to taste and soy sauce, then cook over a medium heat for 8 minutes until the chicken is tender. Add the lime juice and scatter with most of the coriander/ cilantro leaves.

Prepare the garnishes by deep-frying the noodles until crisp. Drain on paper towels, then lightly crush to add texture and crunch to the soup.

Place with the other garnishes in small ramekin dishes.

Plunge the fresh noodles into boiling water, then drain. If using dried noodles, place them in boiling salted water. Return to the boil and cook for 5 minutes or according to the package directions. Drain, rinse with boiling water and drain again.

Place the noodles in warmed bowls and pour on the soup. Top with the remaining coriander leaves and some crushed fried noodles.

Hand around the other garnishes at the table.
Save for later:
Made the recipe? Let us know how you enjoyed it in the comments!
Browse our full collection of curry recipes from around the world.
If you decide to buy this book after reading our content, please consider clicking through our affiliate link, located within the post and in the footnote at the end.
Kavey Eats received a review copy of Easy Thai Cookbook by Sallie Morris. Published by Watkins and Nourish. Recipe published with permission.