Similar dishes of grated potatoes shaped into a pancake and fried exist right across Europe from North to South, East to West. Some, like these Eastern European latkes use egg to bind the ingredients, whereas others, such as rösti and hash-browns don't, but the love of grated fried potato is very widespread.
In this simple recipe from Amber & Rye: A Baltic Food Journey by Zuza Zak, latkes are served with smoked Polish-style sausage and spinach to create a pleasing dish perfect for a light meal.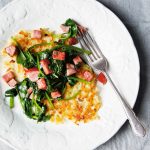 Potato latkes with Smoked Sausage & Spinach
Potato-hash pancakes – or latkes in Yiddish – are known as a traditional part of Jewish cuisine. It's not surprising, therefore, that they are also commonplace in Lithuanian cooking, since Lithuania (like many Eastern European countries) had a huge Jewish community prior to World War II. For hundreds of years, recipes, ingredients and techniques were shared in a way that makes tracing their origins impossible; luckily, it's also unnecessary. Likewise, I find it unnecessary to peel the potatoes unless they are looking a bit worse for wear. Some may find the kiełbasa sausage a surprising addition here, given the Jewish name of this dish, but it's delicious! You can, of course, use kosher sausage instead, if you prefer.
Ingredients
50

g

(1¾ oz) smoked kiełbasa style sausage, cubed

200

g

(7 oz) spinach leaves

Squeeze of lemon juice

Salt and black pepper
For the latkes
2

medium potatoes

2

French shallots, finely chopped

1

egg, lightly beaten

2

tablespoons

plain, all-purpose flour

Rapeseed oil, for frying
Instructions
Preheat the oven to 100°C (200°F).

For the latkes, coarsely grate the potatoes into a large bowl.

Heat a thin film of rapeseed oil in a large frying pan over a medium heat. Once it's hot, add tablespoonfuls of the potato mixture to the pan, working in batches and taking care not to overcrowd the pan. Flatten the latkes with your fork and fry for about 2–3 minutes on the first side, until golden, then flip and cook for another 2–3 minutes on the other side. Drain the cooked latkes on paper towel and keep warm in the oven.


Add a little more oil to the frying pan and add the sausage.


Fry until it crisps up, then add the spinach. Once the spinach has wilted (this will only take a minute or so), add a squeeze of lemon juice and season with salt and pepper.


Serve the sausage and spinach on top of the latkes.

Find out more about Baltic food in our review of Amber & Rye: A Baltic Food Journey by Zuza Zak.
If you decide to buy this book after reading our content, please consider clicking through our affiliate link, located within the post and in the footnote below.
Recipe from Amber & Rye: A Baltic Food Journey by Zuza Zak published with permission from Murdoch Books (RRP £25). Book photography by Ola O. Smit. Our photography by Nicky Bramley.