I'm generally not fussed about being an early bird visitor to a new restaurant, not because of worries that the food or service might not yet be perfect but simply because I'm happy to wait until the buzz dies down and it's easier to get a table.
And yet here I am blogging about Pierre Koffmann's new restaurant the day after it opened.
Have I secretly been rubbing my hands about getting a blogger scoop? I'm afraid I'm not that organised; it was a last minute impulse!
Having decided a couple of days ago to renew our posh weekday lunch habit (from our sabbatical in January) I was contemplating yesterday where to book for a leisurely Friday déjeuner and fancied somewhere new to us. Suddenly, serendipitously, I remembered that Koffmann's new restaurant at the Berkeley Hotel was due to open around now. A quick call revealed that it was launching the very same day. I took that as a sign!
I felt a bit foolish, calling on it's first day open to ask for a table the very next day, thinking it would surely be fully booked, but to my delight, a table was available and my reservation quickly made.
Chatting later with front-0f-house manager Eric Garnier (co-founder of the wonderful Racine restaurant), I learned that they are accepting just 40 at lunch and 70 for dinner for the moment, allowing them to ensure food and service is just as it should be, before ramping up to their 120 capacity.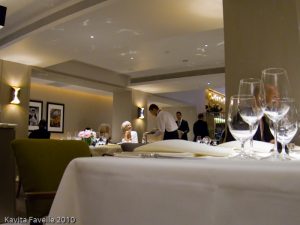 Arriving a little early we were very warmly greeted by Koffmann's partner, the elegant Claire Harrison. Claire is an enthusiastic, urbane and charming front of house leader and kindly showed us to a table giving me a view into the open kitchen, where I might enjoy glimpses of Koffmann and his team at work.
I was a little apprehensive as we were lead inside – our table was some distance into the underground dining area, where no natural light from the sunny summer's day outside could reach it – but the space is well lit and the tables liberally spaced out, both of which contribute to a feeling of brightness.
So what's the menu like?
For this new venture, Koffmann has moved away from his haute cuisine past and is offering instead a more classic, provincial French repertoire. Many of the dishes embrace his Gascon roots. Many are good, hearty dishes made from top quality seasonal ingredients.
Several of his signature dishes are here – the pig's trotter and pistachio soufflé which I sampled at his Selfridges pop-up last year, as well as scallops with squid ink.
It's a menu in which virtually every dish appeals!
We mix and match from the prix fixe menu of the day (very reasonably priced at £18 for 2 courses, £22.50 for 3) and the a la carte.
I reject the aperitifs listed and opt for chilled Monbazillac 'jour de fruit' 2007 from l'Ancienne Cure (£7) – cold, honey syrup fruit in a glass. Pete decides to stick to chilled tap water which is unobtrusively and regularly refilled throughout the meal.
Shortly after being seated we are served an amuse bouche. Iron-rich black pudding sits in crunchy-fresh celeriac slaw on top of a crisp toast and is simple and delicious.
A basket of different breads comes with a slab of heavily salted butter, slightly too chilled for easy spreading. From a tangy sourdough to classic French stick to a plain white roll the breads are magnificent.
Pete's starter of tartine de foie gras et haricots vert is from the prix fixe menu. There's no toast to be seen but we both agree that the lightly dressed cold beans and salad are a perfect foil to the thick and plentiful slices of fatty foie gras.
I choose the cassolette d'escargots et girolles à l'ail (£12). Musty girolles and earthy-tasting snails sat on a bed of very creamy mashed potatoes, the lot topped off by a vivid green parsley garlic foam. Whilst the ensemble tastes fantastic, I must confess that the lime-coloured foam is not attractive to me. Perhaps I'm too childish for such frippery but it's too Fungus the Bogeyman not to giggle just a little, right? The thin sliver of garlic toast is essential to provide a bit of crunch against the soft, chewy contents of the pot.
Pete's daube de joue de bœuf (braised beef cheeks) (£20) is garnished like Koffmann's famous pig's trotter, with creamy mash and crispy, paper-thin wheels of bacon. The beef falls apart to the touch and is the epitome of a hearty French stew.
No chance of feeling short-changed by my prix fixe main of fricassée de poulé [sic] noir aux girolles. I am served an enormous portion of sautéed and stewed black-leg chicken with broad beans, pulpy-soft shallots and garlic cloves, a happiness of girolle mushrooms (I love these, as you can probably tell from my decision to have them in both starter and main) and a trio of vine tomatoes. The chicken has an intensity of meaty flavour so often lacking in lesser birds. And it comes with a newspaper-wrapped portion of the best pommes frites I've had for a long while: fluffy inside, crunchy and golden on the outside, piping hot out of the oil and judiciously salted, they are superb. (And that's today's Le Monde!)
Pete's œufs à la neige caramelisés (£7) is also one of the three prix fixe choices. As our head waiter Richard promises, it is incredibly light. Pete delights in breaking through the caramel carapace into the pillowy meringue beneath and it's good to see it served in a generous portion of smooth, vanilla-rich custard. Once again, one of the best examples of the dish that we've had for some time.
I order the prix fixe croustade de fruits rouge. Translated as Gascon apple pie with red fruits I make sure to clarify that I want the red fruits one not the similar croustade aux pommes et Armagnac (£9) on the full desserts list.
What arrives is the apple version. Full marks to Eric Garnier who quickly pours some cream onto the plate, insisting I enjoy a taste of this one as it will take a few minutes for them to ready the correct one. I like the couple of bites I have well enough but can't detect any Armagnac and miss the gooey caramel I remember from the pop-up version.
In just a few minutes my red fruits croustade arrives, along with a little explanation that the prix fixe menu has a few errors – this dessert doesn't have any apple. The croustade comes perched atop a selection of fresh mixed berries and cherries and a lavish piped squiggle of sweet cream. What makes this simple plate so effective is the careful selection of perfectly ripe and delicious fruit.
Satiated beyond belief, we nonetheless can't resist tea and coffee. I order a jasmine pearls tea and Pete a latte. For me it's a good sign of attention to detail when our waiter, on bringing the tea and coffee and noticing that the latte lacked any foam head, quickly makes a decision to have a better one made. It doesn't take long and is definitely a more attractive glass of coffee second time around.
With our hot drinks come a little plate of macarons and fruit jellies. The jellies are fresh and full of real fruit flavour. The macarons are absolutely delightful with that wonderful balance between crisp and chewy and a really zingy fruit flavour. When we can't put our finger on the flavours, the staff come to our rescue to inform us they are orange with a chocolate filling. Immediately, we realise that candied orange peel is what they remind us of, and perhaps some orange blossom too? Noticing our pleasure, our waiter brings us seconds…
We are both absolutely stuffed!
Our bill comes to a very reasonable £85, though that's with just the one glass of dessert wine and two hot drinks included. It could easily have been more with a few more drinks durnig the meal but it could equally have been less if we'd both stuck to the very well constructed prix fixe menu.
We loved the food: great ingredients treated simply, cooked confidently, presented beautifully and full of robust flavours.
This was reinforced by excellent service from Eric Garnier (front-of-house manager), Richard (our head waiter and one of 4 on duty at a time), Michael, our main waiter and the various other members of the team who looked after us. Seamless, professional, friendly and genuinely invested in giving the customer a great experience.
What more could one ask for?